Gamma RZR 100 T Racquet Review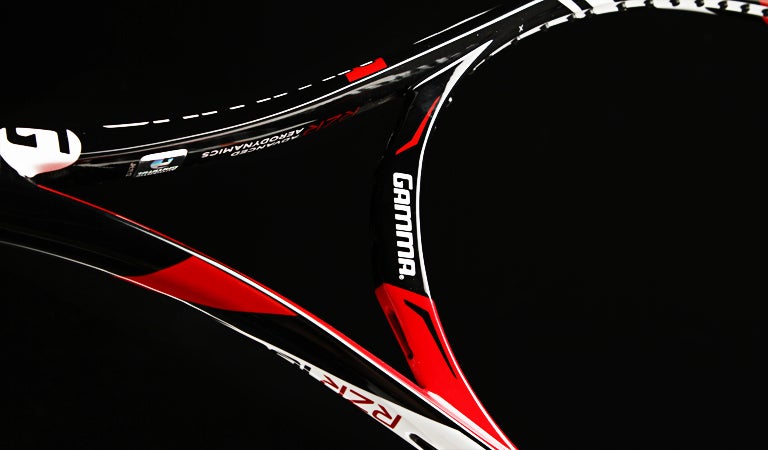 Gamma RZR 100 T Scores
Comfort
48
Touch/Feel
58
Serves
76
Groundstrokes
75
Returns
73
Slice
79
Topspin
80
Volleys
71
Overall
70
Upsides
Massive plow through = superior firepower
Slicing machine
Stability
Topspin
Downsides
Difficult to swing
Stiff feel
Summary
A racquet for the advanced player, the Gamma RZR 100T has a deadly swingweight that allows you to crush the ball from all areas of the court. Penetrating depth and a ton of plow through allowed our testers to be offensive using pace and spin. While our playtesters liked the pace and spin, they had some problems with control and consistency. They quickly realized that timing and sweetspot accuracy were key to depth control. Our testers also struggled with maneuverability and the erratic nature of the racquet, particularly at the net. However, all the punch from the weight of the Gamma RZR 100T helped the testers hit deep, effective volleys. Some testers complained about the stiffness of the racquet, with the jarring impact being particularly uncomfortable at net. Serving is where the RZR 100T was at its best, with flat, slice and kick serves all being effective weapons. With varying opinions on returns, most of our testers found the swingweight of the racquet provided stability and power when the ball hit in the sweetspot. A racquet for strong hitters looking to push their opponents around the court, the RZR 100T is not for the faint of heart.
Groundstrokes - Score: 75
With a lot of weight, the RZR 100T allowed our playtesters to hit with crushing power, but in turn they had problems with control and consistency. Finding things he loved and hated about this racquet from the baseline was Spencer. He said, "First off, it takes a lot of energy to get this racquet moving. Being close to evenly balanced, having a very high swingweight and weighing close to 12 ounces translates into a racquet with heaps of mass. When I got the racquet moving I felt I could crush the ball. With the stable response and open string pattern I could hit deep, heavy balls from the forehand side. Unfortunately, it was tough to be consistent. I preferred slicing my backhand because it was easier to be consistent, and the racquet hits a mean slice. I could drive the slice deep and low, making it tough for my opponent to attack. It has an extremely solid feel and it makes it pretty easy to generate depth and pace. This racquet worked well for me when I could hit the ball with good penetration. If I were a little late, though, there was no catching up. Suffice it to say, there was a lot of love/hate from the baseline."
Troy liked the power and spin production but struggled with the stiffness and control. He said, "From the first hit from the baseline I noticed how powerful this racquet is. The racquet takes a lot of energy to whip, but when I did, it created a heavy ball. When hitting heavy topspin off the forehand and backhand I was able to get the ball to kick high off the court. When trying to hit a flat shot or put the ball away, however, I was having a hard time dialing in the control. I also wasn't a fan of how stiff this racquet felt on contact, which was more noticeable when hitting outside of the sweetspot. I enjoyed the easy access to spin and how the swingweight does a lot of the work for you, but I lost trust in the racquet when attacking and trying to flatten out my shots."
The specs interested Jose. He said, "I thought it was an interesting setup, with an almost evenly balanced 100 square inch racquet having such a high swingweight. I loved the way I could crush the ball on my groundstrokes, but I did notice the stiffness of the racquet creeping up on me, as I started to feel a little discomfort. It reminded me a bit of the Babolat Pure Drive GT, but with a really high swingweight. It was easy to crush the ball when I tried to put a shot away, as well as control rallies and not get pushed around the court. The weight of the racquet behind the ball had a lot to do with that."
Chris found tons of power and plow through from the ground. He said, "A full swing with this racquet just launched the ball with lots of power. I could tell I was hitting a very heavy ball with it. The trade-off was that it was somewhat difficult to whip the racquet around quickly. Spin was easy to generate, and I liked hitting my slice backhand. I was getting lots of bite on my slice and the weight of the racquet made it easy to drive the ball deep. On topspin shots I found the response a little erratic -- especially with depth. Looking at the stringbed, I can't help but wonder if it was partly due to the string spacing. There seems to be no rhyme or reason to it. Some of the strings are close together, some are far apart and the spacing of strings within the string pattern seems random. The racquet also felt very stiff. With the weight and power, I needed a poly in this one. However, the stiff frame made that an uncomfortable setup to use."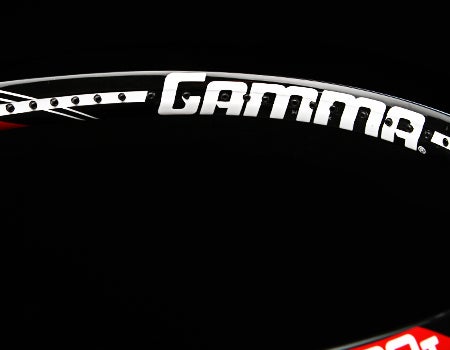 Volleys - Score: 71
Issues arose with maneuverability and an erratic response, but our testers liked the punch the RZR 100T provided at net. Jose faced maneuverability issues but liked the solid response of the RZR 100T. He said, "Volleys were solid. My only problem was with maneuverability. Having an almost even balance, it's hard to maneuver the racquet when quick reactions are required. On the flip side, anything that was away from the body was easy to put away."
Enjoying the power but struggling to find his rhythm at net was Chris. He offered, "When punching volleys to a safe target I found the racquet to be rock solid and very, very crisp -- to the point of being brassy. Again, I found the response a little erratic, and it made it tough to be consistent at net. The racquet was so stiff it lacked any smoothness on the feel front, and I prefer a smooth feel on touch volleys. On the plus side, anything up high could be punched away with lots of power. Also, stretch volleys came off the racquet with good pace thanks to all that weight being behind the ball."
Spencer had four keywords to describe the Gamma RZR 100T. He said, "Drive. Plow. Depth. Stability. This racquet did most of the work for me at net. Not a whole lot of swing is required to put away volleys, as minimal racquet movement drives the ball through the court. Touch was iffy for me. There wasn't a lot of feel in such a powerful, stiff racquet. Also, the lack of maneuverability was a drawback for me. Sitters were easy, but my reaction volleys suffered."
Troy said, "Once I was able to dial in the maneuverability I was able to get good depth on my volleys. The racquet does a lot of the work for you. I felt that this racquet was good for hitting deep, put-away volleys. I didn't find as much comfort going for touch or drop volleys. The stiff frame didn't give me as much response as the Head Microgel Radical Midplus, which is my current go-to stick. The stiffness gave me more of a jarring feel when I tried to hit the drop volley, where I prefer a softer response out of the frame."
Serves - Score: 76
The RZR 100T excelled on serves, particularly when our playtesters needed spin for slice and kick serves. Finding lots of action on his serves with this racquet was southpaw Troy. He said, "I found my spin serves to be most effective when serving with this racquet. I found good consistency when hitting my lefty slice serve or going for a kick serve out wide on the deuce side. This racquet created good spin and kick once I felt comfortable whipping it. Initially, the balance of this racquet made it hard for me to get pop on my serves, which was the main reason it was hard for me to hit a flat serve. I relied on my spin serves to get some sort of consistency, but to be effective with this racquet on serve I would have to customize the weight to make it more head light."
Jose liked stepping up to hit his first serve with this racquet. He said, "I really enjoy hitting my flat serve with this racquet. It felt like it added an extra 10mph, and I wouldn't be surprised if that really was the case because there's so much mass coming behind the ball. I struggled on my kick serve because it was harder to generate the racquet head speed."
Another fan of the RZR 100T on serve, due to the pace and spin, was Chris. He said, "I liked this racquet on serve. Heavy racquets help me generate pace, as I blew out my rotator cuff in college and can't whip my arm through the serve anymore. The weight of this racquet allowed me to find good speed, and my serves were penetrating the court well. Again, spin was easy to hit. Consistency was just OK."
Spencer found impressive power on his serve, saying, "The same characteristics shine when serving. Just getting the racquet moving through the ball creates nice depth and penetration. The open string pattern helps with some nice kick. I really enjoy serving with this stick when my timing is good. It's definitely a weapon, and it helped me accrue some free points. Unfortunately, if my timing is slightly off the errors seem magnified, and my consistency and confidence go out the window."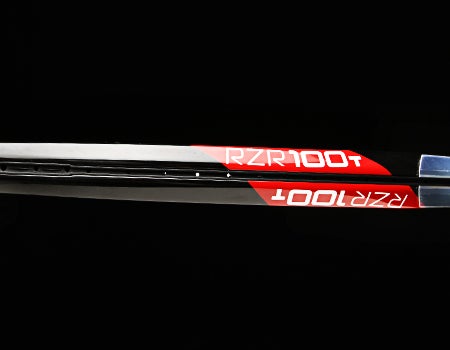 Serve Returns - Score: 73
Most of our testers found the swing weight of the RZR 100T provided stability and power when the ball hit the sweetspot. When prepared, Chris found he could power back returns. He said, "This was a lot of racquet to get into position (our test sample had a swingweight around 352), but once set up I could power my returns. Again, the racquet felt very stable, but the stiff beam was unforgiving if I missed the sweetspot. As on groundstrokes, I enjoyed hitting my slice backhand when returning serves with this racquet."
Having some difficulties with the erratic nature of the racquet was Spencer. He said, "Though I liked the depth I got on my returns, I struggled most when returning serve. The weight and swingweight made it tough to vary returns, and I had a lot of errors against big servers due to the lack of racquet mobility. That said, my favorite return was the slice. Penetrating slice returns gave me confidence in my ability to take control of the point. "
Zoning in on returns was Jose, who said, "Returns were great, just like groundstrokes. It was easy to put away returns -- especially on my forehand."
Troy liked how the racquet did most of the work for him. He said, "I liked how the plow through would carry the ball deep. I could redirect the pace of the serve, and the racquet was pretty stable. When I had to stretch out for a return I had a hard time getting the ball back due to the lack of maneuverability; any sort of wrist snap was difficult for me. I found I could rip a cross-court return nice and deep in doubles, but the precision let me down when the net man began forcing me to pick my spots. I had a hard time going for returns down the doubles alley."
Overall - Score: 70
Likes
Spencer - "The penetrating depth and backhand slice."
Troy - "A ton of plow through. Easy access to power and spin if you have the strength and/or technique to generate ample racquet head speed."
Jose - "I liked the fact that I could be really offensive with this racquet and punish my opponents whenever they gave me something in my strike zone."
Chris - "I liked the power, spin and the response on my slice backhand."
Dislikes
Spencer - "The extremely heavy feel and lack of mobility."
Troy - "Not a lot of response and feel when going for touch and placement shots. A bit jarring at times due to the stiffness."
Jose - "The racquet is too stiff."
Chris - "This racquet was too stiff and uncomfortable to use a poly string, yet I needed a poly to add some control to the erratic response. At the end of the test my arm was simply not happy with this racquet."
Comparing the RZR 100T to other racquets they have used, our testers said:
Spencer - "This is a tough comparison, as I can't recall any racquets off the top of my head that are 100 square inches, are close to being evenly balanced and have a swingweight of 350+. The closest I can think of would be the Boris Becker Delta Core Melbourne. At 98 square inches and 12 ounces strung, it offers plenty of stability and plow through as well. "
Troy - "I would compare this stick to the Babolat AeroPro Drive GT and the Head YOUTEK IG Extreme Pro. I've tried the AeroPro Drive GT with added weight for customization and I preferred that racquet over this one. One thing that all these racquets possess that bothers me is the high stiffness rating, but they also all create a ton of spin."
Jose - "I would compare this racquet to a Babolat Pure Drive GT on steroids."
Chris - "This racquet offers a crisper response and more plow through than even the Pure Drive Roddick Plus, and that is no easy task. The trade-off was comfort, and this racquet was brassier than anything I've used since the ultra stiff widebodies of the 1990s. Babolat's first attempt at an Aerobeam design felt very similar, and there was an Aero Tour that played like this racquet."
Technical Specifications

Length
27 inches
69 centimeters
Head Size
100 square inches
645 square centimeters
Weight
11.9 ounces
337 grams
Balance Point
13.375 inches
34 centimeters
1pt Head Light
Construction
25 mm / 26mm / 23 mm
Composition
Graphite
String Pattern
16 Mains / 18 Crosses

Babolat RDC Ratings

Score

Grade

Flex Rating
75
Range: 0-100
Swing Weight
351
Range: 200-400
Scores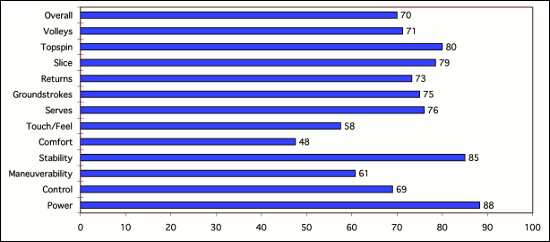 (Scores are determined by averaging individual play test scores)
Spencer's Scores
Power
9
Serves
8
Control
6.5
Groundstrokes
7
Maneuverability
5
Returns
7
Stability
9.5
Slice
9
Comfort
5
Topspin
8
Touch/Feel
6
Volleys
7
Overall
6.7
Troy's Scores
Power
9
Serves
6.5
Control
7
Groundstrokes
8
Maneuverability
6.3
Returns
8.3
Stability
8.5
Slice
7
Comfort
6
Topspin
9
Touch/Feel
6
Volleys
7.5
Overall
7.4
Jose's Scores
Power
8
Serves
8
Control
8
Groundstrokes
8
Maneuverability
7
Returns
7
Stability
7
Slice
7
Comfort
5
Topspin
7
Touch/Feel
6
Volleys
7
Overall
7.1
Chris's Scores
Power
9.3
Serves
7.9
Control
6.1
Groundstrokes
7
Maneuverability
6
Returns
7
Stability
9
Slice
8.4
Comfort
3
Topspin
8
Touch/Feel
5
Volleys
7
Overall
6.8
Playtester Profiles
Spencer: 4.5 baseline player currently using the Prince EXO3 Tour 100 16x18. Spencer uses a semi-western forehand grip, and hits with a one-handed backhand.
Troy: 5.0 lefty all-court player with a full Western Forehand and a two-handed backhand. Troy currently plays with a customized Wilson KBlade 98.
Jose: 5.0 baseliner with a semi-western forehand with a two-handed backhand. Currently using the Prince EXO3 Tour 18x20.
Chris: 5.0 all-court player currently using the HEAD Youtek IG Prestige Midplus. Chris uses a full-western forehand grip, has a fast swing style and hits a one-handed backhand.

Review date: April 2012. If you found this review interesting or have further questions or comments please contact us.
All content copyright 2012 Tennis Warehouse.