Gamma RZR 100 Racquet Review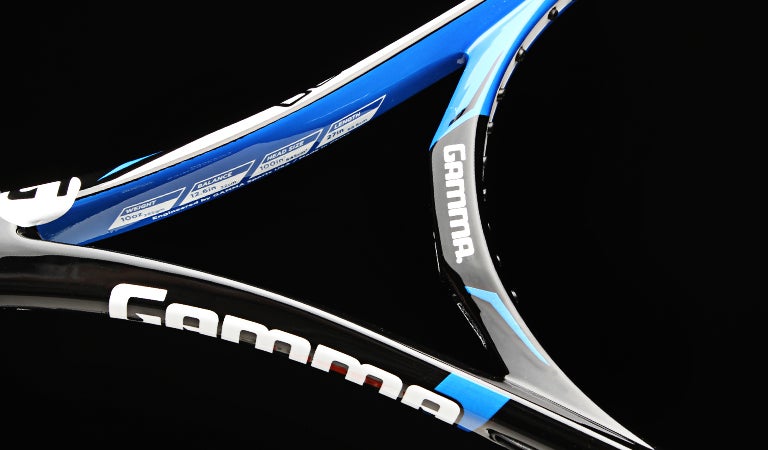 Gamma RZR 100 Scores
Comfort
55
Touch/Feel
66
Serves
81
Groundstrokes
73
Returns
70
Slice
73
Topspin
76
Volleys
66
Overall
72
Upsides
Maneuverability
Access to power
Spin potential
Downsides
Feel is lacking
Small sweetspot
Summary
With the RZR line-up, Gamma offers a series of racquets designed to cut through the air. The RZR 100 does just that, and our TW testers found pace and spin came easily. Hitting in the sweetspot provided great depth and power on groundstrokes and returns, but issues arose on off-center hits, which led to erratic depth and inconsistency. Some of our testers noted a stiff feel that was especially punishing on mis-hits. The feel was the drawback once again at net, though our testers could punch away volleys and felt the racquet moved with lightning speed. Serving was the standout area for our testers with the RZR 100 as they found the same power and spin but more consistency. With all said and done, the RZR 100's aerodynamic design could deliver impressive spin, and the stiffer layup (72 RA) delivered power. But the spin and power came with a cost. That cost? Control and comfort.
Groundstrokes - Score: 73
With a lively response, the Gamma RZR 100 created plenty of power and spin, but our testers struggled with consistency. Brittany liked the pace she was able to generate, saying, "The first thing I noticed when hitting with this racquet was how much more power I received than from the RZR 98. I also think the sweetspot is a tad bigger than the 98. Unfortunately, like with the RZR 98, I had an issue with consistency. I had a problem controlling my depth with this racquet. When I hit the ball in the sweetspot I got perfect depth and pace. However, when I hit even slightly out of that zone, the ball's depth would range from short to deep with little control. I could never get in a good groove on my groundstrokes."
Tiffani tried this racquet with a few different string setups and couldn't really find the one that worked for her. She said, "It was with a hybrid (multi in the mains, poly crosses) that I found the best consistency and moderate comfort. This racquet's feel is definitely on the brassy side, playing very stiff, so when it was strung with a full bed of poly I could feel it in my arm -- even when hitting the sweetspot consistently. It felt like a board. Shank the ball, and oh my! The RZR 100 was even more unpredictable when it was strung with a multifilament, and I would randomly send a ball flying. There is good pace to be found, but it's not consistent enough for me. I saw the ball go long and short with little explanation, and the feel is not exactly arm friendly."
Siobhan was in agreement with Tiffani about string setups. She said, "I never really found anything that suited the racquet. I am giving it the benefit of the doubt that there is a string that would feel good, but we tried a lot of different setups in this racquet and nothing felt great. Spin production was decent, and power was definitely the bread and butter of this racquet. I could get some great pace, but with such a moody response it wasn't really enjoyable. Depth control wasn't really a skill that I could master with this racquet. I just never really knew what was going to be coming off the strings. There was just very little comfort, and I felt really erratic. I'd hit a great forehand and then a horrible one -- I wanted consistency, and I didn't really find it. The feel, regardless of string, felt pretty hollow, brassy and stiff. I just wanted a bit more flex and 'body' without my arm feeling like it was going to snap off."
Mike liked the power from the baseline but felt the racquet was lacking in flex. He said, "It felt good on both my forehand and backhand, but was a bit stiff on off-center shots. When I hit directly in the sweetspot the racquet offered me tons of power and made things easier on me, so I didn't have to swing the racquet as fast as I normally do."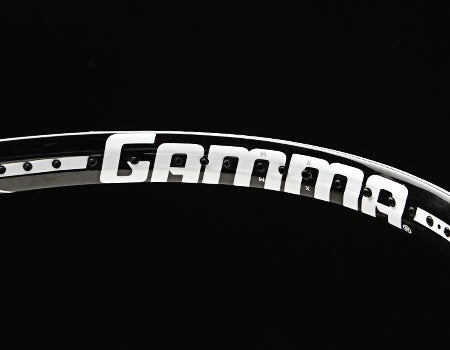 Volleys - Score: 66
Punching volleys away at net was effective with this maneuverable racquet, although the comfort level was found to be slightly lacking. Tiffani said, "The greatest asset of the RZR 100 at net was its maneuverability. I could easily react to any ball coming toward me. However, the mobility came at the price of stability. Hard hit balls caused heavy feedback that transferred into the hand and arm. My best bet at net was just punching the ball back."
Mike had some issues at net. He said, "Volleys with this racquet were OK, but not my favorite shot. I didn't really get the solid feel I've had with other racquets. Even when I hit the ball in the sweetspot it didn't feel great, so for this playtest I stayed away from the net."
Siobhan found a little more of the control she was looking for. She said, "If I kept my swing short I could keep everything under control. The power was definitely an asset at net because I could get some really great pop on the ball. Again, the comfort level wasn't great, but maneuverability was good, and I felt comfortable being aggressive, particularly in doubles. Overheads were pretty fun to hit."
"I found the volleys to be slightly better with the RZR 100 versus the RZR 98 due to maneuverability and stability," said Brittany. "If I made a conscious effort to really punch the volley deep, I was able to put the ball away more effectively and solidly. I did have trouble with pick-up volleys or volleys I had to stretch for. I played several sets of doubles with this racquet and would give volleys just an OK rating."
Serves - Score: 81
Most of the playtesters found serving to be an enjoyable affair with the Gamma RZR 100. Despite finding this racquet to be lacking feel, Mike felt the RZR 100 stepped up on serves. He said, "I was able to generate power and place the ball pretty much wherever I wanted, which made it easy to get some free points. I must say, for a racquet that didn't have the best feel, serves felt good."
Brittany really liked serving with the Gamma RZR 100, finding similarities with other Gamma racquets. She said, "Like the RZR 98, the serve was where I found the most success. I found it very easy to create power on my first serves. I felt I had more control with my serve than with any other shot. I could hit really heavy first serves, and I found serving into the body most effective. I also enjoyed hitting out wide on the deuce side, as I could get good slice. My first serve percentage was higher than normal and helped out my more inconsistent second serve."
Serving was a lot more enjoyable for Siobhan than other shots. She said, "I could get big power here, and good spin on my first and second serve. Like the Gamma RZR 98, I felt a lot more in control when serving. There wasn't the wildness that I found in other areas of the court, and I had pretty good placement."
Tiffani's favorite shot to hit was her serve. She said, "The racquet's stiffness helped here with some power, and I was able to achieve good spin. The instability I noticed in other areas of the court wasn't a concern here."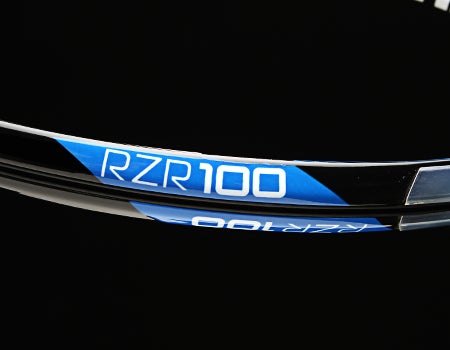 Serve Returns - Score: 70
Returning to the territory of inconsistency, most of the playtesters struggled on serve returns. Struggling with her returns was Brittany. She said, "On the positive side, maneuverability was fantastic. I was able to get my racquet into position and take really good cuts at the ball. Like groundstrokes, when I connected with the ball in the sweetspot, I hit a deep, heavy return. When I hit slightly out of the sweet spot I lost all control. This happened quite frequently, which made me quite frustrated."
Tiffani had a hard time finding consistency on serve returns. She said, "The issues I had on groundstrokes were amplified when I was returning with the RZR 100. I had a hard time handling spin on serves as the racquet felt like it was really twisting at impact. Though maneuverable enough to let me get my racquet on most serves, I had little control over what happened next."
Siobhan also didn't enjoy the inconsistencies. She said, "If the serve wasn't a huge bomb, I wasn't on the stretch and I hit the sweetspot then my serve return was good. Of course that wasn't always the case, and I just felt like I was spraying things everywhere. My depth was horrible. I either fired it out the back or hit it so short that the point was over anyway. I got a little frustrated here. Again, I liked the power, but it was like a wild beast that didn't do what it was told."
Accuracy on the stringbed was important to Mike, who said, "When I made contact in the sweetspot I was able to really put something behind the ball and get a good service return -- I could pretty much place the ball anywhere in the court. Some off-center shots didn't feel the best on my arm, but overall, returns were good for me."
Overall - Score: 72
Likes
Mike - "The weight made it easy to swing and generate power, with good control. Serving with this racquet was an easy transition from other racquets I've hit with."
Tiffani - "The racquet is maneuverable, plus good pace on serves."
Siobhan - "Power, particularly on serves."
Brittany - "I liked the power I received on groundstrokes and serves, and the maneuverability."
Dislikes
Mike - "Not too arm friendly on off-center shots. Volleys weren't the best for me. I just couldn't connect right with the ball when I was at net with this one."
Tiffani - "I don't have arm problems, but even my arm felt sore after hitting with this racquet. It feels overly stiff and brassy. Feel and control are lacking, and in stock form the torsional stability is less than stellar."
Siobhan - "The feel, it felt like I was playing with a piece of tin, and the erratic-ness from the baseline. A racquet with a lot of power is great, except when you have very little control over the power."
Brittany - "I didn't like the small sweetspot, as well as the inconsistent response on my groundstrokes and returns."
Comparing the RZR 100 to other racquets they've hit, our testers said:
Mike - "I just didn't get the right feel with this racquet. I would compare serving with this racquet to serving with the Prince EXO3 Warrior 100. I got the same feel as I did with the Warrior, which was probably one of my favorite racquets."
Tiffani - "I think it might be a bit of a stretch, but in my mind the closest racquet I've played in recent memory was the Head Youtek Extreme. I found the Extreme to play on the stiffer side, too, though it wasn't as hollow and harsh as this RZR 100. I was also more consistent with the Extreme. However, the amount of pace, spin and maneuverability I found were similar."
Siobhan - "Definitely the Gamma RZR 98. Similar spin and pace production with the same uncomfortable, erratic and wild nature."
Brittany - "I found this racquet very similar to the Gamma RZR 98. The RZR 100 had more power and it was more of a complement to my game. I also found the RZR 100 comparable to the Dunlop Biomimetic 400. It had a similar feel from all areas of the court."
Technical Specifications

Length
27 inches
69 centimeters
Head Size
100 square inches
645 square centimeters
Weight
10.8 ounces
306 grams
Balance Point
13.25 inches
34 centimeters
2pts Head Light
Construction
24mm / 26mm / 23mm Tapered Beam
Composition
100% Graphite
String Pattern
16 Mains / 18 Crosses

Babolat RDC Ratings

Score

Grade

Flex Rating
73
Range: 0-100
Swing Weight
307
Range: 200-400
Scores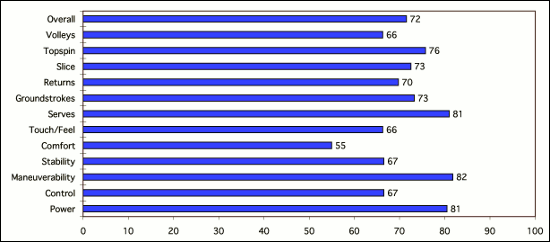 (Scores are determined by averaging individual play test scores)
Mike's Scores
Power
8
Serves
8.5
Control
7.5
Groundstrokes
8.1
Maneuverability
8.4
Returns
8.2
Stability
7.1
Slice
7.5
Comfort
7
Topspin
7.7
Touch/Feel
7.3
Volleys
5
Overall
7.6
Tiffani's Scores
Power
7.7
Serves
7.9
Control
6.8
Groundstrokes
7.1
Maneuverability
8.5
Returns
6.6
Stability
6.5
Slice
7
Comfort
5
Topspin
7.8
Touch/Feel
6
Volleys
7
Overall
6.8
Siobhan's Scores
Power
8
Serves
8
Control
6
Groundstrokes
7
Maneuverability
8
Returns
6.3
Stability
6
Slice
7.5
Comfort
5
Topspin
7.8
Touch/Feel
6
Volleys
7.5
Overall
6.8
Brittany's Scores
Power
8.5
Serves
8
Control
6.3
Groundstrokes
7.1
Maneuverability
7.8
Returns
6.8
Stability
7
Slice
7
Comfort
5
Topspin
7
Touch/Feel
7.2
Volleys
7
Overall
7.4
Playtester Profiles
Mike: 5.0 baseliner with a semi-western forehand and two-handed backhand. His current racquet of choice is a customized Prince Triple Threat Warrior.
Tiffani: 4.0 level baseliner with a semiwestern grip on the forehand and hits a two-handed backhand. Currently playing with the Tecnifibre Rebound Pro.
Siobhan: Open level player with a semi western forehand and a two-handed backhand. She currently plays Wilson KBlade Team.
Brittany: Open level player with a semi-western forehand and a two-handed backhand. She currently plays with the Yonex V-Core 100S.

Review date: April 2012. If you found this review interesting or have further questions or comments please contact us.
All content copyright 2012 Tennis Warehouse.