Head Graphene Prestige S Racquet Review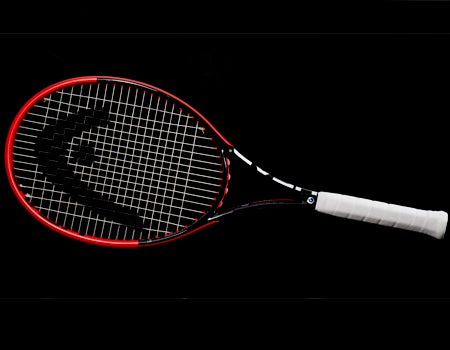 Head Graphene Prestige S
Power
70
Comfort
78
Touch/Feel
78
Serves
74
Groundstrokes
79
Returns
81
Slice
76
Topspin
81
Volleys
74
Overall
78
Upsides
Easy to swing fast
Control
Feel
Good platform for customization
Summary
The Prestige S, the lightest and fastest member of the Prestige family, gets a Graphene makeover, with weight redistributed from the shaft to the handle and tip. On the positive side, our playtesters definitely appreciated the speed and accuracy of this racquet. They found it easy to accelerate, and they were able to generate tons of spin, which definitely helped with targeting. At net, the light weight made it a cinch to get the racquet into position and punch volleys deep. One area where the lack of weight had a negative impact was on serve, where our team thought a bit more mass would have helped in the power department. When returning, however, the light weight and easy acceleration allowed our playtesters to attack the ball and put pressure on their opponents. Overall, the Graphene Prestige S is well suited to players who want a light, modern player's racquet with enough spin and precision to keep big strokes on target.
Groundstrokes - Score: 79
As the lightest Prestige in the line (just a tenth of an ounce lighter then the Rev Pro version), the Graphene Prestige S offers explosive head speed off the baseline. Acceleration was key with this racquet, and the spin potential was high. Chris felt like he could rally all day with this lighter Prestige since it was so easy to swing. He said, "I was able to generate healthy racquet head speed, which resulted in very good spin. I also liked how I could still find time to get the racquet into position when I was rushed and had to be more defensive. The racquet felt very comfortable even when strung up with a stiff co-poly string. Stability was the one downside to all of the maneuverability, but I found the response to be firm enough as long as I kept my swing fast. Just like the old Dunlop 300 Tours, this one felt better and better the faster it was swung. Once I had that figured out I played some very good tennis with it."
This racquet has the feel and responsiveness that Andy usually expects from the Prestige line. He elaborated, "I felt very connected and in control of almost every groundstroke as it left the strings. The lighter weight made it easy to get the racquet around my body quickly, and the more open string pattern gave it some nice spin potential. It's not quite as solid and stable as some of its heavier family members (Pro and Midplus versions), so you're trading plow through and the ability to generate heavier groundstrokes for maneuverability."
"What an easy racquet to swing and generate racquet head speed with!" exclaimed Jason. "It swings easier than I expected from the specs we have listed. Thanks to the combination of low power, the 16x19 string pattern and the low swingweight, I found it easy to access spin. I could swing away and be confident the ball would still land inside the lines. My favorite shot to hit with this racquet was the inside out forehand. I felt like I was hitting sharper angles than usual with this stick. The downside for me was the lack of put-away power. Control was top notch."
Despite being a bit lighter than what Michelle usually hits with, she found a fairly solid response on her big groundstrokes, although she wouldn't consider this a game changing racquet. She offered, "It was easy to swing big and fast through the ball. However, I did feel that if I hit outside of the sweetspot there was a lack of stability and an inconsistent feel that led to an unpredictable ball. To be completely honest, I never felt like this racquet completely enhanced my game, but I really appreciated the precision and I could really work the point and find openings in the court."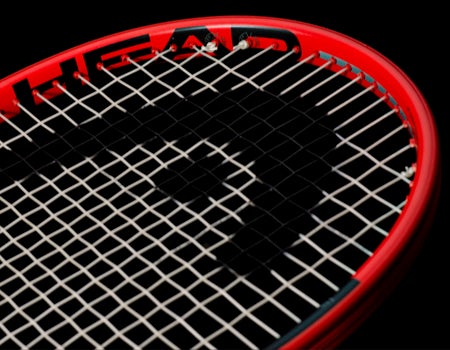 Volleys - Score: 74
Our playtesters weren't sure what to expect when it came to volleying with the Graphene Prestige S. Michelle said, "I found pretty good stability when I was hitting put-away volleys. If I made sure to push forward and volley aggressively, there weren't too many issues. When I was just blocking balls back the response was less consistent and I felt some instability."
When Jason moved forward aggressively he was able to hit cleanly struck volleys and the racquet felt really nice in his hands. However, the other 90 percent of the time he noticed a lack of mass and a small sweetspot. "The Prestige S got pushed around to the point where the racquet was twisting in my hand on contact," said Jason. "I did enjoy the touch and feel, however. I'm sure a more skilled volleyer would not have the issues I had."
Chris also focused on punching through his volleys to get the most out of this racquet. He said, "I used a faster swing and added spin to the ball to get it to do what I wanted, even on touch volleys. On block volleys I found the racquet to be a little unstable, so I simply stopped hitting them. The racquet was light and fast enough that even on fast four-at-net doubles play I was able to find the time to punch the ball. Again, comfort was impressive, and I liked the fact that the soft response didn't leave me feeling too disconnected from the impact."
"This was an area where the lower weight came into play a little more for me," stated Andy. "While being maneuverable and very responsive, it just fluttered a bit too much when bigger hitters were ripping shots at me at net. I had to check the ball perfectly or the racquet would twist and I'd produce a short, mishit volley."
Serves - Score: 74
The playtesters were in agreement when it came to serving with the Graphene Prestige S. They all wished for a bit more mass to produce bigger serves. Because of its polarized weight and quickness, spin serves were easy to hit effectively. Andy also enjoyed the control that the racquet offered and liked how easy it was to generate racquet head speed. He said, "I was able to send some nice slice serves diving off the court on the deuce side with the amount of action I could generate on spin serves. However, the lack of mass contributed to a loss of control and the inability to hit a heavier serve. I didn't feel like I could hit my spots consistently because I lost control of the lightweight hoop at the top of my swing. Although I could get the ball spinning nicely, my serves didn't have enough weight on them to get through the court effectively."
"This is probably the one area that this racquet would do a lot better with some customization," offered Michelle. "There just isn't a lot of heft or mass behind the ball when serving with this racquet. I didn't like this racquet at first because I couldn't find any extra power. However, I did enjoy the precision, and I realized that was what I needed to key in on when serving. Second serves were easy to whip through to get some good spin and movement on the ball, but my serves just weren't as heavy or as big as I like."
Jason always appreciates it when a racquet can give him extra oomph on his serves, and this racquet didn't. However, he did say, "What I appreciate more is if a racquet can provide consistency, which this racquet does. I liked being able to just spin my serves in at a high percentage."
The more time Chris spent with the Prestige S, the more he could dial in his serve. He said, "As with my other strokes, I found my best results came from focusing on tip speed. This racquet simply doesn't have the weight to help me hit a heavy, penetrating serve. However, the fast response allowed me to generate a lot of spin and good pace. I was able to swing my slice serve away from the returner with good pace. On second serves I was getting enough spin to serve with pace yet still keep the ball well within the lines. I had fun mixing up serves and finding ways to give returners trouble rather than just trying to bomb serves past them."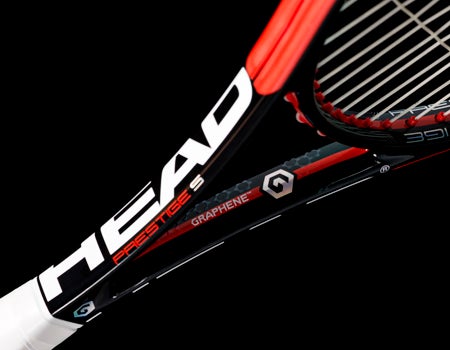 Serve Returns - Score: 81
The quick swing played well into our playtesters' return strategy. Jason channeled his aggressive game when returning with the Prestige S. He said, "I was able to take bigger cuts at the ball without worrying about my shots going long. Also, since it's so whippy I could even take a shot at a first serve. The control was on par with some of my favorite racquets tested this year."
Andy was happy when returning with this racquet. He said, "The control and maneuverability allowed me to feel precise and confident going for the corners, especially when attacking weaker second serves. The stiffer feel of the Graphene technology also played a role here by providing a bit more stability for chip returns. This was my favorite shot to hit with this racquet."
Also returning serve very well with this racquet was Chris, who offered, "In both singles and doubles play I found myself attacking serves that I would likely be blocking back with heavier racquets. I was going after the ball off both wings, and I was far more willing to hit drive returns off bigger first serves. Even when I swung quickly I was able find enough of control and spin to get the ball to drop well within the lines."
Closing out the positive comments regarding returns, Michelle added, "This racquet was quick and maneuverable when returning, so I could really accelerate through my returns. I enjoyed being aggressive with this racquet on my returns. It was slightly less predictable when I was returning big serves, and I felt like I was being pushed around a bit. I wasn't confident in getting my return back and struggled slightly with getting enough depth."
Overall - Score: 78
Likes
Chris - "I liked the fast and easy to swing feel. The comfort was very impressive, and there is ample room for me to add weight to increase stability without making the racquet too heavy."
Andy - "Great feel and responsiveness. Nice precision and feel for a lighter weight frame."
Jason - "Maneuverability, control, feel and access to spin."
Michelle - "Very fast and maneuverable. This is a good starting point for players who want to customize their racquet. I liked the precision as well."
Dislikes
Chris - "The racquet lacked stability on slower swings, so I had to adjust my playing style slightly."
Andy - "A bit too light for me in stock form, and I would've preferred a bit more of the classic, plush Prestige feel."
Jason - "Smaller sweetspot. Can be torsionally unstable on off-center hits."
Michelle - "Anything hit off center was erratic and unpredictable. I couldn't generate enough power on my groundstrokes."
Comparing it to other racquets they've used, our testers said:
Chris - "I would compare this racquet to the Dunlop 300 Tour, the Volkl Organix 10 295 and the Radical Midplus because they all feel best on a fast swing. All also offer easy access to spin and a nice blend of feel and comfort. This Prestige and the Volkl are the two smoothest feeling for me. They all make great options for intermediate level players, advanced players who like to swing fast most of the time or those looking for a racquet light enough to customize."
Andy - "This is a more maneuverable version of the heavier racquets in the Prestige line. It offers great control and feel for intermediate to advanced players who want something a little lighter and easier to swing. It belongs in the same class as the Prince Tour 98, Tecnifibre TFight 305 and Wilson Six.One 95L."
Jason - "It has better maneuverability and feel than the previous Prestige S, but otherwise, it's very similar to its predecessor."
Michelle - "I also playtested the Head Graphene Prestige Pro and found that this Prestige S is a much easier racquet to use because of its lower weight and lower swingweight. However, I enjoy the extra heft behind the Prestige Pro, and I feel like I am able to hit bigger, heavier shots with it."
Technical Specifications

Length
27 inches
69 centimeters
Head Size
98 square inches
632 square centimeters
Weight
11.1 ounces
315 grams
Balance Point
13 inches
33 centimeters
4pts Head Light
Construction
22mm / 22mm / 22mm /
Composition
Graphene
String Pattern
16 Mains / 19 Crosses

Babolat RDC Ratings

Score

Grade

Flex Rating
61
Range: 0-100
Swing Weight
319
Range: 200-400
Scores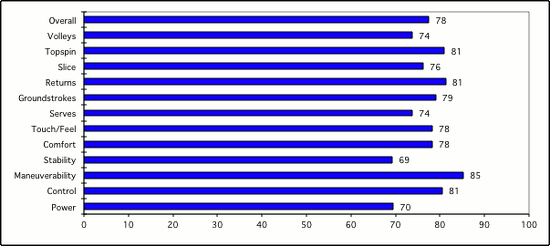 (Scores are determined by averaging individual play test scores)
Chris' Scores
Power
7.3
Serves
7.8
Control
8.2
Groundstrokes
8.1
Maneuverability
8.4
Returns
8.2
Stability
7.4
Slice
8
Comfort
7.8
Topspin
7.6
Touch/Feel
7.7
Volleys
7.8
Overall
7.8
Andy's Scores
Power
6
Serves
6
Control
8
Groundstrokes
7.7
Maneuverability
8.5
Returns
8
Stability
5.5
Slice
7
Comfort
7.5
Topspin
7.5
Touch/Feel
8
Volleys
6
Overall
7.2
Jason's Scores
Power
7.5
Serves
8.2
Control
8.3
Groundstrokes
8.2
Maneuverability
8.9
Returns
8.4
Stability
7.8
Slice
8
Comfort
8
Topspin
8.5
Touch/Feel
8
Volleys
8.1
Overall
8.3
Michelle's Scores
Power
7
Serves
7.5
Control
7.7
Groundstrokes
7.6
Maneuverability
8.3
Returns
7.9
Stability
7
Slice
7.5
Comfort
8
Topspin
8
Touch/Feel
7.6
Volleys
7.8
Overall
7.7
Playtester Profiles
Chris: 5.0 all-court player currently using the Wilson Six.One 95S. Chris uses a full-western forehand grip, has a fast swing style and hits a one-handed backhand.
Andy: Open level all court player with a semi-western forehand grip and a two handed backhand. Andy currently using a Wilson Blade 98 18x20.
Jason: 4.0 baseliner with a semi-western forehand and two handed backhand. Currently using a Wilson Steam 99 S.
Michelle: Open level baseline player with a semi-western forehand and a two handed backhand. She currently plays with the Babolat Pure Drive Roddick.

Review date: March 2014. If you found this review interesting or have further questions or comments please contact us.
All content copyright 2014 Tennis Warehouse.