Gosen Polylon 17 String Review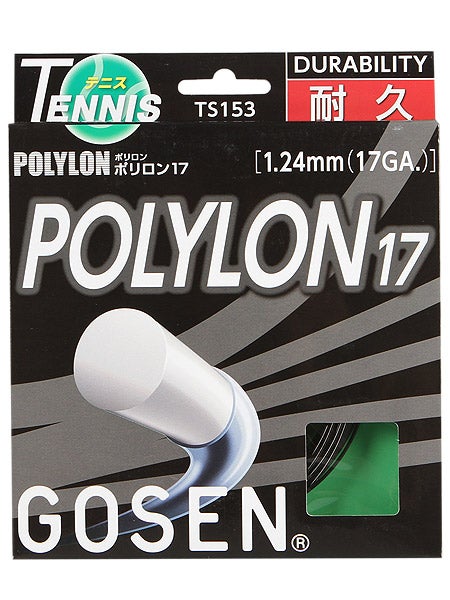 Gosen Polylon 17 String Scores
Power
44
Spin
87
Comfort
65
Control
92
Touch
83
String Movement
85
Playability Duration
70
Durability
90
Overall
81
Upsides
Durability
Control
Spin
Great value for the price
Downsides
Too firm and underpowered for some
Summary
Gosen Polylon is a good old-fashioned polyester string. Unlike the emerging crop of high tech co-polys, it isn't loaded with extravagant chemical additives. Nor does it have a cadre of professional players who swear by it. What it does have, according to our playtesters, is remarkable control, especially at the highest swing speeds. It also has tremendous spin potential. This is partly because Polylon's response is so predictable and low powered that it enables big hitters to attack the ball at extreme upward angles. As for comfort, this string surprised our team by offering a feel commonly found in more elastic (and more expensive) co-polys. Of course this doesn't mean that Polylon is for everybody. It's a firm string designed for advanced players. Ultimately, though, once you factor in the price, which is less than a couple of vibration dampeners, Gosen Polylon is one of the all time best options for big hitters on a budget.
Power - Score: 44
One of the primary upsides of Gosen Polylon is its low power. This gives aggressive players like Siobhan the confidence to reach her top swing speed. She said, "I was able to swing really fast and generate a lot of racquet speed to get a decent amount of power out of this string. To me, the fact that it plays like a typical polyester is its greatest strength. I could take some really big swings at the ball and it stayed within the lines, which I really liked. The ball didn't fly, so the power/control combination was really great for me."
Chris tested two colors of Polylon and echoed Siobhan's praise of the low power. He said, "I had this string strung up at my regular tension and found it to be lower in power. It has that old school, deader feel of a traditional poly string. What I liked the most was that it allowed me to supply the power and take huge cuts at the ball without fear of hitting long. The Yellow version offered a tad more pop compared to the Black version of Polylon that I hit. Those were the only two colors I tested and the differences were slight, but the Yellow was both crisper in feel and a tad more responsive."
Spin - Score: 87
The crisp and dead response of Gosen Polylon enables players to whip very powerfully through contact to create some serious ball rotation. Of course, our resident poly expert knows this all too well. Chris said, "I found spin very easy to generate with this string. While it doesn't seem to add any extra kick like a slicker, more modern co-poly, it makes up for it by being dead enough that insane racquet head speed can be applied for maximum spin. I was able to swing fast with this string even when in the short court, and that allowed me to get some nice spin and angle on the ball while maintaining pace. I liked the grip I was getting from the stringbed, I found lots of spin and was able to swing with confidence."
When it came to spin, Siobhan's big strokes were right at home with Polylon. She said, "Like I said about the power, if your swing speed is fast and you're taking big cuts at the ball, the spin is generous. I really liked how I was able to hit the ball as fast as I wanted and still have it drop in. I felt like I got a lot of my control from the spin."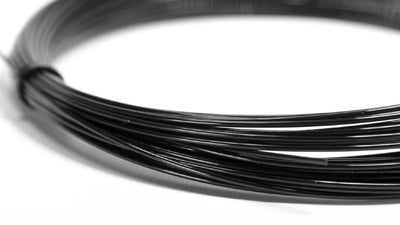 Comfort - Score: 65
Unlike the newer generation of co-polyester strings, traditional polys aren't made with additives to improve comfort. For this reason Siobhan was caught off guard by the comfort of Gosen Polylon. She said, "It was surprisingly comfortable for a less expensive polyester. I would assume that comfort is the first to go when the price drops, but this string was not too harsh on my arm."
Chris was also pleasantly surprised by the feel. He said, "This is the one category that surprised me. This is a traditional poly and should not feel comfortable, but both colors felt good. The Black version felt slightly softer and deader, so it pocketed the ball better and gave the sense of being slightly more comfortable. The Yellow version felt crisper, but neither color ever felt brassy. While I would not recommend any poly to someone with a history of arm issues, I thought Polylon felt adequately comfortable, even when compared with modern co-polys."
Control - Score: 92
With its low power and extremely predictable response, Gosen Polylon gave our team exceptional control. Chris was in heaven. He said, "I loved the control from this string. I was able to take a good crack at the ball and keep my shots on target. This string really favors a player who likes to keep his/her foot on the gas, as well as those who like to flirt with the lines. I felt totally dialed in with this string and would be more than happy to play tournaments with it in my racquet. The controlled response made hitting short angles, drop shots and touch volleys a snap. I also liked the level of control on harder hit spin shots. I felt I could control the blend of pace/spin very well with this string."
Agreeing with Chris, Siobhan was impressed by the control. She said, "Control was great. Coupled with a fast swing speed and spin, the control is enjoyable. I felt my placement was pretty good, and regardless of whether I slowed the ball down or took a big, fast swing, I was able to hit my spots."
Playability Duration - Score: 70
Polyester tends to lose tension faster than other string materials, so we had some concerns at the outset that Polylon would die quickly. Those concerns were put to rest for Siobhan, who said, "Over time I felt I lost a bit of the crispness, but in general I felt that the playability was good. There was no sharp drop-off after the stringing, and the durability was good through out the playtest."
Chris also appreciated how well Polylon maintained its firm, controlled response. He said, "I managed to get a full two weeks of hitting out of Polylon. Does it hold tension as well as some of the modern co-polys? No. But this string still impressed me, as its durability did not drop off. It felt firm and low powered when strung up fresh and still feels firm and low powered as I write this. Something tells me I could pick up my racquet a year from now, and guess what? I bet this string would feel firm and low powered!"
Overall - Score: 81
What type of player would you recommend this to?
Chris - "If you are seeking a very control-oriented string, want something pretty durable and are on a budget, Polylon makes a great choice. I don't think you necessarily have to be a big hitter, just someone who likes to supply the power and let the stringbed provide the control."
Siobhan - "If you have big strokes and you're looking for maximum control without breaking the bank, start here."
Likes
Chris - "I loved the control and spin. I'm also a fan of the crisp response. I haven't tried all of the colors yet, but only have the Natural left (I hit the Ice color when it came out several years ago). At only $2.95, I also love the price."
Siobhan - "I was impressed with the great polyester qualities and the reasonable comfort from a cheaper string. I would definitely play with this again."
Dislikes
Chris - "None. I'd go with this string over several livelier, softer co-polys because they don't offer the control of Polylon."
Siobhan - "Really nothing to complain about, unless you are looking for something soft and powerful."
Comparing the string to others they've tried, our testers said:
Siobhan - "As an interesting note for comparison within the range: I played with both the Yellow and the Black colored strings and I did find the Yellow colored version to feel slightly livelier, which I preferred. The Black version had a little deader feel and was not quite as crisp. I felt a little more in touch, even though I kept the great polyester qualities."
Chris - "Both colors played with a similar crispness and very controlled response, but they were slightly different. The Yellow Polylon reminded me of Super Smash and Wilson Enduro Gold. The Black version reminded me of Isospeed Baseline Spin and Tecnifibre Poly Code. Again, all of those strings offer a very similar response, but Baseline Spin, Poly Code and Polylon Black pocket the ball slightly more."
Scores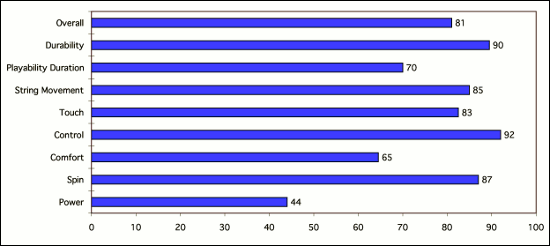 (Scores are determined by averaging individual play test scores)
Chris' Scores
Power
3.3
Playability Duration
7
Spin
9
Durability
9.4
Comfort
5.9
Control
9.5
Touch
8.7
String Movemen
8
Overall
8.7
Siobhan's Scores
Power
5.5
Playability Duration
7
Spin
8.4
Durability
8.5
Comfort
7
Control
8.9
Touch
7.8
String Movemen
9
Overall
7.5
Playtester String Setups
Chris:
Playtest Racquet: Slazenger Pro Braided
Playtest Tension: 55 lbs.
Typical String: Volkl Cyclone 16
Siobhan:
Playtest Racquet: Babolat AeroPro Drive GT
Playtest Tension: 52 lbs.
Typical String: Polyester

Review date: January 2013. If you found this review interesting or have further questions or comments please contact us.
All content copyright 2013 Tennis Warehouse.