Gamma Tour 300X Review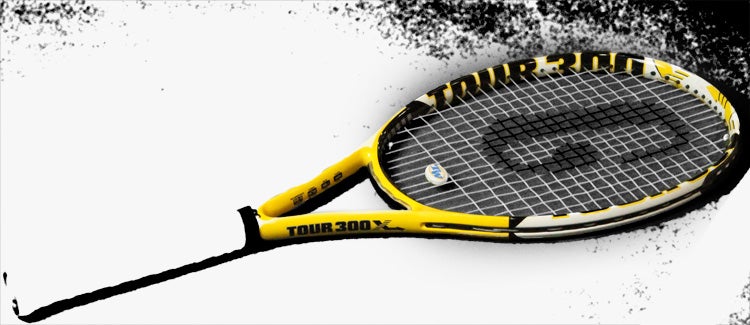 When you think of Gamma and tennis, strings might be the first thing to pop (no pun intended) into your mind. After all, the company's TV ads do ask, "Do you want game changing strings?" Though the emphasis may be on strings, Gamma does offer a full line of racquets for all levels of players.
Falling in the middle of their line-up is the Gamma Tour 300X. With its friendly specs, this racquet fits right into the 'tweener category. This midplus weighs just under 11 ounces strung, has a slightly head heavy balance and measures a 68RA stiffness on the RDC.
To us, those looked like some pretty enticing specs. So, without stringing you along any further, here's the review.
Groundstrokes - Score: 78
With a slightly head heavy balance, the Gamma Tour 300X impressed the team with its power. For Jackson, though, performance correlated with string setups. He said, "The first time out I felt that the racquet was too stiff for me and lacked anything that might make it stand out. It had a no frills type of feel for groundstroke after groundstroke, and seemingly at random it would launch the ball over the head of my opponent standing at the baseline. I changed the string setup from a full bed of poly to a low-tensioned hybrid and there was a vast difference in the way it felt and played. Once I adjusted my timing to suit the less maneuverable head, I really started to warm up to this racquet. I felt like the racquet actually fixed a kink in my forehand stroke. I was able to produce a more natural swing and generate hefty amounts of topspin, depth and power."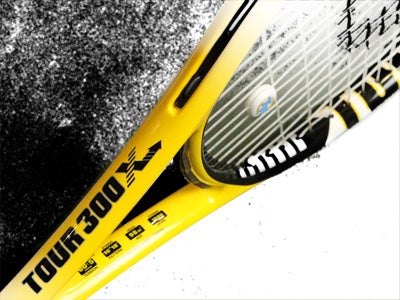 Kana said, "The specs of this racquet are extremely close to how I have my V1 Classic set up, so it was an easy transition. Compared with my racquet, it was not as forgiving out of the sweetspot, making the vibration a little harsh. Nevertheless, hitting the sweetspot dead on created a heavy shot that skimmed the court. I could really swing away on my backhand and not worry about it flying out. I probably liked it better with a full bed of poly than with a full multifilament setup. I did not get to try it, but I think it would be ideal for me to string it with a multi/poly hybrid. This racquet was very crisp, and I favor more of a muted feel. It would have been great if the handle had a dampening technology to minimize vibrations."
Ryan had to work to limit the power. He said, "The most notable feature of this Gamma was my ability to generate power with almost no effort. This was appreciated on shots where I was stretched out wide and could not swing fully or had to stab at the ball, but I had to make a conscious effort to change my swing to keep from spraying balls long when rallying."
The sweetspot location challenged Sean, who said, "It took me awhile to really find the range with this racquet on all my groundstrokes. I am used to hitting the ball a little higher up on the stringbed than most, and I found that this racquet was not as forgiving as I had thought it might be. The sweetspot was a little smaller than I had hoped, although when I was dead on, the racquet had a really solid feel that I would not have expected from a light racquet like this. This racquet performed great when I was able to get into position and set up, with enough put-away power to finish the point. Spin was also easy to generate off both wings, which I loved for the baseline style that I prefer to play."
Tiffani was pleased with the stability of the racquet, offering, "This racquet was a pleasant surprise for me off the ground. It felt head heavy at first, and the specs confirmed that. I generally prefer head light racquets, and I can struggle with control when playing with head heavy racquets. However, when strung with a co-poly this racquet served up a blend of pop and control. I was able to hit with depth and execute sharp angles off both wings. For its relatively light static weight, this offered good stability. It had a crisp, yet comfortable, feel, reminding me a bit of the HEAD Instinct in terms of feel but with an open string pattern and head heavy balance for additional pop. This racquet also responded well to a multifilament, but I preferred a higher tension with this setup to rein in the power."
Volleys - Score: 76
Our testers had mixed reactions to the Tour 300X at net. Ryan sought more versatility, saying, "The racquet felt very stable, even on off-center volleys. I didn't have to work very hard to get solid, deep shots that stayed low. Feel was poorer than I expected, however."
Jackson said, "I think that I would probably stick to my baseline game with this racquet. Unfortunately, the racquet just did not have the maneuverability that I needed to be comfortable attacking the net. Surprisingly, it did have pretty decent touch at the net when I had the benefit of time on my side and could plan out and execute my shot."
It was a love/hate relationship for Sean at net. He said, "I seemed to have mixed feelings about my shots when it came to volleys. If I could get a hold of an easy ball or a floater, put-aways were simple to direct and finish off. The plow through was a welcome surprise considering it weighs just less than 11 ounces. On the other hand, I felt like the sweetspot was hard to find, and anything that was not hit in the very center died instantly. Maneuverability was decent due to its low weight, but I would not say that I ever felt completely comfortable with this racquet at the net."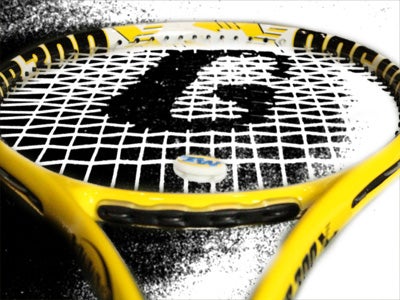 Tiffani offered, "Again, I was pleased with the stability offered by a racquet weighing just under 11 ounces. There was good feel and a clean response. All this made me pretty comfortable at net, and I enjoyed hitting deep volleys."
Kana felt right at home at net, saying, "I was very comfortable at net with the 300. Lately, I've felt more comfortable with a head heavy balance as it is easier for me to chop down at shots, creating a shorter, sharper angle. Most shots I receive at the net are usually above my head, so having more weight in the head helps me more if I'm late."
Serves - Score: 77
The combination of a head heavy balance and an open string pattern left the team split on how the racquet performed on serves. Again, Sean had mixed feelings about the racquet. He said, "When it came to serves, I had a lot of trouble controlling my shots. I could access a good amount of power, if and when I needed it, but placing my serves was much more difficult than I'm used to. In most of my sessions my first serve percentage was low, and I was forced to let up on my serves to make sure they dropped in. The same went for my second serves, where I had problems finding my range. This put me at an immediate disadvantage. I was frustrated that this racquet performed sluggishly on serves, especially since I use my serve as one of my bigger weapons."
Tiffani relied on the power, saying, "I haven't been able to put as much into my serve lately because of my pregnancy. I did feel, though, that I didn't have to go after the ball much (not that I could right now) to get a decent serve in the box. The stiffness of the racquet really came in handy here."
Jackson agreed, "After adjusting my timing, I really enjoyed this racquet for serving. The open string pattern helped the stringbed bite into the ball, and the head-heavy balance really allowed the racquet head to accelerate through the apex to deliver serious bombs."
Not having as easy a time was Kana. She offered, "The feel on serves was a little too stiff, and the racquet could be more stable. At times I felt the racquet flutter when going for the big serve down the T. It felt like my momentum was hindered because there was not enough stability if the contact was slightly off center. The racquet did have enough stability when I went for the basic high percentage serve."
Ryan struggled with variety. He said, "Serves never really worked that well for me. I struggled to hit balls with any weight, and I frequently found my serves landing a little shorter than I would have liked. Although flat serves were easy, it was difficult to hit off-speed serves with this racquet (kick, slice, etc.)."
Serve returns - Score: 76
The Gamma Tour 300X performed well for the team on returns, for the most part. Kana adjusted her return with success. She said, "It took a little longer to adjust my return game because I was mostly playing with men, and I didn't get many easy return games. Because the racquet's sweetspot isn't very forgiving most of my returns landed around the service line, making it an easy approach shot for my opponents. Like on my volleys, I went to more of a flatter shot. Flattening it out even more made it a more aggressive shot to my opponent's feet."
Ryan tapped into the power, saying, "Returns were fine with the Tour 300X. All I needed to do was block the ball back and the racquet used its generous power and stability to move the return pretty deep. However, if the ball were hit off-center, my return would fall short, even if the racquet didn't twist or shake a whole lot."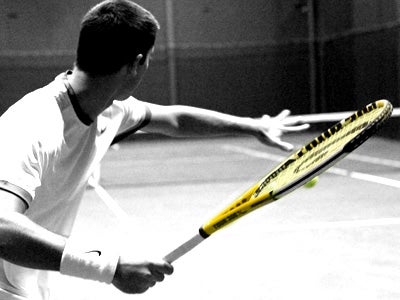 The racquet allowed Sean to return with variety. He offered, "I was definitely impressed with my service returns with this racquet compared with most of my other strokes. It felt solid when I was blocking back a return, as well as when playing a standard groundstroke, most likely due to its balance. Most of the time I felt more comfortable slicing or blocking returns because my returns seemed to land deep in the court. If I decided to play a more aggressive return I found myself stepping into the court and taking the return earlier than I usually would. I was very comfortable taking a shorter backswing to control the return, which isn't something I usually practice."
Tiffani said, "What impressed me most on returns was the stability I was getting. For a racquet that weighs less than 11 ounces it stood up well to most serves, thanks to a slightly head heavy balance. I still found the racquet plenty maneuverable, and it hit the right note of power and control for an effective return game."
It was tough going for Jackson, though. He said, "The lack of consistency and predictability (from my end) kept me from really enjoying this frame on serve returns. For the most part I was able to put the ball back into play, but sometimes the ball barely crawled over the net and other times I hit a smoking return deep into the court."
Overall - Score: 77
If there were two things that our testers agreed upon it was that the Tour 300X had plenty of power on tap from all areas of the court and, thanks to its head heavy balance, the racquet also offered decent stability for a racquet that weighs less than 11 ounces strung. Though the head heavy balance can take some of the credit for that power and stability, it may also be responsible for the troubles some of our playtesters had with maneuverability. Our playtesters who were used to head light racquets struggled with timing when switching over to the Tour 300X. However, once dialed in, the Tour 300X offered excellent power and control. This racquet is a worthy demo for intermediate players seeking a crisp feel in a lighter weight racquet.
Likes
Jackson "A good combination of power and touch is a hard thing to come by, but from the baseline, hitting a deep, aggressive shot was just as easy as producing a dying drop shot or skidding slice."
Kana "Groundstrokes were my favorite, especially on my backhand side, where I could completely swing away without sacrificing any control. Considering the specs, I was surprised how stable it was."
Ryan "The racquet felt sturdy in my hands and very stable upon impact. It was exceptionally easy to generate power."
Sean "A maneuverable, solid feeling, lightweight racquet that packs some surprising punch and power."
Tiffani "The Tour 300X has a solid, crisp feel in a maneuverable package. I really enjoyed this racquet."
Dislikes
Jackson "I felt like shots on the run were very hit or miss ... literally. Make sure you have sound timing and good technique if you want to maximize what this stick has to offer on those do or die points."
Kana "The stiffness of the racquet is too much for my shoulder to handle."
Ryan "The balance forced me to adjust my backswing quite significantly to avoid being late on shots. Feel was average, as was maneuverability."
Sean "The smaller sweetspot caused me some frustration when it came to groundstrokes and serves."
Tiffani "There's not much I dislike, but I did find the string setup affected my experiences quite a bit. Synthetic gut strung at a low tension did not work for me. It was a co-poly at just below mid that gave me the best results."
Technical Specifications

Length
27 inches
69 centimeters
Head Size
98 square inches
632 square centimeters
Weight
10.8 ounces
306 grams
Balance Point
13.8 inches
35 centimeters
2 pts Head Heavy
Construction
22.5mm/22mm/22mm Straight Beam
Composition
Graphite
String Pattern
16 Mains / 18 Crosses

Babolat RDC Ratings

Score

Grade

Flex Rating
68
Range: 0-100
Swing Weight
324
Range: 200-400
Scores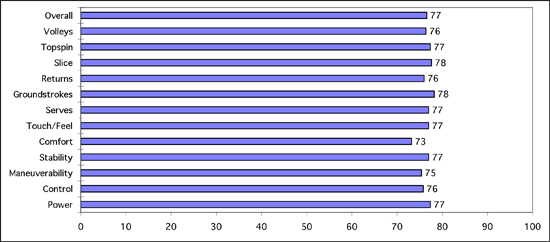 (Scores are determined by averaging individual play test scores)
Jackson's Scores
Power
8
Serves
8.3
Control
7
Groundstrokes
8
Maneuverability
7
Returns
7
Stability
7.4
Slice
8
Comfort
7.5
Topspin
8.2
Touch/Feel
8
Volleys
7.5
Overall
7.8
Kana's Scores
Power
7.5
Serves
7.4
Control
7.7
Groundstrokes
8
Maneuverability
7.7
Returns
8
Stability
7.7
Slice
7.8
Comfort
7
Topspin
7.5
Touch/Feel
7.5
Volleys
8
Overall
7.7
Ryan's Scores
Power
8
Serves
8
Control
8
Groundstrokes
7.5
Maneuverability
7
Returns
7
Stability
8
Slice
8
Comfort
7.5
Topspin
7.5
Touch/Feel
7.5
Volleys
7.5
Overall
7.5
Sean's Scores
Power
7.4
Serves
7.2
Control
7.5
Groundstrokes
7.6
Maneuverability
8
Returns
8
Stability
7.6
Slice
8
Comfort
7
Topspin
7.7
Touch/Feel
7.8
Volleys
7.4
Overall
7.5
Tiffani's Scores
Power
7.8
Serves
7.6
Control
7.7
Groundstrokes
8
Maneuverability
8
Returns
8
Stability
7.8
Slice
7.8
Comfort
7.6
Topspin
7.8
Touch/Feel
7.7
Volleys
7.8
Overall
7.8
Playtester Profiles
Jackson: 4.5 All court player currently using a customized Babolat Pure Storm. Jackson uses a semi-western forehand grip, and hits with a two-handed backhand.
Kana:Open level baseliner with a western forehand and two-handed backhand. Currently using a customized Volkl V1 Classic.
Ryan: 4.5 baseliner with a Semi-Western Forehand and a two handed backhand. Ryan currently plays with a customized a Wilson Six-One 95 BLX.
Sean: 4.5 baseliner using the Babolat Aeropro Drive Cortex. Sean has a semi-western forehand, 1 handed backhand.
Tiffani: 4.0 level baseliner with a semiwestern grip on the forehand and hits a two-handed backhand. Currently playing with the Yonex RDS 003 (08 version).

Review date: September 2010. If you found this review interesting or have further questions or comments please contact us.
All content copyright 2010 Tennis Warehouse.