Donnay X-Red 99 Racquet Review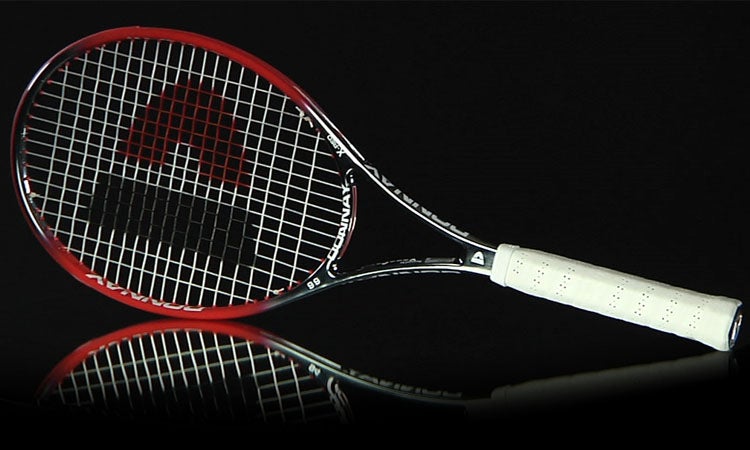 Donnay has reentered the racquet market with some impressive player's racquets, including the one tested here, the X-Red 99.
The 'X' stands for XeneCore, a new fiber technology that uses high-pressure solids to form and reinforce the graphite fiber composite. XeneCore has allowed Donnay to produce a line of racquets with very thin beams for better maneuverability. The high-tensile strength of XeneCore is said to also dampen vibration and provide unexpected power.
The Red defines the racquet's spot in the Donnay line up. The racquets are arranged in a spectrum of color with X-White the lightest and the X-Blue racquets the heaviest. The X-Red 99 falls roughly in the middle of the weight range. At 11.5 ounces strung, the racquet is towards the lighter end of the typical weight range for player's racquets. As you'll see in our review, that light weight gave the racquet a very maneuverable feel on the court.
Stronger players can take advantage of Donnay's unique Self Customizing Weight/Balance System to increase power and stability. The system is comprised of three weighting strips that slide into the grommet system to add weight to the head, and differently weighted butt cap inserts to add weight to the handle (reducing the need for lead tape application for the player who likes to customize).
To put the X-Red 99 through its paces, our team playtested it over several months. Read on to see how Donnay's return has impressed our testers.
Groundstrokes - Score: 80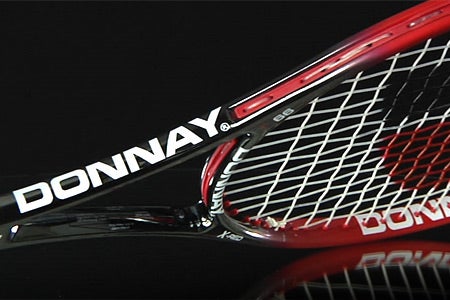 The X-Red 99 impressed our testers with is smooth feel, comfort, and exceptional control from the baseline. Able to find his targets with ease was Chris. He said, "I found an effortless level of power and control from this racquet from the baseline. I could stand at the back of the court and hit the ball to my targets with good pace and spin, and best of all, it felt like I could keep doing it all day long. When stepping inside the court, I was surprised at the pace I could generate on approach shots and put aways. I was finding enough pace off the ground that it enabled me to finish off the point quickly or set myself up for an easy volley."
Granville enjoyed the soft feel, saying, "The feel of the X-Red 99 was very soft and luxurious. It was an easy racquet with which to take a full swing at the ball, much like a traditional style racquet (Pro Staff 6.1 comes to mind.) It was massive enough to really move the ball, and the 99 square inch headsize offered that very comfortable, deep pocketing. While my groundies were landing short, I'm certain that adding depth would be an easy adjustment with my preferred string set-up."
Finding a smooth feel and crisp response was Brittany, who said, "The racquet had an exceptional feel that is quite different from any other racquet I have used. I was amazed with how smooth and crisp the racquet felt. This bigger head size worked to my advantage and my game style better than the X-Red 94. It created a bigger sweetspot and I really felt in control of my groundstrokes. Additionally, I felt this racquet to be more forgiving when I did not hit completely in the sweetspot. The stability I felt when I was hitting my slice definitely was a bonus. As an aggressive flat baseliner, I still felt like I was missing a little bit of power."
Spencer liked the forgiving sweetspot and the control. He said, "The X-Red 99 offered a forgiving feel from the baseline. I liked how I could hit off center and not be too penalized for it. The flex and specs made for a nice feeling stick. The soft feel makes for comfortable groundies. If there's a knock in comparison to the 94, it's that there isn't the immediate feedback. The control was very good, but it wasn't one of those racquets where you know you've hit a good shot without even seeing where the ball lands, which is what I found with the 94."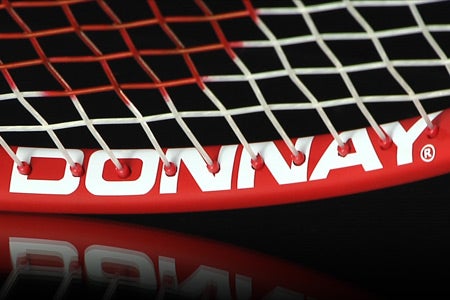 Volleys - Score: 81
The X-Red 99 proved very popular at net with out testers. Finding a great fit for her net game was Brittany. She said, "This racquet shined when I was hitting volleys. I felt very comfortable at net, both when I had to reflex volley the ball back or step in and hit the volley deep. The feel of this racquet made it very easy for me to hit touch and angle shots off both sides."
Chris enjoyed the maneuverability, stating, "This racquet felt very fast at net. I preferred the racquet strung just over mid with a full poly string to up the control and tame some of the pace off the stringbed. I found lots of bite on the ball when looking to cut a volley with some spin, and that also helped me keep my volleys on target."
Liking the solid feel was Granville. He said, "It was solid at impact. The racquet had a very soft feel, with more of a trampoline effect. It simply lacked the crisp feel of the 94. It was maneuverable with good touch, making for an easy transition from my current racquet."
Spencer felt this racquet performed well on quick volley exchanges. He said, "With a sub 12-ounce weight and a head light balance, the mobility at net was fantastic. Put away volleys were easy. I really enjoyed this racquet when playing doubles, as the forgiveness of the bigger sweetspot allowed more success, especially in quick back and forth exchanges where not as much feel or touch was necessary."
Serves - Score: 78
Our testers found ample pace and spin when serving with the X-Red 99. Enjoying the added pace was Granville, saying, "I really enjoyed the slightly lighter spec here. It felt like I was getting better head speed on my serves. That, combined with the larger stringbed, allowed me to hit a slightly bigger serve. As with the 94 headsize, targeting was spot-on."
Brittany concurred with Granville concerning pace. She said, "With the bigger headsize I was able to generate a little bit more power off my first serve compared to the X-Red 94. Also, I was able to hit big kick serves for my second serve, with a lot of control."
Chris also noted the extra kick he was getting, saying, "At first I was holding back slightly with this one on serve. The level of power really surprised me for a player's racquet. Once I got things dialed in I was able to use that pace to my advantage and bring a little extra heat to first serves. I thought the spin production I was getting on second serves was exceptional. I was definitely seeing serves kick higher and pull my opponent further off court."
Spencer was in full agreement with our other testers. He said, "A bit like the X-Red 94, the X-Red 99 seemed to catapult the ball off the stringbed, causing me to adjust a bit. Once there, I was happy with the consistency and forgiveness. The open string pattern helped create a little more kick, which paid dividends."
Serve returns - Score: 80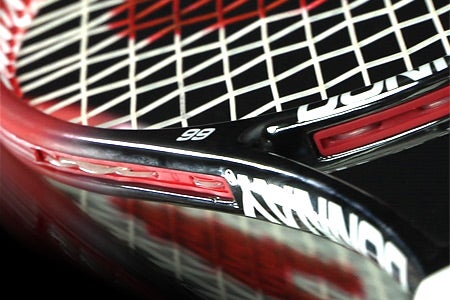 The X-Red 99 continued to impress our team when it came to returns. Chris enjoyed the variety he was finding on his shots, saying, "I liked the spin I found on my topspin return. I was able to hit some decent angles, as well as flatten out returns to hit with depth and pace. When I was pulled wide there was enough power to float the ball back with depth and help neutralize the point."
Granville used the lighter weight to his advantage. He stated, "Once again, I enjoyed the lighter weight of this performance racquet. It added maneuverability, further enhancing the head light feel. I was able to take full swings on either side when returning serves, and if pressed, I could comfortably block the ball back with good precision."
Brittany liked the solid feel, and being able to handle bigger serves, saying, "I felt the stability of the racquet was a strength when I was hitting returns. Even against big serves, I was able to step in and really swing through the ball."
Spencer enjoyed the maneuverability and forgiveness of the X-Red 99. He said, "Again, I enjoyed the forgiveness. It, along with the maneuverability, helped my confidence when returning serve. "
Overall - Score: 79
With impressive power for a player's racquet, the X-Red 99 provided ample punch from all areas of the court. Our testers found the healthy sweetspot to provide a forgiving response, excellent comfort and lots of feel. From the baseline and on serve, access to spin was excellent. When it came to getting serves back, our testers found a blend of power and control that allowed them to play aggressively, yet still find their targets. With such promise from all areas of the court, the X-Red 99 makes an idea choice for all court players, as well as those who like to mix singles and doubles play. All in all, this very impressive offering from Donnay should be high on the demo list for any player seeking a player's racquet with good maneuverability.
Likes
Chris "I loved the spin I found from all areas of the court. As with all of the XeneCore racquets, the feel and touch was impressive. I liked the ability to easily change the weight/balance with the customization kit -- especially the weighted butt caps, which makes these racquets the easiest racquets to tail weight."
Granville "The weight and balance hit that 11.5-12.0 ounce player's stick mark, and I found it a friendlier version of the X-Red 94. I also liked the customizing kit."
Brittany "The comfort and stability I got off my groundstrokes and volleys."
Spencer "The stability and forgiving stringbed."
Dislikes
Chris "Nothing really. The power surprised me at first but that was an easy adjustment and something I could further dial in via string choice."
Granville "Some trampoline effect, but that may be remedied with a different string set-up."
Brittany "The power is still slightly lacking for me."
Spencer "Not a dislike, per se, but I enjoyed the feel of the X-Red 94 so much that the X-Red 99 seemed to pale in comparison."
Technical Specifications

Length
27 inches
69 centimeters
Head Size
99 square inches
639 square centimeters
Weight
11.5 ounces
326 grams
Balance Point
12.875 inches
33 centimeters
5pts Head Light
Construction
Tapered Beam
Composition
XeneCore/Graphite
String Pattern
16 Mains / 19 Crosses

Babolat RDC Ratings

Score

Grade

Flex Rating
64
Range: 0-100
Swing Weight
318
Range: 200-400
Scores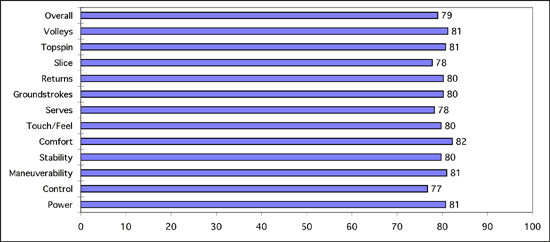 (Scores are determined by averaging individual play test scores)
Brittany's Scores
Power
7.5
Serves
7.8
Control
7.8
Groundstrokes
7.8
Maneuverability
8.1
Returns
7.7
Stability
7.8
Slice
7.6
Comfort
8.1
Topspin
7.9
Touch/Feel
8.3
Volleys
8.5
Overall
7.7
Chris' Scores
Power
8.3
Serves
7.8
Control
7.9
Groundstrokes
8.6
Maneuverability
8.3
Returns
8.3
Stability
8.3
Slice
8.4
Comfort
8.6
Topspin
8.7
Touch/Feel
8.2
Volleys
8.3
Overall
8.4
Granville's Scores
Power
8.5
Serves
8.2
Control
7.5
Groundstrokes
7.7
Maneuverability
8
Returns
7.7
Stability
8
Slice
7.5
Comfort
8
Topspin
7.5
Touch/Feel
7.7
Volleys
7.7
Overall
7.7
Spencer's Scores
Power
8
Serves
7.5
Control
7.5
Groundstrokes
8
Maneuverability
8
Returns
8.4
Stability
7.8
Slice
7.6
Comfort
8.2
Topspin
8.2
Touch/Feel
7.7
Volleys
8
Overall
7.8
Playtester Profiles
Chris:5.0 All court player currently using the Volkl Power Bridge 10 Mid. Chris uses a full-western forehand grip, has a fast swing style and hits a one-handed backhand.
Granville: 5.5 all-court player currently using a Wilson K Factor Six-One Tour 95. Granville is an aggressive player who uses an eastern forehand grip and goes continental on everything else, hits with a flat swing and a one-handed backhand.
Brittany: Open level player with a semi-western forehand and a two handed backhand. She currently plays with the Prince EXO3 Black.
Spencer:4.5 Baseline player currently using a Wilson Kobra Tour. Spencer uses a semi-western forehand grip, and hits with a one-handed backhand.

Review date: January 2011. If you found this review interesting or have further questions or comments please contact us.
All content copyright 2010 Tennis Warehouse.