Donnay X-Red 94 Racquet Review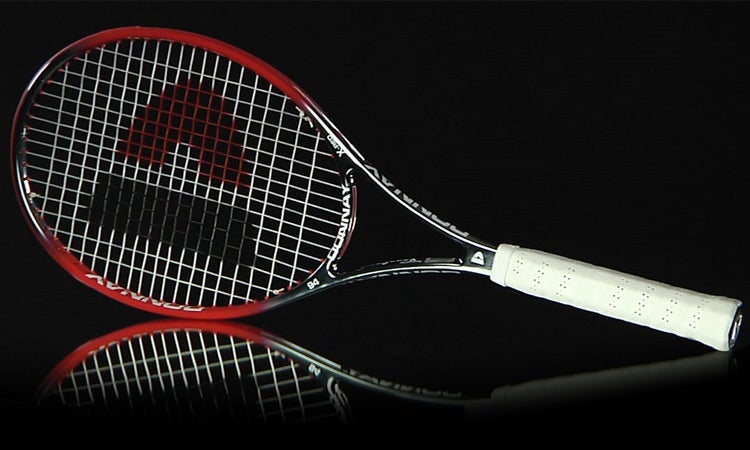 Donnay is back.
WIth an all-new line up of XeneCore racquets, Donnay has made its return to tennis courts around the world. Available exclusively online in the USA at Tennis Warehouse, the new Donnay racquets bring an innovative beam design and customization system to a tight line up of racquets aimed at intermediate through advanced level players.
It's no secret that here at TW that we love player's racquets. Give us a strung weight over 11 ounces, lots of feel, good access to spin and an emphasis on control and you are talking our kind of racquet.
Here we put the Donnay X-Red 94 to the test. It is a midsize player's racquet that hits all of the above performance characteristics, and more. You can find out everything you want to know about the specs, construction and weight customization kit on the X-Red 94 product page, so without further ado, read on to see just how impressed we were with this latest offering from Donnay.
Groundstrokes - Score: 80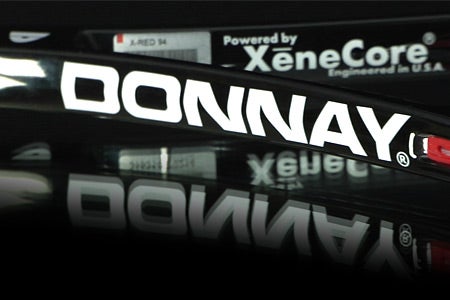 Chris enjoyed the accuracy and feel of the X-Red 94, saying, "It was an easy fit for me off the ground with this racquet, as the headsize and string pattern are almost identical to my Volkl Powerbridge 10 Mids. This racquet is a tad lighter and faster, though, so I found it easy to generate a fast swing. Good racquet tip speed translated into lots of spin on my groundstrokes. I played with all the weight strips and the heaviest butt cap from the customization kit that comes with each racquet and that helped add some of the weight I was seeking. I was very happy with the level of feel and surprised out how much pace I could generate. It's a filled racquet and offers a unique feel compared to most of today's offerings. I felt extremely dialed in and in touch with my drop shots and angles. I also felt like I could move my backhand slice around the court at will and find my targets with great accuracy."
Granville echoed Chris' comments concerning accuracy. He marveled, "From the first strike of the ball the X-Red 94 was registered in my long term memory. If and when I need a new stick - this one is on the list of possibles. At just under 12 ounces it's light enough to maneuver under the most strenuous circumstances, yet massive enough to really smack the ball with some pace. It is "crisp" enough to offer that nice control and feedback as I found myself placing the ball very near, or exactly where, I wanted. There were moments on approaches to the net that I thought to myself "I didn't know I was capable of hitting that shot that accurately!"
Finding plenty of power and spin was Brittany. She stated, "The racquet had a unique feel that was comfortable to play with. I was surprised that I was able to hit with a reasonable amount of power off both wings. I was impressed with the racquet on my forehand side as I was able to generate more spin on my normally flat stroke. My slice was smooth and I could hit the ball deep or angled consistently. I did miss the little bit of extra pop that I am use to with my racquet."
Spencer was very impressed with the control and feel. He said, "Having such a thin beam, and a more classic feel, it took a little getting used to, since racquets like this are few and far between these days. Even though it has a more classic feel, there is plenty of power to go along with it. The open string pattern provided a livelier, spin friendly response. It had soft feel and excellent feedback. Whether I was hitting forehands or backhands, the racquet let me know immediately how I was hitting the ball. I usually like a racquet with a larger headsize, but I found I was enjoying this one more and more as the playtest went on. This is one of those racquets that, because of the tremendous feel, becomes an extension of my arm. During one session of hitting I was hitting the backhand slice so well that I felt I could put it anywhere on the court. Deep crosscourt, shallow crosscourt, skidding down the line, hitting a dropper, it didn't matter. I was exuding a ton of confidence. I found this to be a great stick for me when playing singles."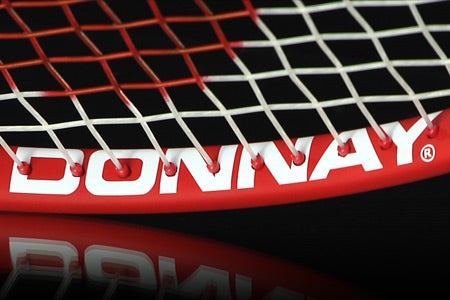 Volleys - Score: 85
The Donnay impressed every tester at net. Brittany felt extremely comfortable with this racquet in hand. She said, "This was my absolute favorite part of the racquet. I normally struggle with my volleys, but I felt the maneuverability was a strength and I could easily reflex my shots back deep. The feel of the racquet was exceptional, and I was able to create touch shots and angles with ease."
Finding no volley this racquet couldn't excel at was Chris, who stated, "This was a great stick at net. I was able to punch volleys deep, and I was finding impressive pop from the stringbed. When looking to drop the volley short, I found all the touch I needed to hit my targets. This racquet impressed me in every category at net, but mostly with the touch I was finding."
Granville was impressed with the precision he found. He said, "At 5 points head light this racquet has a much more head-light feel. I assume that was because its 11.5 ounce weight is slightly lighter than what I'm used to. Overall, it was solid on impact with a crisp response, and it had a scalpel like feel."
Happy with the response at net was Spencer. He said, "Touch and finesse is where this racquet excelled at net. Incredible feel. It has enough weight for decent stability, and is rather maneuverable. It was easy to get the racquet where it needed to be during quick exchanges."
Serves - Score: 79
The X-Red 94 continued to impress on serve, with every tester pleased with their results. Noting some increased precision on serve was Granville. He explained, "Good control gave me a lot of confidence on my serves. I was serving with a bit more pace, and I really noticed I could reduce my target zones due to the increased accuracy."
Brittany found effectiveness using spin. She said, "I felt the spin and control were excellent when hitting serves. It was incredibly effective on my second serve as I was able to accurately place the serves with ease. It did have some power, but not as much as I normally would like."
Spencer agreed. He said, "Serves seemed to jump off the racquet. There was a period of adjustment where I had to reel in my swing a tad while I got used to how the ball came off the stringbed. From there I was able to dial in my serve. I really enjoyed the spin this racquet could produce when serving."
Finding a good combination of control and pace was Chris, who said, "I served well with this racquet. I was able to add some heat to first serves. As I found from other areas of the court, getting pace was easy. I also found lots of spin, which helped me hit a nice heavy serve on both deliveries. On second serves I found enough control to stay aggressive."
Serve returns - Score: 79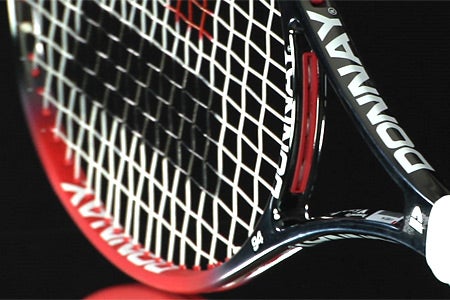 Control, stability, spin and feel came through on returns, making for a very impressive hitting experience. Chris was returning with confidence. He said, "I was taking a really good cut at the ball on returns whenever I could with this racquet. I felt very confident swinging away and putting some good stick on my shots. Again, I could find plenty of spin on both topspin and slice returns, which further enhanced the level of control for me."
Taking advantage of the solid feel and maneuverability was Granville, saying simply, "It's solid and maneuverable. I felt I could take the point anywhere I wanted, right off the return."
Spencer had to dial back the aggression when returning. He noted, "I felt I had to be more reserved on returns because of the liveliness of the racquet. Maybe this was not such a bad thing, as I upped my return percentage. I just didn't feel I could get very aggressive."
Having similar sentiments was Brittany, stating, "I had a little bit of an adjustment period for this racquet on returns. Once I made the adjustment I was able to swing freely with control. I felt like I was able to really step in and still be able to place the ball accurately on both the first and second serve return."
Overall - Score: 81
A player's racquet with almost universal appeal. Seems like an impossibility, but we think we just found one right here in the donnay X-Red 94. Even the testers who are used to much more powerful racquets with larger headsizes quickly found the groove and came away impressed with the X-Red 94. For a control oriented mid, it offers surprising power. The open string pattern provides plenty of pace off the stringbed, as well as excellent bite for spin. Whether they were trading groundstrokes or looking to hit a kick serve, all of our testers were finding lots of spin. Topspin wasn't the only standout, though. This racquet also delivered on slice. The solid response and excellent feel provided the precision needed to control slice shots to the corners, float the ball deep, or hit a drop shot. The X-Red 94 offered a maneuverable response at the net, plenty of pop, excellent comfort, tons of feel and pinpoint accuracy. Get the idea we were impressed with this one? You're absolutely right. There's just tons of performance here for the intermediate through advanced level player. Order one for a demo today, you won't be disappointed.
Likes
Chris "The power, spin, maneuverability and exceptional feel impressed me the most. I also liked the customization kit, as it allowed me to easily add weight and bring the racquet up to my preferred spec."
Granville "The slightly lighter weight,compared to most player's racquets, offers a nice option for those players looking to get a racquet under 12 ounces. The customizing pack is a nice option for final tweaking of the set-up. The thin beam with the solid core offers great feel."
Brittany "The exceptional feel of the racquet and the strength it added to my touch game."
Spencer "The feel, without a doubt."
Dislikes
Chris "None."
Granville "A bit pricey at $229. Playing indoors exclusively right now - thinking the chrome paint could cause glint fatigue in the sunshine."
Brittany "At times the racquet felt a little unstable when I missed the sweetspot."
Spencer "There's actually nothing I disliked."
Technical Specifications

Length
27 inches
69 centimeters
Head Size
94 square inches
606 square centimeters
Weight
11.5 ounces
326 grams
Balance Point
12.875 inches
33 centimeters
5pts Head Light
Construction
Tapered Beam
Composition
XeneCore/Graphite
String Pattern
16 Mains / 19 Crosses

Babolat RDC Ratings

Score

Grade

Flex Rating
63
Range: 0-100
Swing Weight
318
Range: 200-400
Scores
(Scores are determined by averaging individual play test scores)
Brittany's Scores
Power
7
Serves
7.7
Control
8
Groundstrokes
7.6
Maneuverability
8.3
Returns
7.6
Stability
7.7
Slice
7.8
Comfort
8.3
Topspin
8.1
Touch/Feel
8.5
Volleys
8.8
Overall
7.9
Chris' Scores
Power
7.9
Serves
8.4
Control
8.5
Groundstrokes
8.3
Maneuverability
8
Returns
8.3
Stability
8.2
Slice
8.4
Comfort
8.6
Topspin
8.4
Touch/Feel
8.5
Volleys
8.5
Overall
8.5
Granville's Scores
Power
8
Serves
7.7
Control
8.5
Groundstrokes
8.2
Maneuverability
7.9
Returns
8
Stability
8
Slice
7.5
Comfort
8.2
Topspin
7.5
Touch/Feel
8
Volleys
8.2
Overall
8
Spencer's Scores
Power
8.3
Serves
7.6
Control
8.5
Groundstrokes
8
Maneuverability
8
Returns
7.5
Stability
8
Slice
8.5
Comfort
8.3
Topspin
8.3
Touch/Feel
8.5
Volleys
8.3
Overall
8
Playtester Profiles
Chris:5.0 All court player currently using the Volkl Power Bridge 10 Mid. Chris uses a full-western forehand grip, has a fast swing style and hits a one-handed backhand.
Granville: 5.5 all-court player currently using a Wilson K Factor Six-One Tour 95. Granville is an aggressive player who uses an eastern forehand grip and goes continental on everything else, hits with a flat swing and a one-handed backhand.
Brittany: Open level player with a semi-western forehand and a two handed backhand. She currently plays with the Prince EXO3 Black.
Spencer:4.5 Baseline player currently using a Wilson Kobra Tour. Spencer uses a semi-western forehand grip, and hits with a one-handed backhand.

Review date: January 2011. If you found this review interesting or have further questions or comments please contact us.
All content copyright 2010 Tennis Warehouse.