Diadora Speed Star K II Women's Shoe Review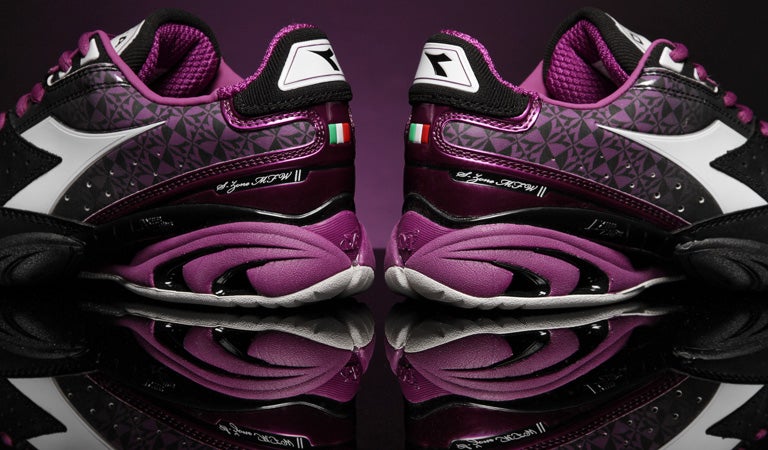 Diadora Speed Star K II Women's Shoe Scores
Comfort
4.6
Ventilation
2.1
Arch Support
4.1
Foot Support/Stability
4.1
Overall Sole Durability
4.2
Toe Durability
3.1
Traction
4.0
Weight
4.1
Overall
4.2
Upsides
Comfort, comfort and comfort
Stability
Balance of lightweight and durability
Did we say comfort?
Summary
Among the most comfortable shoes on the market, the Diadora Speed Start K IIs feature kangaroo leather to keep them incredibly plush, comfortable and light. The Axeler Wi-5 propulsion shank helps players stay quick on their feet, while minimizing shock and transferring energy into every aggressive step. The Duratech rubber outsole gives this shoe loads of durability, which is great since you may never want to take them off. The Speed Star K II is one of the most comfortable shoes our team has ever worn on court, and once our playtesters slipped them on they didn't want to take them off! However, that sentiment changed when they realized how hot these shoes got while they were scrambling around on the indoor court at Tennis Warehouse. Fortunately, that was the only downside they could all agree on. Our team gave the Speed Start K II high marks for traction, stability and durability. Throw in the sharp cosmetics and fast feel, and we think all the positives are enough for us to recommend giving this shoe a shot.
Comfort - Score: 4.6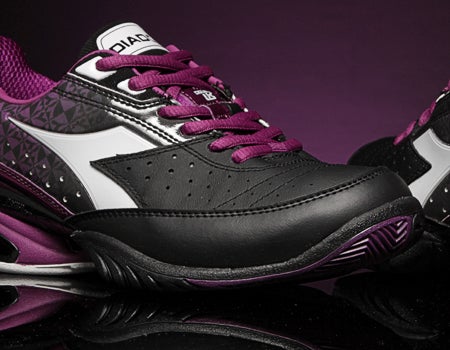 The Speed Star K II oozed comfort right out of the box, and this feature quickly became the talk of the playtest. This was our playtesters' first experience wearing kangaroo leather, and it proved to be a positive one. "These shoes are some of the most comfortable shoes I have worn...ever!" raved Michelle. "I lived in these shoes throughout the playtest. They were so plush -- it was like stepping into a pillow every time I put them on. There were even times when I was playtesting other shoes and I would put on the Diadoras when I got off the court just because they were so comfy! On court, the comfort shone for sure -- no break-in period at all for me, plus lots of plush support. I didn't have a single issue with rubbing or discomfort! I'm a believer in kangaroo leather -- so much comfort for one shoe!"
"I have nothing but good things to say about the comfort of these tennis shoes!" agreed Karly. "They fit like a glove and had such plush padding throughout the shoe. Not one area was uncomfortable or lacked padding. These shoes reminded me more of slippers than actual tennis shoes because of their fit and softness. They fit snug, like a glove, so there was a tiny bit of rubbing on the outside of my wider forefoot, but I still thought the pillowy padding made the shoes extremely comfortable to wear."
Comfort was a definite highlight for Tiffani as well. She said, "The uppers are so soft and supple that this shoe is wearable and playable right out of the box. There is a lot of cushioning in the heel, but it rides lower to the ground in the forefoot and feels like the cushioning is minimal in that area. It's still one of the most comfortable shoes I've worn in a while. The only thing holding them back comfort-wise is the ventilation."
Rounding out the positive feedback was Brittany, who added, "Wow! I have to say these are some of the most comfortable shoes I have ever played tennis in. I was able to slip these shoes on my feet for the first time and walk straight onto the court. I had no break-in period, and the upper instantly molded around my foot without any pressure spots. These shoes made me a big fan of kangaroo leather."
Ventilation - Score: 2.1
It's a good thing the Speed Star K IIs were so comfortable because they definitely didn't breathe well. It may have been a lack of perforations or that the leather just ran hot, but our team struggled to enjoy the ventilation of this shoe. For Karly, ventilation was the biggest negative. She explained, "Once I started moving around on court the shoes heated up fast, and after a hit I immediately wanted to change both my shoes and socks because of how damp they got. Luckily I was hitting on an indoor court, because I can't imagine how hot these dark colored shoes would feel under the sun."
Tiffani agreed that this shoe was like a sauna for the feet. She said, "So as it turns out, kangaroo leather is very soft and comfortable, but it is not breathable when there aren't any ventilation measures built into it. The lack of perforations is really evident, and this shoe runs hot, hot, hot! However, because it's still super comfortable I wore it anyway, and I just brought shoes to change into after I was done playing."
"With the great comfort came a great lack of ventilation," critiqued Brittany. "There is very little ventilation, and it was very noticeable from the first hit. There is no mesh in the upper so there is little to no ventilation, and the air circulation for my feet was pretty limited. I had to remove my shoes almost instantly after every playing session because my feet were overheating."
Michelle, who can often look past a hot shoe, was still smitten with these shoes. She noted, "If the ventilation were better this would be my perfect shoe! Unfortunately, there are ventilation issues here, and the kangaroo leather doesn't really breathe at all. I don't mind it too much, but this could be a problem once the weather starts getting a bit warmer. My feet definitely got hot and sweaty in these shoes."
Arch Support - Score: 4.1
The Speed Star K II suited each of our playtesters' arches adequately. Tiffani, who has flatter feet, had no issues with the arch support. She said, "I can't say that I ever thought about the arch support, so I have no complaints. My feet never ached or were left wanting more."
Brittany had nothing to complain about, either. She offered, "From the moment I put these shoes on to the very last hit on the court, the arch support was perfect for me. It hit the right place and right height for my medium arched foot."
"I didn't have any problems with the arch," agreed Karly. "The shoes had a little bit of an arch, but they felt just fine for my flat feet. My feet never ached or felt sore, so I was happy with the amount of support they offered."
Michelle did find the arch support in this shoe to be slightly low for her higher arches, but she didn't find this to be a negative for her. She said, "The arch worked just fine for me. I felt really connected to the court and never had an issue with my arches aching."
Foot Support/Stability - Score: 4.1
Support and stability were two more strengths that the playtesters enjoyed from the Speed Star K II. Brittany moved confidently in these Diadora shoes. She said, "The ankle collar hit the perfect spot on my ankle -- not too high, not too low -- giving me the perfect amount of ankle support. My foot felt secure from the heel to midfoot, but I would have liked just a little bit more support for my forefoot. I found the toe box slightly wide, which caused my forefoot to move around slightly when making aggressive movements. Nevertheless, I was satisfied with the stability and support in this shoe."
"The shoe did soften up a bit as this playtest went on, but I found the support and stability of the shoe to be perfect for the demands of my feet," offered Michelle. "I thought the stability and support did get slightly compromised as this shoe spent more hours on the court, and the ankle collar did soften up a bit, leading me to want one more eyelet to ensure just a bit more support. However, I am still pretty happy with the overall support and stability 20 hours into the playtest."
This shoe always felt stable and supportive for Tiffani. She explained, "The uppers are supple, but they're still able to hold my wide feet, so I never worried about a rollover. I could easily change directions as well. I don't have many complaints in this department."
Karly was moving as aggressive as ever in these stable shoes. She said, "I had total confidence wearing these shoes, and I knew I wasn't going to roll an ankle or hurt myself. The padding in the shoes was felt slick, like wearing polyester socks, but even with that slick texture they were very supportive. I loved the secure and locked-in feel of these shoes."
Overall Sole Durability - Score: 4.2
With an outsole made of Duratech 5000 rubber in a modified herringbone pattern and a six-month outsole guarantee, our playtesters were pleased with the outsole durability after hours of moving aggressively on court. "The outsole is holding up well for me on the hard courts," said Tiffani. "I've barely seen any smoothing on the outsole, and the tread is deep. I don't envision having any issues with outsole durability. The toe and cushioning will wear out before I have to worry about excessive balding on the outsole."
Michelle, who put in a lot of long hours in these shoes on and off the court, was pleasantly surprised with the wear. She said, "I am seeing some smoothing and wear at the balls of my feet, but nothing too crazy considering how much I wore them. Since they come with a six-month outsole warranty, I think these are holding up quite well."
Karly, who usually isn't too hard on the outsoles of shoes, found the outsole to hold up great for her style of play. She said, "I'm not hard on outsoles, and that didn't change with these shoes. I haven't come close to seeing any wear through the sole, and I haven't noticed much smoothing, either. For a lighter shoe, they sure have lasted exceptionally well."
Brittany was able to get around 12 hours on court in this shoe. She said, "I thought these shoes held up well, and both outsoles show very little to no wear. With the six-month durability guarantee, this shoe is perfect for players who are hard on their shoes."
Toe Durability - Score: 3.1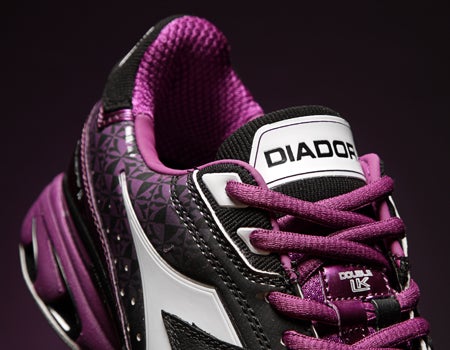 One thing that the playtesters took note of was the lack of added durability in the toe area of the Speed Star K II. This wasn't a huge issue for all of our playtesters, but our toe-draggers did see some wear and tear in this area. "While the toe bumper is thick and holding up well, I have started to see some wear and tear on the area above the toe bumper," said Brittany. "I wore through a layer of the kangaroo leather upper after just a couple of hits. As a toe dragger, I definitely would have liked a little more protection."
Tiffani noted that she hasn't been dragging her toes as much lately. Still, she offered, "I scuffed the toe the first time I wore them because the bumper doesn't come up very high, and I was worried that I was going to scrape through it in no time. However, after that initial wear I haven't really been tough on it at all. There's some scraping, and that's it. I do think that a serious toe dragger will eat this shoe alive."
Traction - Score: 4.0
All of our playtesters agreed that at the beginning of the playtest the Speed Star K II offered just the right amount of grab to keep them confident while sprinting around. There wasn't much that Michelle didn't like about this shoe, and traction was on her list of likes. She said, "I really felt connected to the court and felt comfortable changing directions. The outsole has a good grip on the court and just the right blend of give and grip for my preferences. I always felt connected to the court and light on my feet."
The first thing that Brittany noticed was that the shoe felt very low to the ground, which she likes. She said, "I was able to get a good feel for the court when I was moving, and the shoes had a solid amount of grip. I had no issues with slipping or sliding and I felt very secure making quick direction changes."
"In the beginning of the playtest I thought the traction was great," stated Karly. "The shoes offered the right amount of grip and allowed me to plant and change directions quickly without slipping. Unfortunately, as the playtest went on I thought the shoes lost their traction faster than average. The more I wore the shoes the more cautious I had to be with my movements because of the smoothing of the outsole. I wish the traction didn't wear as fast as it did."
For the most part, the Speed Star K II made Tiffani feel agile on the court. "I did slip pretty badly once, but I partly attribute it to the fuzz that collected on our indoor court," she said. "The ball fuzz stuck to the outsole and made it slippery, so make sure your outsoles are clean when you're wearing these. Other than that, the grip was just where I like it and I had no other problems with any directional movements."
Weight - Score: 4.1
The Speed Star K II sits nicely between being a lightweight shoe and being a heavy shoe. Diadora killed two birds with one stone when using kangaroo leather. It not only kept things comfortable, but it also provided a lighter weight option than other leather and synthetic materials. "I thought they felt much lighter on the court than their actual weight," said Karly. "There was a little bit of heft to them for a stable feel, but I never thought they slowed me down. With their stable and lightweight feel, I was moving aggressively and fast during every point."
This shoe didn't feel light to Tiffani, but it didn't feel heavy, either. She elaborated, "I would call it middle of the road when it comes to weight. The shoe's cushioning and outsole make it feel heavier than speed shoes but lighter than durability-oriented shoes. It's a good balance of weight and performance."
Brittany also found this shoe to play lighter than its actual weight. She said, "I was surprised to find out that this shoe weighs in well over 12 ounces (size 8). If I had to guess based on the way it felt, I would have guessed closer to 11.5 ounces. I would say it is average weight; not light but not heavy."
Michelle said, "I never felt like these were heavy shoes. In fact, because of their low profile construction I felt pretty light on my feet in them. These weren't really built to be a lightweight shoe, and I wouldn't put them in that category, but I wouldn't say they were heavy or bulky either."
Overall - Score: 4.2
Likes
Michelle - "So comfortable! I love the cosmetics, too. I really felt connected to the court and low to the ground, and I was able to move quickly but still be supported. Definitely one of my favorite new shoes!"
Karly - "There were so many great features about these shoes, but my favorites would be the stability and ultra soft feel."
Tiffani - "So comfortable right out of the box."
Brittany - "The biggest thing I liked about this shoe was the comfort. I was also a big fan of the cosmetics."
Dislikes
Michelle - "Nothing! OK, so they aren't the most ventilated shoes, but I can see past that. It didn't even bother me because I loved wearing these shoes so much!"
Karly - "The only area that I thought needed improvement was the ventilation. Boy, did these shoes heat up."
Tiffani - "The ventilation was pretty much non-existent."
Brittany - "I would have liked better ventilation and toe durability."
Comparing this shoe to other shoes they've worn our testers said:
Michelle - "These are plush like the Nike Lunar Ballistecs, but they feel quicker and lower to the ground. They also sort of reminded me of the Asics Gel Resolution 5, because they are quick, durable and low to the ground."
Karly - "The extremely soft, plush cushioning and good stability of the Speed Star K IIs reminded me a lot of the Nike Lunar Ballistecs and the Wilson Rush Pros. I'd say the biggest difference between those shoes and the Diadoras would be the weight. The Speed Stars felt slightly heavier, which I think helped add a more stable feel to them."
Tiffani - "The KSwiss BigShot II immediately comes to mind. Both are cushioned and comfortable and feel like a mid-range weight. I feel plenty fast in both, and my feet are equally comfortable."
Brittany - "I would compare the Speed Star K II to the adidas adiPURE Pro Lux from a few years back. However, a more current shoe would be the Wilson Rush Pro. Both are comfortable, stable, durable shoes that have a low-to-the-ground feel."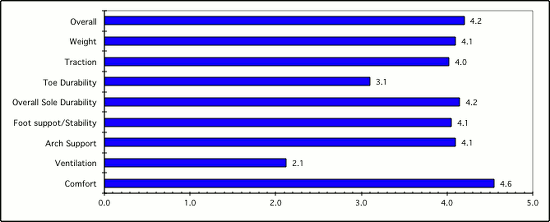 Playtester Foot Types:
Michelle - Medium width, High arch
Karly - Medium width, Medium-low arch
Tiffani - Wide width, Low arch
Brittany - Narrow width, Medium arch

Review date: May 2014. If you found this review interesting or have further questions or comments please contact us.
All content copyright 2014 Tennis Warehouse.