Donnay Pro One OS Ext Racquet Review

Donnay Pro One OS Ext Scores
Comfort
84
Touch/Feel
80
Serves
85
Groundstrokes
76
Returns
77
Slice
91
Topspin
90
Volleys
83
Overall
77
Upsides
Loads of power
Comfort
Feel
Summary
An extra half-inch of length combines with a 105 square inch headsize to make the Donnay Pro One OS Ext a racquet not to be messed with. If you're looking for power, here it is. Our playtest team discovered that the ability to create pace is both a blessing and a curse. At net the Donnay presented a soft and lively feel, as well as maneuverability and power. The extended length forced the playtesters to adjust when hitting both groundstrokes and serve returns, but they enjoyed the pace and placement the Pro One OS Ext offered. Serves and returns allowed the testers to take charge of the point, although returns were improved with short compact strokes to counter the pace. Our testers found a Donnay racquet that combines high levels of comfort with feel, maneuverability and spin, and this time, excessive power.
Groundstrokes - Score: 76
Power, spin and court penetration were all present from the baseline, although sometimes a little too much for our two-person testing team. This playtest took Chris down memory lane. He said, "I used to use the original Pro One Oversize in college, but that was a very different racquet. This racquet is longer and the string pattern is much more open. Both of those differences combine to offer a very lively response, which reminds me of the extended length Prince Diablo XP Oversize that was available a few years back. From the baseline I was getting lots of spin and power from this racquet. I found I had to shorten the backswing on my forehand to get more control on my shots, otherwise it was too easy to hit long. On my slice I found I could knife the ball deep with great pace with very little effort. I loved the way that I could hit a hard and penetrating slice with just the flick of the wrist, even on the full run. Likewise, full stretch passing shots could be executed with a flick of my wrist, and I'd get all the pace and spin I needed to pass my opponent. This was probably the easiest time I've had switching from full-on defense to hitting an offensive winner with just one shot."
Siobhan also noticed the power and the feel of the racquet's enhanced features, saying, "I really felt the oversize head and extended length on my groundstrokes. I've played with extended length before, but this time it really added to the feel of my strokes. Combined with the heavier swingweight the racquet really whips through faster on the baseline and you can really feel how smooth it is. This feeling translated into a lot of power, and it was important to keep a small backswing to reign that power in. The comfort itself was very high, and it was very easy generating spin. I would say I felt like the control was great, except the power took away from that sometimes. With the oversize head the sweetspot was large and comfortable, and hitting the ball felt very clean. Because I naturally have a large backswing I just felt out of control, with the power being too much sometimes. This got me a bit frustrated because I couldn't quite relax."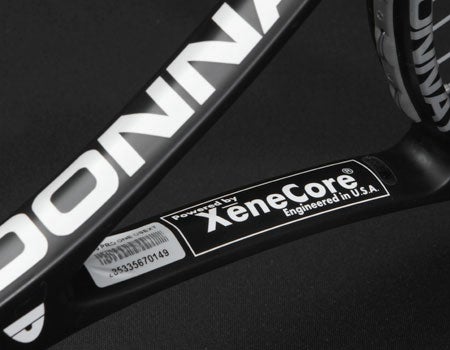 Volleys - Score: 83
Both playtesters really enjoyed the soft feel, maneuverability and power. Finally finding the control she was looking for was Siobhan. She said, "Again, I noticed the power. Up at net was probably my favorite place to be with this racquet. It had great control and touch, and despite it being so powerful, I really felt like I was able to be extremely accurate and aggressive with it. I could really stick my volleys with the extended length. I still felt like the Pro One OS Ext was extremely maneuverable and whipped through the air. It was also soft and comfortable. It allowed me to be in charge and hit solid volleys, whether on my body or at full stretch."
Chris enjoyed the light and fast feel at net, saying, "The fast feel overcame the extended length, and the racquet felt maneuverable. Again, I found lots of power. I could punch volleys deep with ease, as the ball launched off the stringbed. Even a stiff poly string did little to tame the power, and it remained powerful no matter how we strung it. There was plenty of that smooth Donnay feel I've come to expect and I felt very dialed in with this racquet. Even though it was powerful, I had no issues finding touch and placement. I was also very impressed with the comfort I found from this racquet. The stiffer strings we used didn't take away from the plush feel."
Serves - Score: 85
The extended length forced our playtesters to adjust, but they enjoyed the pace and placement that the Pro One OS Extended offered. Chris said, "It took me a little bit to adjust my timing to the length of the racquet, but once I was dialed in I was able to find consistent pace and spin. I definitely felt confident when serving with this racquet. The extra pace and spin I was getting allowed me to start points aggressively and set up for a big forehand. I was finding my targets, too, and that had me moving the ball around the box and mixing up the placement of my serves."
Siobhan found that the added length, leverage and oversize head translated into power on her serves. She offered, "I was able to get a lot of pace, accuracy and spin, and I noticed how much weight my shots had on them. I have less momentum on my serve than on my forehand, so I did struggle a little getting the extra length through the air sometimes. Placement was noticeably consistent, and if I worked hard to get my racquet through the air I could really put pressure on my opponent."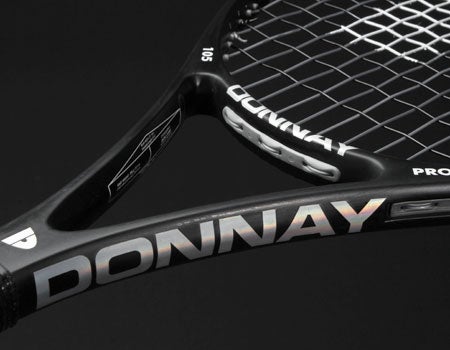 Serve Returns - Score: 77
Power was both an enemy and a friend when returning serves. The players had to make sure they kept swings tight and short because it was a little bit too easy to turn on the pace. Finding he had to be very compact with his swing when hitting forehand returns was Chris, who said, "It was just too easy to overhit. I had to make the biggest adjustment to this shot and it took me awhile to get it dialed in. The amount of pace and spin I could generate seemed endless. I felt limited only by my daring. How close to the lines and how hard dare I try? It was just too easy to go for too much, and I found myself flirting with inconsistency on the forehand side. Conversely, I had instant success on my backhand. I was able to gauge the pace of my backhand slice return very well. My targeting was spot on and I was happy with how the racquet came through the ball on both offensive and defensive returns."
Siobhan experienced the same issues as Chris, although she did enjoy the smooth and lively feel. She said, "Returns were great. If I swung early and set up well I could really rip some good returns. The control showed up well here if I kept my swing speed up. I needed to make sure I kept it dialed in though, because I could really fire some balls into the back fence. Like all over the court, I loved the comfort and maneuverability."
Overall - Score: 77
Likes
Siobhan - "Control and comfort, and it was great when paired with a poly so I could swing my little heart out."
Chris - "I loved hitting slice backhands with this racquet. Both power and spin were so easy to generate I could effortlessly play with direction and depth. That same level of power and spin made it a snap to go from defense to offense, literally, as all it took was a quick snap of the wrist."
Dislikes
Siobhan - "The loss of depth control and the wild power -- but that's just encouragement to keep my swing speed higher."
Chris - "It took me a few sessions to get the pace and depth under control with my forehand, and this felt like a lot of racquet to get through the hitting zone on a one-handed topspin backhand. I would need to spend a month hitting with only this racquet to get fully dialed in on those two shots. Unfortunately, that's not a possibility for me as I'm often testing two or three racquets in one hitting session."
Comparing the racquet to others they've tried, our testers said:
Siobhan - "I would compare the control and ability to really place the ball to the Donnay Formula 100, along with comfort. This Pro One, however, is in a category of power that I haven't really experienced before."
Chris - "I would compare this racquet to the old Prince Diablo XP Oversize, which was also longer and had a similarly lively string pattern. This definitely offers something different from a Babolat Pure Drive Plus, as it feels softer and more dampened, but it is still powerful."
Technical Specifications

Length
27.5 inches
70 centimeters
Head Size
105 square inches
677 square centimeters
Weight
10.6 ounces
301 grams
Balance Point
13.80 inches
35 centimeters
12 Pts Head Light
Construction
21.5mm / 21.5mm / 21.5mm
Composition
Xenecore / Graphite
String Pattern
16 Mains / 19 Crosses

Babolat RDC Ratings

Score

Grade

Flex Rating
65
Range: 0-100
Swing Weight
334
Range: 200-400
Scores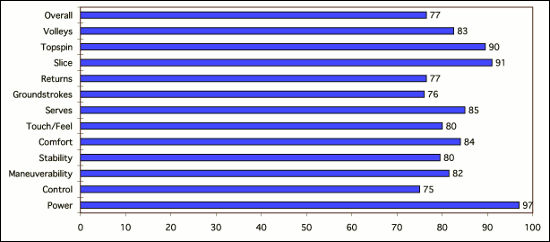 (Scores are determined by averaging individual play test scores)
Chris' Scores
Power
9.6
Serves
9
Control
7.7
Groundstrokes
7.9
Maneuverability
7.8
Returns
7.6
Stability
7.9
Slice
9.2
Comfort
8.3
Topspin
8.9
Touch/Feel
8
Volleys
8
Overall
7.8
Siobhan's Scores
Power
9.8
Serves
8
Control
7.3
Groundstrokes
7.3
Maneuverability
8.5
Returns
7.7
Stability
8
Slice
9
Comfort
8.5
Topspin
9
Touch/Feel
8
Volleys
8.5
Overall
7.5
Playtester Profiles
Chris: 5.0 all-court player currently using the Volkl C10 Pro 2012. Chris uses a full-western forehand grip, has a fast swing style and hits a one-handed backhand.
Siobhan: Open level player with a semi western forehand and a two-handed backhand. She currently plays Wilson KBlade Team.

Review date: October 2012. If you found this review interesting or have further questions or comments please contact us.
All content copyright 2012 Tennis Warehouse.