Donnay Pro One 18x20 Racquet Review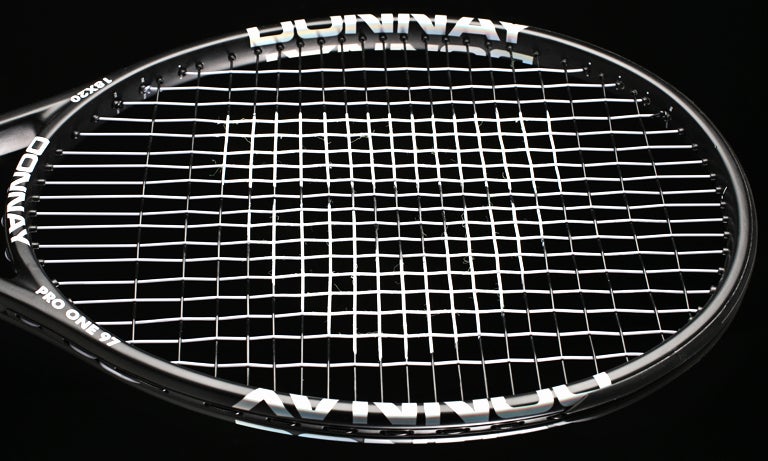 Donnay Pro One 18x20 Scores
Comfort
87
Touch/Feel
85
Serves
79
Groundstrokes
82
Returns
81
Slice
87
Topspin
82
Volleys
85
Overall
83
Upsides
Control
Comfort
Stability
Touch
Downsides
Nothing we could agree on
Summary
This is another great midplus-sized offering from Donnay. The Pro One 18x20 offers more control by taming the power of its more open string patterned 16x19 sibling. All of our playtesters confirmed that they loved the precision this racquet offered. Our testers found confidence in their strokes, knowing they could put the ball on a dime. Our whole team felt this racquet really shone around the net, as well as on service returns. They found it to be very stable, comfortable and maneuverable on those shots. Groundstrokes and serves could be hit with confidence, knowing the ball would go where intended. If you're looking for a comfortable, control-oriented player's frame, this one's for you.
Groundstrokes - Score: 82
For the most part our playtesters really enjoyed the Pro One 18x20 on their groundstrokes. Chris found the racquet to be very comfortable, with great control. He said, "I really enjoyed the response of the dense 18x20 string pattern from the baseline. I was getting a lot of control and felt confident swinging away and going for broke. We tried various co-poly strings in this racquet. I found it could handle a firm string, thanks to the comfortable response that I have come to really like from the Donnay frames. I thought this racquet was loaded with feel, yet it also offered me enough power to get the ball away. The specs of our test racquet was different from the open string patterned version of the Pro One we tested earlier this year. The slight change in specs had me at a crossroads. I liked the control from the string bed of this one, but preferred the weight and balance of the 16x19 version."
Jason really enjoyed the Pro One from the baseline. He said, "I really enjoyed pretty much everything about this racquet. I thought it had great feel, nice access to spin and was fairly easy to swing. The weight allowed me to successfully block shots back with some depth. I liked hitting cross court with this stick from both wings. I did, however, find that I was hitting a bit late on my inside out forehands, resulting in shots hit just wide. The feel was really good, too; firm, but comfortable. This racquet definitely rewards full swings and punishes tentativeness."
Mark enjoyed his baseline experience with the denser stringbed on this racquet. He said, "My favorable experience with the open patterned version of the new Donnay Pro One provided me with a bit of confidence and anticipation when I heard the 18x20 version would arrive soon. The only knock I had on the 16x19 Pro One was that it didn't have a dense string pattern. The new Pro One 18x20 played pretty much the way I had hoped, although I was amazed at how much I liked both versions of the frame. My effectiveness on the backhand slice, forehands and topspin backhand were top notch. It felt a little more tip light than the open patterned model, so it was a bit easier to lead into the groundstrokes butt cap first."
Spencer really liked the control he got from the dense string pattern, but he didn't get the kind of pop and spin that he would have liked. He said, "The control, particularly the directional control, stood out with this version of the Pro One. I definitely had more confidence with the placement of my shots compared to its 16x19 brother. Because of its very dense pattern I didn't get as much spin as I might normally, which left my forehands lacking some action, but it worked well when it came to slice. The consistency and effectiveness on my backhand slice were great. I had some trouble achieving the depth and trajectory I wanted. The low-powered response made consistent depth tough to come by, as I'm not a powerful player. I also felt the tighter string pattern changed the trajectory of my shots. When transitioning from an open pattern to a dense pattern there is usually a slight adjustment that needs to be made. With the Pro One 18x20 I had a very difficult time hitting flat and through the court. I had to focus on swinging up through the ball, otherwise my harder, flatter shots would find the net. Not the cord, mind you, but the net. This racquet doesn't benefit my style of baseline play."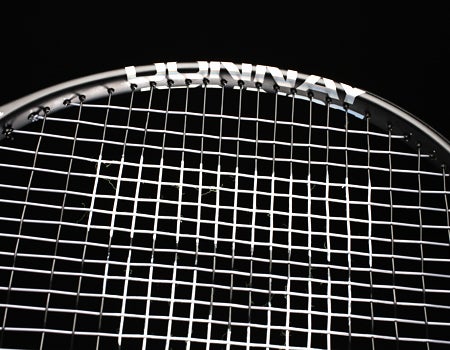 Volleys - Score: 85
We found one of the Pro One 18x20's strengths to be its playability around the net, and everyone found it to be a solid racquet with great control. Mark was slicing and dicing. He said, "I start most of my practice sessions at the net, and from the get-go I felt confident with this racquet at net. Even when I got caught volleying in the mid-court area, the racquet felt stable and effective. Loved it at net."
"I simply loved this racquet at net," said Chris. "It felt solid, offered a ton of control and the feel was exceptional. With my volleys feeling completely dialed in I felt like I could place my shots on a dime. I was having success when punching the ball deep, as well as when dropping a touch volley short. Comfort was excellent, and I was impressed by how much feel this racquet had considering how comfortable it was. A racquet this comfortable runs the risk of being over dampened, which sacrifices feel, but not this one."
Spencer shared a similar opinion, saying, "I liked the combination of mass and balance that allowed for a maneuverable, solid feel at net. I preferred this version over the 16x19 pattern as I felt more in control with the placement of my volleys. I seemed to have better feel as well."
Jason liked the pop and feel around the net but struggled a bit with maneuverability. He said, "When I had the time to set up I enjoyed this racquet up at net. I could punch some shots back with pace that I'm usually not able to, but I struggled with reaction volleys (full disclosure: I struggle regardless of what racquet I use) and hitting sharp angles. The touch was nice, and I was able to accurately predict how much depth I was going to get, which was great for drop volleys a la Chris Edwards."
Serves - Score: 79
When serving our testers found this racquet high on control, but low on power. Spencer had to resort to strategies other than blasting the ball to be effective, saying, "The control was there on serve, but that's about it. I couldn't get the action nor the velocity I had hoped for. My best bet to hold serve was mixing up pace and placement."
Jason felt the racquet lacked pop, but he liked the consistency he had on his serve. He said, "Unlike the Pro One 16x19, I didn't feel like the 18x20 was giving me more pop on my serves, but the consistency made up for the lack of power. I found it really easy to duplicate my service motion and get consistent results, as long as I was slicing my serves. Spin was average, but with such a tight string pattern average is pretty good."
Preferring the more open string pattern to the denser one on the serve was Chris, who said, "The serve was where I missed the livelier response and weight/balance of the open string patterned version of the Pro One the most. Still, I adjusted to this racquet well and was happy with the way I served. I found some good pace, but nothing exceptional. Likewise with spin. I was getting enough spin to find my targets with pace, but I wasn't getting the kick on the ball I was able to find with the Pro One 16x19."
Of all the playtesters, Mark liked this racquet the most for serving. He said, "Because my serve is not my strongest shot it is an area where I tend to be pickier with racquet setups. The Pro One 18x20 complemented my serve, and I knew immediately that I could play a tournament with it."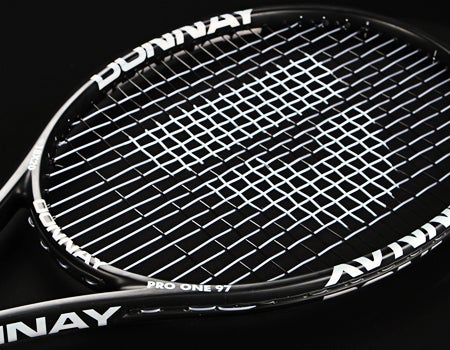 Serve Returns - Score: 81
The return of serve proved to be another area of the game that the Pro One 18x20 excelled in. Spencer found the racquet to have all the right attributes to be just right for his returns. He said, "The combination of stability and maneuverability made for a good recipe on returns. Because I didn't have to worry about hitting long I could be aggressive when the opportunity arose, and when going to the slice on the backhand I could hit effective low shots."
Jason found the racquet worked well on both defensive returns and aggressive returns. He offered, "I was getting some solid results when returning serves, regardless of whether it was a first or second serve. I felt comfortable taking my chances and taking a good rip at a second serve. I could block shots back with some depth, but more importantly, I was able to have good directional control as well."
Chris also enjoyed this racquet on returns. He said, "I returned well with this racquet. It offered enough stability to handle heavy serves and enough control for an aggressive swing. Needless to say, I found this frame to be confidence-inspiring on returns. When I was stretched wide or forced to react quickly I used the mass of this racquet to help me push the ball back with depth and stay in the point. When I was given the opportunity to attack, the controlled response allowed me to take a big cut at the ball without fear of overhitting."
This racquet suited Mark's conservative return of serve style nicely. He said, "Eighty percent of my returns are blocked/chipped shots, and with the Pro One 18x20 I was able to keep my returns low and place them accurately, which was an indicator to me that I could immediately play either a singles or a doubles tournament with it."
Overall - Score: 83
Likes
Spencer - "Directional control, feel and slice."
Jason - "I really enjoyed the control and feel. Fairly powerful for a racquet with its specs. Generous sweetspot."
Chris - "I liked the control, feel, comfort, touch and stability of this racquet."
Mark - "It is an all-around racquet that complemented my style/level, and I did not have to make any major adjustments to my game to benefit from it. I also like the monochromatic color scheme. The stock weight/balance makes it modification friendly."
Dislikes
Spencer - "Trajectory, lack of access to spin and lack of put-away power."
Jason - "Not much. I would've liked the swingweight to be in the 310 range, but that's not a big deal."
Chris - "At first I preferred the pace I found with the Pro One 16x19 racquet we tested, but I adjusted to this one after a couple of hitting sessions -- so no real gripes from me."
Mark - "I can't really give it a knock, as it performed really well with a full set of a low tensioned poly."
Comparing the racquet to others they've tried, our testers said:
Spencer - "Much like the 16x19 Pro One, the 18x20 offers a solid feel. It seems to offer better directional control and slice than the 16x19, but loses the edge in spin and power."
Jason - "This really reminded me of a more powerful version of my old Wilson K Blade Tour."
Chris - "A close racquet to this one would be the ProKennex Q Tour. Both offer a ton of control and comfort, and excellent feel. This one could easily be weighted up to match the punch of a Wilson Six.One 95 18x20, too. Although the bumper guard on this version does not accept the Donnay slide weights (the 16x19 version does), so you'd have to use lead tape."
Mark - "Besides its open patterned cousin, it is similar to a slightly heavier IG Prestige S or a lighter Prestige MP. The K Factor version of the Blade 98 and the Tecnifibre 320 VO2 Max are all in the same vein, so to speak."
Technical Specifications

Length
27.0 inches
69 centimeters
Head Size
97 square inches
626 square centimeters
Weight
11.6 ounces
320 grams
Balance Point
12.75 inches
32 centimeters
6 Points Head Light
Construction
21.5mm Straight Beam
Composition
Xenecore / Graphite
String Pattern
18 Mains / 20 Crosses

Babolat RDC Ratings

Score

Grade

Flex Rating
68
Range: 0-100
Swing Weight
322
Range: 200-400
Scores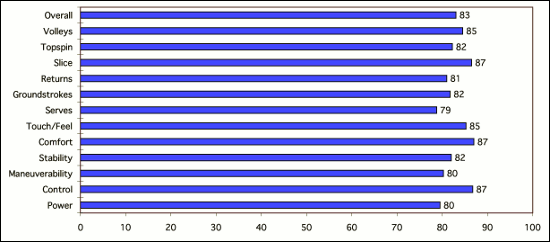 (Scores are determined by averaging individual play test scores)
Spencer's Scores
Power
7.3
Serves
7.4
Control
9
Groundstrokes
7.8
Maneuverability
8
Returns
8
Stability
8.5
Slice
8.8
Comfort
8.6
Topspin
7.8
Touch/Feel
8.2
Volleys
8.5
Overall
8
Jason's Scores
Power
8
Serves
8.1
Control
8
Groundstrokes
8.3
Maneuverability
8
Returns
8.1
Stability
8.2
Slice
8.2
Comfort
8.5
Topspin
8
Touch/Feel
8.3
Volleys
7.8
Overall
8.2
Chris's Scores
Power
7.5
Serves
8
Control
8.7
Groundstrokes
8.1
Maneuverability
7.6
Returns
8.3
Stability
8.1
Slice
8.6
Comfort
8.7
Topspin
8.1
Touch/Feel
8.6
Volleys
8.5
Overall
8
Mark's Scores
Power
9
Serves
8
Control
9
Groundstrokes
8.5
Maneuverability
8.5
Returns
8
Stability
8
Slice
9
Comfort
9
Topspin
9
Touch/Feel
9
Volleys
9
Overall
9
Playtester Profiles
Spencer: 4.5 baseline player currently using the Prince EXO3 Tour 100 16x18. Spencer uses a semi-western forehand grip, and hits with a one-handed backhand.
Jason: 4.0 baseliner with a semi-western forehand and two handed backhand. Currently using a customized Boris Becker Delta Core NYC.
Chris: 5.0 all-court player currently using the Volkl C10 Pro 2012. Chris uses a full-western forehand grip, has a fast swing style and hits a one-handed backhand.
Mark: 5.0 lefty all-court player with a one-handed backhand. He currently plays with the Dunlop Aerogel 4D 200.

Review date: October 2012. If you found this review interesting or have further questions or comments please contact us.
All content copyright 2012 Tennis Warehouse.