Dunlop M 3.0 Racquet Review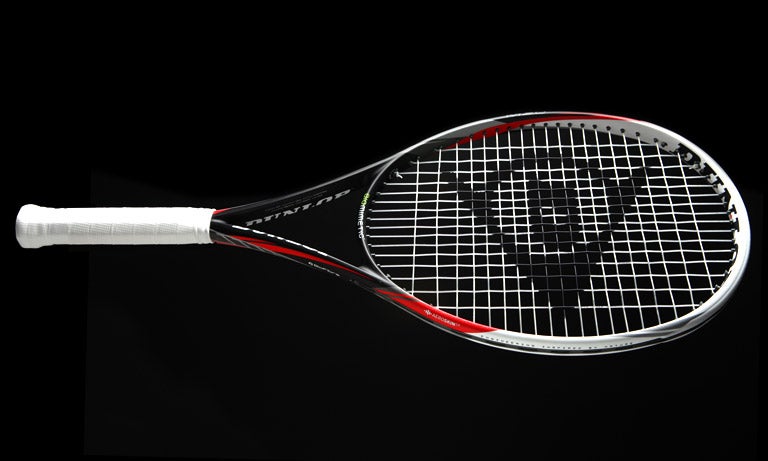 Dunlop M 3.0 Scores
Comfort
81
Touch/Feel
82
Serves
80
Groundstrokes
77
Returns
76
Slice
82
Topspin
79
Volleys
82
Overall
80
Upsides
Maneuverability
Feel
Comfort
Downsides
Small sweetspot
Lower powered
Summary
Dunlop's 300 series is getting a makeover. As part of this update the Biomimetic M 3.0 replaces the standard 16x19 Dunlop Biomimetic 300. With updated technology, including Aeroskin CX and the MoS2 grommet system, the M 3.0 has increased racquet head speed and better access to power. Though we found more power from the Biomimetic M 3.0 than the Biomimetic 300, our testers struggled with an erratic response and inconsistent depth control because of a temperamental sweetspot. Despite these issues, comfort was really high, particularly on groundstrokes and serves, and touch and feel at net were enjoyed by all.
Groundstrokes - Score: 77
Although the feel and control were apparent, the lower-powered response had some testers struggling with depth control. Brittany has hit with the Biomimetic 300, and found good control and a crisp feel, but little power. She said, "With the new M 3.0 I felt both the control and crisp feel were still present, but there was some added power. However, there was a catch when it came to power. When I was hitting with someone who hit with significant pace I was able to absorb the power and redirect it. When I had to create my own pace I found some power when the ball hit in the sweetspot, but I found the sweetspot to be quite small. Any off-center hits resulted in a loss of power and control, as well as some vibrations."
Jason was able to hit a variety of shots with the M 3.0. He said, "This racquet was easy to swing, and it was easy to generate spin and slice the ball. It does feel like it has more power than the previous model, but it's still lacking in the power department. I wanted more pop, but it felt like the power level had a ceiling I couldn't go above. I found myself hitting loopier shots because I needed to be able to get some depth. I thought the size of the sweetspot was average, and when I hit it the racquet felt great. It was when I hit outside the sweetspot that I had issues. Stop me if you've heard this before, but the racquet needs some lead tape."
From the first groundstroke game, Mark felt comfortable with this frame, saying, "It was easy to use with a low tensioned poly and with a hybrid of a low tensioned poly. It did not take much for me to adapt to the bite I got on the ball for hitting slice and topspin off both wings."
Siobhan was a little hot and cold with this racquet. She said, "I know it was designed to add more power, but I think that's relative to other Dunlop racquets and not with all racquets in general. I would have liked to have seen a little more power on my groundstrokes, because it did seem underpowered. I think this was also related to hitting the sweetspot: I found more power when I connected with the sweetspot and noticeably less when I didn't. This added a little bit of unpredictability, which was a negative for the racquet in the sense that it made it seem like it didn't have the really great control that it did. I liked the feel and I found it to be soft on my arm, which my poly-worn arm appreciated. I don't think it suited my fast, long strokes."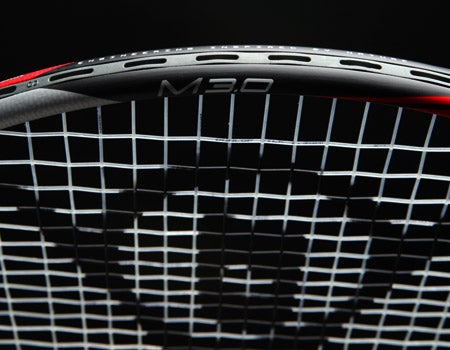 Volleys - Score: 82
Both touch and feel at net were enjoyed by all. Exploring the nature of the sweetspot was Jason. He said, "There was quite a difference between hitting a volley in the sweetspot and hitting one outside of it. In it, I thought the racquet provided good ball pocketing, touch and feel. Outside of it, the racquet became torsionally unstable and both depth control and directional control suffered. I thought there was very good touch, though, as I was able to hit some drop shots that surprised even me."
Brittany felt at home with the M 3.0 at net, saying, "My hands down favorite shot to hit with this racquet was the volley. For some reason, there was a perfect combination of stability, control, maneuverability and power. While I don't mind being at net, it is normally not my favorite place to be. I had a lot more confidence being up at net with this racquet. I enjoyed playing doubles with this racquet and found a lot of success when I was the aggressive net player, especially when I was poaching."
Agreeing with Brittany about the all-round stability and maneuverability was Siobhan. She offered, "I really enjoyed the touch, feel and control, and I found I didn't experience the unpredictability with the power/sweetspot issue. I was able to be quite offensive with volleys."
Mark really enjoyed the simplicity of the M 3.0 at the net. He said, "At a strung weight in the low 11's, and only a little tip light, the M 3.0 let me get creative on my volleys, but it was stable enough to catch volleys on the stretch and at the tip of the hoop."
Serves - Score: 80
Comfort and maneuverability were apparent on serves, but the same issues arose. Mark, however, had nothing but positive comments for the M 3.0. "This was another shot that I quickly adapted to with the M 3.0, and was a reminder of why I liked this racquet so much."
Looking for a little more power and spin was Siobhan. She said, "The power was OK on serves, but not excessive. I just had to put a lot of effort into generating my own power, so it was lucky the racquet was so comfortable. Spin was fine; not something I would rave about, but I was able to generate the amount that I wanted. I just found serves to be consistent and comfortable but not really a weapon with this racquet, which is what I look for."
Also trying to find more power was Jason. He said, "As with my groundstrokes, I felt like I maxed out on the power, which wasn't too big of a deal since I hit slice serves most of the time. I found it easy to serve with, but the spin was surprisingly just OK considering the open string pattern and the fact that I could generate tons of racquet head speed. I did feel like I could control the direction of my serves well."
Brittany really found the feel of this racquet translated well to serves. She said, "I found plenty of control and spin. While I didn't get as much easy power as I would have liked, I did enjoy the extra mass, compared to the S 3.0 Lite, and was able to hit a heavier serve. I found that if I was focusing more on the placement of the serve then the power would follow."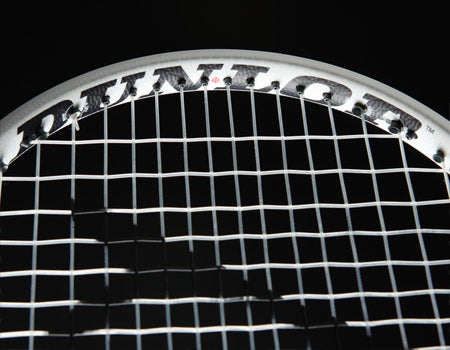 Serve Returns - Score: 76
Our testers benefited from the head speed of the M 3.0 when returning, but still has some issues with consistency. Wishing for a little more depth control was Siobhan. She offered, "I did have issues with the power again. I didn't know if the ball would fire off or fall short in the court. I really noticed how maneuverable this racquet is on service returns, though, and it was fun to play with because of how fast the racquet whips through the air."
Brittany struggled a little while returning serves. She said, "While my return is normally my favorite shot to hit, I found myself a little erratic when it came to returning. The small sweetspot came into play most noticeably here, and I had trouble getting into a rhythm. I found I struggled controlling my depth, and I couldn't get into a good groove when returning any serve."
Mark really enjoyed the control that he found on his service returns. He said, "I was able to direct my returns and keep the ball pretty low most of the time, which for me was another plus for this racquet."
Jason found a positive slant to the lack of power, saying, "The low power meant I could be aggressive on my returns. It didn't matter if it was a first or second serve, I felt like I could swing out on the ball without worrying about it going long. Coming up with some nice angles was not a problem either."
Overall - Score: 80
Likes
Brittany - "I liked the crisp feel and I liked being at the net with this racquet."
Jason - "Cosmetics, maneuverability, slice, returns."
Siobhan - "Maneuverability and comfort. It had good feel, especially up at net."
Mark - "The slice was better than most of the racquets I've been playing with, which stood out. It functioned as well I could ever expect a racquet to perform from all parts of the court. I never once glared at the racquet as though it was its fault that I missed a shot. Loved this racquet."
Dislikes
Brittany - "I struggled with the small sweetspot and lack of power."
Jason - "Lack of power from all areas of the court. Torsionally unstable outside the sweetspot."
Siobhan - "Unpredictability of power. My depth control was frustratingly inconsistent."
Mark - "The color configuration of the frame is not my absolute favorite, but I'm not too concerned. The performance of the M 3.0 complemented my skill level/style very well."
Comparing the racquet to others they've tried, our testers said:
Brittany - "This is a slightly more powerful version of the Biomimetic 300 that still maintains the crisp Dunlop feel. I also found similarities with the Volkl Organix 9, most notably the lack of power and the enjoyment I found at the net."
Jason - "Reminded me a lot of the Mantis 300 racquet. It does feel like a slightly more powerful version of the old Dunlop Biomimetic 300."
Siobhan - "Organix 9. Both felt under-powered with a temperamental sweetspot, although the M 3.0 was more maneuverable and had better control."
Mark - "The M 3.0 reminds me of a firmer, open patterned Head Radical Midplus, a firmer IG Radical Pro, an open patterned K Blade 98 or a slightly lighter Donnay Pro One (newer editions), and it's similar to the Volkl Power Bridge 9."
Technical Specifications

Length
27 inches
69 centimeters
Head Size
98 square inches
632 square centimeters
Weight
11 ounces
312 grams
Balance Point
13.25 inches
34 centimeters
2 Pts Head Light
Construction
22mm / 22mm / 22.5mm
Composition
BioFibre
String Pattern
16 Mains / 19 Crosses

Babolat RDC Ratings

Score

Grade

Flex Rating
66
Range: 0-100
Swing Weight
318
Range: 200-400
Scores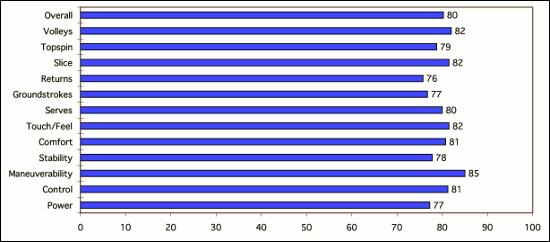 (Scores are determined by averaging individual play test scores)
Brittany's Scores
Power
7.8
Serves
7.5
Control
7.9
Groundstrokes
7.5
Maneuverability
7.6
Returns
7.3
Stability
7.5
Slice
7.6
Comfort
7.5
Topspin
7.6
Touch/Feel
8.2
Volleys
8.3
Overall
7.7
Jason's Scores
Power
7.1
Serves
8
Control
8.1
Groundstrokes
7.8
Maneuverability
8.9
Returns
8
Stability
8.1
Slice
8
Comfort
8.3
Topspin
7.9
Touch/Feel
8.4
Volleys
8
Overall
7.9
Siobhan's Scores
Power
7.5
Serves
8
Control
8
Groundstrokes
6.9
Maneuverability
8.5
Returns
7
Stability
8
Slice
8
Comfort
8.5
Topspin
7.5
Touch/Feel
8
Volleys
8
Overall
7.5
Mark's Scores
Power
8.5
Serves
8.5
Control
8.5
Groundstrokes
8.5
Maneuverability
9
Returns
8
Stability
7.5
Slice
9
Comfort
8
Topspin
8.5
Touch/Feel
8
Volleys
8.5
Overall
9
Playtester Profiles
Brittany: Open level player with a semi-western forehand and a two-handed backhand. She currently plays with the Yonex V-Core 100S.
Jason: 4.0 baseliner with a semi-western forehand and two handed backhand. Currently using a customized Boris Becker Delta Core NYC.
Siobhan: Open level player with a semi western forehand and a two-handed backhand. She currently plays Wilson KBlade Team.
Mark: 5.0 lefty all-court player with a one-handed backhand. He currently plays with the Dunlop Aerogel 4D 200.

Review date: October 2012. If you found this review interesting or have further questions or comments please contact us.
All content copyright 2012 Tennis Warehouse.