Donnay Formula 100 Racquet Review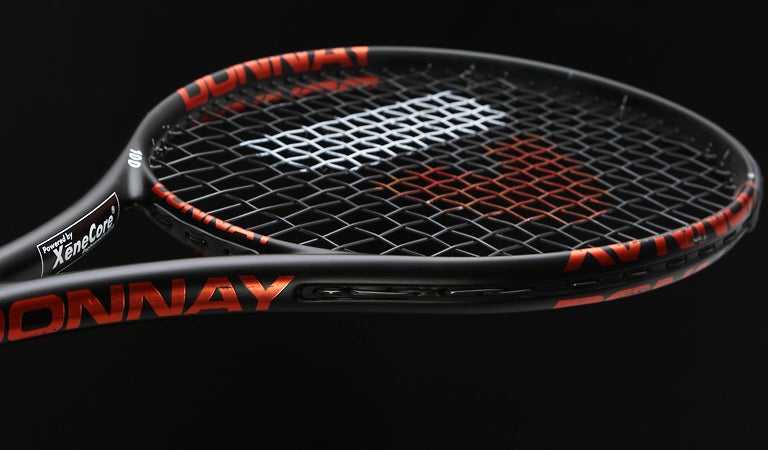 Donnay Formula 100 Scores
Comfort
82
Touch/Feel
83
Serves
80
Groundstrokes
84
Returns
83
Slice
78
Topspin
81
Volleys
85
Overall
83
Upsides
Feel
Power
Access to spin
Maneuverability
User friendly
Downsides
Nothing we could agree on
Summary
The Formula 100 appears to be a departure for Donnay from the thin-beamed, very flexible frames of the X-Dual and X series. This racquet has a wider beam profile (dual taper 23.5 - 26.5mm) and a stiffer Babolat RDC flex rating of 69 RA. Whatever the formula is for this new offering from Donnay, it's a winning one. Each of our testers was impressed by the Formula 100's performance, from the power, to the spin potential, to the comfort, to the feel. This racquet comes to the table with the power of similarly weighted racquets designed for the modern power game, but it does it with more feel and better comfort. Our testers found little to complain about and felt this racquet could do it all. This Formula 100 has the goods to satisfy a wide range of players, intermediate to advanced, with its controllable power and excellent feel.
Groundstrokes - Score: 84
With a wider beam and stiffer make-up than the Donnay X-Dual and X series racquets, the Formula 100 promised, on paper, to pack a bigger punch. Our testers weren't disappointed. For Brittany, the third time was a charm for Donnay racquet playtests. She offered, "After missing power in the Donnay X-Red and X-Dual Core Gold that I previously playtested, the Donnay Formula 100 was exactly what I was looking for. This Donnay was perfect for my aggressive game. It was very easy to generate power and depth on my groundstrokes and it was extremely comfortable to swing. Another perk was that my slice was better than usual, and I was able to keep the ball to the ground."
There was little to no adjustment needed for Chris to feel confident with the Formula 100. He said, "It took all of about three forehands for me to feel dialed in with this racquet. The level of power, comfort and spin made it a very easy racquet to feel immediately comfortable with. I could swing aggressively with this racquet with no fear of overhitting. I really enjoyed taking a big cut at the ball and letting all the spin I was getting keep the ball in play. I thought this racquet offered way more feel than anything else in its weight class, such as the new Babolat Pure Drives, Wilson BLX Juice and Prince EXO3 Warrior. For me, this racquet offered all the spin and maneuverability benefits of those others, but with much more feel. There just wasn't a shot from the baseline where I didn't think this racquet was helping me. I was very impressed, and this one is up there as one of my favorite offerings from Donnay."
Tiffani also liked the versatility off the baseline. She said, "I loved this racquet on my groundstrokes. Depth and pace were easy to come by. I also felt like I could loop a topspin lob pretty easily or spin a high shot to my opponent's backhand side. Slices were also fairly effective, and though I could hit a good slice, it didn't have that great feeling of a long dwell time on the strings. The Formula 100 was also very forgiving because, though not whippy through the strike zone, it allowed me to get away with picking balls up late off the baseline. I also felt it was much more comfortable on the arm than a 69 RA would indicate."
"I loved this racquet from the first ball I hit," said Siobhan. "It had really nice power, and I liked the amount of spin that I could create off both sides. I found the control it provided really complementary to the power. I could just focus on playing, and the racquet kept the ball within the lines for me. This racquet really kept me under control by creating good pace and bite without the wildness I sometimes experience with racquets that give me good pop. I was able to relax and enjoy playing without having to focus on taming the ball."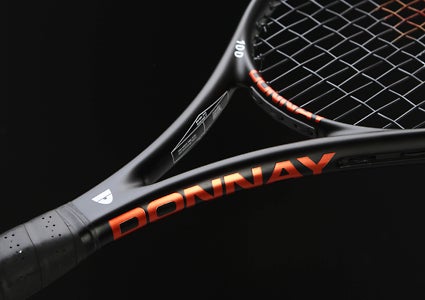 Volleys - Score: 85
The team all agreed that maneuverability and feel were outstanding features at net for the Formula 100. Chris was surprised at the all-around good performance. He noted, "This racquet felt extremely fast and mobile at net. I felt like I could react quickly with it and really enjoyed volleying with it in doubles play. Again, the level of feel was very impressive. Somehow, this racquet provides the dampening required for a comfortable and plush response without sacrificing any feel. I felt very connected to where my volleys were going, I was getting all the pop needed to put the ball away and I was very happy with the level of precision I was finding."
Agreeing, Brittany added, "Volleys were an absolute standout for me. I noticed this especially in doubles play. I had great feel and touch, which I normally don't have on a consistent basis. I noticed great maneuverability, and I was able to hit difficult reflex volleys back with accuracy. I was also able to punch volleys deep with the large sweetspot of this racquet."
Tiffani was also confident at net. She said, "For me, the Formula 100 was best at punching volleys deep. I had no trouble maneuvering the racquet at net, and I was able to get to as many as volleys as I would expect. Touch and comfort were good, too, especially for what I would consider a fairly firm racquet."
Siobhan thoroughly enjoyed coming to net with the Formula 100. She offered, "It felt really stable off both wings, and again, the control was great. The racquet felt really maneuverable, so the racquet was always where I wanted it no matter how fast the ball came to me. I particularly liked the feel. It offered me great touch, and I had beautiful control over my depth placement. Smashes were comfortable, too, although like I will mention on serve, it didn't give me as much pace as I would have liked."
Serves - Score: 80
Most of our testers enjoyed how the Formula 100 performed on serve. Siobhan, though, struggled. She said, "This wasn't my favorite shot with this racquet. The performance was definitely adequate, but I enjoy racquets that really allow me to let rip on serves. It was solid, I could get a nice amount of spin and it felt really clean to hit, but like I said, there was just not enough power. I wasn't getting many free points with this racquet. It gave me a decent serve but none of the magic I look for."
On the flip side, Tiffani was more than happy, and said, "This was one of my favorite shots with the Formula 100. Not known as a big server by any means, I got some extra pace on my flatter serves. I also liked that I could move my serve around somewhat effectively, going for body serves or trying for one wide. I wasn't generating massive racquet head speed, but I think the racquet was forgiving even when I was slightly off on my timing."
Brittany enjoyed mixing it up on serve. She said, "I found this racquet very comfortable on serves. There was just enough power to give me plenty of pop on my first serve. I loved serving a big first serve up the T on the deuce side or going for a wide first serve on the ad side. I found a lot of success in doubles with this racquet because I could place my serve accurately in the service box to set up my partner at the net for a put-away volley."
The story was much the same for Chris, who offered, "I liked the combination of power and spin on serve. I was able to hit first serves with pace and add a little brush to them to make them kick, if desired. On my slice and topspin serves I was able to keep a healthy level of pace because I found lots of spin to help me keep my shots on target."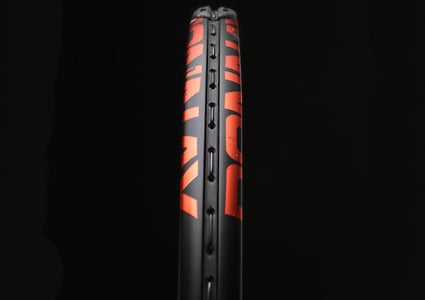 Serve Returns - Score: 83
The Formula 100's attributes all came together on returns, impressing our entire team. Tiffani said, "I was really happy with my returns with this racquet. It managed to be maneuverable and stable. When facing first serves, I liked how it responded to incoming power. The Formula 100 could fire it right back. Then when I faced a weaker serve, I could take a good crack at it with good control."
Getting aggressive on returns was Siobhan. She said, "The combination of maneuverability and power really allowed me to get some big returns, even off bigger serves. The spin and control kept everything within the lines. I really enjoyed putting the return where I wanted, whether it came to me with speed or kick."
Chris picked his spots and fired away with success. He said, "This racquet felt perfectly suited to returns thanks to its fast, yet solid, feel. I was taking a good cut at most serves and found easy access to pace and depth. Again, I was impressed with the level of spin I was getting. In singles play I was able to either roll the ball deep to push my opponent off the baseline or hit a harder, flatter return to catch them off balance. Returning with this racquet reminded me why we have currently seen the death of serve and volley tennis. When strung with a co-poly string, I had all the power and spin I wanted. I could drop the ball low at my opponent's feet, roll an angle or rip a return down the line. I had so many options I felt like I was shooting fish in a barrel."
"This was my favorite shot to hit with this racquet," said Brittany, who likes to attack on returns. "I felt like I couldn't miss a return with this racquet! The power allowed me to step in and take a big crack at serves. As long as I took the ball early I could really be aggressive from my first shot. Again, the maneuverability played a factor, as I was able to get my racquet back early and in position to take good cuts."
Overall - Score: 83
Likes
Brittany - "I liked the combination of power, feel and comfort."
Chris - "I loved this racquet when strung with a co-poly like Volkl Cyclone 16. I was stringing it at mid tension and found the perfect blend of power, spin, comfort, feel and control. This was a fun playtest."
Tiffani - "I found it to be comfortable and just really forgiving. As someone who likes to feed off my opponent's power, I felt this racquet fit right into my style of play and helped me be more aggressive."
Siobhan - "Absolutely loved the power and control from the baseline and net."
Dislikes
Brittany - "One little complaint, I had to put a little more effort in to get spin."
Chris - "None."
Tiffani - "The paint is chipping on our tester easily."
Siobhan - "Didn't sweeten my serve at all."
Comparing the Donnay Formula 100 to other racquets, our testers said:
Brittany - "I would compare this racquet to the Babolat Pure Drive. I found the Pure Drive to have more power and spin but the Donnay Formula 100 to be more comfortable with better feel. This racquet is definitely on my top 5 list right now."
Chris - "This racquet offers all the spin of a Pure Drive, AeroPro Drive, Juice or what have you, but it does it with better comfort, better feel and a more solid response. That makes it best in class for me."
Tiffani - "An easy comparison is the Babolat Pure Drive. This racquet's specs show that its swingweight is 321 (Babolat RDC), but it feels like it swings much faster and is comparable to the Pure Drive. Though quite similar in playability, I think the Donnay offers slightly less power, and maybe, just maybe, a smidgen more control. The Formula 100 feels softer and more comfortable to me as well."
Siobhan - "Despite finding this racquet really unique to anything I have played with before, its control and power combination did remind me a little of the Babolat Pure Drive. It had similarities on the baseline and at net, with the ability to hit big balls without loss of control. The feel was similar to the Pure Drive, too, giving me confidence to really place the ball exactly where I wanted."
Technical Specifications

Length
27 inches
69 centimeters
Head Size
100 square inches
645 square centimeters
Weight
11.2 ounces
318 grams
Balance Point
13.1 inches
33 centimeters
3.2pts Head Light
Construction
23.5mm / 26.5mm / 23mm
Composition
Xenecore
String Pattern
16 Mains / 19 Crosses

Babolat RDC Ratings

Score

Grade

Flex Rating
69
Range: 0-100
Swing Weight
321
Range: 200-400
Scores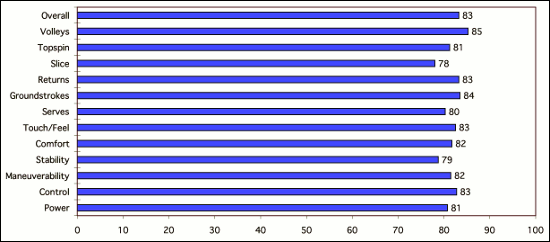 (Scores are determined by averaging individual play test scores)
Brittany's Scores
Power
8.2
Serves
8.1
Control
8
Groundstrokes
8.2
Maneuverability
8.4
Returns
8.8
Stability
8.2
Slice
8.3
Comfort
8.5
Topspin
7.9
Touch/Feel
8.5
Volleys
8.8
Overall
8.4
Chris's Scores
Power
8
Serves
8.3
Control
8
Groundstrokes
8.4
Maneuverability
8.3
Returns
8.5
Stability
7.9
Slice
8
Comfort
8.2
Topspin
8.6
Touch/Feel
8
Volleys
8.3
Overall
8.3
Tiffani's Scores
Power
8.1
Serves
8.2
Control
8.1
Groundstrokes
8.3
Maneuverability
7.9
Returns
8.2
Stability
7.9
Slice
7.9
Comfort
8
Topspin
8
Touch/Feel
8
Volleys
8
Overall
8.1
Siobhan's Scores
Power
8
Serves
7.5
Control
9
Groundstrokes
8.5
Maneuverability
8
Returns
7.8
Stability
7.5
Slice
7
Comfort
8
Topspin
8
Touch/Feel
8.5
Volleys
9
Overall
8.5
Playtester Profiles
Brittany: Open level player with a semi-western forehand and a two handed backhand. She currently plays with the Yonex V-Core 100S.
Chris: 5.0 all court player currently using the HEAD Youtek IG Prestige Midplus. Chris uses a full-western forehand grip, has a fast swing style and hits a one-handed backhand.
Tiffani: 4.0 level baseliner with a semiwestern grip on the forehand and hits a two-handed backhand. Currently playing with the Tecnifibre Rebound Pro.
Siobhan: Open level player with a semi western forehand and a two handed backhand. She currently plays Wilson KBlade Team.

Review date: March 2012. If you found this review interesting or have further questions or comments please contact us.
All content copyright 2012 Tennis Warehouse.