Donnay X-Dual Core Gold 99 Racquet Review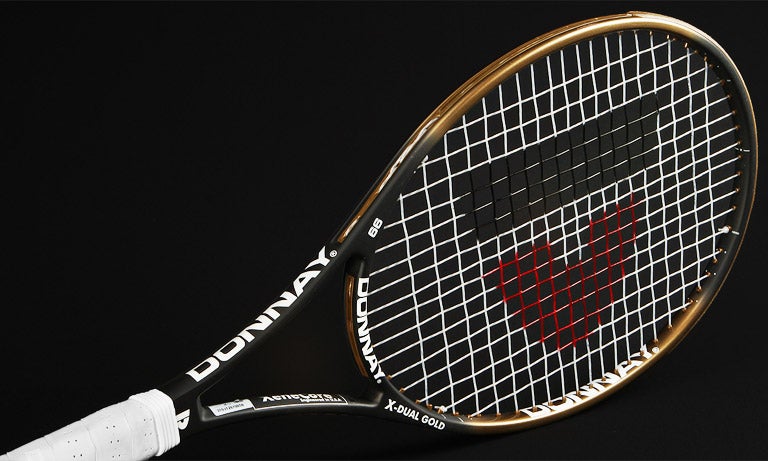 Donnay X-Dual Core Gold 99 Scores
Comfort
79
Touch/Feel
79
Serves
82
Groundstrokes
81
Returns
82
Slice
81
Topspin
82
Volleys
82
Overall
82
Upsides
Control
Stability
Comfort
Spin
Feel
Summary
We feel this racquet is aptly named, as Donnay has struck gold with the X-Dual Core Gold 99. Donnay offers up a player's racquet that delivers the goods from every area of the court and in every situation. With a tad more pop than the X-Red 99, but with no loss in touch or feel, we expect this racquet to be one of Donnay's best sellers. The thin beam and maneuverable feel make it easy to generate spin. Add that to the control we found and players will be able to attack the ball confidently with a very fast swing speed. Our only tester to find the racquet lacking was Brittany, who's used to a wider beamed, more powerful racquet. However, those of you who are used to player's racquets need to get this on court for a demo, as the feel, control and response are exceptional. Throw in Donnay's weight/balance customization kit (sold separately), and you really do have a racquet to meet all tastes at the 4.0+ NTRP levels.
Groundstrokes - Score: 81
Our playtesters praised the feel, control, comfort and crisp response of the the Donnay X-Dual Core Gold 99 from the baseline. The test started out on a high note for Chris. He said, "I liked this racquet from the first hit to the last hit of this month-long test. I thought the power level was spot on, especially on groundstrokes. I could take a big swing at the ball and get some nice court penetration. On topspin groundstrokes, I was noticing a bit more hop on topspin groundstrokes compared to the X-Red 99, and a crisper, more solid feel. During the playtest I used a full bed of poly, several hybrids and a couple of different multifilaments. For me, the co-poly stringbeds, as well as the co-poly/multi hybrids, worked best. Spin was impressive, and I liked the bite I got on slice shots, as well as the action on topspin shots."
Brittany compared the racquet to its midsize counterpart, saying, "This is definitely a unique feel. With the 99 square inch headsize I could generate more power off the baseline, and I found it to be more forgiving than the X-Dual Core Gold 94. In addition, I found the control and feel to be exceptional."
"I was immediately impressed with the feel and performance of this racquet," said Spencer. "I liked the crisp feel in comparison to the previous X Series Donnay racquets. The Dual Core has a stiffer feel, which I tend to prefer. The 99, with an open string pattern, offers a nice lively feel with excellent access to spin. I can put a full swing on the ball and get good depth with ample spin. Forehands and backhands felt equally comfortable. The slice backhand was also crisp. I could clip the ball effectively, keeping it low."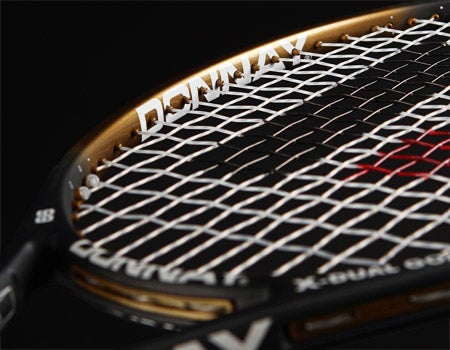 Volleys - Score: 82
The Donnay X-Dual Gold 99 shined up at net. Spencer liked the variety he found, saying, "I liked how I could stick volleys. A generous sweetspot, crisp and solid feel and good maneuverability made coming to the net a better experience. I felt the touch and feel of this racquet at net wasn't the greatest, but because that is something I don't rely on, it was a minimal factor."
Finding better touch at net was Chris. He said, "Crisp, precise and solid pretty much sums up my experiences at net with this racquet. I felt very confident punching volleys deep with pace, often going back behind the returner on a serve and volley play. I found all the feel and touch needed for short, angle volleys, and just felt very connected to the ball. As from everywhere else on the court, comfort was impressive. This was an absolute winner for me at net, and as my mate Britt would say, this one was top!"
Volleys topped the list for Brittany. She said, "Like with the 94, hitting volleys was my favorite thing to do with this racquet. I liked the maneuverability and stability the 99 provided, whether I was off balance reaching for a ball or moving forward to close out a point. This racquet was a lot of fun to play doubles with."
Serves - Score: 82
More positive comments spilled in from the playtesters regarding serves. Chris enjoyed the performance he found from the racquet. He said, "I liked serving with this racquet. The level of power and spin I was finding just matched up well with my serving. I was moving the ball around the box and finding my targets with consistency. My kick serve out wide to the ad side had good action on it (for me), and I was finding some nice angle, too.
"I felt more effectiveness than I do with my usual stick in this area," said Spencer, who usually plays with the Prince EXO3 Tour 16x18. "The Gold 99 helped me generate more velocity and more spin on second serves. My confidence grew with this racquet, allowing me to go for more on my first serve because I didn't feel my second serve could be taken advantage of so easily. Needless to say, I was quite happy serving with this racquet."
Brittany found success with her second serve. She said, "Similar to my groundstrokes, the Gold 99 added more power to my first serve. I could go after my first serve and hit a flatter, powerful serve, but I felt I had to put extra effort into each swing. However, like with the Gold 94, I found my most efficient serve with this racquet was a kick serve. I found great success hitting consistently heavy second serves."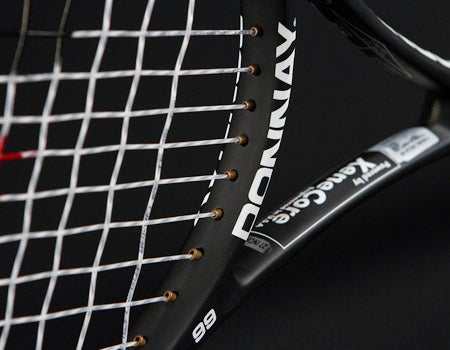 Serve Returns - Score: 82
The Donnay X-Dual Core Gold 99 impressed our playtesters on service returns. Spencer had nothing but positive things to say about returning with this racquet. He said, "The mobility, combined with a forgiving stringbed, allowed me to return more freely and allowed me to be more aggressive when opportunities presented themselves."
Chris agreed, adding, "As with the mid version of this stick, I felt confident taking a big cut at the ball. When staying aggressive I found enough control to find my targets. The racquet felt stable enough that I could step in, steal the server's pace and start off the game with an aggressive return. When I was forced to hit a defensive return the stability and power level helped me get the ball back with some depth, giving me a good look at staying alive in the point."
It took time for Brittany to adjust to the racquet. She said, "This racquet took a little while to get used when hitting returns. After about a week's time I was able to take aggressive swings at the ball on both first and second serves."
Overall - Score: 82
Likes
Spencer- "Everything."
Brittany- "I liked the feel and forgiveness I received from the racquet, especially up at net."
Chris- "Everything. I really can't find a fault with this racquet, and it would be a very easy one for me to switch to."
Dislikes
Spencer- "Nothing."
Brittany- "The racquet didn't have enough power for my aggressive game style."
Chris- "None. I would probably add a leather grip and play around with the customization kit to personalize it further, but I also liked it bone stock."
Technical Specifications

Length
27 inches
69 centimeters
Head Size
99 square inches
639 square centimeters
Weight
11.5 ounces
326 grams
Balance Point
12.8 inches
33 centimeters
6pts Head Light
Construction
16mm - 18mm - 18mm
Composition
Graphite w/ inner and outer XeneCore
String Pattern
16 Mains / 19 Crosses

Babolat RDC Ratings

Score

Grade

Flex Rating
63
Range: 0-100
Swing Weight
316
Range: 200-400
Scores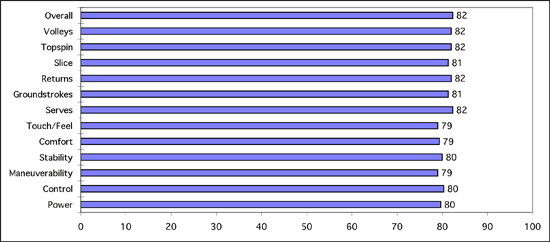 (Scores are determined by averaging individual play test scores)
Brittany's Scores
Power
7.5
Serves
7.4
Control
7.5
Groundstrokes
7.5
Maneuverability
7.7
Returns
7.5
Stability
7.5
Slice
7.7
Comfort
7.6
Topspin
7.6
Touch/Feel
7.6
Volleys
8
Overall
7.7
Chris's Scores
Power
8.2
Serves
8.7
Control
8.6
Groundstrokes
8.5
Maneuverability
8
Returns
8.6
Stability
8.3
Slice
8.3
Comfort
8.4
Topspin
8.6
Touch/Feel
8.3
Volleys
8.6
Overall
8.7
Spencer's Scores
Power
8.2
Serves
8.6
Control
8
Groundstrokes
8.4
Maneuverability
8
Returns
8.5
Stability
8.2
Slice
8.4
Comfort
7.8
Topspin
8.4
Touch/Feel
7.8
Volleys
8
Overall
8.3
Playtester Profiles
Brittany: Open level player with a semi-western forehand and a two handed backhand. She currently plays with the Yonex V-Core 100S.
Chris: 5.0 all court player currently using the Volkl Power Bridge 10 Mid. Chris uses a full-western forehand grip, has a fast swing style and hits a one-handed backhand.
Spencer: 4.5 baseline player currently using the Prince EXO3 Tour 100 16x18. Spencer uses a semi-western forehand grip, and hits with a one-handed backhand.

Review date: December 2011. If you found this review interesting or have further questions or comments please contact us.
All content copyright 2011 Tennis Warehouse.