Donnay X-Dual Core Gold 94 Review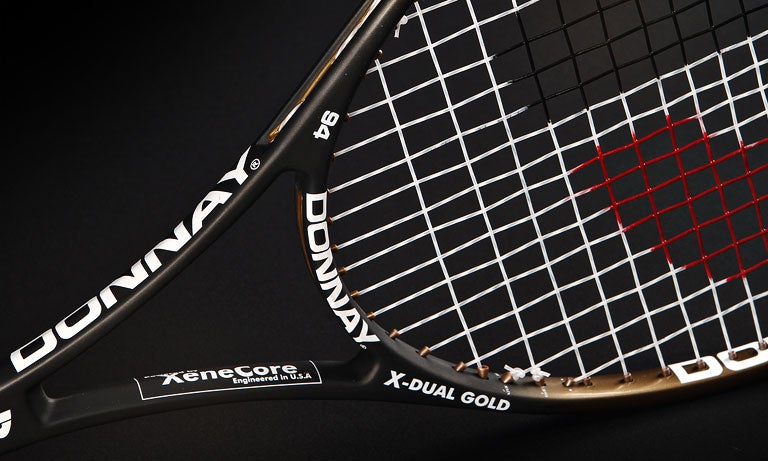 Donnay X-Dual Core Gold 94 Scores
Comfort
79
Touch/Feel
79
Serves
81
Groundstrokes
80
Returns
81
Slice
81
Topspin
81
Volleys
82
Overall
81
Upsides
Control
Feel
Impressive power
Comfort
Mid size precision
Downsides
More demanding than the X-Dual Gold 99
Summary
With the recent successful re-introduction of Donnay racquets back into tennis, Donnay has further upped the ante with its new Dual Core technology. The key to Dual Core is more power and stability, thanks to having two layers of XeneCore in the frame for a firmer response. This, in turn, appeals to a wider range of players while maintaining plenty of the precise yet smooth feel we enjoyed in the X-Series racquets (single layer of XeneCore). On court, one thing all our testers could immediately agree on was how fast the X-Dual Gold 94 felt for a midsize racquet. They also enjoyed the crisp response and easy access to spin. The result was excellent control from all areas of the court. The precision our team felt at net was top notch, making this racquet a great option for the all court player. When it came to serves and returns, our playtesters opinions varied with their playing styles. While some found good power, others felt it lacked. For those that didn't find power, it was the control and spin that stood out. Although our testers did not all agree on their favorite aspects of the X-Dual Gold 94, all did agree that this is one seriously impressive player's racquet.
Groundstrokes - Score: 80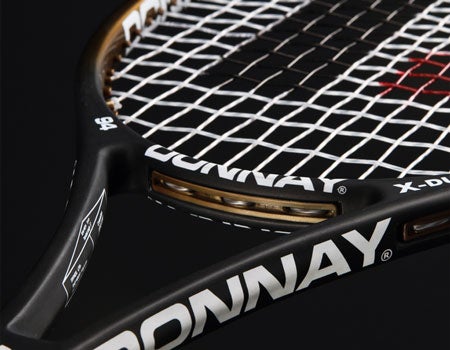 From the baseline, our testers enjoyed the maneuverability and crisp feel of the X-Dual Gold 94. Very pleased with the playability and feel was Chris. He said, "This was an easy adjustment for me as the playability wasn't that far away from my Volkl Powerbridge 10 Mid. I liked the feel of this Donnay the instant I stepped on court. I found it had more power than the X-Red 94, with a slightly crisper response. My forehands and backhands were penetrating the court well, and I was really happy with the pace and direction I was finding, too. The open string pattern, when paired with a co-poly string, offered excellent bite for added spin. I was able to stay on the gas with this racquet and not have to worry about over hitting. It was a nice confidence booster on approach shots or when I wanted to stay aggressive on big points."
Brittany quickly found the grove with the racquet. She said, "The crisp feel made this racquet very comfortable to play with from the baseline. I didn't receive as much power as I normally like but experienced a lot of control and placement. I really enjoyed hitting my slice with this racquet as I was really able to hit low, especially on defensive shots."
Also enjoying the racquet from the baseline was Spencer. He said, "The thing I noticed right away was how fast and maneuverable this racquet felt. That surprised me, being that it is a 94 square-inch head. I could whip through the ball pretty well, getting good power. I liked the feel of it whether I was hitting forehands, backhands, topspins or slices. That being said, there wasn't as much stability or plow through as I was expecting. Using the customization kit would most likely remedy this, but in stock form it doesn't have the mass of a player's midsize. Though I did like the mobility and feel, my consistency suffered due to the smaller headsize and lack of forgiveness."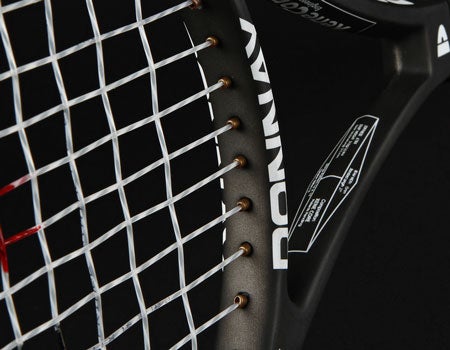 Volleys - Score: 82
Offering a nice combination of attributes, the X-Dual Gold 94 allowed for ample versatility at net. Brittany found this racquet to deliver the goods in just about every situation at net. She said, "My favorite part of this playtest was hitting volleys. The racquet was very maneuverable; perfect for reflexing the volley back quickly during a doubles match or punching it deep in the court for a put-away shot."
Finding the Midas touch on his volleys with the X-Dual Gold 94 was Chris, who said, "The feel at net was superb. It's a tough call, but I think I prefer the solid punch of this racquet over the soft and plush feel of the X-Red 94. The X-Dual Gold 94 is still very plush feeling compared to most racquets, but I found better snap with it compared to the X-Red 94. The result was better power to punch volleys away. The head light balance made the racquet feel very fast, and at net, it was simply superb."
Spencer, who usually uses a midplus racquet, thought the maneuverability made up for the mid sized head. He said, "I really felt my volleys benefitted from the maneuverability. I felt I could get the racquet where it needed to be most of the time. Though the sweet spot felt small to me, the ease of mobility helped keep my off center volleys to a minimum. Directional control was great, punched volleys moved through the court, and it offered better feel than the X-Dual Core Gold 99."
Serves - Score: 81
Though some of our testers found more power than others, they all found control and spin when serving. Chris was able to garner some zip on serves. He said, "This racquet was a really good fit for my service game. If anything, I might just add some weight at 3 & 9 with the Donnay customization kit, but even in stock form the power was good. I was getting more kick and court penetration than I got from the X-Red 94, and a little bit of weight would bring it up to my Powerbridge 10 Mid spec. On both first and second serves I found all the control needed to stay aggressive. While I'm not the biggest server, I was doing enough with this racquet to start points aggressively."
Brittany gained confidence with the excellent control. She said, "I had a little trouble generating power on my serve. On the other hand, I had no problem creating kick serves that would spin off the court. I thought this racquet helped my second serve greatly, as I was able to accurately place my serve anywhere in the box."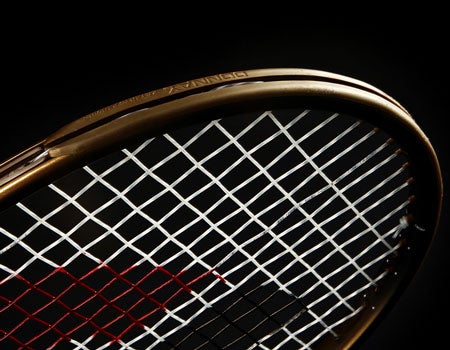 Stepping up to the baseline to serve was like walking the Swiss border for Spencer. He said, "I didn't find it terribly difficult to find consistency, but I also didn't feel I got any extra zip or action on the ball. I was very middle of the road with this racquet. I've served with better and I've served with worse."
Serve Returns - Score: 81
Our testers had varying opinions when it came to returning serve. Chris quickly found the groove, saying, "I was really having a good crack at some forehand returns with this racquet. I felt very confident when staying on the gas and was swinging away for the most part. The racquet offered the stability needed to knife slice returns and the bite to rip heavy topspin. When stretched wide there was enough power to float a defensive return deep."
One of Brittany's best shots is her return, but with the X-Dual Gold 94 she struggled to find her usual form. She said, "The serve return was my least favorite shot to hit with this racquet. I was having trouble timing the serve and generating power off second serves. I had the most success returning when I was playing doubles, as I was able to return the ball low to the server's feet."
Spencer found some good feel and versatility. He said, "I felt a little exposed at times, as the 94 square inch head didn't mask my off center hits like a midplus racquet would. With the exception of off center hits, I did like the feel when returning. I found that it offered good versatility for a midsize racquet."
Overall - Score: 81
Likes
Chris - "Everything. This was a fun test for me. Along with the X-Dark Red 94, I think this is just another dynamite Donnay racquet."
Brittany - "I liked the feel and control I received with this racquet, especially up at the net."
Spencer - "The maneuverability and feel."
Dislikes
Chris - "Just a tad light, but Donnay offers a customization kit, so I'm Golden."
Brittany - "I didn't receive enough power on my groundstrokes or serves."
Spencer - "The smaller sweetspot, compared to my usual midplus racquet."
Technical Specifications

Length
27 inches
69 centimeters
Head Size
94 square inches
606 square centimeters
Weight
11.5 ounces
326 grams
Balance Point
13 inches
33 centimeters
4pts Head Light
Construction
16mm/18mm/18mm Tapered Beam
Composition
Graphite w/inner and outer XeneCore
String Pattern
16 Mains / 19 Crosses

Babolat RDC Ratings

Score

Grade

Flex Rating
64
Range: 0-100
Swing Weight
321
Range: 200-400
Scores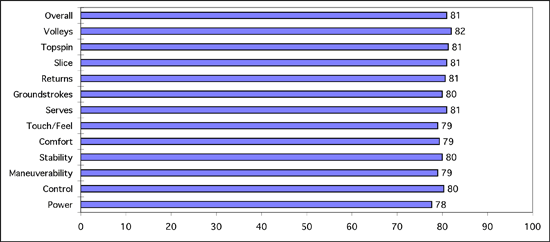 (Scores are determined by averaging individual play test scores)
Chris's Scores
Power
8.1
Serves
8.6
Control
8.5
Groundstrokes
8.4
Maneuverability
8
Returns
8.4
Stability
8.3
Slice
8.3
Comfort
8.3
Topspin
8.5
Touch/Feel
8.4
Volleys
8.6
Overall
8.6
Brittany's Scores
Power
7
Serves
7.1
Control
7.6
Groundstrokes
7.2
Maneuverability
7.7
Returns
7.3
Stability
7.5
Slice
7.6
Comfort
7.7
Topspin
7.5
Touch/Feel
7.5
Volleys
8
Overall
7.4
Spencer's Scores
Power
8.2
Serves
8.6
Control
8
Groundstrokes
8.4
Maneuverability
8
Returns
8.5
Stability
8.2
Slice
8.4
Comfort
7.8
Topspin
8.4
Touch/Feel
7.8
Volleys
8
Overall
8.3
Playtester Profiles
Chris: 5.0 all court player currently using the HEAD Youtek IG Prestige Midplus. Chris uses a full-western forehand grip, has a fast swing style and hits a one-handed backhand.
Brittany: Open level player with a semi-western forehand and a two handed backhand. She currently plays with the Yonex V-Core 100S.
Spencer: 4.5 baseline player currently using the Prince EXO3 Tour 100 16x18. Spencer uses a semi-western forehand grip, and hits with a one-handed backhand.

Review date: January 2012. If you found this review interesting or have further questions or comments please contact us.
All content copyright 2012 Tennis Warehouse.