Dunlop Biomimetic Max 200G Racquet Review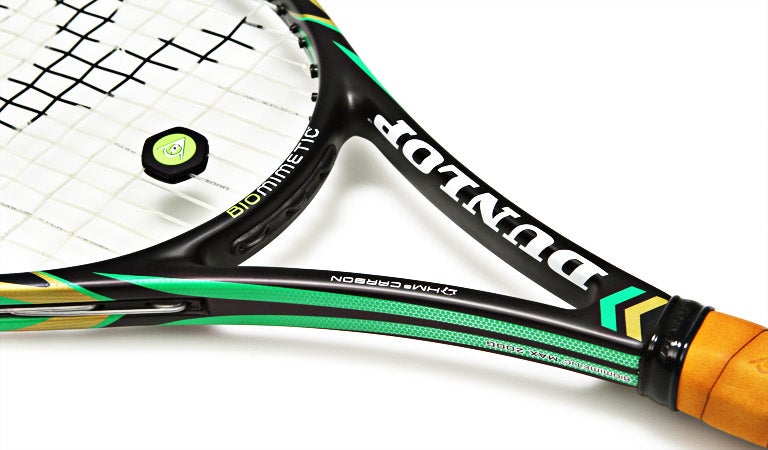 Dunlop Biomimetic Max 200G Scores
Comfort
86
Touch/Feel
84
Serves
81
Groundstrokes
83
Returns
79
Slice
83
Topspin
86
Volleys
86
Overall
83
Upsides
Good feel
Control
Comfort
Maneuverability
Easily customized
Summary
When a racquet has John McEnroe, Steffi Graf and Martina Navratilova associated with it, there's a certain aura about it. The Dunlop Max 200G is one such racquet. The new Biomimetic Max 200G has old-school appeal with its heritage, leather grip and retro-inspired cosmetic, but our testers found this Biomimetic Max 200G to be a rebirth of sorts for the line rather than a simple update, as it plays quite differently than previous models. The racquet had a smooth swing and clean feel for our testers, but most agreed the racquet could have benefited from some extra weight. At 11.7 ounces strung, it's on the lighter side for traditional player's racquets. Some enjoyed ripping the ball with heavy spin, while others couldn't quite find the spin or the power they sought. With great comfort, maneuverability and feel, the Max 200G was a hit at net, perhaps not surprisingly, as it is McEnroe's racquet of choice. The Dunlop Biomimetic Max 200G racquet is a great tool for all-court play, but today's power baseliners may want to tinker with the weight and balance to get more plow through.
Groundstrokes - Score: 83
The Dunlop Biomimetic Max 200G provided a crisp and comfortable feel, although testers had varied opinions about the power and spin production. Granville liked the power and spin. He said, "From the first strike I knew this was a comfortable racquet to play with -- soft flex, good pocketing and enough mass to take the stress off my arm and focus it onto the ball. An additional benefit is that I did not hit short with this soft feel. I was getting good depth and spin off both sides, as well as power. I could crush the ball and direct it to my deep targets with little effort or adjustments. While it is not foam filled, it does have a hint of that in its feel. There's a nice solid feel, with no internal echo in the graphite (as some lighter weight or varying layups can introduce)."
It was a blast from the past for Troy. He said, "From the first forehand I hit I had flashbacks of my old Dunlop days, when I used a customized M-Fil 300. The feel when striking the ball in the sweetspot is crisp and solid. I thought I might have some issues with control going from the dense string pattern of my Head Microgel Radical Midplus to the open string pattern of this racquet, but that was not the case during this test. I was hitting my spots off the forehand and backhand with ease, and I was effectively moving my opponents around the court. I felt that I could generate topspin easily, and my slice backhand was easy to place throughout the court. The only problem I had with this racquet from the baseline was that my shots were lacking a bit of penetration, and I wasn't getting the easy depth I get with my customized Radical (340 swingweight). If I were to customize this racquet to get the swingweight up to my liking, it would definitely be a real weapon."
Finding a smooth and comfortable feel from the first ball he hit was Chris. He said, "I was getting good touch and my drop shots and angles felt very well dialed in. I hit the racquet with a multifilament string and several polys, and I preferred the response with a poly. However, I never got quite the spin I wanted out of this racquet, or the power. I would definitely modify with the weight and balance of this racquet to try and add some hop and penetration to my shots, as they were sitting up too much. Still, I played very consistently with it from the baseline and felt like I could rally all day."
Mark enjoyed the weight of the Dunlop Biomimetic Max 200G from the baseline and thought the specs were spot on. He said, "Just looking at the specifications of this newer 200G got me thinking about yet another frame to consider. Looks were not deceiving at all. The open pattern and 98 square inch head size provided a generous sweetspot, plus a pretty deep ball pocket, so the phrase 'grip it and rip it' came to mind. I was able to change direction and spin on the ball whether it was slice that I was trying to apply or topspin forehands struck on the run. The test racquet that I played with had the 16 gauge Dunlop Silk (soft multi) at a little over the mid range of tension, and I liked it, although I am more of a poly guy at heart."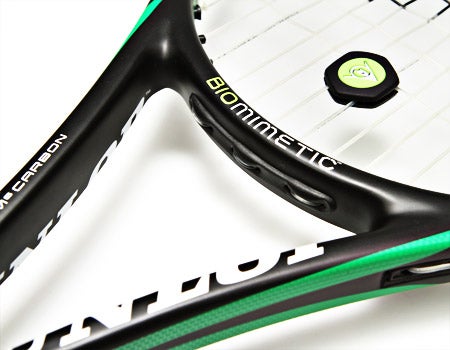 Volleys - Score: 86
Playing with the Biomimetic Max 200G at net was definitely a favorite of the playtesters, with the racquet offering comfort, maneuverability and feel. Chris really liked the response of this racquet at the net. He said, "I much preferred the response of this racquet at net. I was able to get lots of feel on my volleys and I was finding my targets very well. I was impressed by the comfort, and the racquet felt smooth and dialed in. This was a very light and fast racquet, and I found the maneuverability to be excellent. Again, I was left wanting for some punch and pop, but that's nothing a little lead tape can't fix."
Enjoying the ability of the racquet to put away anything that was thrown its way was Mark. He said, "It was a great blend of enough mass to be stable, even on off-center contact, and a light enough head to get it there on time. I had no issues with the volley using the 200G, whether I was on the net or closer to the service line."
Troy felt that volleys came easy with this racquet. He offered, "I found great maneuverability when having to stretch or get the racquet ready for a hard shot hit into my body. There was just enough mass in the hoop of the racquet to maintain stability against heavy shots, but I would have preferred a little more weight for a more stable feel. I found it easy to carve the ball with ample backspin, and touch volleys worked well, as this racquet provided good ball feel. Overall, it was a very control oriented feel, but I feel some added mass to the hoop would help me stick volleys, and make it easier to put the ball away."
Granville enjoyed the touch and soft feel at net, saying, "Good feedback tells me I'm hitting what seems to be an expanded sweetspot with ease. It may lack that crispness of the scalpels, but this is a very nice alternative. There's good touch at the net, and it makes me want to toy with my opponents rather than just put the ball away."
Serves - Score: 81
Our testers agreed on one thing regarding serves: placement was excellent. Opinions on power and spin varied. Some playtesters enjoyed big power and spin, while others found it a bit lacking. Troy mixed it up when serving and kept his opponents guessing. He said, "I find racquets with good maneuverability work well on serves, since stability isn't typically an issue. I could get good whip on the racquet, which benefited my kick serve. Also, I found a lot of pop on flat serves aimed at the center-T. I was placing the ball well and picking my targets consistently, which was very beneficial when playing doubles and utilizing the serve-and-volley game."
Chris placed the ball well on serve. He said, "I felt confident going for a variety of targets on both first and second serves. Even during the tighter moments of a match, I found myself pressing with this racquet on serve -- a sure sign I was playing confidently with it. I was getting decent pace on first serves, but I wouldn't say I was hitting a very heavy ball. However, I was finding my targets, and that allowed me to start points off aggressively."
Mark found the stock form to be adequate, but would have enjoyed a little more weight. He said, "This is the one shot that I would have liked to feel a little more weight in the hoop portion of the racquet, but like many other frames in this range of static weight, it seems to be made to be modified. After all, it is much easier to add weight compared to removing it. I can serve well with the new 200G in its stock form, I would just prefer the extra hoop weight."
Finding some big pop on his serve was Granville. He said, "A rare benefit for me is some added pace on my serves. I think I'm getting some extra power! It could be the box beam construction stiffening the shaft a bit for more power, then taming it a bit with a thinner, more flexible hoop. I'd really like to have more time to string it with my favorite setup. This racquet offered some good bite with a multifilament, so I saw some good action on my kickers wide and down the middle."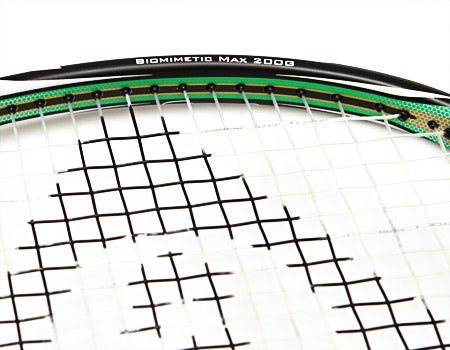 Serve Returns - Score: 79
Our playtesters really enjoyed the ability to control returns and use them as a weapon, although some felt their shots were lacking in power. Troy found it easy to get the racquet on a lot of returns because of its maneuverability. He offered, "I found good control on my returns, especially when directing the ball away from the net player in doubles. I found that I had to work a little harder than usual to get good depth on my returns. With the lack of penetration I found myself hitting balls that would fall into the server's wheelhouse more often than I would have liked."
Mark really liked the specs of the racquet when returning serves, saying, "I felt that the stock weight/ balance worked great on returns. If there were any more weight in the hoop (like I wished for on the serve), I may not have been able to maneuver it as well when returning serve."
Feeling like he could just blast winners at will was Granville. He said, "Placement seemed effortless and precise. Slice it down the line or crosscourt on the ad side - or blast the forehand return down the line. When I was holding this racquet on the court I felt I was limited only by my ability."
Finding returns to be one of his favorite shots with the Biomimetic Max 200G was Chris. He said, "I found I could use the control of the racquet to redirect the pace of incoming serves very effectively. I was hitting both topspin and slice returns with accuracy, and the mobile feel made it easy to attack the ball. The racquet felt comfortable, and the power drop-off outside of the sweetspot was very gradual, which made it feel like a very consistent racquet."
Overall - Score: 83
Likes
Troy - "I loved the feel on my groundstrokes when making clean contact. Control from all areas of the court was superb. The cosmetic is sweet, and to top it off, it comes stock with a leather grip."
Chris - "I liked the smooth feel, the touch, the mobility and the comfort. I also really, really like the throwback cosmetic and leather grip!"
Granville - "It has a soft feel and is comfortable on the ground and at net. There's power on reserve, especially on the serve. Love the retro 200G cosmetic."
Mark - "Admittedly, I'm curious about anything Johnny Mac endorses. The stock leather grip is a great touch and the color scheme is easy on the eyes. I liked it for both doubles and singles play. I used to play with the original version of the Max 200G that both Graf and McEnroe used, and the Biomimetic Max 200G is much easier to string without all those shared holes!"
Dislikes
Troy - "It lacked some plow through that I typically find in racquets with a swingweight between 330 and 340."
Chris - "This racquet lacked the mass to get the job done for me, but Dunlop tends to err on the lighter side. Going lighter allows the player to add the final touch with lead tape if desired, and with this racquet, I would lead it up."
Granville - "Still thinking."
Mark - "I used to prefer the more open string patterns, but I have switched allegiance to the denser patterns, so if it had an 18x20 string pattern this question would have been left blank."
Comparing the Biomimetic Max 200G to other racquets, our testers said:
Troy - "While playtesting this racquet I had flashbacks of the days that I used the Dunlop M-Fil 300, which I customized to a weight similar to this racquet. I found it very easy to get used to, and all the control was there when baseline bashing. Personally, I would add lead tape to bring this racquet to the 12-ounce range and a mid-330 swingweight, which are the specs of my current racquet. The only problem then would be that I might be forced to make the switch! The only other racquet that I can recall that has similar characteristics is the Head YOUTEK IG Prestige Pro, but this racquet is a bit more maneuverable."
Chris - "While a Max 200G only in name, this racquet does offer a smooth feel, and that rings true for the 200G name. For me, this one plays closest to the Biomimetic 300, which I also felt was slightly under-powered when I reviewed it. This racquet felt smoother and more comfortable compared to the 300, and I enjoyed the playtest. Give me five minutes and some lead tape and I'd be in business with this racquet -- and that business would be kicking ass."
Granville - "While it has been a very long time since I hit with the original Max 200G, the new Biomimetic Max 200G has some similarities, in that it hits a very sold ball and offers something like a foam-filled beam feel. That being said, it is a very different than the original in that it is less massive and more forgiving. Of the current racquet lines, it plays similar in feel to the BLX Tour and/or the Prince Rebel 98, maybe even the Youtek IG Speed MP."
Mark - "Not much, or anything like the original, Hot Melt or Muscle Weave iterations, but this Max 200G stands on its own as a stable, control-oriented racquet that is tournament ready in its stock form."
Technical Specifications

Length
27 inches
69 centimeters
Head Size
98 square inches
632 square centimeters
Weight
11.7 ounces
332 grams
Balance Point
12.9 inches
33 centimeters
5pts Head Light
Construction
22mm Straight Beam
Composition
HM6 Carbon / Aerogel / Graphite
String Pattern
16 Mains / 19 Crosses

Babolat RDC Ratings

Score

Grade

Flex Rating
65
Range: 0-100
Swing Weight
318
Range: 200-400
Scores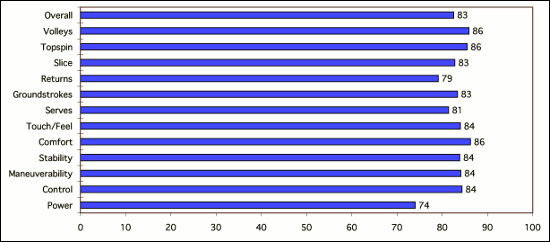 (Scores are determined by averaging individual play test scores)
Troy's Scores
Power
7
Serves
9
Control
9
Groundstrokes
8.4
Maneuverability
8.8
Returns
7.3
Stability
8.5
Slice
8.3
Comfort
9.2
Topspin
8.7
Touch/Feel
8.7
Volleys
8.5
Overall
8.5
Chris's Scores
Power
7.6
Serves
7.8
Control
8
Groundstrokes
7.7
Maneuverability
8.1
Returns
8.1
Stability
7.8
Slice
7.8
Comfort
8.3
Topspin
8
Touch/Feel
8.4
Volleys
8.1
Overall
7.7
Granville's Scores
Power
7.5
Serves
8.25
Control
8.25
Groundstrokes
8.25
Maneuverability
8.25
Returns
8.25
Stability
8.25
Slice
8.5
Comfort
9
Topspin
8.5
Touch/Feel
8.5
Volleys
8.75
Overall
8.5
Mark's Scores
Power
7.5
Serves
7.5
Control
8.5
Groundstrokes
9
Maneuverability
8.5
Returns
8
Stability
9
Slice
8.5
Comfort
8
Topspin
9
Touch/Feel
8
Volleys
9
Overall
8.3
Playtester Profiles
Troy: 5.0 lefty all-court player with a full Western Forehand and a two-handed backhand. Troy currently plays with a customized Head Microgel Radical Midplus.
Chris: 5.0 all-court player currently using the HEAD Youtek IG Prestige Midplus. Chris uses a full-western forehand grip, has a fast swing style and hits a one-handed backhand.
Granville: 5.5 all-court player currently using a Wilson K Factor Six-One Tour 95. Granville is an aggressive player who uses an eastern forehand grip and goes continental on everything else, hits with a flat swing and a one-handed backhand.
Mark: 5.0 lefty all-court player with a one-handed backhand. He currently plays with the Dunlop Aerogel 4D 200.

Review date: May 2012. If you found this review interesting or have further questions or comments please contact us.
All content copyright 2012 Tennis Warehouse.