Dunlop Biomimetic F5.0 Tour Racquet Review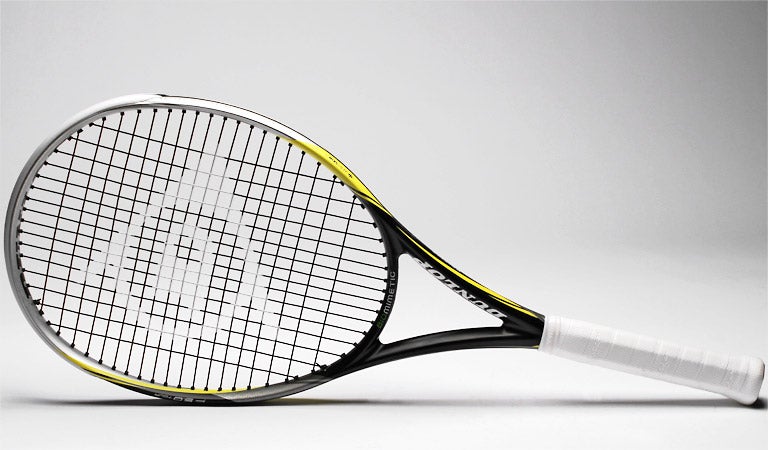 Dunlop Biomimetic F5.0 Tour Scores
Comfort
74
Touch/Feel
75
Serves
81
Groundstrokes
82
Returns
77
Slice
77
Topspin
83
Volleys
78
Overall
78
Upsides
Maneuverable
Good access to spin
Livelier response than previous 500 Tours
Summary
Just like the other recently released racquets in this line, the Biomimetic F5.0 Tour has a lively, maneuverable and more modern feel. This is the feel Dunlop was looking for, and it gives the racquet a crisper, livelier feel than its predecessor, the Biomimetic 500 Tour. The Biomimetic F5.0 Tour garnered comparisons among our playtesters to modern 'tweener racquets like the Babolat AeroPro Drive and the Head YOUTEK IG Extreme Pro 2.0. Power and spin were easy to achieve from all over the court, and the ball exploded off the strings like it was shot out of a cannon. The ultra maneuverable feel was great for volleying, but some of our testers found that a lack in feel affected their ability to hit touch shots. If you're a big hitting baseliner with a preference for fast, powerful racquets, this one will help you tap into all the power that you can muster.
Groundstrokes - Score: 82
Our playtesters found the F5.0 Tour to be super maneuverable, and it provided added power to their groundstrokes. Chris found that it took little effort to dictate play from the baseline with this racquet. He said, "From the first hit I found some added power and stability from this update to the Biomimetic 500 Tour. This racquet felt crisper and livelier, and I was getting more pace on my shots. When strung with a co-poly, like Dunlop Black Widow or Babolat RPM Blast, I found all the spin and control I needed from the stringbed to control the powerful response of the frame. I went 2 lbs under the mid recommended tension with that setup, and it felt great. I was able to sit back and move the ball around with ease with this racquet. It didn't take much effort to get great depth and pace. When I stepped in and played aggressively I found all the power I wanted to help me attack the net with authority."
Andy enjoyed the easy access to pace and spin, but he was left wishing for a little more control on some of his shots. He explained, "I found the F5.0 Tour to be very maneuverable and very forgiving from the baseline. I could take big swings at the ball with ease and not be afraid of making poor contact. There was easy access to power and spin on both my forehand and my backhand. I would have liked to have felt a little more control over my shots because I didn't really have the confidence that I could always hit it where I wanted to in the court. But wherever the ball went, it was going there with a heck of a lot of pace and spin!"
Jason was swinging fast and free with this racquet. He offered, "I really enjoyed this racquet from the baseline. I thought it complemented my game well. I like to take big cuts at the ball on my forehand, and the low swingweight allowed me to do so with ease. Using a poly with the open string pattern was a great combination for putting a ton of topspin on my shots. My slice shots weren't as good, and I was floating my shots more than anything. A slightly higher swingweight would've helped here. I found that I could generate some sharp angles to pull my opponents off the court. Ideally, I would've liked a bit more mass behind my shots to make it easier to put away shots."
For the most part, Sean also found the F5.0 Tour to be an effective weapon from the baseline. He said, "As expected from this line of Dunlop frames, this racquet had great all around characteristics. It performed well from the baseline, and I loved how fast I could get the racquet through the hitting zone with its light swingweight. Because it's so light I did have some trouble defending against bigger shots, and I couldn't keep control of the points. Luckily, there's a lot of room for customization with this frame, and with some added heft I think it would feel more solid. This was definitely a consistent hitting racquet from the back of the court, with the ability to really bring the shot down into the court with good spin.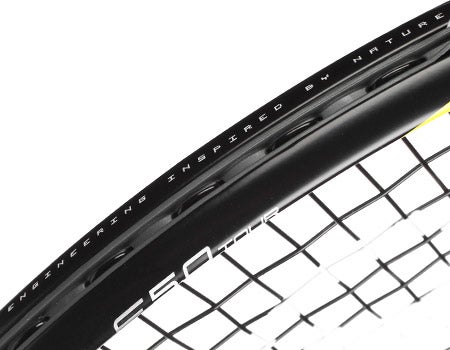 Volleys - Score: 78
Volleying was made easy with the F5.0 Tour due to its great maneuverability, but our team did have a couple of criticisms. Sean felt the liveliness of the frame helped him hit effective volleys with little effort, but he desired a little more ball feel. He explained, "This racquet did a lot of the work when it came to putting my volleys back deep -- even when I couldn't get into perfect position. I was able to produce solid shots even when stretched out wide to defend passing shots, and the racquet's maneuverable feel made it easy to get the racquet into position. Throughout my testing I did find that this racquet had a stiffer feel than the previous versions, and while it had great power, my touch shots suffered, especially during net play."
Andy had a similar opinion, saying, "The maneuverability and forgiveness made this an easy racquet to wield around the net. Stab volleys were simple with the easy access to power. I felt like I just had to get the racquet into position and it would do the rest by getting the ball back deep in the court. It's a pretty stiff and crisp-feeling racquet, so I wouldn't say it possesses the best feel for hitting shots requiring a bit more touch. However, ease of use is a standout feature for this Dunlop around the net."
Jason enjoyed the maneuverability, but he thought it was a bit unforgiving when making contact off-center. He said, "I noticed that I could get this racquet quickly into position to hit a volley. Once in position there was nice power and access to spin. I liked how I could easily snap my wrist to hit an overhead. I did, however, notice a big drop in power and torsional stability when shots were hit off-center."
Chris also thought a little more weight would help this racquet's performance around the net, saying, "I would have liked a little more mass to help keep the racquet stable on tough volleys. When I had time to execute my volleys the racquet felt great -- very precise and crisp -- but when I was stretched wide or low the racquet needed a bit more weight in it to help me out. Feel was good, and I was able to be very accurate with touch, angle and placement volleys."
Serves - Score: 81
Once again, power and spin were easy to get with the F5.0 Tour when serving. "I felt like I was stepping up to serve with a rocket launcher when I had the F5.0 Tour in hand," said Andy. "The explosive power combined with it being so easy to swing allowed me to get some pretty surprising pace on my flat serves. Furthermore, I could really get my slice serves sliding and my kick serves kicking with good racquet head acceleration. Once again, the precision I would have liked wasn't quite there, but who needs control anyway, right?"
Chris was also able to be effective while serving with this racquet. He said, "I really enjoyed serving with this racquet. I was getting good pace and spin. I have been working on my serve lately, and I was very happy with the results I was getting with this racquet. My pace down the T and out wide was good. I was able to easily add spin to improve control and to get the ball to move around on the returner. Again, a co-poly string makes this a very spin-friendly racquet."
Sean's full array of serves was on display during this playtest. He said, "I really enjoyed the spin potential this racquet offered on serve. I was able to stay aggressive by mixing tough slice serves out wide with some nice kick serves to keep my opponent off balance. I had no trouble producing pace with the open string pattern and fast swing, although I did lose a lot of control when I went to my first serve. Overall, I felt like I could keep my opponent guessing with the variety of shots this racquet allowed me to hit."
Jason found it easy to locate his serves with good spin, but he wanted a little more power from the racquet. He said, "Targeting and placement of my serves were spot on. I'm not a big server so I rely on other methods to get myself into an offensive position. Speaking of power, I felt like it was a negative for this racquet in this category. I didn't feel like I could get too many extra MPHs on my serve. However, putting spin on my shots was easy."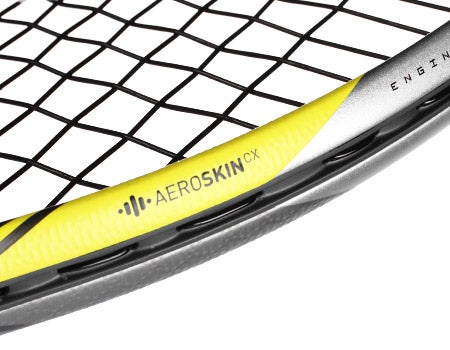 Serve Returns - Score: 77
The lighter swingweight and easy access to spin made this racquet great to return with. "This is a very good racquet for returning serves," said Jason. "It was effective on first serves because it was quite maneuverable, so I could get the racquet on the ball. I could take a full swing at second serves, step into the shot and not worry too much about it going long because of the spin I was able to impart on my shot. Like with my volleys, I did notice a big drop off in performance when I wasn't hitting the sweetspot."
Chris was able to be offensive and take control of points early with this racquet. He said, "This racquet felt built for returns. I love how fast and mobile it felt. I was able to get inside the baseline and attack serves early. There's quite a bit of power in this racquet, but with the right string I found it easy to dial in control and increase spin. I liked how I could mix up my returns with this racquet, it was very versatile."
It wouldn't exactly be his racquet of choice for returning serves, but Andy could still appreciate what this one had to offer. He said, "Many of the same attributes were evident when returning serve.The racquet was easy to whip around the body and generate pace and spin with, but it also lacked the precision to place the ball consistently where I intended. If you like to return with bigger swings from farther back in the court, I think you would really like returning with the F5.0 Tour. However, I tend to take my returns early with a shorter stroke, in which case I prefer a racquet with a little more control."
Sean liked the F5.0 Tour when returning second serves, but he struggled a little bit when trying to defend against a tough first serve. He explained, "I had mixed emotions when it came to my return of serve with this racquet. The lack of mass and a lighter swingweight really put me at a disadvantage when trying to return harder hit serves. I felt like I was getting pushed around when I wasn't able to put the ball back deep in the court. On the other hand, when I was able to step in and get over the ball with a full swing I was able to put a lot of zip on the ball while harnessing its power with good topspin."
Overall - Score: 78
Likes
Chris - "I liked the power, spin, crisp feel and the minimal effort required from the baseline."
Jason: -"Very maneuverable and fast. Nice access to spin."
Sean - "Light and fast with easy spin and power."
Andy - "Maneuverability, easy access to power and spin, and good comfort for a racquet with such a high stiffness rating. It's also very forgiving when taking big swings at the ball."
Dislikes
Chris - "None really. I would add a leather grip and some tungsten tape on the handle to increase the weight without hindering maneuverability."
Jason - "I wanted just a bit more weight behind my shots. Also, the racquet felt pretty stiff."
Sean - "The lack of stability and control."
Andy - "I would have liked a little more control out of the racquet for more consistent placement of my shots."
Comparing this racquet to others they've tried, our testers said:
Chris - "It's more powerful and more stable than the racquet it replaces, I think this is close to the performance of a Babolat AeroPro Drive, albeit with its own unique feel. Other similar racquets would be the Wilson Juice 100, Head YOUTEK IG Exteme MP 2.0 and Babolat Pure Drive."
Jason - "It plays like a less powerful Babolat AeroPro Drive racquet."
Sean - "It's similar in both specification and feel to the Babolat AeroPro Drive and the Wilson Juice 100."
Andy - "This is a great 'tweener-style frame in the same realm as a Babolat Pure Drive or Head YOUTEK IG Extreme Pro 2.0. The F5.0 Tour might have the most power of the bunch, and the least control. It's also quite stiff, which gives it more of the feel of an older Pure Drive. However, if you can find the right string setup for you that provides enough control, I think you can get this racquet dialed in and ready to go!"
Technical Specifications

Length
27 inches
69 centimeters
Head Size
100 square inches
645 square centimeters
Weight
11.2 ounces
318 grams
Balance Point
12.9 inches
33 centimeters
5pts Head Light
Construction
23mm / 25mm / 25mm
Composition
Biofibre
String Pattern
16 Mains / 19 Crosses

Babolat RDC Ratings

Score

Grade

Flex Rating
72
Range: 0-100
Swing Weight
317
Range: 200-400
Scores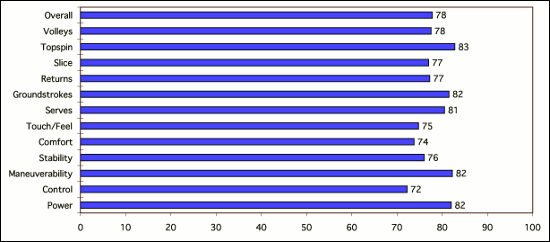 (Scores are determined by averaging individual play test scores)
Chris' Scores
Power
8.3
Serves
8.3
Control
7.8
Groundstrokes
8.4
Maneuverability
8.4
Returns
8.4
Stability
7.7
Slice
8.3
Comfort
7.7
Topspin
8.4
Touch/Feel
7.9
Volleys
7.8
Overall
8.2
Jason's Scores
Power
8
Serves
8
Control
7.9
Groundstrokes
8.2
Maneuverability
8.3
Returns
8.3
Stability
7.8
Slice
8
Comfort
7.5
Topspin
8.2
Touch/Feel
8
Volleys
8
Overall
8
Sean's Scores
Power
8
Serves
8.2
Control
7.2
Groundstrokes
8
Maneuverability
8.2
Returns
7.5
Stability
7.4
Slice
7.8
Comfort
7.3
Topspin
8
Touch/Feel
7.2
Volleys
7.6
Overall
7.6
Andy's Scores
Power
8.5
Serves
7.7
Control
6
Groundstrokes
8
Maneuverability
8
Returns
6.7
Stability
7.5
Slice
6.7
Comfort
7
Topspin
8.5
Touch/Feel
6.8
Volleys
7.6
Overall
7.3
Playtester Profiles
Chris: 5.0 all-court player currently using the Volkl C10 Pro 2012. Chris uses a full-western forehand grip, has a fast swing style and hits a one-handed backhand.
Jason: 4.0 baseliner with a semi-western forehand and two handed backhand. Currently using a Wilson Steam 99 S
Sean: 4.5 baseliner using the HEAD Youtek Prestige Pro. Sean has a semi-western forehand, 1 handed backhand.
Andy: Open level all court player with a semi-western forehand grip and a two handed backhand. Andy currently using a Yonex RDiS 100 Mid.

Review date: March 2013. If you found this review interesting or have further questions or comments please contact us.
All content copyright 2013 Tennis Warehouse.