Dunlop Biomimetic F2.0 Tour Racquet Review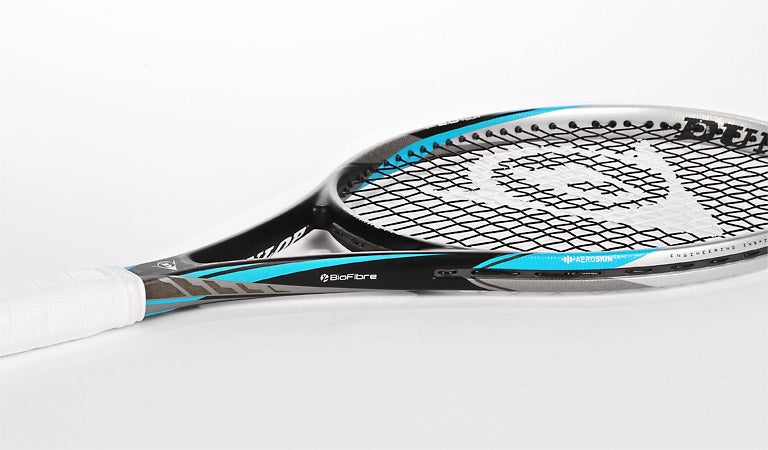 Dunlop Biomimetic F2.0 Tour Racquet Scores
Comfort
83
Touch/Feel
83
Serves
85
Groundstrokes
83
Returns
80
Slice
82
Topspin
78
Volleys
84
Overall
83
Upsides
Fast, responsive feel
Control
Solid feel
Added pop over previous 200 Tours
Downsides
Where's the leather grip?
Summary
A team of our playtesters took the Dunlop Biomimetic F2.0 Tour to the courts to see how this player's racquet would perform. As fans of the Dunlop 200 series of racquets, this team was excited from the get-go to test this Dunlop. Lacking a little of the smoothness of the previous version, the F2.0 Tour makes up for it with precise power. With a tight 18x20 string pattern and a compact 95 square inch head, this racquet is equipped to provide control while enhancing power for any top player. It continues to perform at the net by providing a comfortable, maneuverable response and enough bite to do some damage with your volleys. This racquet was consistently precise and helped all the playtesters on their serves with its blend of control and power. There wasn't one area of the court where our testers could find something to complain about. The F2.0 Tour may have a different feel than its predecessors, but that didn't stop our team from enjoying its maneuverability, precision and added pop.
Groundstrokes - Score: 83
Expecting good things from the Dunlop Biomimetic F2.0 Tour based on his previous experiences with the Dunlop 200 series frames, Mark knew after hitting his first forehand that he was not going to be disappointed with this racquet. He found it to be "stable and predictable, and even with a full set of a low tensioned poly the F2.0 Tour felt crisp. It has a firmer beam than the other Dunlop 200s I've used. Groundstrokes that were struck low to the ground to waist high were the shots I loved most, and the inside out/down-the-line forehand was in full effect. High shots on the backhand wing were dealt with using slice, and I was able to change the direction of the ball while keeping it pretty low."
Troy found this racquet to offer a lot of precision from the baseline, although he also found it to be a bit stiffer than what he likes. He said, "I was able to swing freely, knowing the racquet would provide me with a consistent response. One thing that stood out compared to the previous versions that I've tried was the increased stiffness. Typically, the Dunlop 200s have been known for their soft and buttery feel upon impact, whereas this update felt firmer. The firm response seemed to give a little more juice to my groundstrokes, and I did not feel any increase in shock due to the increased stiffness. My slice backhand was very precise and penetrated the court well. I found this racquet to swing with ease, but it didn't quite have the plow through of my Microgel Radical Midplus."
Another fan of the 200 line is Chris, who found this F2.0 Tour to be nothing short of a great update from Dunlop. He said, "This one felt faster and more maneuverable than previous versions. The response also felt snappier and livelier. Some of the silky smooth feel of the classic box beam frame 200s was missing, but I found this racquet to offer easier access to pace. I also found good spin from this racquet, and I put that down to me perhaps getting a little more racquet head speed. The control was excellent, and I felt like I could put the ball on a dime. All of my shots were working well, and I became very comfortable with this racquet from the baseline."
Andy really liked this racquet from the baseline as well, and found it to be a good control-oriented racquet for the modern baseliner. He said, "It captures the modern, crisp feel Dunlop set out to achieve with this new line of racquets, but in my opinion it is more solid and controlled than the F3.0 Tour we tested a couple months back. At 95 square inches it doesn't have quite the same forgiveness on off-center shots, but the racquet has great plow through and control when taking swings off both wings. It's maneuverable and easy to swing, and the stiff beam offers excellent pop and power."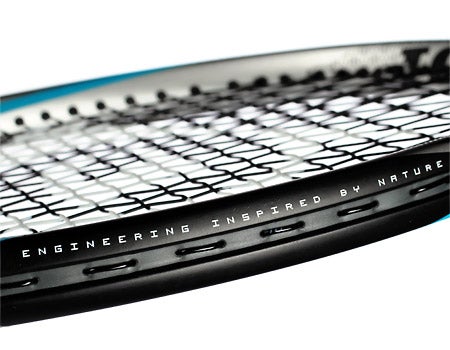 Volleys - Score: 84
It was all about precision and maneuverability for the testers at net. Chris once again commented on feel, saying, "It felt fast and was loaded with feel. The response was comfortable, yet I still felt very connected to the ball. I was able to be aggressive and still find lots of control with this racquet. Again, it wasn't as silky smooth as the previous version, but it felt quicker and more responsive. I would have liked just a tad more weight and perhaps a leather grip for even more feel, but I'm being very picky."
For Troy the combination of maneuverability and pin-point control made him feel prepared and ready for anything at the net. He said, "I could maneuver the racquet with ease whenever I was off balance or stretched out. I felt connected to the ball, making me confident in those deft touch volleys and placing the ball near the lines. The firm response provided a little added pop, compared with the previous versions, allowing for easy put-away power. The only downside for me was against heavy hitters; the racquet lacked some stability that I typically find in player's frames that have just a bit more weight toward the tip."
Finding a crisp and confident response for his volleys was Mark, who said, "The 12 ounce, stock static weight and the 320 average swingweight turned out to be a great combination of weight/balance for stable volleys, yet still maneuverable for me. Add in the way Dunlop has configured that high modulus graphite, and I really liked this racquet for any sort of volley."
Rounding out the team of pleased playtesters was Andy, who also found this racquet to perform nicely around the net. He offered, "The maneuverability made it easy to wield and get into position at net, and it still felt hefty enough to provide the solid feel and stability when making lunging stabs at the ball. I also felt I had great control over all my volleys. The tight string pattern allowed me to be precise, and the feel of the racquet was great for touch and angled shots. The only issue I had on a few shots was the racquet twisting in my hand when I didn't get the ball directly in the sweetspot, but for the most part it felt stable and solid, and performed great at net."
Serves - Score: 85
As our playtesters served, the praises kept on coming for the Dunlop F2.0 Tour. Andy found that this racquet possesses a nice blend of heft and maneuverability. He said, "It's pretty easy to get the racquet moving with its 320 swingweight; then once you do, the static weight of the racquet takes over and seems to execute the shot for you. I got great access to pop and control from the lively feel and tight string pattern."
Chris found the blend of power and control to be perfect when serving out wide, saying, "The mass of the racquet helped me hit a strong first serve, while the control and precise feel helped me find my targets. I found better slice than topspin. The racquet came through the ball well, and that allowed me to swing my slice serve wide or into the returner's body with lots of pace. When hitting topspin, I was getting average spin and very good control."
"This racquet was a real gem on serves!" exclaimed Troy. He earned some easy points off his serves because of the easy-to-maneuver balance and added pop that this racquet offers. He said, "I was able to hit the flat serve down-the-middle with ease. I could generate easy wrist snap to hit a jumping kick serve. Overall, I could hit all my targets consistently and get a little more pace on the first serve."
Mark completely agreed with Troy, adding, "My serve isn't usually the shot that wins points for me, but I did get some cheap points with the Dunlop F2.0 Tour. The 12 ounce static weight, with plenty of the material in the hoop, added a couple of MPHs to my serve."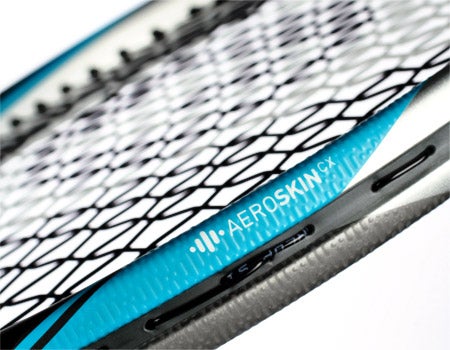 Serve Returns - Score: 80
The F2.0 Tour's control and maneuverability were assets when returning. Troy enjoyed the crisp response. He said, "I could generate easy racquet head speed, which helped against the big serves that forced me to shorten my swing. I could place my returns well within the court, which helped in doubles. I would have liked just a little more plow through for when I was trying hit a more offensive return near the baseline."
Chris found this racquet to be a solid choice on his returns because of its preciseness and maneuverability. He offered, "I liked the comfortable response because it made off center hits comfortable. My slice backhand return was working well, and I found I could knife it with good pace and accuracy. I also liked driving over the ball with topspin. The racquet offered excellent control and feel, and that allowed me to be aggressive."
Andy found it easy to get the racquet in position on harder serves because the racquet was so fast and easy to swing. He said, "The control was once again apparent, and I could place my returns seemingly wherever I pleased in the court. A slightly bigger headsize would allow for more forgiveness when you want to take a big cut at the ball, but then you'd be sacrificing some control, which I'm not so sure I'd want to give up with this racquet. Compact swings and using the server's pace was key with this racquet on returns. If you do those two things, this stick becomes a weapon."
The racquet fit Mark's returning style. He offered, "The Dunlop F2.0 Tour is in my range of weight/balance (toward the upper end of it), and it really complemented my usual chip return style. The slice backhand return felt great with this racquet."
Overall - Score: 83
Likes
Mark - "I pretty much enjoyed all aspects of this racquet from all areas of the court; the aesthetics, weight, balance, beam firmness, head size, pattern, etc., but especially the fact that it says, 'Tour' on it. I could never really swing effectively with the prior models of the 200 Tour. The F2.0 Tour is weighted to be similar to the standard 200, rather than following the same recipe as its predecessor. I also feel like it is a frame that works well with a range of string and tension configurations since the beam is firm, but not stiff."
Troy - "Great precision and a nice crisp response. The increase in stiffness helped add some pop to the previous versions without adding any arm discomfort."
Chris - "I liked the fast, responsive feel and the comfort."
Andy - "Maneuverability, solid feel, control and easy access to power for a 95 square inch racquet. The balance and weight distribution just felt right to me as well."
Dislikes
Mark - "The only aspect that I noticed was more challenging was the access to topspin, as my last point of reference is a 16x15 patterned frame. The topspin was great, but it wasn't as easy to access as the racquet I have been playing with as of late."
Troy - "I would add just a smidgen of weight to the hoop to provide a little more power and plow through, and a leather grip."
Chris - "None really. I would add a leather grip. It is not as silky smooth as some previous 200s, but it makes up for it in other ways, such as maneuverability and a crisper response."
Andy - "It felt a little brassy sometimes when I made contact off center, making it slightly less forgiving than I would have liked."
Comparing this racquet to others they've tried, our testers said:
Mark - "I often refer to the Prestige as the "200" of the Head frame line and the Dunlop 200 as the "Prestige" of the Dunlop line. I have played lots of matches/tournaments with those two racquets, and I feel they are pretty comparable. The Babolat Pure Storm GT Tour is on the list, as are the Six.One 95 and the Tecnifibre TFight 320. They are all close in terms of weight, balance and beam width to the Dunlop Biomimetic F2.0 Tour."
Troy - "I found the control and precision to be similar to previous versions of the Dunlop 200s. The increased stiffness reminded me of the Wilson Six.One 95, as well as the Slazenger Pro Braided. I found the Wilson Blade 93 to feel a bit more plush and have more plow through, although control was pretty much equal. Between this racquet and the Dunlop F3.0 Tour, I would give a slight edge to the F3.0 Tour."
Chris - "This is another Dunlop that I like. I have always liked the 200 series, and this one checked a lot of the right boxes. Those seeking a faster Dunlop 200 should definitely consider this new F2.0 Tour. While I prefer the smoother, more old school feel of the previous version, I did come to love the crisp and responsive feel of this racquet. It is right in there with the Volkl Power Bridge 10 Mid, the Wilson Blade 93 and the ProKennex Black Ace 93."
Andy - "I really enjoyed this racquet and felt it was the best one I've tried from the new Dunlop line. The feel is similar to the F3.0 Tour, but this one is more solid and has better control. It also feels similar to the Wilson BLX Six.One 95, but is easier to swing and has a crisper feel."
Technical Specifications

Length
27 inches
69 centimeters
Head Size
95 square inches
613 square centimeters
Weight
12 ounces
340 grams
Balance Point
12.5 inches
32 centimeters
8pts Head Light
Construction
22mm / 22mm / 22mm
Composition
Biofibre
String Pattern
18 Mains / 20 Crosses

Babolat RDC Ratings

Score

Grade

Flex Rating
67
Range: 0-100
Swing Weight
320
Range: 200-400
Scores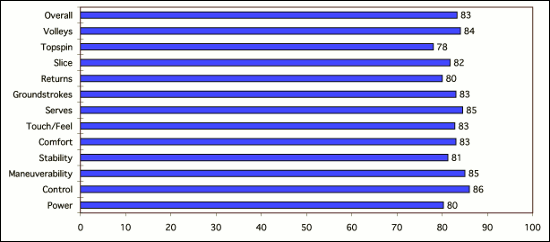 (Scores are determined by averaging individual play test scores)
Mark's Scores
Power
8.5
Serves
9
Control
8.5
Groundstrokes
8.5
Maneuverability
8.5
Returns
8.7
Stability
9
Slice
9
Comfort
9
Topspin
7.5
Touch/Feel
8.5
Volleys
8.5
Overall
8.8
Troy's Scores
Power
8
Serves
9
Control
9.5
Groundstrokes
8.5
Maneuverability
8.8
Returns
8
Stability
8
Slice
8.3
Comfort
8.5
Topspin
8.2
Touch/Feel
9
Volleys
8.8
Overall
8.6
Chris' Scores
Power
8.1
Serves
8.3
Control
8.4
Groundstrokes
8.2
Maneuverability
8.2
Returns
8.3
Stability
8
Slice
8.4
Comfort
8.2
Topspin
8
Touch/Feel
8.1
Volleys
8
Overall
8.1
Andy's Scores
Power
7.5
Serves
7.5
Control
8
Groundstrokes
8
Maneuverability
8.5
Returns
7
Stability
7.5
Slice
7
Comfort
7.5
Topspin
7.5
Touch/Feel
7.5
Volleys
8.3
Overall
7.8
Playtester Profiles
Mark: 5.0 lefty all-court player with a one-handed backhand. He currently plays with the Dunlop Aerogel 4D 200.
Troy: 5.0 lefty all-court player with a full Western Forehand and a two-handed backhand. Troy currently plays with a customized Head Microgel Radical Midplus.
Chris: 5.0 all-court player currently using the Volkl C10 Pro 2012. Chris uses a full-western forehand grip, has a fast swing style and hits a one-handed backhand.
Andy: Open level all court player with a semi-western forehand grip and a two handed backhand. Andy currently using a Yonex RDiS 100 Mid.

Review date: April 2013. If you found this review interesting or have further questions or comments please contact us.
All content copyright 2013 Tennis Warehouse.