Dunlop Biomimetic 400 Tour Racquet Review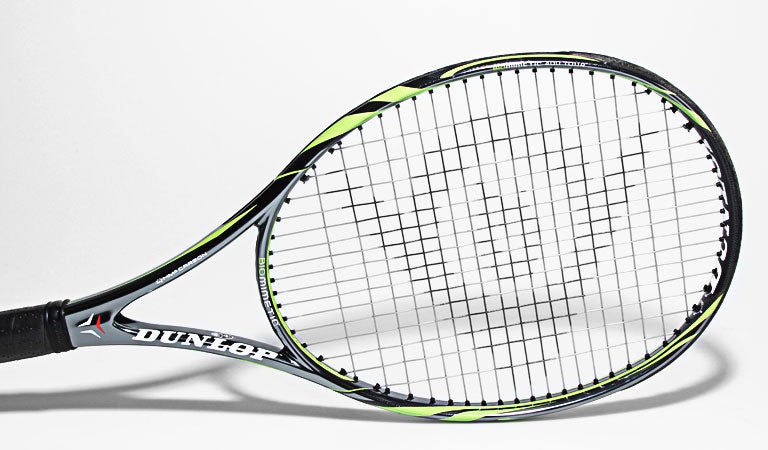 Dunlop Biomimetic 400 Tour Scores
Comfort
83
Touch/Feel
79
Serves
86
Groundstrokes
84
Returns
83
Slice
79
Topspin
83
Volleys
80
Overall
84
Upsides
Spin
Maneuverability
Comfort
Power
Downsides
A tad light to carry the 'Tour' name
Summary
With the reintroduction of the 400 series, Dunlop has added two racquets with lots of appeal to the modern, heavy spin game. The Biomimetic 400 Tour tested here is the slightly heavier 400. It has the de facto 100 square-inch headsize and a light and fast feel in the hand. The open string pattern makes this a great option for ripping heavy, spin-oriented groundstrokes -- especially when strung up with a co-poly string like Dunlop Black Widow or Kirschbaum Pro Line Evolution 17. From all areas of the court the racquet offered our testers a very comfortable response. Our team also found the generous sweetspot of the 400 Tour to be very forgiving. While stronger players will likely beef this racquet up with a little lead tape, in stock form it offers all the spin and power of many competing racquets, but with some added comfort thrown in. Players take note, the 400 Tour is another impressive addition to the Biomimetic line.
Groundstrokes - Score: 84
The low swingweight, solid feel and open string pattern all combined for great spin potential from the baseline. Spencer liked how fast he could swing. He said, "At first glance, given the headsize and beam thickness, I figured it to be pretty stiff with plenty of power. Once hitting with it, I was impressed with the balance of control, power and feel. With its low swingweight and head light balance the 400 Tour was easy to whip around, and I could put some good stick on the ball. That said, there wasn't too much power. I experienced good directional control off both wings and felt really confident coming over the top on the backhand side. I liked the consistency I was getting, and I could get depth without expending a ton of effort. I felt I could hit all day from the baseline."
Finding plenty of forgiveness and comfort was Chris. He said, "This was such an easy and forgiving racquet to use from the baseline. The sweetspot was huge! I thought the comfort was great and the racquet seemed to really pocket the ball well, even when using a co-poly string. I liked the racquet the most with a co-poly, as it helped me find lots of spin and control. I was able to take a nice cut at the ball on topspin shots and hit some low skidding, driving slices with this racquet. I tend to like heavier racquets and would definitely add some weight to this one."
Mark preferred the ball pocketing of a polyester setup. He said, "I'm more accustomed to playing with heavier racquets, but the combination of the open pattern, firm beam, low swingweight and 11.6 ounce static weight made groundstrokes great. I liked it off the ground with a full set of multifilament, but I loved it with a low tensioned poly. This, along with the open pattern, provided a pretty deep ball pocket."
Carol enjoyed the fast feel, but would have preferred more weight. She said, "The racquet was very light in weight with an extremely low swingweight. I really felt that I could whip through the ball with ease. To complement my style of play I would have added some weight to the racquet, but players who play with a lot of spin would probably like the lightweight feel. My forehand stroke did not feel the benefits from this racquet, and my backhand stroke felt connected only when I added more topspin to my ball. The racquet maneuvered very well on court."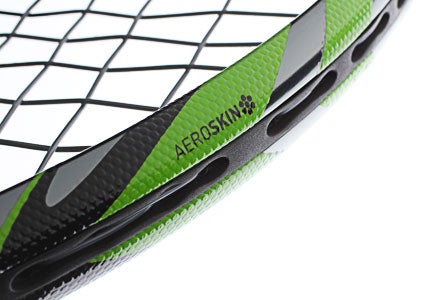 Volleys - Score: 80
The maneuverability and forgiving stringbed of the 400 Tour made volleys easy, though some of our crew would have preferred more mass. Finding good mobility at net was Chris, who said, "Being so light and fast, it was easy to maneuver this racquet at net. Again, the large sweetspot made the racquet feel very comfortable and forgiving. I liked the response most when punching volleys deep. I could really knife my volleys with this racquet because I could quickly add some racquet speed without having to over-swing. I was definitely missing some mass behind the ball on touch volleys. I found the racquet to flutter a little too much (instability) when I had a loose grip and wrist when seeking touch."
The racquet felt like a wand in Mark's hand. He said, "A low swingweight of 302 (Babolat RDC) and an 11.6 ounce static weight equals volley magic. There's not much more to be said. Impressive."
Feeling there was room for improvement with put-aways, Carol said, "I think the racquet was fine for standard volleys, but I didn't like the feel when I had to generate a little more power and change the pace of the ball."
Spencer felt the speed of this stick gave him time for better placement. He said, "The fast feel was the attribute I liked most when at net, especially in doubles. This one is fantastic for quick exchanges. There's plenty of put-away power for sitters, as well as offering good precision. It seemed like I could volley the ball with good precision because the maneuverability gave me that tiny bit of extra time to dial in placement."
Serves - Score: 86
Power and spin came shining through with the Biomimetic 400 Tour on serve. Finding good performance on serve was Carol. She said, "This was my favorite shot with this racquet. Because I do hit with a lot more spin on my serve in comparison to the rest of my game, the racquet really performed well here. The low swingweight allowed me to really whip through my serve and get a lot of pop and spin."
Chris didn't have to work to find pace. He said, "Power and spin are easy to find with this racquet, and that really came to the forefront on serve. Not only was I finding good pace and action on the ball, but I was serving with consistency, too. Because I could get everything from the racquet without having to work for it, my serves felt smooth and fluid. Whenever I wanted to sneak in some extra pace or spin, it was there without having to work for it. I think the fact that I never had to force my serves helped me stay smooth and consistent."
Serving effectively was Spencer. He said, "I served well with this racquet. I've been trying to get more pace, while mixing up placement, and I was able to do that with the 400 Tour. It's very easy to swing, so I could get some decent velocity. I had a much easier time holding serve with this racquet in hand."
Mark felt the stiffness of the frame helped his pace. He said, "This is where I noticed the lower weight, when compared to what I mostly play with. The firm beam helped put some sting on my serve, but less weight in the hoop showed up in the form of more effort on my part to generate the pace/spin on the serve. Nothing detrimental, but noticeable."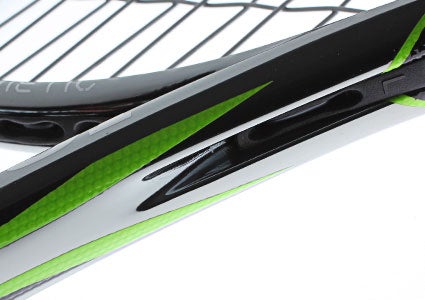 Serve Returns - Score: 83
A fast feel allowed our testers to be aggressive on returns. The consistent response impressed Mark, who said, "The combination of the overall mass and its head light distribution of materials helped keep my return consistent, and made it easier to take a more aggressive swing on second serve returns."
Chris felt the maneuverability gave him time and options. He said, "The speed of this racquet was perfect for returning serve. I felt like I had lots of time with this racquet. Time gives options, and I was able to return with good variety by mixing the pace and spin of my returns. I was loving the comfort and the way the racquet pocketed the ball. Even though the racquet is 100 square inches, it plays with the forgiveness of an oversize."
Gaining confidence when returning was Spencer. He said, "This is a great stick to return with. A sizable sweetspot with good maneuverability and a solid feel makes for easy returns. I felt my return game went up a few notches with this racquet."
Carol felt this racquet didn't benefit her game style. She said, "I felt a little erratic here because I do hit a very flat service return. This is probably the flattest ball hit in my game. Control did seem to decrease for me here."
Overall - Score: 84
Likes
Chris - "I liked the comfort, control, power, spin and maneuverability from all areas of the court. As with the rest of the Biomimetic line, the cosmetics look great on this racquet."
Mark - "Physically, the 400 Tour was great from almost everywhere in the court. I would imagine that it will appeal to a wide range of players. It's tournament ready in its stock form and is also perfect for customization. It could be mud brown in color and I would still love it, but aesthetically, it is one of the easiest on the eye I have ever played with."
Carol - "Again, my serve was my favorite shot with this racquet. Adding spin to my groundstrokes was easy and I loved the light swingweight and whippiness of the racquet. I thought this was a very stable racquet, and, with the exception of my return of serve, the control was good. The racquet felt very easy on the arm."
Spencer - "Everything. By far my favorite Dunlop racquet in the Biomimetic line. Plus, the cosmetics are dynamite."
Dislikes
Chris - "A tad too light - most notably at net on touch volleys - but that's an easy fix."
Mark - "There wasn't really anything about it I can pick on. I would apply a little more weight in the hoop, but overall, a great offering from Dunlop."
Carol - "The racquet in stock form does not complement my style of play, but I think with some customizing I could get this racquet right where I want it to be. The racquet I currently play with is much heavier than this, so it definitely took me a while to acclimate to this racquet. The standard volley felt fine with this racquet, but I wasn't too impressed with changing the pace at net."
Spencer - "None. The only change I would make would be to put on a leather grip."
Technical Specifications

Length
27 inches
69 centimeters
Head Size
100 square inches
645 square centimeters
Weight
11.6 ounces
329 grams
Balance Point
12.375 inches
31 centimeters
9pts Head Light
Construction
23mm/24mm/23.5mm Dual Taper
Composition
HM6 Carbon / Aerogel / Graphite
String Pattern
16 Mains / 19 Crosses

Babolat RDC Ratings

Score

Grade

Flex Rating
66
Range: 0-100
Swing Weight
306
Range: 200-400
Scores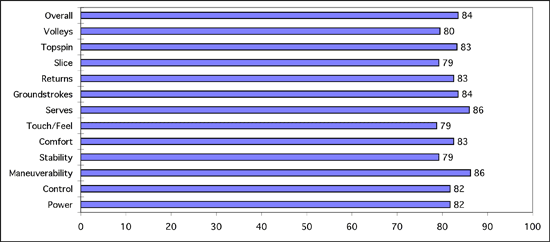 (Scores are determined by averaging individual play test scores)
Chris's Scores
Power
8
Serves
8.3
Control
8.2
Groundstrokes
8.2
Maneuverability
8.5
Returns
8.5
Stability
7.6
Slice
8.2
Comfort
8.4
Topspin
8.3
Touch/Feel
8
Volleys
7.8
Overall
8.2
Mark's Scores
Power
8.5
Serves
8.8
Control
8.5
Groundstrokes
8.7
Maneuverability
9
Returns
8.5
Stability
8.2
Slice
8
Comfort
8.6
Topspin
8.5
Touch/Feel
8
Volleys
8.6
Overall
9
Carol's Scores
Power
7.8
Serves
8.5
Control
7.5
Groundstrokes
8
Maneuverability
8
Returns
7
Stability
8
Slice
7.5
Comfort
8
Topspin
8
Touch/Feel
7.5
Volleys
7
Overall
7.7
Spencer's Scores
Power
8.4
Serves
8.8
Control
8.5
Groundstrokes
8.5
Maneuverability
9
Returns
9
Stability
7.9
Slice
8
Comfort
8
Topspin
8.5
Touch/Feel
8
Volleys
8.4
Overall
8.5
Playtester Profiles
Chris: 5.0 all court player currently using the Volkl Power Bridge 10 Mid. Chris uses a full-western forehand grip, has a fast swing style and hits a one-handed backhand.
Mark: 5.0 lefty all-court player with a one-handed backhand. He currently plays with the Dunlop Aerogel 4D 200.
Carol: Open level baseliner currently using a Wilson BLX Six.One 95 (16x18). Carol is an aggressive player who uses an eastern forehand grip and a two handed backhand.
Spencer: 4.5 baseline player currently using the Prince EXO3 Tour 100 16x18. Spencer uses a semi-western forehand grip, and hits with a one-handed backhand.

Review date: December 2011. If you found this review interesting or have further questions or comments please contact us.
All content copyright 2011 Tennis Warehouse.