Dunlop Biomimetic 300 Tour Racquet Review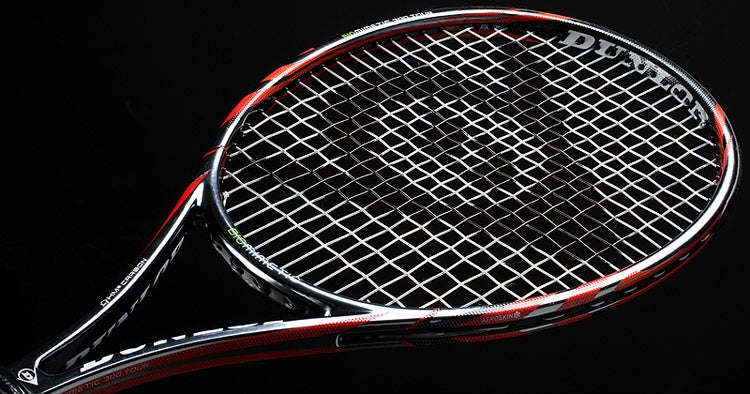 Upsides
Downsides
$


Maneuverability
Excellent access to spin
Control
Feel

Light weight hinders torsional stability
They say imitation is the sincerest form of flattery. If so, then Mother Nature should be delighted with Dunlop, because they've taken inspiration from some of Her greatest designs for their new line of Biomimetic racquets.
Aero Skin takes it cue from sharkskin. A shark's skin is rough to help it cut through the water. Aero Skin consists of tiny bumps on the racquet's surface to help the racquet cut through the air for a faster swing. To help decrease vibrations and increase power Dunlop looked at the shape of honeycombs and created HM6 Carbon, which replicates the honeycomb structure. For the grip of the racquet Dunlop looked to the gecko. Known for its ability to cling to almost any surface, the surface of a gecko's feet became the inspiration for the new Gecko-Tac Grip.
If nature is not enough of an inspiration for you, then you can take into account that this is the new racquet of choice for ATP pro Jurgen Melzer. It also closely resembles the popular 4D 300 Tour that it replaces. If this new 300 Tour can improve on the 4D version, then it is sure to be a winner.
Read on for the results of our month-long playtest to see how the Biomimetic 300 Tour performed for the Tennis Warehouse crew.
Groundstrokes - Score: 83
Off the ground, our team enjoyed the maneuverability of the Biomimetic 300 Tour. Jackson was very impressed. He said, "I loved hitting out off both wings with this stick. I felt the directional control was effortless, and the spin potential was also nice, especially for having such a narrow (oval) shaped head and dense string pattern. Another area that surprised me was the torsional stability and comfort. Not only did I not have to use a dampener (I'm usually very picky about that), but off-center shots didn't feel horrible and the racquet felt very stable in long, pounding rallies. This stick also felt like it had a lot more mass than the specs would suggest, and it made hitting heavy balls a breeze. I was able to hit deep and hard during rallies only swinging at about 60%."
Troy needed to bulk up the racquet. He said, "The first thing I noticed when hitting groundstrokes was that this version of the 300 Tour felt a bit stiffer and firmer at contact compared to its predecessor. This was a nice change, in my opinion. I was having difficulty timing my strokes initially, with this racquet having a swingweight around 304. That's much lower than what I'm used to. Another downside was that I felt like this stick was lacking some plow through in its stock weight, resulting in less penetrating groundstrokes, so my shots were landing shorter than usual. Control was on point compared with what I typically get from my own sticks, and I was enjoying the 97 square inch headsize. The 18x20 string pattern was also right in my sweetspot for specifications. Being that the only thing that seemed uncomfortable to me was the weight, I added some lead tape. By adding lead to the 3 and 9 o'clock positions on the frame I found much better plow through and torsional stability. After the minor customization I was timing the ball much better and I was getting better depth and penetration on my groundstrokes. Toward the end of this playtest I was really enjoying this racquet on groundstrokes and I found a good balance between control and power."
"I noticed a couple things right off the bat. The racquet was super easy to swing and the sweetspot felt smaller than usual," said Jason. "When I was able to hit the ball in the center my shots were coming off with pace and spin, but as I ventured out toward the edges of the racquet I noticed a dramatic loss in power. Even with the tighter string pattern I felt like I was producing a lot of spin off both wings because I was able to generate a lot of racquet head speed. The backhand slice was one of my favorite shots to hit with this racquet. It was just so easy to hit a ball that stayed low and skidded off the court. I definitely noticed that I was able to hit with more angle with this stick than my own. It was really only evident on my forehand side because I am still in the developmental stages of my new two-handed backhand, but I found myself pulling my opponents off the court more than usual."
Granville offered, "From the first impact I knew there was something different about these Biomimetic racquets. They have a soft, comfortable feel, and that feel is maintained no matter how hard I hit my groundies. There was also a crispness to the response of this racquet that really made the whole thing work for me. I really liked this racquet. The bigger I swung, the better it felt."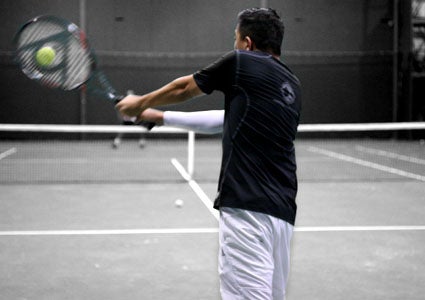 Volleys - Score: 80
Up at net, the Biomimetic 300 Tour received some mixed reviews from our playtesters. Having no issues was Granville, who said, "There was a soft touch at impact with a noticeably crisp response enhancing control. This 300 Tour has that kind of sweetspot where the ball feels like it's sinking deep into the stringed, then jumping off the racquet (with spot on targeting). It was light enough to be well balanced and heavy enough to impart some pace. This is a terrific combination of specs, lay up and execution."
Jason had his ups and downs, saying, "I had some mixed emotions with this racquet while volleying. On one hand, I loved the maneuverability of the racquet. I really felt it was an asset on reflex volleys. On the other hand, because I'm not the best volleyer in the world, the smaller sweetspot was much more noticeable. When I was stretched out wide to hit a volley I noticed my off-center shots would make the racquet torsionally unstable, and the ball wouldn't travel back over the net like it does with other racquets."
Troy had similar thoughts, adding, "At net I was enjoying the firm, crisp feel this racquet possesses. Maneuverability was easy to find when having to hit a reaction volley, thanks to such a low swingweight. I found that when I playing with heavy hitters this racquet was getting pushed around a bit at net and was lacking the torsional stability I typically look for. I was getting a lot of control from the dense string pattern, and I was able to place my volleys well within the court. After I added lead tape to this racquet the stability was much better, and the racquet really began to feel solid. The firm feel and the added weight really worked well for me at net. I was finding good feel whether going for a drop shot or a deep penetrating volley."
"I'm not sure if it was the head shape or the maneuverability, but I didn't feel extremely comfortable at the net despite the headlight balance," said Jackson. "Consistency was the only real issue. The stability and oomph I found made hitting solid volleys pleasing. I could feel a connection with the ball on every volley I was able to hit cleanly, and I loved knocking back scorchers hit at me."
Serves - Score: 86
Our entire team of playtesters loved serving with the Biomimetic 300 Tour. Jason said, "I really liked serving with this racquet. The small sweetspot was not nearly as noticeable. The characteristic that shined on serves was the mobility. Easy to swing meant easy to generate spin and pace. I found myself hitting serves with great consistency. Dare I say with even more consistency than my own racquet?"
Granville exclaimed, "Oh yeah! Just thumpin' the ball. With that nice comfortable feel I think I am getting a bit more heat on my first serves as an unexpected bonus. Targeting was excellent and the harder I tried to hit my serve the better if felt. Also of interest - the headlight balance and light(er) weight of this 300 Tour is allowing me to better snap my wrist at the top of the stroke, giving me that extra power and spin/kick!"
"Serves took a little getting used to, but once I started to get dialed in the racquet kept up its promise of comfort," said Jackson, who had to slightly adjust his serving motion. "I wasn't readily able to produce the same amount of power, but I found that power was possible. I found myself putting much more of my body into the serve and speeding up my acceleration to bring it up to pace. This racquet definitely favored my second serve, where I was able to generate a good deal of kick."
Troy mixed it up well, offering "I was enjoying this racquet on serve. I felt that I was getting a bit more power on my serves compared to the 4D 300 Tour, possibly due to the fact that this Biomimetic version is a bit stiffer. I did not mind the stock weight of this stick because stability is typically not an issue when serving, and I was able to get better wrist snap, resulting in a little more pace. Control was great whether I was going out wide or down the T. I found the extra wrist snap I was able to generate to be beneficial when hitting a kick serve or going for the lefty slice serve out wide on the ad side. Overall, I was mixing my serves up well with this racquet and once again enjoyed the balance of control, power and maneuverability."
Serve returns - Score: 77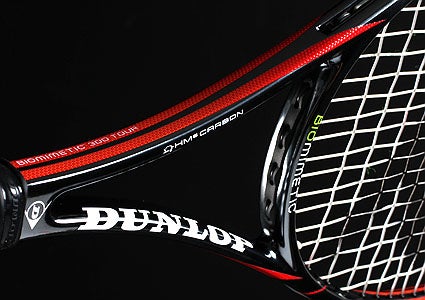 Results varied for our playtesters when it came to their return game. Troy needed some added weight. He said, "When facing big servers I found the lack of stability and plow through to be a downside in being able to return effectively. The racquet twisted a bit in my hand when making contact slightly out of the sweetspot. When I was able to make clean contact on a return there wasn't enough plow through to carry the ball as deep as I like. The shorter returns put me in a bad position early in the points. By adding lead tape I found better torsional stability, which helped reduce the awkward twisting of the racquet on off-center shots. The added weight also helped me return deeper in the court by increasing the plow through. Once the weight was dialed in the control and power aspects of this racquet worked well for me when returning serve."
Jackson enjoyed the control, saying, "The stability really shined on this stroke. I felt like I was able to place the ball well off fast-paced serves with very little effort. returning slow kickers was a little more difficult, and I was yearning for that maneuverability that I felt was lacking."
Jason also struggled, saying, "I had relatively good results when returning. Staying aggressive on second serves was no problem, but where I ran into some issues was the big first serves. I felt there were some torsional stability issues when trying to block back big serves. I had more success slicing back shots off both wings than I did trying to hit with topspin."
For Granville, this was another area where the racquet excelled. He said, "Another shot where my confidence was high was the serve return. The racquet was massive enough to block the ball defensively, but light enough to take a full swing on an offensive strike. I just played with confidence on every point with this 300 Tour."
Overall - Score: 84
The Dunlop Biomimetic 300 Tour is a solid racquet that features some impressive characteristics. Our playtesters found the racquet very easy to swing when hitting groundstrokes. They were able to produce a lot of spin because they were able to generate fast swing speeds. Even with the high level of control, our team had no problems hitting penetrating shots from all areas of the court. At the net the mobility proved to be quite an asset when hitting reaction volleys. A couple of playtesters felt added weight was needed to help with torsional stability. However, with a strung weight of only 11.3 ounces and a swingweight of only 304 (RDC), there is ample room to beef up the response with some lead tape. Our entire team loved serving with this racquet. They were able to hit hard flat serves and slice and kick serves with consistency. Overall, this is a versatile racquet that can brings lots of performance to just about every playing style.
Likes
Jackson "I really enjoyed the comfort this stick offered, from the stability to the dampened feel. I felt like the swingweight didn't represent how the racquet felt in my hand. It felt like I was getting the solid feel of a 370 swingweight. but I was swinging with a 300. The directional control was also impressive. I hit to the corners and painted the lines more confidently than I have with most of the other sticks I've playtested."
Troy "The control was great, and the increased stiffness was a plus. Sweet looking cosmetic! With some lead tape customization and a leather grip this racquet could be a beast."
Jason "Super maneuverable. Great for hitting slice and angled shots."
Granville "The spec/layup/cosmetic/execution are all top notch. The technology is innovative and simple, it's visible (dimpling), and it works. The foam filled feel is nice. Cool butt cap (did I really type that?)"
Dislikes
Jackson "There wasn't too much about the frame that I didn't like, just the fact that I felt like I had a pro player waiting to get out but I was keeping him down. Some points I played were textbook, and then the next point I'd spray the ball long or catch the frame, which would diminish that elated feeling. The racquet has a lot of potential, I just wasn't able to harness it as much as I would have liked."
Troy "The lack of mass and the low swingweight, in stock form."
Jason "The smaller than usual sweetspot and high stiffness rating. I would've preferred additional weight in the hoop."
Granville "The only thing I did not like was the stock grip, which was too slick, but perhaps worn due to extensive use."
Technical Specifications

Length
27 inches
69 centimeters
Head Size
97 square inches
626 square centimeters
Weight
11.3 ounces
320 grams
Balance Point
12.7 inches
32 centimeters
6.4pts Head Light
Construction
20mm Straight Beam
Composition
HM6 Carbon/Aerogel/Graphite
String Pattern
18 Mains / 20 Crosses

Babolat RDC Ratings

Score

Grade

Flex Rating
64
Range: 0-100
Swing Weight
304
Range: 200-400
Scores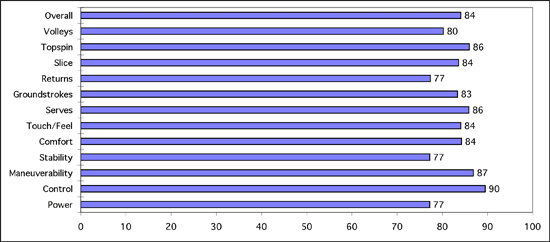 (Scores are determined by averaging individual play test scores)
Jackson's Scores
Power
8
Serves
8
Control
9
Groundstrokes
8.3
Maneuverability
8
Returns
7.5
Stability
7.8
Slice
7.6
Comfort
9.4
Topspin
8.4
Touch/Feel
7.8
Volleys
7.5
Overall
8.4
Troy's Scores
Power
7.5
Serves
9.3
Control
9.3
Groundstrokes
8.3
Maneuverability
9
Returns
7.2
Stability
7.5
Slice
8.5
Comfort
8
Topspin
8.9
Touch/Feel
8.8
Volleys
8
Overall
8.4
Jason's Scores
Power
7.7
Serves
8.3
Control
8.5
Groundstrokes
8
Maneuverability
9
Returns
7.5
Stability
7.8
Slice
8.6
Comfort
7.3
Topspin
8.6
Touch/Feel
8.3
Volleys
7.6
Overall
8
Granville's Scores
Power
7.7
Serves
8.75
Control
9
Groundstrokes
8.75
Maneuverability
8.75
Returns
8.75
Stability
7.8
Slice
8.75
Comfort
9
Topspin
8.5
Touch/Feel
8.75
Volleys
9
Overall
8.85
Playtester Profiles
Jackson:4.5 All court player currently using a customized Babolat Pure Storm. Jackson uses a semi-western forehand grip and hits with a two-handed backhand.
Granville: 5.5 all-court player currently using a Wilson K Factor Six-One Tour 95. Granville is an aggressive player who uses an eastern forehand grip and goes continental on everything else, hits with a flat swing and a one-handed backhand.
Troy 5.0 lefty all-court player with a full Western Forehand and a two handed backhand. Troy currently plays with the Wilson K-Blade 98.
Jason: 4.0 baseliner with a semi-western forehand and one handed backhand. Currently using a customized Volkl Power Bridge 9.

Review date: December 2010. If you found this review interesting or have further questions or comments please contact us.
All content copyright 2010 Tennis Warehouse.