Dunlop Biomimetic 200 Tour Racquet Review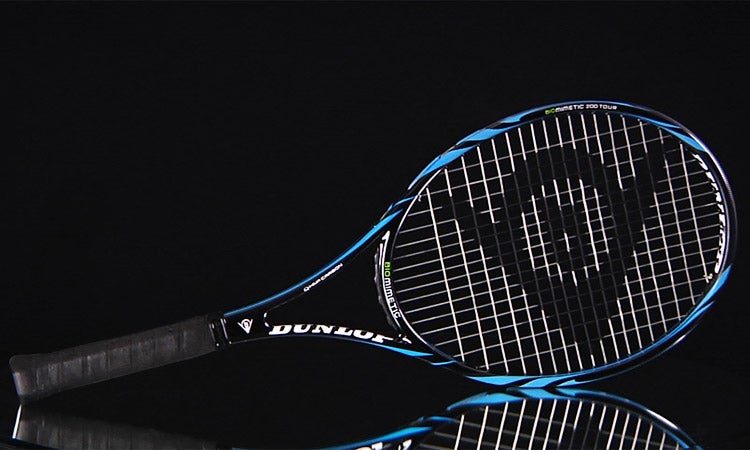 Dunlop Biomimetic 200 Tour Scores
Comfort
89
Touch/Feel
85
Serves
82
Groundstrokes
83
Returns
75
Slice
86
Topspin
84
Volleys
84
Overall
86
Upsides
Power
Stability
Comfort
Feel
Control
Downsides
12.5 ounce weight is not for the meek
Summary
Few racquets compete in the heft and plow through department like this one. The Biomimetic 200 Tour is the racquet you'd want in your hands should you need to use one for home defense. This racquet simply plows through everything you swing it at, including your opponent's best shot. If said opponent hits a huge passing attempt for you to volley back, with the Biomimetic 200 Tour it's not a problem. Returning a huge serve? No worries. Perhaps the ultimate wingman, the Biomimetic 200 Tour has always got your back. There is one caveat, though. At 12.5 ounces strung, you better have the skills and/or the strength to get the racquet where you need it. There's a saying, "The meek shall inherit the Earth," but we say perhaps not if they come up against a strong opponent swinging this racquet. Rock solid at net, offering huge power from the ground and on serves, this racquet has everything the aspiring pro needs to play his, or her, best tennis. The only question remaining is, do you have the skill to use it? If you are up for the challenge then order a demo from us and find out.
Groundstrokes - Score: 83
From the baseline, our playtesters found plenty of plow through in the Dunlop Biomimetic 200 Tour. Chris was impressed from the start. He said, "Man, this stick comes through the contact point with some serious weight! On a full swing, when I could use the mass to my advantage, this racquet hit a very heavy ball. I found lots of grip from the stringbed with both a poly and a multi string setup. I was able to generate some nice topspin, but for me this racquet was better suited to my slice backhand. I loved how the weight of the racquet would knife through the ball. I could really drive a low skidding slice with this racquet. There were a few instances where the weight didn't help me, such as when caught hitting late, but for the most part I was able to use it to my advantage."
"That ball would sink deep into the stringbed, then launch from my racquet with power, deep into the court, over and over again," said Granville, who plays an attacking game. "There is little else out there that will provide this experience. That's probably a good thing, as this is a heavy racquet tailored for those few competitors who really want such a massive racquet. On the upside, it's stable and comfortable. On the downside, it's heavy and can be a bit slow at times."
Having to acclimate to the weight was Mark. He said, "The amount of weight in the hoop was something I had to adjust to, even though I play with racquets in the high 11 ounce range. The first hitting session was an eye-opener, as I dealt with how heavy this racquet really is in terms of static weight and swingweight. I became more accustomed to the weight and balance during the second hitting session and began to benefit from all that mass. Shots that were caught low to the ground and out in front of me only required an upward flick to get the ball deep with some pace. Lighter racquets do not afford a player this option. More effort seemed to be required on the backswing with the Biomimetic 200 Tour, but less effort was required on the follow through when compared to the racquets I generally swing. From the third session on I was getting past familiarity and into confidence with all that stability and plow through."
Troy had similar opinions, saying, "I was finding an abundance of plow through on my groundstrokes, and, due to the mass of this stick, stability was not an issue. What I found with a racquet of this weight was that it was hard to maneuver at times, especially when hitting a ball on the run or hitting a stretch volley. When I was able to set my feet and strike the ball cleanly, the result was a heavy shot that felt great. The feel is livelier and the ball gets launched off the stringbed more when compared to the standard Dunlop 200. The balance of this racquet is what makes it feel even heftier than the Wilson Pro Staff 6.0 85, which has the same static weight (12.5oz), but plays much lighter because of its more headlight balance."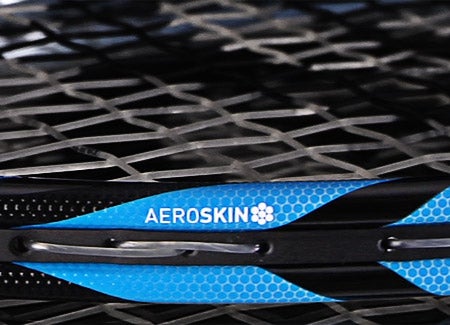 Volleys - Score: 84
While the weight of the racquet proved to be a challenge for some playtesters, others benefitted from it. Granville addressed the weight issues by saying, "If you can maneuver this racquet, you have found nirvana. There are a lot of 'ifs' when playing with a stick like this. "If" you can get the racquet into position, "if" you can handle the weight over three sets, and "if you can meet with Triumph and Disaster and treat those two impostors just the same."
"The volley is fundamental to my success in tennis, and the 12.5 ounce static weight and 345 swingweight (Babolat RDC) challenged me," said Mark. "Choking up a little on the grip helped a bit with maneuverability, but clearly I was not quite as eager to venture to the net. The Biomimetic 200 Tour volleyed great, but I am just not strong enough to use it effectively from all areas of the court."
Troy agreed, saying,"I found my volleys had good depth, and the racquet provided a lot of stability. However, during quick doubles exchanges I found it hard to maneuver. I often found myself a tad late for the quick reaction volley. I was able to get great response and feel from this racquet, especially on drop volleys and short angles. It was very scalpel-like, but at the same time, tough to maneuver."
Chris enjoyed the variety of shots he was able to hit with this racquet. He said, "My favorite shot with this racquet was the volley. I loved the punch this racquet offered when I was looking to hit my volleys deep with pace. The weight and stability were perfect for drop shots, as I could hold the racquet very loosely, for maximum touch, without having to worry about the racquet twisting in my hands. I just found a ton of feel, touch and precision at net. The weight also helped me when I was stretched wide or picking up a low volley. All I had to do was get the racquet behind the ball and let it do all the work. I was having so much fun volleying with this racquet that I was looking to get to the net whenever I could."
Serves - Score: 82
The weight continued to have both a positive and a negative impact on the serves of the Tennis Warehouse playtesters. Mark used the weight of this racquet to his advantage, saying, "Overall, I could serve well with the Biomimetic 200 Tour, and I felt that the heaviness benefitted me on this shot. Once that racquet is set in motion, it keeps going in a pretty natural direction for the serve, without having to force it upward at contact. Thumbs up in this department."
"When we tested the 4D version of this racquet I struggled to handle the weight on serve," said Chris. "This time around my shoulders are stronger, and I was putting the weight of the racquet to good use. I was hitting harder, heavier serves and could relax through the stroke, allowing my swing speed and the weight of the racquet to do the work. I could see my second serves kicking up a little higher and pushing through the court with more pace, and I did a lot of serving and volleying by following a spin serve to net."
Granville had nothing but positive things to say about serves. He reported, "Bingo, bang, bongo! I was crushing the ball! I was so confident when serving with this racquet. The ball seemed to sink just that fraction deeper into the stringbed at impact, resulting in some added control (and power), and it best manifested itself on the serve. I was hitting with pace and I found excellent targeting, plus comfort and ease. I always like easy points off the serve, and I seemed to get a few extra when using this racquet."
Troy had some ups and downs with this racquet. He said, "I found my serves to be pretty consistent. The racquet gave me a lot of control and plenty of spin, allowing me to be confident in my serve. The downfall, once again, was the maneuverability. I felt I lost some racquet head speed, and in effect lost some pace, on my serve. This hefty stick is just a bit much for me."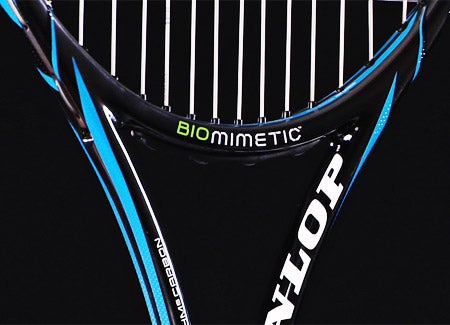 Serve Returns - Score: 75
Our squad had some mixed reviews when it came to returns. Troy found his rhythm on his returns with this racquet. He said, "I preferred returning serve more than serving with this racquet because I could use the mass to my benefit. I found a lot of stability on my returns, and the mass of the racquet did a lot of the work. I found it very comfortable on my two-handed backhand return, and I could really hit through the ball with ease. The times that I had difficulty was when I was stretched out or had to flick at the ball."
Granville found the ability to be both offensive and defensive on his returns. He said, "Mass wins again. This racquet is solid and stable, whether blocking the ball in defense or going for the Joker's cross court return winner at match point down. In the right hands, this racquet is capable of hitting any shot in the book."
Having to make some adjustments was Chris. He said, "The more restraint on my backswing, the better my returns with this racquet. It is not one of those sticks where I could take a huge rip at the ball. Rather, I got back to basics, controlled my backswing, hit the ball out in front and used the mass of the racquet to generate pace. Once I got dialed in I was returning with better technique, and the weight helped keep everything comfortable on miss-hits. Power was there in abundance, and I was able to hit solid returns by just directing the ball with good accuracy."
Mark struggled, saying, "This is where I fell short. My return is consistent, but rarely threatening. The extra time it took me to get all that racquet into the right place at the right time sometimes resulted in a less than savory return for me."
Overall - Score: 86
Likes
Chris- "I loved the power, control, feel, touch, stability and comfort. Oh, and the cosmetics are killer, too."
Granville- "I like the head light balance and mass, which is just at my comfort limit. All the cosmetics on Dunlop's Biomimetic line are very sharp. The Aeroskin dimpling is a visible story that has science behind it."
Mark- "Pace, spin and depth can be answered with more of the same with this racquet."
Troy- "Very stable and arm friendly. Plenty of plow through."
Dislikes
Chris- "The only downside was the weight over a long match at the start of the test. However, by the end of the test I was feeling strong through both sets and playing well enough that I never needed to go to three."
Granville- "It should have a leather grip. However, at 12.5-ounces it is tough to justify adding more weight with a leather grip, despite the obvious benefit in a slightly more head light balance."
Mark- "It is a high quality frame, but the overall mass was just barely out of range for me to generate much racquet head speed when on the run or stretched wide."
Troy- "Just a little too heavy for my liking. I prefer the weight and feel of the standard Dunlop Biomimetic 200 more."
Technical Specifications

Length
27 inches
69 centimeters
Head Size
95 square inches
613 square centimeters
Weight
12.5 ounces
354 grams
Balance Point
12.9 inches
33 centimeters
4.8pts Head Light
Construction
20mm - 20mm - 20mm
Composition
HM6 Carbon, Aerogel, Graphite
String Pattern
16 Mains / 18 Crosses

Babolat RDC Ratings

Score

Grade

Flex Rating
61
Range: 0-100
Swing Weight
345
Range: 200-400
Scores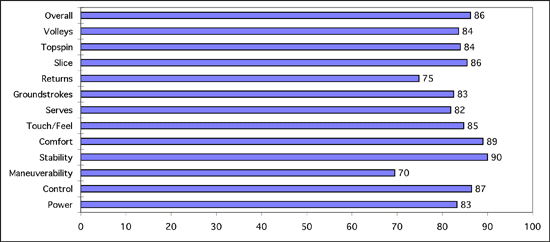 (Scores are determined by averaging individual play test scores)
Chris's Scores
Power
8
Serves
8.2
Control
8.4
Groundstrokes
8
Maneuverability
7.3
Returns
7.8
Stability
8.5
Slice
8.7
Comfort
8.6
Topspin
7.8
Touch/Feel
8.4
Volleys
9
Overall
8.4
Granville's Scores
Power
9
Serves
8.75
Control
8.5
Groundstrokes
8.5
Maneuverability
7
Returns
8.25
Stability
9
Slice
8.5
Comfort
9
Topspin
8.5
Touch/Feel
8.5
Volleys
9.25
Overall
9
Mark's Scores
Power
9
Serves
9
Control
9
Groundstrokes
8.5
Maneuverability
6.5
Returns
5.5
Stability
9.5
Slice
9
Comfort
9
Topspin
9
Touch/Feel
8.5
Volleys
7.5
Overall
9
Troy's Scores
Power
7.3
Serves
6.8
Control
8.7
Groundstrokes
8
Maneuverability
7
Returns
8.4
Stability
9
Slice
8
Comfort
9
Topspin
8.3
Touch/Feel
8.5
Volleys
7.7
Overall
8.1
Playtester Profiles
Chris: 5.0 all court player currently using the Volkl Power Bridge 10 Mid. Chris uses a full-western forehand grip, has a fast swing style and hits a one-handed backhand.
Granville: 5.5 all-court player currently using a Wilson K Factor Six-One Tour 95. Granville is an aggressive player who uses an eastern forehand grip and goes continental on everything else, hits with a flat swing and a one-handed backhand.
Mark: 5.0 lefty all-court player with a one-handed backhand. He currently plays with the Dunlop Aerogel 4D 200.
Troy: 5.0 lefty all-court player with a full Western Forehand and a two handed backhand. Troy currently plays with a customized Wilson KBlade 98.

Review date: December 2011. If you found this review interesting or have further questions or comments please contact us.
All content copyright 2011 Tennis Warehouse.