Dunlop Biomimetic 200 Plus Racquet Review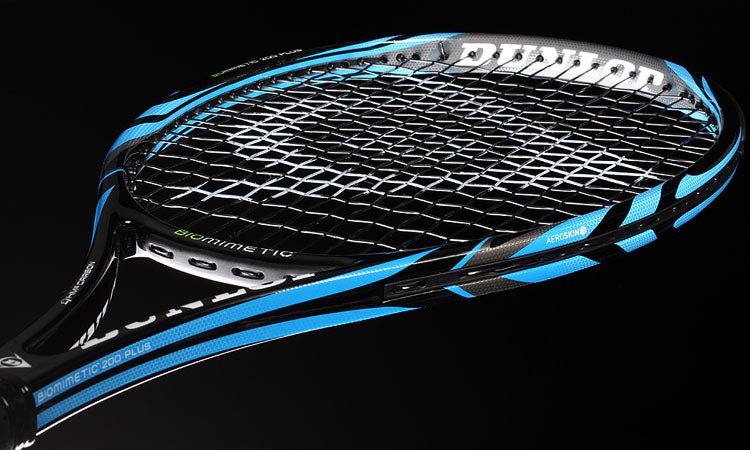 BIO - Life
MIMETIC - To Imitate
BIOMIMETICS - The term given to the study of nature, its systems, processes and the method of using these observations to imitate or inspire engineering principles.
So what does Biomimetics have to do with racquets? It's simple. Dunlop's new Biomimetic line of racquets is inspired by nature. Yes, nature. The Biomimetic racquet technologies include Aeroskin (a sharkskin type surface on the frame for better aerodynamics), HM6 Carbon (a honeycomb structure in certain parts of the frame for enhanced feel while maximizing energy return) and Gecko Tac (a surface treatment on the grip that offers up to 50% more grip and tack, according to Dunlop).
With help from ball striking phenom, Nikolay Davydenko, Dunlop has added Biomimetic technology to its 200 series of racquets, creating the Biomimetic 200 Plus. With its 100 square inch headsize and 11.5 ounce strung weight, it's not hard to imagine the appeal of this stick. Being Davydenko's racquet of choice doesn't hurt either.
Would it 'wow' any of our testers like it had Davydenko? To find out, our crew took the Biomimetic 200 Plus out for a month-long playtest.
Groundstrokes - Score: 80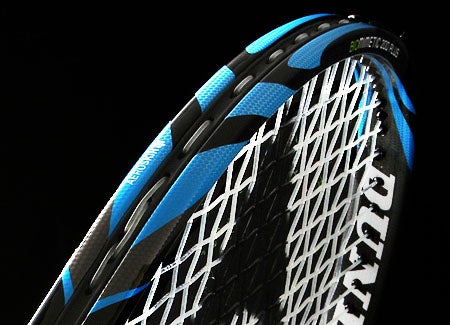 From the baseline, the Biomimetic 200 Plus provided a nice combination of power and control. Chris liked all this racquet had to offer on groundstrokes. He said, "I found this such an easy racquet to use from the baseline. The sweetspot felt huge, and the racquet just felt so forgiving. I liked the weight and balance. There was enough mass to help me hit effortlessly, yet the racquet felt fast and easy to maneuver. I was getting a lot of spin off both wings, which helped shots hook in even when I didn't catch them cleanly. I felt very confident driving the ball with this racquet, but my favorite shot was my backhand slice. I felt like I could put the ball anywhere I wanted with slice, and I was able to control the bite and spin at will."
Happy with the variety of shots she could hit was Brittany, who said, "Compared with my Prince EXO3 Black the Biomimetic 200 Plus felt a little heavy, so I was hitting a lot of balls short until I got used to the weight. Being an aggressive baseliner, what I enjoyed about this racquet was the variety of shots it allowed me to hit. I was able to hit flatter, harder forehands while creating angles with heavy spin off my backhand. I also felt confident hitting my slice."
Kana reaped the benefits of this stick when she was hitting in the sweetspot. She said, "The sweetspot is smaller and the power level is lower than I'm used to. When I was out of position it was difficult for me to whip the racquet around. I left myself too open when that happened, and I felt I needed to put my whole body into my shots if I wanted to stay aggressive. However, when I did make direct contact, it felt amazing. There's so much plow through that my shots were aggressively flat, deep and heavier than usual. I was much more comfortable with my backhand because it's easier to drive through the shot. As for slices on that side? Incredible! I could keep them low and skidding off the ground. On the forehand, going down the line was where I usually executed winners. I love hitting the flat winner, and it felt like the racquet was doing all the work when I got the right setup."
Pleased with his results from the baseline was Sean, who said, "Previous versions of the Dunlop 200 racquets didn't impress me nearly as much as this Biomimetic 200, especially on groundstrokes. I felt comfortable hitting off both wings, finding a fair amount of power. However, my backhand, being my weaker shot, would sometimes fail to land deep enough in the court. On the other hand, I felt right at home with my forehand, and this racquet made it especially easy to control both cross court and down the line shots. I was also happily surprised to find more than enough spin production from the denser string pattern."
Spencer enjoyed this racquet when hitting topspin, but had a tougher time dialing in crispness on slices. He said, "I found the Biomimetic 200 Plus to offer plenty of control and spin from the baseline. For an 18x20 string pattern, I was able to find a good amount of topspin. I liked the pocketing and comfort from both wings when coming over the top. I took full cuts at the ball and felt confident they would stay inside the baseline. If there were any adjustments needed from my usual racquet, it was on the backhand slice. I had a difficult time keeping my slices crisp and sharp. They had a tendency to float a bit. It usually wasn't in a bad way, because I could get them deep enough in the court, but I just couldn't get them to skid and stay low on a consistent basis."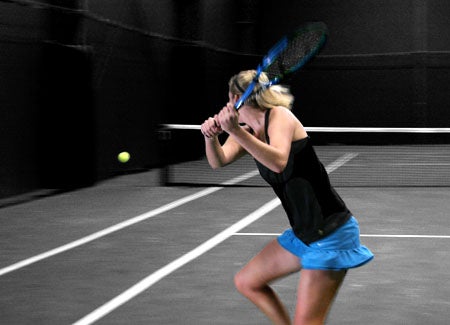 Volleys - Score: 81
Though the maneuverability wasn't hailed by all testers, one thing they universally agreed on was the stability of the Biomimetic 200 Plus when volleying. Dazzled with the stable feel at net was Brittany. She said, "I was really impressed with the solid feel of this racquet when I came to net. I felt like the weight of the racquet allowed me to punch through my volleys and provided good feel for the touch shots."
Chris felt the combination of stability and maneuverability was spot on. He stated, "I found the same plush response at net as I did from the baseline. Again, I felt this racquet was more than forgiving enough to help me get the ball away even when my execution was lacking. The weight and balance were spot on for me, and I found that elusive blend of stability and maneuverability. It was just a very easy racquet to volley with and I felt very comfortable at net with it."
Enjoying the stable, solid feel at net was Sean. He said, "I didn't find myself at the net very often because I enjoyed hitting from the baseline so much, but as with all other shots with this racquet, volleys were incredibly solid feeling. I again found a lot of control with the denser pattern and was able to direct volleys with great accuracy. It wasn't the most maneuverable stick, but I thought that it more than made up for it with a forgiving sweetspot and power to boot."
Spencer enjoyed the forgiving traits this racquet had at net. He said, "I liked the head light balance and the overall weight. It resulted in a solid, maneuverable stick at net. The stringbed was also forgiving, providing good results on slightly off-center volleys. This racquet really offered nice punch for driving the ball, with good feel for the more delicate shots. The tight string pattern also seemed to help make volleys more precise."
Having some difficulty with maneuverability was Kana, who said, "Volleys were a little more difficult with this racquet. The maneuverability wasn't the best. On the forehand side I could punch the ball well, but I didn't feel like I had enough strength on my backhand side. On touch volleys I couldn't get a good grasp on the power. It was hit or miss at the net for me."
Serves - Score: 83
Most of the test squad found the Biomimetic 200 Plus offered a wide variety of options when serving. Sean found everything he could ask for in a racquet. He said, "Serves were where this racquet really shined for me. This racquet felt easy and fluid to swing, and I found I had access to a lot of power when I chose go after a first serve. Like on my groundstrokes, I was more than impressed with the spin I was able to tap into for slicing or kicking serves out wide. I was keeping my opponents off balance by using a variety of serves, including one of my favorites, the aggressive second serve. The control and placement that this racquet was able to offer on serves truly grabbed my attention."
Spencer was thrilled with the versatility of this stick when serving. He said, "I served pretty well with this racquet. From the first hitting session I seemed to be in tune with the racquet, feeling comfortable hitting any type of serve. I think it responded well to hard, flat serves, and I had good placement on my kick serves. This was a well rounded stick when it came to serves."
Agreeing with Spencer was Chris. He added, "I liked both the pace and spin I was finding on serves. I felt I was able to start off the point aggressively and get some quick points by drawing an error from my opponents. The mass of the racquet helped put some pop on my serves, and I felt comfortable with it for the duration of a long match. I was making a lot of first serves with this racquet, and I enjoyed the solid and consistent feel I found."
Brittany liked the control but found a drop in power from her own racquet. She said, "At first, I was having a hard time creating enough racquet head speed to hit my normal serve. However, after several hitting sessions, I found I was able to get good placement and spin on both my first and second serves. The tradeoff was that I felt I lost some power that I normally receive from other racquets."
Having good success when serving was Kana. She said, "This was where my game improved the most. My service stroke is a straight take back into the trophy position. Because the racquet was harder to maneuver, I didn't have much of an arm whip throughout the extension. I just added a little more wrist snap at the top, and my favorite flat serve became faster and harder. I was also really confident on second serves, enabling me to produce more of a kicker."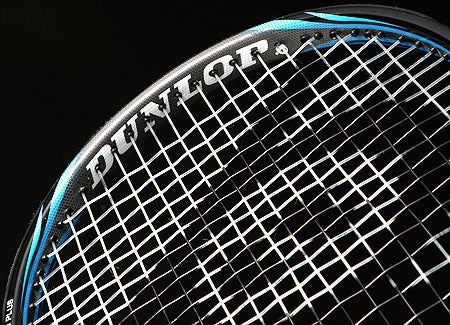 Serve returns - Score: 79
This racquet offered plenty of variety, including power and control, when pitted against opponents' serves. Kana found that the heft of this racquet allowed her to be more aggressive. She said, "It felt solid when it came to returns. With the Biomimetic 200 Plus, my returns felt more stable than with other racquets I've hit with. I'm used to lighter racquets, so I forget how much more aggressive I can be with a heavier racquet. The toughest serve for me to return is a high kick serve to my backhand. I usually catch it too late. With this racquet I was confident that I could hit a defensive return without sacrificing my position. On a high kicker to the forehand side, I could drive the racquet down into the shot, keeping it powerful and sending the ball deep into the court. When I took the serves on the rise, the racquet plowed through the ball and kept its stability throughout the shot."
This racquet helped make returns effective for Chris, too. He stated, "I found this racquet to be rock solid on returns. I was able to take a good rip at the ball and still find a ton of control. Even when I was off slightly, the racquet offered excellent resistance to flutter and stayed solid through the stroke. There was a lot of bite on the ball, which allowed me to carve an angle or hit deep, flirt with the baseline or try to steal the offensive."
Brittany was most successful with defensive returns, saying, "I could block my returns back well with this racquet and get good placement and consistency. Nonetheless, I had a little trouble with the maneuverability and was hitting the ball a bit late when I tried to swing through my return."
Finding his confidence in this racquet when returning was Spencer. He said, "Once again, the maneuverability and forgiveness of the 100 square inch headsize built confidence when returning serve."
Sean found many of his returns falling short. He stated, "Unfortunately I had some trouble adjusting to service returns with this frame. I've never been a huge fan of dense string patterns, although this racquet seemed to perform great in all the other areas. Almost every return I hit fell short of where I was attempting to aim unless I had time to really take a big cut at the ball. I was able to hit a few big winners, but for the most part, I was hard pressed to consistently return the ball deep in the court and begin the point aggressively."
Overall - Score: 81
Our playtesters found the Biomimetic 200 Plus to be a versatile racquet for a wide range of players. Groundstrokes rendered impressive results, and there was ample power with good control. The control provided by the tight string pattern allowed our testers to swing fast for lots of spin and pace. A high level of control was also present at net. Our playtesters noted a stable feel for driving volleys, with plenty of touch for placement volleys. Most of our team loved this racquet when serving because of the variety it allowed. There was plenty of power, and more controlled serves were easy to place. All in all, we found this racquet provided an abundance of shotmaking options from all areas of the court. That, along with the racquet's specs, makes this an excellent choice for intermediate players through to touring pros.
Likes
Chris "I loved this racquet when strung with a poly. It was a perfect fit for me and offered the right balance of power and control. I also found this racquet very spin friendly -- especially on my slice backhand."
Brittany "First, I really liked the control this stick offered. A bonus was the cosmetic of the racquet, which features bold colors and clean graphics."
Kana "The stability of the racquet allowed me to drive through the ball and create an effective, aggressive shot."
Sean "Great combination of power and accuracy on both serves and groundstrokes."
Spencer "The blend of characteristics worked so well from all areas of the court."
Dislikes
Chris "I didn't like this one when strung with a multifilament. A powerful string just made this racquet too lively for me."
Brittany "The heaviness of the racquet was a big issue for me."
Kana "The sweetspot felt relatively small."
Sean "A little underpowered due to the denser string pattern."
Spencer "For whatever reason, I couldn't dial in a sharp backhand slice; it tended to float and sit up."
Technical Specifications

Length
27 inches
69 centimeters
Head Size
100 square inches
645 square centimeters
Weight
11.5 ounces
326 grams
Balance Point
13 inches
33 centimeters
4 pts Head Light
Construction
20mm Straight Beam
Composition
HM6 Carbon / Aerogel
String Pattern
18 Mains / 20 Crosses

Babolat RDC Ratings

Score

Grade

Flex Rating
65
Range: 0-100
Swing Weight
317
Range: 200-400
Scores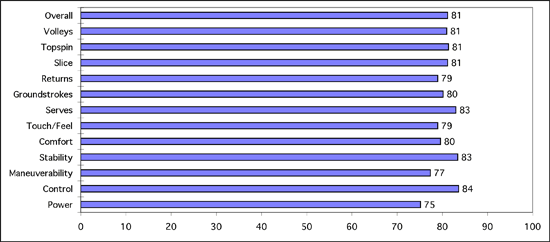 (Scores are determined by averaging individual play test scores)
Kana's Scores
Power
7
Serves
8.5
Control
8.3
Groundstrokes
8.3
Maneuverability
7.5
Returns
8.3
Stability
8.5
Slice
8.6
Comfort
7.8
Topspin
7.5
Touch/Feel
7.5
Volleys
7.8
Overall
8
Chris's Scores
Power
8
Serves
8
Control
8.2
Groundstrokes
8
Maneuverability
7.9
Returns
8
Stability
8
Slice
8.4
Comfort
8.2
Topspin
8.2
Touch/Feel
8
Volleys
8
Overall
8
Sean's Scores
Power
7.6
Serves
8.4
Control
8.6
Groundstrokes
8.2
Maneuverability
7.8
Returns
7.4
Stability
8.2
Slice
7.6
Comfort
8.4
Topspin
8.2
Touch/Feel
8
Volleys
7.8
Overall
8.1
Spencer's Scores
Power
8
Serves
8.5
Control
7.8
Groundstrokes
7.8
Maneuverability
7.7
Returns
8
Stability
8
Slice
7.4
Comfort
7.9
Topspin
8.1
Touch/Feel
8
Volleys
8
Overall
8.1
Brittany's Scores
Power
7
Serves
8.1
Control
8.9
Groundstrokes
7.8
Maneuverability
7.8
Returns
7.8
Stability
9
Slice
8.6
Comfort
7.5
Topspin
8.7
Touch/Feel
8
Volleys
8.9
Overall
8.4
Playtester Profiles
Chris: 5.0 All court player currently using the Volkl Power Bridge 10 Mid. Chris uses a full-western forehand grip, has a fast swing style and hits a one-handed backhand.
Kana: Open level baseliner with a western forehand and two-handed backhand. Currently using a customized Volkl V1 Classic.
Spencer: 4.5 Baseline player currently using a Wilson Kobra Tour. Spencer uses a semi-western forehand grip, and hits with a one-handed backhand.
Sean: 4.5 baseliner using the Babolat Aeropro Drive Cortex. Sean has a semi-western forehand, 1 handed backhand.
Brittany: Open level player with a semi-western forehand and a two handed backhand. She currently plays with the Prince EXO3 Black.

Review date: November 2010. If you found this review interesting or have further questions or comments please contact us.
All content copyright 2010 Tennis Warehouse.