Dunlop Biomimetic 200 Lite Racquet Review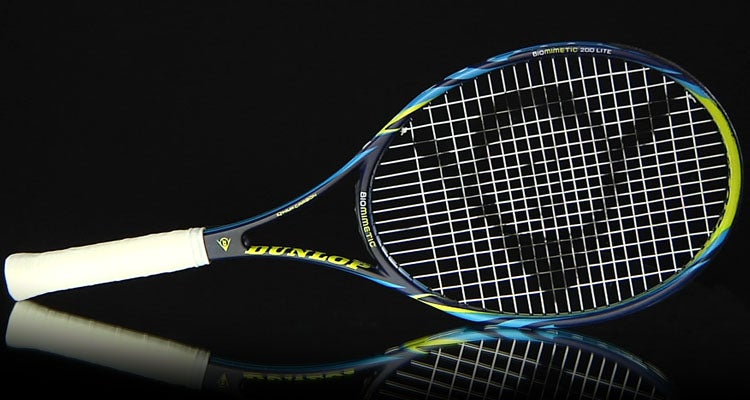 Dunlop continues to add to its popular 200 series of racquets with the introduction of the Biomimetic 200 Lite, but don't let the "lite" in the name fool you. This latest offering is still a serious player's stick with plenty of mass.
Weighing in at 11.5 ounces strung (the 'lite' moniker refers to it being the lightest in the 200 series), the Biomimetic 200 Lite offers a 95 square inch headsize and a fast feel (thanks to a 308 RDC swingweight and a 6 points head light balance). Loaded with Aeroskin, a shark skin like surface to help improve aerodynamics, HM6 Carbon, a honeycomb structure construction for enhanced feel to maximize energy return, and a Gecko Tac grip featuring a special surface treatment that, according to Dunlop, offers up to 50% more grip and tack, this latest 200 promises some serious performance.
So popular were the specs of this racquet with many of the players here at TW, it was hard to keep our test samples in the office and available for the review team. After securing a few Biomimetic 200 Lites in the top secret TW vault (only our testers have the combination) we were able to put the Biomimetic 200 Lite through a month-long playtest. Read on for the results.
Groundstrokes - Score: 81
Our testers loved how easy it was to swing the Dunlop Biomimetic 200 Lite from the baseline. The weight of the racquet was working for Kana. She said, "I really liked this racquet from the beginning. Even though it weighed in as the heaviest 'lite' racquet I've hit, it was extremely easy to maneuver because the swingweight is so low and it has a head light balance. I felt very comfortable on both sides, though I was favoring my backhand as I could flatten and power through it. I could speed up my strokes to execute clean winners, my slices stayed extremely low and even in defensive positions I could put the ball back into play."
Jason was finding lots of spin with the Biomimetic 200 Lite. He said, "I loved how maneuverable this racquet was. I was able to generate tons of racquet head speed, which enabled me to hit a heavy ball. I thought the racquet was excellent for hitting angles and helping me pull my opponents off the court. Slice shots were quite effective as well because I was able to take a nice cut at the ball. The one downside for me was that it is slightly underpowered, but some lead tape in the hoop should alleviate that problem."
"I really enjoyed the combination of power and control I got from this racquet," said Brittany. "I felt I had total control of where I was aiming the ball on my groundstrokes, and I was able to consistently hit my targets. I was able to get a solid feel of the ball and was hitting angles with ease. Because of the low swingweight it was really easy to swing through the ball and find depth."
Preparation was key for Jackson, who said, "Despite having an open string pattern, the response felt like what I'd expect from a dense stringbed. I found I had to increase my racquet head speed to generate enough topspin to keep my shots in the court. Timing became very important as anything hit out of the sweetspot knuckle-balled over the net with minimal spin. This was especially apparent on the backhand side for me. The short handle really made my two-handed backhand grip feel crowded, which might've contributed to the off-center shots I was experiencing at the beginning of the playtest. I really did enjoy slicing the ball with this racquet as the low swingweight made it extremely maneuverable. I was able to cut through the ball with enough pace to have it skid low off the court with some weight behind it, putting pressure on my opponent to come up with a good shot."
Volleys - Score: 77
Although the maneuverability was great, our team noticed some torsional stability issues. Brittany enjoyed the mobility. She said, "The maneuverability of this racquet allowed me to hit crisp reflex volleys up at net. However, I felt at times it was a little unstable at net, especially when I was punching through the ball to hit it deep."
Jackson also found some instability at the net. He said, "I really enjoyed the maneuverability of this racquet at the net and was able to make some pretty impressive reaction volleys, however, stability was an issue for me. Just as with the groundstrokes, anything hit outside of the sweetspot would cause the frame to twist in my hand, resulting in a treat for my opponent. Even when hitting in the sweetspot I never felt like I could hit an offensive, penetrating volley. I think lead tape for added stability could help alleviate that feeling."
Jason agreed, adding, "Although I appreciated how maneuverable it was, I couldn't help but notice the instability up at net. I won't put it all on the racquet, though. It's definitely a combination of the small headsize, headlight balance, and my lack of comfort when volleying. I thought it was great for overheads and touch volleys."
Kana found better results. She said, "This racquet felt very crisp at the net. I could chop at the ball to create a short angle or maneuver it deep into the court."
Serves - Score: 83
Serving with the Dunlop Biomimetic 200 Lite proved to be a hit with our team of testers. Finding excellent targeting and access to spin was Jason. He said, "Even at 11.5 ounces, this racquet was very effortless to serve with. Unlike up at net, I thought this racquet was quite stable, even on my off center serves. Even though I wasn't getting as much power with this racquet as I do with my own, it felt like I was getting just as much spin. Combine that with the high level of precision, and it made for a very effective serving racquet."
"This racquet was really easy on my shoulder, which I enjoyed," said Jackson, who noticed the additional spin as well. "Once I got used to the timing my serves really started to dial in. I probably wasn't getting as much pace as I usually do but the racquet head speed I could generate helped to make up for that in the spin department. I also found it extremely easy to direct my serves, making it easy to mix up the direction, pace, and spin. The confidence this racquet inspired in my serves helped me out in a crucial moment in a match as I was serving at a 0-40 deficit to hold serve and ultimately win the match."
Kana served with confidence. She said, "My first serves definitely seemed faster and flatter than with my own racquet. I could cut the ball more for a wide angle and flatten it out down the T. For my second serve, I didn't notice a significant change in spin, but noticed I was comfortable swinging faster up into the ball and still staying consistent. I was more confident going for a bigger second serve than with other racquets."
Brittany found added power, saying, "I noticed I was able to generate a lot of spin off the serve thanks to the open 16x19 string pattern. My first serves felt effortless when it came to hitting with pace. While hitting second serves, I enjoyed the extra spin and could really kick the serve up against my opponent."
Serve returns - Score: 81
Blending maneuverability with a solid feel, the Dunlop Biomimetic 200 Lite helped our TW players with their return games. Keeping his focus was Jackson. He said, "As long as my eyes were on the prize, this racquet did its job. Again, the maneuverability made preparation easy, which allowed me to place my returns better than normal. I did have problems when it came time to attack second serves. The lack of weight made hitting a heavy, offensive shot difficult, and it really required perfect timing and concentration to pull off."
Brittany felt the racquet excelled in this category. She said, "One of my favorite parts of the racquet was my ability to hit returns. It was easy to take compact back swings and really step into first serves to hit penetrating returns. Off second serves, I was still able to create enough of my own pace to hit effective and offensive returns."
Loving the solid feel was Kana, who said, "I usually like a racquet with a little more swingweight when I go against big servers. The Biomimetic 200 Lite surprisingly stayed stable, and I wasn't afraid of it fluttering on heavy serves. When I had a lot of time to prepare it felt great swinging away at the ball for a very aggressive return."
Having some mixed results was Jason. He said, "As with my groundstrokes, I really appreciated the mobility. It was great on the body serves because I was able to quickly get the racquet in position to get the ball back into play. Bigger servers, like Brittany, were able to push the racquet around a bit, but luckily I didn't have to face her too many times. I did find that my slice returns landed shorter than I was used to, putting me immediately into a defensive position."
Overall - Score: 82
The Biomimetic 200 Lite impressed our testers from all areas of the court. The fantastic maneuverability allowed our team to generate tremendous racquet head speed, resulting in deep, penetrating shots, with most testers finding lots of spin. Although we appreciated the agility of the racquet up at net, the torsional instability left our team wishing there was more mass in the head. Whether hitting first or second serves, our testers loved what this racquet had to offer. It was easy to swing it through the contact zone and it had plenty of mass to produce impressive pace. The open string pattern and mobility allowed us to serve with a variety of angles. Overall, we felt that this is an outstanding addition to the 200 line. For some of us it was our favorite Biomimetic racquet. After our month-long playtest we realized that this particular Dunlop Lite certainly packs a heavy punch on court.
Likes
Jason - "The two standouts for me were the superior maneuverability and solid feel."
Kana - "Out of the Biomimetic line, this is my favorite. It's easy to maneuver and feels extremely stable."
Jackson - "I enjoyed the feel of this racquet. The light weight made it easy to control and inspired accelerated racquet head speeds, generating some good topspin."
Brittany - "I liked almost everything about this racquet, from the control off groundstrokes to the spin generated off serves. It is definitely my favorite racquet out of the Biomimetic line."
Dislikes
Jason - "It lacked a bit of weight in the hoop."
Kana - "I could hit extremely flat shots with this racquet, but didn't notice much access to spin if I wanted to generate a little more."
Jackson - "The light weight also made it an easy target to be bullied around by heavier balls and made playing defensively more difficult."
Brittany - "Not much. The only thing would be a little bit of instability at net."
Technical Specifications

Length
27 inches
69 centimeters
Head Size
95 square inches
613 square centimeters
Weight
11.5 ounces
326 grams
Balance Point
12.75 inches
32 centimeters
6pts Head Light
Construction
21mm Straight Beam
Composition
HM6 Carbon/Aerogel/Graphite
String Pattern
16 Mains / 19 Crosses

Babolat RDC Ratings

Score

Grade

Flex Rating
57
Range: 0-100
Swing Weight
308
Range: 200-400
Scores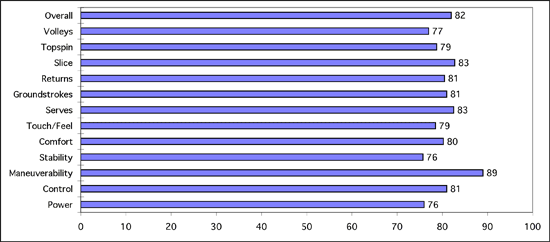 (Scores are determined by averaging individual play test scores)
Brittany's Scores
Power
7.8
Serves
8
Control
8.4
Groundstrokes
8
Maneuverability
8.3
Returns
8.4
Stability
7.4
Slice
7.8
Comfort
7.9
Topspin
8.2
Touch/Feel
7.7
Volleys
7.6
Overall
8.3
Kana's Scores
Power
7.7
Serves
7.9
Control
8
Groundstrokes
8
Maneuverability
8.5
Returns
7.9
Stability
8
Slice
8.4
Comfort
7.8
Topspin
7
Touch/Feel
7.8
Volleys
7.8
Overall
8.2
Jason's Scores
Power
7.9
Serves
8.4
Control
8.5
Groundstrokes
8.1
Maneuverability
9
Returns
8
Stability
8
Slice
8.3
Comfort
8
Topspin
8.3
Touch/Feel
7.7
Volleys
7.7
Overall
8.2
Jackson's Scores
Power
7
Serves
8.7
Control
7.5
Groundstrokes
8.3
Maneuverability
9.8
Returns
7.9
Stability
6.9
Slice
8.6
Comfort
8.4
Topspin
8
Touch/Feel
8.2
Volleys
7.7
Overall
8.1
Playtester Profiles
Brittany: Open level player with a semi-western forehand and a two handed backhand. She currently plays with the Yonex V-Core 100S.
Kana: Open level baseliner with a western forehand and two-handed backhand. Currently using a customized Volkl V1 Classic.
Jackson: 4.5 All court player currently using a customized Babolat Pure Storm. Jackson uses a semi-western forehand grip and hits with a two-handed backhand.
Jason: 4.0 baseliner with a semi-western forehand and two handed backhand. Currently using a Boris Becker London.

Review date: April 2011. If you found this review interesting or have further questions or comments please contact us.
All content copyright 2011 Tennis Warehouse.