Dunlop Biomimetic 200 Racquet Review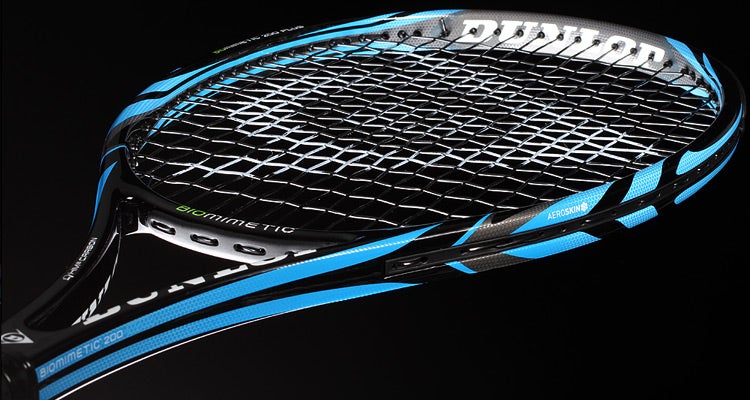 Dunlop Biomimetic 200 Scores
Comfort
83
Touch/Feel
85
Serves
80
Groundstrokes
84
Returns
85
Slice
83
Topspin
79
Volleys
84
Overall
83
Upsides
Feel
Touch
Precision
Maneuverability
Downsides
Lacks some of the plow through of the previous version
Summary
It was no surprise that our playtesters found the Biomimetic 200 to be a control-oriented player's stick. For anyone who has played a previous 200 model, that would make sense. Though the feel was a tad different from previous models, the results were quite similar. The 18x20 string pattern in a 95 square inch head size creates a very dense stringbed, making directional control extremely manageable. The combination of specs and Biomimetic technologies makes this latest 200 more maneuverable, with a little more feel. Though our testers didn't necessarily agree about the performance in each category, they did agree that the Biomimetic 200 offered excellent control. With its latest 200 model, Dunlop has produced yet another solid offering for advanced level players, whether they play from the baseline, attack from the net or combine a bit of both.

To improve upon something with a heritage of success can be a difficult task. In a world where technology is ever evolving and advancing, Dunlop has taken a step forward in its latest version of the 200 by observing what is all around us. The Biomimetic 200 goes right to the core of our surroundings, taking nature as its inspiration.
The Biomimetic technologies in the racquet frame mimic naturally occurring structures and textures. The beam is made from HM6 Carbon, which uses a honeycomb pattern to strengthen the frame in certain areas for increased energy return. The surface of the frame features Aeroskin. Inspired by shark skin, the frame surface features raised bumps for better aerodynamics. Even the grip gets the natural touch. The Gecko-Tac Grip is inspired by the setae on a gecko's feet. On a gecko, the tiny hair-like fibers on its feet enable it to walk upside down on smooth surfaces. According to Dunlop, its Gecko-Tac treatment of its grips increases tack by 50%.
Pairing these latest technologies with the classic player's spec range that has made the 200 line of racquets so successful, Dunlop may have come up with the best 200 yet.
Our testers took the Biomimetic 200 out for a month-long playtest to see just how these nature-inspired technologies would work on court. Read on for the results.
Groundstrokes - Score: 84
As with previous 200s from Dunlop, our testers found plenty of precision from the baseline. Chris loved the control, saying, "In classic Dunlop 200 fashion, I found a ton of feel and control with this racquet. I felt confident going for aggressive shots, and this version felt slightly more maneuverable than the Aerogel 4D version. It wasn't as light and fast as the M-Fil 200 16x19, which felt more like a 300 series racquet to me, but it was noticeably faster than recent 200s. I was finding a tad more spin, as the racquet came around faster, and I felt I could accelerate it through the ball very well. The tight string pattern allowed me to stay on the gas -- especially on approach shots and put-aways."
In agreement was Troy, who said, "My favorite part of the 200 series of racquets from Dunlop has always been control, and this Biomimetic version did not disappoint. I was enjoying the connectedness to the ball, feeling that every shot I made clean contact with was going to hit my target. The amount of spin I was getting helped me hit heavy, deep forehands. I enjoyed hitting a slice backhand, finding that I could get it to land deep and stay low off the bounce. The downside from the baseline was that it felt a little less stable than the Aerogel 4D version, which I had been hitting with quite often before this playtest. I felt that the 4D version has better torsional stability during heavy exchanges from the baseline. The addition of some lead tape at the 3 and 9 o'clock positions on the frame would give this stick the solid feel I prefer."
Spencer found more maneuverability in this latest version of the 200. He said, "Though carrying specs similar to the 4D and Aerogel versions, the Biomimetic 200 felt a little more maneuverable from the baseline. With that came a bit of a different feel. I noticed a less stable feel, but I got more feedback. I've always liked the 200 racquets from Dunlop, and this version was no different. But like the 200s I've liked in the past, this one also limits the depth of my groundies. It took a lot of work for me to get the ball deep with this racquet, and I often found myself hitting short, putting my opponent in an offensive position."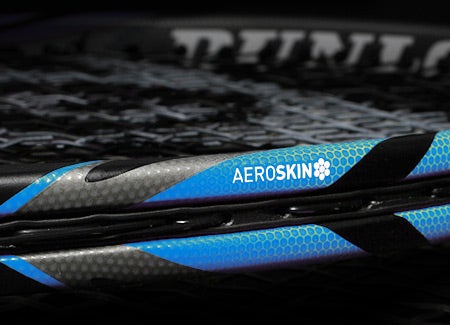 Volleys - Score: 84
Offering plenty of versatility at net, the Biomimetic 200 offered a nice combination of mass and mobility. Finding his targets when volleying was Troy. He said, "At net this racquet had that scalpel like precision that I have found with the best player's racquets on the market. The feel this racquet provides on volleys gave me the confidence to place the ball near the lines and go for angles and drop shots consistently. As I noted on groundstrokes, I also felt this racquet was a bit less stable compared to the 4D version when hitting volleys. On the plus side, those who prefer a little more maneuverability at net may like this version of the 200 more than the 4D. I liked the heftier feel of the 4D and the added stability."
Chris felt there was plenty of mass for solid volleys. He said, "I loved the precision and solid response at net with this racquet. It offered me the mass to punch the ball deep, was stable on defensive volleys and had all the touch and feel I could want. It was basically more versatile than a Swiss Army Knife. I liked the control and punch I found on difficult mid-court volleys. I found enough power to push the ball deep, which allowed me to close in on the net for an easier second volley. This was a great serve and volley racquet for me."
Finding solid feel and good placement was Spencer, saying, "At net, I found the Biomimetic 200 to be headlight enough for good mobility yet stable enough for handling fast-paced shots. The dense string pattern and solid feel helped zero in direction and placement. If there was a downside for my volleys with this stick it was the smaller sweet spot, which lacked forgiveness."
Serves - Score: 80
All our playtesters agreed the Biomimetic 200 offered excellent control and precision when serving. Chris used the mass of the racquet to his advantage. He said, "I found the groove immediately on serve and continued to enjoy serving with this one throughout the month-long playtest. I was getting enough spin to move the ball around, find my targets and serve consistently. When I wanted to up the pace, all I had to do was let the mass of the racquet come through smoothly, and I was hitting a nice, penetrating serve."
Noting the excellent precision and placement was Troy. He said, "When it came to serving, this racquet provided great precision and control. With this being said, this racquet didn't provide me with much added power. I felt serving with a racquet like this forced me to focus on my technique and generate my own power. I found myself being able to accelerate the racquet head and hit some pretty good kick serves. My placement of my serves was enhanced, and I was mixing up slice and kick serves effectively. The more maneuverable feel of this racquet compared to the 4D version was beneficial on serve, and I felt like it helped me get some added action on the ball."
Spencer was hoping for more power. He said, "Much like on my groundstrokes, I wasn't getting effective pace and depth. What I did like, however, was the consistency and directional control. I seemed to do well with placement, either going up the T or out wide. This was a nice control racquet when serving."
Serve returns - Score: 85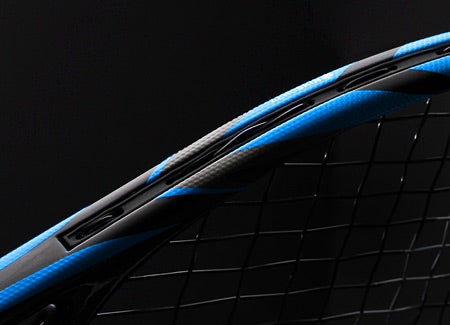 The maneuverable feel, along with the mass of the hoop, allowed plenty of options when returning. Spencer felt the weight of the racquet produced effective returns. He said, "The Biomimetic 200 was a great racquet for returning. It's stable enough for returning well paced serves, it can block back serves and it let me be aggressive without fear of hitting deep."
Chris was very confident when returning, saying, "I found a great combination of stability and maneuverability when returning. That kind of feel is an elusive quality that Dunlop always seem to capture with its 200s. This one was no exception. I was completely confident returning with this racquet and was finding my targets well."
Feeling he could be aggressive on returns was Troy. He said, "The control and feel provided me with the confidence to be offensive on my returns. The more racquet speed the better with this stick. As with the serve, the lower power level forced me to be focused on my technique and get my weight behind returns. I did want a little more plow through when having to return a big first serve. Adding a little lead tape to the hoop of the racquet would be my solution to this. With the Dunlop 200 series having a dense string pattern, I've found that I feel more comfortable hitting a slice return off the backhand; finding great control on this shot, as well as good court penetration."
Overall - Score: 83
Likes
Chris "Stability, comfort, maneuverability, control, power and spin. I thought the cosmetic was killer, too."
Troy "Great control that is typical of the Dunlop 200 series. Enhanced feel on touch shots compared to some of the previous models. My favorite cosmetic so far in the line of 200s (post M-fil)."
Spencer "The feel and specs."
Dislikes
Chris "None."
Troy "I felt like the 4D version had a little better plow through and torsional stability. I would add a leather grip (plus overgrip), and add some lead tape to the 3 and 9 o'clock positions of the hoop."
Spencer "I had a difficult time finding depth."
Technical Specifications

Length
27 inches
69 centimeters
Head Size
95 square inches
613 square centimeters
Weight
11.9 ounces
337 grams
Balance Point
12.75 inches
32 centimeters
6pts Head Light
Construction
20.5mm Straight Beam
Composition
HM6 Carbon/Aerogel/Graphite
String Pattern
18 Mains / 20 Crosses

Babolat RDC Ratings

Score

Grade

Flex Rating
57
Range: 0-100
Swing Weight
322
Range: 200-400
Scores

(Scores are determined by averaging individual play test scores)
Troy's Scores
Power
7.8
Serves
8.2
Control
9
Groundstrokes
8.5
Maneuverability
8.4
Returns
8.7
Stability
8.3
Slice
8.3
Comfort
8.7
Topspin
8
Touch/Feel
8.9
Volleys
8.7
Overall
8.5
Chris's Scores
Power
7.7
Serves
8.2
Control
8.5
Groundstrokes
8.3
Maneuverability
7.8
Returns
8.2
Stability
8
Slice
8.4
Comfort
8.4
Topspin
8
Touch/Feel
8.5
Volleys
8.1
Overall
8.3
Spencer's Scores
Power
7
Serves
7.6
Control
8.5
Groundstrokes
8.3
Maneuverability
7.9
Returns
8.5
Stability
7.8
Slice
8.2
Comfort
7.8
Topspin
7.7
Touch/Feel
8.2
Volleys
8.5
Overall
8
Playtester Profiles
Spencer:4.5 baseline player currently using the Prince EXO3 Tour 100 16x18. Spencer uses a semi-western forehand grip, and hits with a one-handed backhand.
Chris: 5.0 All court player currently using the Volkl Power Bridge 10 Mid. Chris uses a full-western forehand grip, has a fast swing style and hits a one-handed backhand.
Troy 5.0 lefty all-court player with a full Western Forehand and a two handed backhand. Troy currently plays with the Wilson K-Blade 98.

Review date: May 2011. If you found this review interesting or have further questions or comments please contact us.
All content copyright 2011 Tennis Warehouse.