Babolat Xcel String Review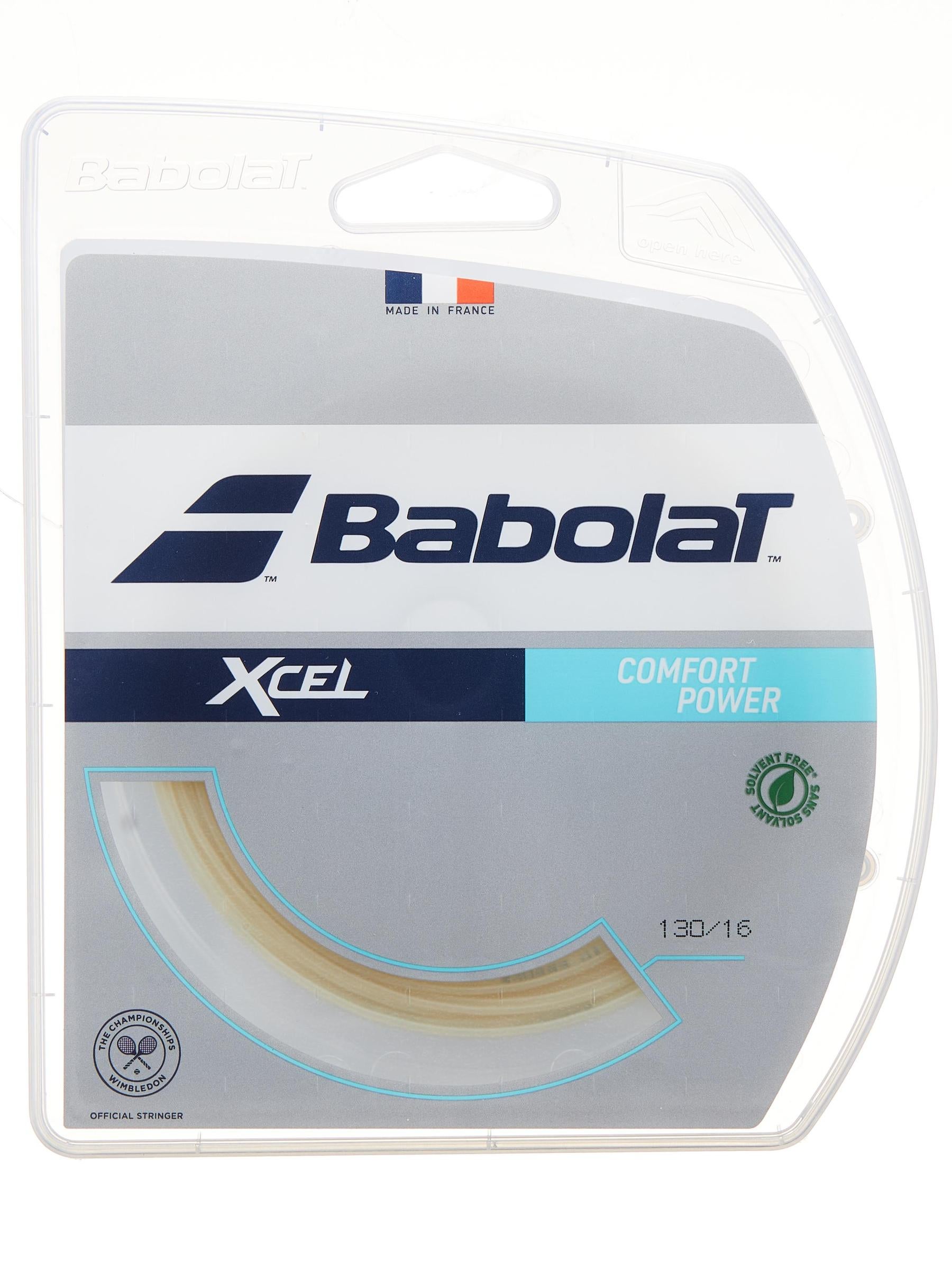 Babolat Xcel String Scores
Power
82
Spin
70
Comfort
86
Control
73
Touch
80
String Movement
69
Playability Duration
77
Durability
64
Overall
79
Upsides
Comfort
Ball pocketing
Feel
Good control for a multifilament
Downsides
Less spin and durability than with a firm polyester
Summary
Packed with a bundle of shock absorbing filaments and loaded with stretchy polyurethane, Babolat Xcel is a gift to the tendons and joints of tennis players. Needless to say, the first thing our playtest team discovered about this very popular multifilament was the comfortable feel. To our surprise, however, we didn't experience the unwieldy power level that big hitters often encounter with soft multis. In fact, our two big swinging polyester players, Chris and Brittany, found Xcel to have above average control for such a flexible string. The increased control came partly from a recent durability upgrade, which gives this string a tougher construction and a slightly crisper (as opposed to mushier) response. As for spin, Xcel did not provide our playtesters with the vicious bite and ball rotation of their favorite polys, so higher tensions and increased concentration were needed to bring the ball down sharply. Ultimately, Xcel gave us exceptional comfort and feel. The fact that it also felt more crisp and precise than many of its peers was a nice bonus.
Power - Score: 82
Though our team definitely found a decent level of power with Xcel, neither of our playtesters reported problems with overhitting. Even Chris, who normally plays with deader strings, settled into a groove with this one. He said, "While Xcel offers good power compared with many strings, I would say it is somewhat lower powered than other multifilaments. Sure, there's more zip off the stringbed than synthetic gut and poly-based strings, but there are other multifilaments that offer more power. For me, the power level was very good. It allowed me to take a good cut at the ball, and I did not feel as if I had to hold back on my strokes like I do with some multifilaments. All said and done, getting depth and pace was easy with this string. I never felt like I had to work hard to hit hard, and I liked the power I was getting."
Brittany also found Xcel to play with a little less power than the typical multifilament. She said, "During this playtest I had to get used to playing again with a full stringbed of multifilament string. I normally hit with either a full bed of polyester or a hybrid of the two. When I have playtested multis I have noticed how much more powerful they are than polys, and it took me a little more time to get used to the power. However, I found Xcel to be less powerful than some of the other multis I have playtested. Now don't get me wrong, there is definitely power there, but not as much as I expected. I would say it probably ranks as one of the lowest powered multis I have hit with."
Spin - Score: 70
Xcel is not designed to offer the bite and snapback of a firm poly. However, the relatively low powered response allowed Chris to swing faster and get some nice spin. He said, "I found decent spin with this string. While it is far from poly-like in its grab and spin, the lower power level made it more spin-friendly for me than other multis. I was able to swing faster without fear of overhitting, and that allowed me to supply more of the power and spin to my shots. I also found that the spin improved with higher tensions because it allowed me to swing faster. I liked the bite I was getting from the string at a higher tension."
Brittany could have used a little more spin, explaining, "My game style doesn't necessarily rely on spin, but I do need some to keep my flatter shots in the court. With this multifilament string there really wasn't that much spin to work with. I had to make a conscious effort to add extra spin to my ball, especially when hitting aggressive groundstrokes, to keep my balls from flying."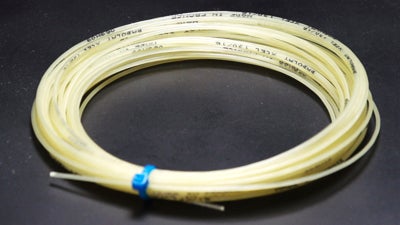 Comfort - Score: 86
More than any other feature, it was the comfort of Xcel that impressed our team the most. Even at the high end of the tension range, Brittany enjoyed a large sweetspot and comfy feel. She said, "Comfort is one of the characteristics that stood out to me on this playtest. This string was very comfortable when I hit the sweetspot or closer to the frame. I wasn't having any issues even when I increased the tension up to the low 60s. Additionally, I really enjoyed the feel of this string. I was able to playtest both the natural and blue colors, and I found the blue color to feel just a little crisper, which I preferred."
For Chris, this string was comfortably crisp. He said, "This was a very, very comfortable string. I thought it pocketed the ball very well and offered a nice, comfortable response. The feel was not as muted as Wilson NXT or Tecnifibre NRG2, but even with its crisper response this is a very, very comfortable string. Even when I missed the sweetspot the string offered enough give to make contact comfortable. At higher tensions the stringbed was firmer than with natural gut, but it still felt comfortable."
Control - Score: 73
Perhaps the most surprising part of our playtest was the level of control we got from Xcel. To be clear, this soft multi did not give us the low powered, ultra predictable response we get from polys like Gosen Polylon or Kirschbaum Super Smash. However, it worked better than expected for Brittany's huge strokes. She said, "Now with most multifilaments, the first thing I say is that there is a ton of power and they are in need of control. However, with Xcel I found more control than I had anticipated. While it doesn't have the control of a poly, it definitely had enough to keep me satisfied."
"The level of control was decent for me," said Chris, who took advantage of Xcel's comfort to string it tighter for more control. "I was very happy with the touch and feel on drop shots. I had to be more careful when looking to hit with pace because I'm used to the deader response of polys. However, the adjustment wasn't too great and stringing Xcel tighter added a lot more control. I also hit the string in some mid-sized racquets with dense string patterns, and I thought the comfort and power were the perfect complements to a very control-oriented racquet."
Playability Duration - Score: 77
Although Xcel didn't give us the durability of a polyester, we had no real complaints about the playability duration. Brittany noticed some changes over time, but she was ultimately satisfied. She said, "After the first two days of hitting (about two hours), I did notice a slight change in playability. There was just a slight decrease in tension and it didn't affect my game. However, for the next two weeks I thought the string maintained its characteristics, including feel and comfort, up until the end of the playtest. I thought it was very comparable in duration to similar multis I have hit with."
Agreeing with Brittany, Chris said, "After some initial tension drop I found the string to feel pretty consistent right up until it broke. Depending on the racquet and the vigor of my practice sessions, I get anywhere from a week to two weeks of hitting before I break it. That length of durability is right in there with what I would expect from other multis like NXT and NRG2."
Overall - Score: 79
Likes
Chris - "I liked the feel and comfort the most."
Brittany - "I liked the comfort and feel of this string."
Dislikes
Chris - "None."
Brittany - "There was nothing I really disliked about the string, but I always appreciate more spin potential."
Comparing the string to others they've tried, our testers said:
Chris - "This string is comparable to NXT and NRG2, but offers a tad less power for me. It is not as crisp and lively as Tecnifibre X-One Biphase, but it does offer a nice crisp feel with a controllable level of power."
Brittany - "I would compare it to Tecnifibre X-One Biphase on several levels. Both are very comfortable to play with and have a very crisp feel. I would say that X-One Biphase is much more powerful, and Xcel is more control-oriented."
Scores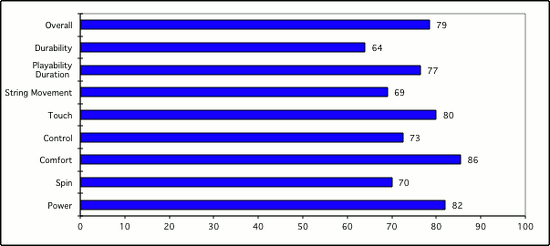 (Scores are determined by averaging individual play test scores)
Chris' Scores
Power
8.4
Playability Duration
8
Spin
7.2
Durability
6.8
Comfort
8.7
Control
7.2
Touch
8.4
String Movement
6
Overall
7.9
Brittany's Scores
Power
8
Playability Duration
7.3
Spin
6.8
Durability
6
Comfort
8.4
Control
7.3
Touch
7.6
String Movement
7.8
Overall
7.8
Playtester String Setups
Chris:
Playtest Racquet: Volkl Organix 7 295g
Playtest Tension: 56 lbs
Typical String: Volkl Cyclone 16
Brittany:
Playtest Racquet: Yonex VCORE 100S
Playtest Tension: 54, 56, 61 lbs
Typical String: Luxilon Adrenaline 16

Review date: July 2013. If you found this review interesting or have further questions or comments please contact us.
All content copyright 2013 Tennis Warehouse.