Bosworth Snauwaert Brian Gottfried Racquet Review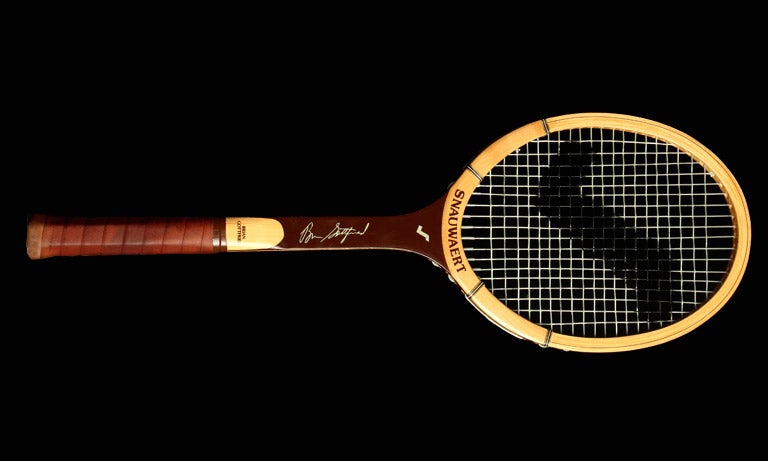 Bosworth Snauwaert Brian Gottfried Scores
Comfort
66
Touch/Feel
90
Serves
76
Groundstrokes
78
Returns
73
Slice
88
Topspin
67
Volleys
75
Overall
77
Upsides
Feel
Control
Unmatched comfort inside the sweetspot
Downsides
Heavy
Extremely flexible upper hoop
Small head size
May require advanced weight training
Summary
Since we at Tennis Warehouse are big fans of tennis tradition, we could not resist playtesting the Snauwaert Brian Gottfried wood racquet, a rare gem from our Bosworth Collection. Three things dominated our playtest: the heavy weight, the incredibly flexible feel and the extremely small (approx. 65 sq. in.) head size (with an equally small but unbelievably sweet sweetspot). Taken together, these things required flatter mechanics, heightened concentration and flawless technique. As such, this particular playtest served as a great diagnostic tool for our team, with each player getting a glimpse of his strokes when there was zero margin for error. More importantly, hitting the Gottfried wood served as a kind of portal, giving us a snapshot of what tennis used to look like before the marriage of metal and technology created the pop of the Roddick serve and the weight of the Nadal forehand. Ultimately, we think there is nothing like wood for measuring technique, focusing the mind and appreciating the distance this great game has traveled.
Groundstrokes - Score: 78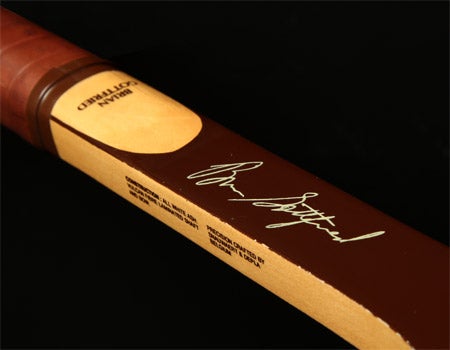 Players weaned on the Babolat Pure Drive would likely find the Snauwaert Gottfried to swing like a cinder block. And they would surely not appreciate the wet-noodle feel and anemic response of balls struck higher in the hoop (the place where modern topspin players hit the ball). However, according to Andy, the reward for harnessing the mass of this near 14 oz racquet and finding the center of the stringbed is massive. He said, "Once you get this thing moving, boy, does it plow through the ball if you hit it in the sweetspot! It's heavy compared to modern racquets, so it's a lot easier to let the racquet do the work once you start the swing. You can certainly feel the flex at contact, especially if it's hit off-center, which happens often because of the tiny head. However, nothing compares when hitting slices. Nothing! You can get so much weight on your slices and the ball just shoots through the court like a warm knife cutting through butter."
Agreeing with Andy on the the advantages of weight coupled with the challenges of a small sweetspot, Chris said, "I felt like I was getting more plow through with this racquet than a MACK truck every time I took a swing at the ball. My racquet weighed a solid 13.9 ounces when strung. With that kind of mass behind the ball it was very easy to develop both pace and depth. Even though the headsize and sweetspot are very small, the sheer amount of mass made it a powerful racquet. Any ball I had time to set up for could be abused with crushing power and a solid thwack. I loved the push feel and plow through of this racquet on a slice backhand. I could drive my slice deep and really get the ball to skid fast and low off the court. Topspin shots were harder since I was not swinging through the line of contact as much. I had to be very, very focused when I was looking to brush quickly up the back of the ball or flick a sharp angle, as it was easy to miss the very small sweetspot. Power outside of the sweetspot was very low and dropped off pretty quickly towards the tip. The power zone in this racquet is very low in the hoop, but once adjusted, I found I could tap into that power consistently."
Raised playing with wood racquets, Granville has some words of wisdom for those young whippersnappers with their western grips and whippy strokes. He said, "This racquet is heavy! 13.5 ounces heavy - so do yourself a favor and warm up before you start swinging. The first hit (collision?) will feel terrible. You were late. Those loopy groundstrokes won't cut it - you have to hit through the ball. Still feels bad? You missed the sweetspot (it's there - about the size of a golf ball). Try again, and again - and once you find that sweetspot, you can't help but smile. Soft, plush, responsive. It's the tennis player's equivalent to surfing that long wave. There is something so sweet about playing with a wood racquet, its natural soft flex, the musical quality of intertwined wood and gut string striking a ball. It will take some patience and discipline to find the "wood nirvana." It is real, it is there - you just have to find it."
Volleys - Score: 75
Not surprisingly, volleying with the Snauwaert Gottfried required sound preparation and very clean contact. For Chris, success depended on having the technique to find this racquet's finicky but very rewarding contact zone. He said, "As with groundstrokes, I had to train myself to hit lower in the hoop. The racquet really came to life in the lower third of the stringbed and I could punch volleys with authority if I made contact there. I found volleying consistently was easy to do. The racquet felt extremely solid and offered superb feel. However, if I tried to be tricky or aggressive with a quick flick or stab, I had to be absolutely on it to pull off the shot. When I was looking to press it was easier to be slightly off the small sweetspot, and results quickly diminished if I missed that sweetspot."
Like Chris, Andy also required sound mechanics to unlock the power, precision and magical feel of wood. He said, "The plow through on this racquet gives it excellent pop on volleys, and just like with slices, you can really get them moving through the court. The flex of the frame also provides you with tons of feel for touch shots. You better focus hard though, because finding that sweetspot isn't easy when someone is firing balls at you at the net."
Once again, Granville helps us understand how to penetrate the mystery of wood, saying, "Best not to volley until you are have mastered the groundies. Fundamentals become... fundamental - as the weight of the racquet will slow your response time. No big swings - block the ball for best results. Once you begin to get the feel for the racquet you'll be able to feather a cross court drop volley or punch that ball down the line. Depth of your shot is always a concern until you have completely adjusted to the demands of wood. To be honest - it may take an extended period of time to make the necessary adjustments and ultimately commit to it."
Serves - Score: 76
As with the other strokes, effective serving with the Snauwaert Gottfried required the ability to successfully wield this racquet's considerable mass. For Chris, who prefers heavier racquets, this was not a problem. He said, "This was the stroke that was pretty much business as usual with this racquet. I was hitting all of my regular serves with good results. Having complete control of a shot helped me find the sweetspot consistently. I was getting surprisingly good pace on first serves thanks to the crushing mass of this racquet. On second serves I was able to get decent spin and I could move the ball around to various targets with solid consistency."
Granville also focused on the weight, saying, "For me, weight is my primary concern. Once I get the racquet moving, I can keep the momentum through the stroke and drop that ball on target. I played a wood racquet tourney just 3 weeks ago - we had several players serving above 100 MPH and 113 was the high speed winner (21 year old). For those who can swing it, the wood can hit the ball just as hard as graphite - it all comes down to control."
"Once again, you really have to let the weight of the racquet take over the swing on serve," said Andy, who got good results with this beast of a racquet. He continued, "Get the racquet started towards the top of the swing and then let it loose. The racquet offers excellent pop and control, although you're not going to get the spin that you have with modern racquets."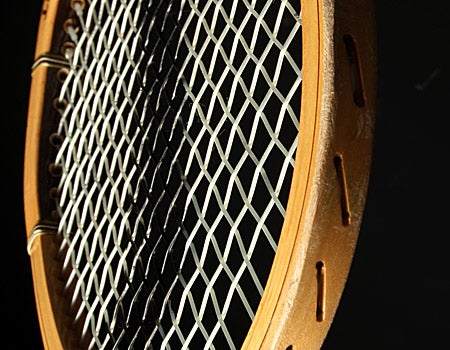 Serve Returns - Score: 73
Returning a big first serve with the Snauwaert Gottfried (into the wind on un-groomed clay after a poor night's sleep) is a great way to appreciate the difference between today's forgiving racquets and the heavy, small headed, unforgiving sticks of yesteryear. That said, Chris not only found a groove, but he also had a blast. He offered, "I thought I might struggle here, but I actually returned very well with this racquet. Anything left even remotely hanging to my forehand side was crushed back with a solid drive and heavy pace. On my backhand I was able to drive my slice returns, float them deep or chip them short. I loved the solid response, superb feel and exquisite touch. What a fun racquet to return with!"
Granville, again, provided sound advice on mechanics. He said, "For this tester, weight is the key. On serve returns I needed to keep my weight moving forward or I would be late to the ball, and this wood Snauwaert is unforgiving - as most wood racquets are."
Andy, our most aggressive returner, had to shorten his long strokes and channel his inner Laver. He said, "Chip returns are a dream with the woody! Returns require a smaller swing than I'm used to taking, but no worries! I typically like to be pretty offensive with my returns, but with the Snauwaert I took a more defensive approach and tried to block them deep."
Overall - Score: 77
Likes
Granville - "The feel of wood on groundstrokes. The sound of the racquet striking the ball - a pinging thwap instead of a thwack."
Andy - "Love the plow through, especially on the slice, and the way it makes me hit through my forehand. The feel is incredible, and you just feel like you're playing tennis the way it was intended to be played."
Chris - "Solid, stable feel, crushing power when inside the sweetspot and absolutely superb ball feel and control. I loved it."
Dislikes
Granville - "Heavy, small head - makes for a very challenging transition from graphite."
Andy - "Small sweetspot and a little too flexible for my liking."
Chris - "The upper hoop is about as crisp as an over-boiled carrot. Not much power up there, and unless you want to hit the ball very short with no pace, the upper hoop is best avoided."
Comparing this racquet to other racquets they've used, our testers said:
Granville - "Solid and heavy, like a flexible wood version of the Estusa Power Beam Pro."
Andy - "No modern racquet compares to the soft, plush feel and tremendous plow through of a wood racquet. As a player who's grown up playing the "modern game", this would be great to use as a training tool in order to get my mechanics in order. It offers a classic feel unmatched by any modern racquet."
Chris - "I hit this racquet against an adidas Nastase Champion and a Donnay Borg Pro, both of which are wood with a similar spec. This racquet is more maneuverable than my Nastase Champion, yet still gets very close in terms of plow through power. The Borg Pro was also pretty close in feel, but it has slightly more weight towards the head, is a tad more forgiving higher in the hoop and is tougher to maneuver. Compared to a modern racquet, the Gottfried performs with far superior plow through and stability. It forces the player to hit much lower in the hoop, which requires an adjustment. Trying to flick or sharply snap around the ball is much more difficult, and the racquet performs best if swung on a straight line through the ball."
Technical Specifications

Length
27 inches
69 centimeters
Head Size
65 square inches
419 square centimeters
Weight
13.6 ounces
386 grams
Balance Point
13 inches
33 centimeters
4pts Head Light
Construction
15.5mm
Composition
White Ash Wood
String Pattern
18 Mains / 20 Crosses

Babolat RDC Ratings

Score

Grade

Flex Rating
34
Range: 0-100
Swing Weight
349
Range: 200-400
Scores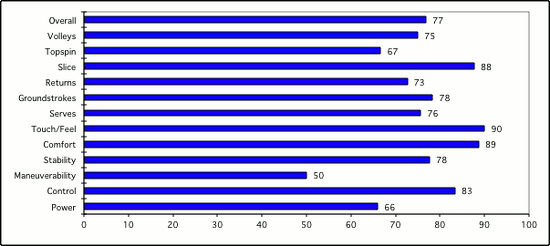 (Scores are determined by averaging individual play test scores)
Chris' Scores
Power
7.8
Serves
8.2
Control
8.5
Groundstrokes
8
Maneuverability
5
Returns
8.3
Stability
7.8
Slice
9
Comfort
9.6
Topspin
7
Touch/Feel
9.7
Volleys
7.5
Overall
8.3
Granville's Scores
Power
6
Serves
7.5
Control
7.5
Groundstrokes
7.5
Maneuverability
5
Returns
7
Stability
7.5
Slice
7.5
Comfort
8
Topspin
7
Touch/Feel
7.5
Volleys
7
Overall
7.25
Andy's Scores
Power
6
Serves
7
Control
9
Groundstrokes
8
Maneuverability
5
Returns
6.5
Stability
8
Slice
9.8
Comfort
9
Topspin
6
Touch/Feel
9.8
Volleys
8
Overall
7.5
Playtester Profiles
Chris: 5.0 all-court player currently using the Volkl C10 Pro 2012. Chris uses a full-western forehand grip, has a fast swing style and hits a one-handed backhand.
Granville: 5.5 all-court player currently using a Babolat Pure Drive 107. Granville is an aggressive player who uses an eastern forehand grip and goes continental on everything else, hits with a flat swing and a one-handed backhand.
Andy: Open level all court player with a semi-western forehand grip and a two handed backhand. Andy currently using a Blade 98 18x20.

Review date: June 2013. If you found this review interesting or have further questions or comments please contact us.
All content copyright 2013 Tennis Warehouse.