Babolat Revenge 16 String Review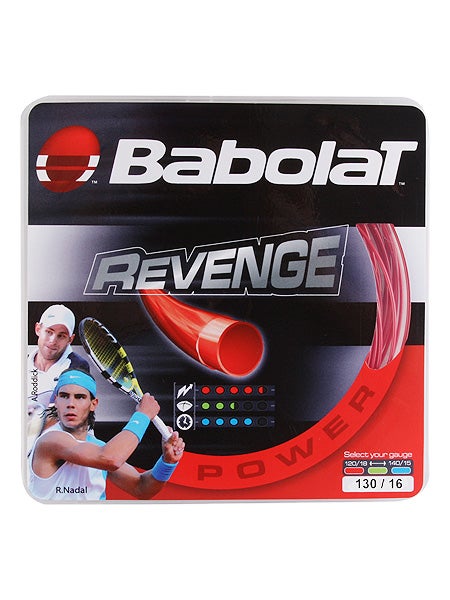 Babolat Revenge 16 String Scores
Power
30
Spin
92
Comfort
55
Control
93
Touch
88
String Movement
85
Playability Duration
88
Durability
95
Overall
86
Summary
Babolat Revenge, a heavy duty co-poly, is ideal for advanced players who take huge cuts at the ball. Despite being made with additives to boost elasticity and comfort, we found it to play more like a traditional polyester. In other words, it was quite firm and low powered. The downside of this kind of string is that players with compact strokes or tender tendons are not likely to get enough pop or comfort. However, our two big hitters discovered an undeniable upside with Revenge, outstanding control. Knowing the ball would come down inside the lines allowed our team to attack more aggressively; the result of which was bigger spin and more ambitious targeting. Indeed, the control was so good that we were able to lower the tension to up the comfort, power and pocketing of this string. Ultimately, while this string is not for everybody, it is a great option for seasoned poly players who need maximum durability and control.
Power - Score: 30
Even though Revenge is one of the lowest powered strings we've tested, Mark found a way to squeeze a little juice from it. He said, "I know Revenge returns very little energy to the ball, but with the amount of string movement you get from the extremely open pattern of the Wilson Steam 99 S, dare I say, I actually got some power from this string. If the pattern were denser, the story would be entirely different."
Chris used low tensions to liven up Revenge. He said, "There really isn't much power with this string unless I string it low. I started this test at my usual 55 lbs, but the string was too dead and control oriented. When I dropped the tension to 50 lbs the string opened up considerably. I was getting more ball pocketing and a higher launch angle on my shots. The result was more depth and pace without a ton of effort. Still, even at 50 lbs it was a low-powered string."
Spin - Score: 92
In addition to giving our playtesters the needed control to maximize their stroke speed, Revenge is designed with a slippery silicone coating to help it slide out of position and snap back with more force. The result, as confirmed by Mark, is impressive spin potential. He said, "With my super open string pattern, this particular poly really shone. It not only provides the needed durability, but the slick coating also allows the strings to slide around and move back into place before the next strike of the ball. It's a great string for spin and perfect for the string-breaker who wants to get more milage out of an open pattern."
With his high stroke speed, Chris was able to unlock the spin-potential of Revenge. He said, "I got a decent amount of spin from this string. Again, the string performed better at a lower tension. I found I was getting more ball pocketing, and it felt like the strings were able to slide more for some added spin. This string did not grab and spin the ball like Babolat RPM Blast, Polyfibre TCS or Luxilon 4G, but the fact that it is so low powered allowed me to swing quickly. With a fast swing I was able to get ample spin on my shots."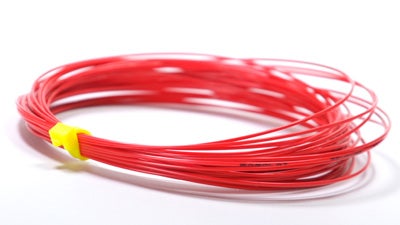 Comfort - Score: 55
Revenge is one of the firmest strings we've tested in the Tennis Warehouse string lab. As such, it's not likely to offer much comfort. This didn't bother Chris, who not only prefers firmer strings but also understands that tension is the key to comfort. He said, "At 55 lbs this string felt stiff and pretty unforgiving. Once I made the tension drop the string had more give, but it is still a firm co-poly. If comfort is a priority, I wouldn't recommend this string, but for me it felt just fine."
Mark also used a lower tension to get some comfort from Revenge. He said, "At 52 pounds I didn't sacrifice any control, and I never once had a twinge of discomfort - and the 99 S is a stiff frame."
Control - Score: 93
Put simply, our team had amazing control with Revenge. Neither of our players reported having to decelerate in the hitting zone or hunt for the right swing speed. Not surprisingly, Chris appreciated the luxury of being able to swing big. He said, "This was by far the high point of the string's performance for me because the level of control was very high. The feel of the string is crisp and firm. That firm feel allowed me to swing very aggressively, and I did not have to worry about the ball flying long. I felt like I could stay on the gas on every shot, and my shots would drop inside the lines with this string."
Revenge proved perfect for taming Mark's racquet and its ultra-lively string pattern. He said, "The control this string added to the 16x15 pattern of the 99 S is amazing. I do not think that Babolat intended this, but it pairs perfectly with this frame type. Control was top-notch. After all, it is a poly."
Playability Duration - Score: 88
For Chris, Babolat Revenge definitely stood the test of time. He said, "When first strung up this string felt firm and crisp with little power. After hitting it for three weeks this string felt firm and crisp with little power. Something tells me a year from now it will feel firm and crisp with little power!"
Mark was also satisfied by how long Revenge lasted, though he did notice some minor changes in the response. He said, "After 10-12 hours of pretty hard use the string still performs well, but has lost a little of its crispness. It has not notched quite as quickly as other polys have in the Steam 99 S. I never really considered using this poly until now."
Overall - Score: 86
Likes
Mark - "I love the way this string complements the wide open pattern of the Steam 99 S. It is stiff, has a hard outer coating and maintains its tension well, which pairs perfectly with this frame type."
Chris - "I liked the control the most, and I liked how it opened up more at lower tensions for better ball pocketing."
Dislikes
Mark - "Hypothetically speaking, if the frame used for the test had a firm beam and dense string pattern I probably would have had some arm discomfort. That, I would not have liked."
Chris - "A tad on the firm side even for me, but tension adjustments corrected that issue."
Comparing the string to others they've tried, our testers said:
Mark - "Luxilon 4G, Babolat Duralast, Kirschbaum Pro Line X and Tecnifibre Red Code are other crisp feeling polys that I have played with."
Chris - "This string felt firm, like many other Babolat co-poly strings. Babolat Hurricane feels somewhat similar, and I found Solinco Outlast to feel similarly crisp and control oriented."
Scores
(Scores are determined by averaging individual play test scores)
Mark's Scores
Power
3
Playability Duration
9.5
Spin
9.7
Durability
9.5
Comfort
6
Control
9
Touch
9
String Movement
9
Overall
9.3
Chris' Scores
Power
3
Playability Duration
8
Spin
8.7
Durability
9.5
Comfort
5
Control
9.6
Touch
8.5
String Movement
8
Overall
7.9
Playtester String Setups
Mark:
Playtest Racquet: Wilson Steam 99 S
Playtest Tension: 52 lbs.
Typical String: Polyester 16
Chris:
Playtest Racquet: Wilson ProStaff 6.0 95
Playtest Tension: 50 lbs.
Typical String: Volkl Cyclone 16

Review date: March 2013. If you found this review interesting or have further questions or comments please contact us.
All content copyright 2013 Tennis Warehouse.