Babolat Pure Storm Tour
Babolat offers the Pure Storm Tour racquets as replacements for the popular Pure Control series, which was known among players for what its name implies: control. With the Pure Storm Tours, Babolat tried to find the right blend of control, power and feel for a player's stick in a midplus head size.

In its recipe, Babolat mixes Carbon Xtreme and Woofer technologies. The Carbon Xtreme features braided carbon in the hoop to increase torque resistance and enhance feel, while Woofer brings power to the party and helps dampen string vibration.

The Pure Storm Tour is available in two lengths - the Standard at 27 inches long and a 27.5 inch long Plus version. Armed with Babolat's latest control-oriented midplus player's sticks, the TW testing team hit the courts. Both racquets are reviewed here.
Babolat Pure Storm Tour
Groundstrokes
From the baseline, our playtest team found a surprisingly soft and forgiving response from the Babolat Pure Storm Tour. Off-center shots didn't seem as jarring as with other racquets in the same category, while shots hit in the sweetspot felt like butter. The open string pattern seemed to be built for imparting tons of spin on both topspin and slice shots.
The Pure Storm Tour proved to be Danny's favorite Babolat racquet yet. "This was the best Babolat racquet that I have ever tried. Feel and flexibility are what make a racquet good for me. Right off the bat, I thought the Pure Storm Tour had great feel and it definitely worked out for my game. I couldn't let go of this racquet. The amount of spin, consistency and depth that I obtained from the baseline was exceptional. The depth of my groundstrokes was good, and it came to me naturally, which is hard to find in most tennis racquets." Chris enjoyed the softer stringbed. "I found a soft feel from this racquet off the ground - especially toward the tip of the racquet. I preferred the racquet strung toward the lower end of the tension range as it made the contact feel even plusher, plus it boosted the power level nicely. I tried a bunch of different types of string and tensions in this racquet and found it to be very string sensitive. When I strung it above mid tension I found the power dropped off dramatically outside of the sweetspot. I was able to find a decent amount of spin, but I never found the spin or power I enjoy with my Becker Pro. With the tension low, I liked the response of the racquet on slice backhands and enjoyed the feel on approach shots."
Needing some time to get used to the racquet was Jason. "For being labeled a player's racquet I thought the racquet had a decent amount of power. Initially the racquet felt a bit sluggish, but I adjusted after some hitting. My groundstrokes felt solid and I felt there was plenty of spin coming off the racquet. I preferred using a poly as opposed to our standard multifilament string for added control and a firmer feel. This was definitely a softer feeling racquet than what I am used to." Troy felt right at home with this stick. "Immediately I noticed that this racquet had a softer, more flexible feel compared to any Babolat I had tried before. I felt comfortable taking large cuts at the ball, finding the power level to be relatively low. The power level also seemed to be somewhat inconsistent. There was suitable power when cleanly striking the ball in the sweetspot, but when hitting the ball off center there was a big drop-off in power. I was able to generate plenty of topspin and slice off both wings. I had no problem opening up the court with angle shots as I was easily utilizing spin with this racquet. I had no problem with maneuverability -- being that the static weight and swingweight are nearly identical to my own racquet."
The classic, player's racquet specs of the Pure Storm Tour fit right in line with Granville's classic strokes. "After a brief warm-up I was enjoying the soft flex and clean, crisp finish of this racquet. Unlike the familiar power of the Drive line, the Pure Storm Tour offers that comfortable precision and performance spec of the best heritage racquets. The racquet felt soft at impact and forgiving, even when I was a bit off-center on contact. I enjoyed the flexibility for control, depth and precision, yet I had power on demand for some added pace."
Volleys
Our testers were impressed with the feel, control and stability they found at net with the Pure Storm Tour. Feeling at one with the racquet was Chris. "I liked the level of comfort and stability this racquet offered at net. I felt like I could get the racquet to the ball quickly on low volleys and flick angle volleys during doubles play. I was impressed by the maneuverability, considering it offered such a solid feel at contact. I felt pretty well connected to my volleys with this racquet. When going for short angle and touch volleys, I was confident I'd find my targets."

Granville enjoyed the generous sweetspot. "I found it to be solid with good punch. This racquet has a very generous sweetspot. The familiar specs proved instantly comfortable for me at net. I thought the balance felt excellent and provided a very maneuverable racquet. The added headsize of the 98 square-inch head over my regular racquet's 95 square inches just enhanced the overall feel and power of the stick for me."

Both Jason and Troy enjoyed the soft feel. Jason said, "It seemed like this racquet was more forgiving and comfortable than most other racquets that I like. At net I was able to get some solid stick on volleys when I made solid contact. Maneuverability was average." Added Troy, "I really enjoyed the softer feel that this racquet offered me while at net. The flexibility of the racquet seemed to really enhance my ability to place my volleys and feather drop shots. The mass provided great stability. I enjoyed the way the racquet plowed-through the ball at contact. Even with the near 12 ounce weight I found good maneuverability, which allowed for good pace and depth on my volleys."

Danny found the groove with the Pure Storm Tour at net. "My volleys were solid with this racquet. My volleys have been kind of erratic lately, but when it comes to feel and touch at net, I thought the racquet was awesome. The amount of control I had with this racquet boosted my confidence at net. I also felt more assertive at net with this racquet when it came to touch and angle volleys."
Serves
The Pure Storm Tour provided plenty of control and spin on serve for our testers, but surprisingly there was a noticeable lack in pace for some. Troy's serve was very reliable with this racquet. "I found a really consistent and controlled response when serving, which surprised me, being that this was not necessarily true of my groundstrokes. This racquet allowed me to get a lot of spin on serves, which is necessary, since there wasn't a ton of pace on them. I really liked the control, finding it very beneficial on a flat serve out-wide or down the T. The combination of maneuverability, mass and flexibility made it a very comfortable serving racquet. It felt more arm-friendly than any other Babolat I've tried in the past."
Danny couldn't believe how well he was placing his shots. "The amount of control and consistency I had on my serves with the Pure Storm Tour was great. My first serve percentage was higher with this racquet than most. I found the same great consistency for the entire test. I didn't get as much spin on my second serve as I would have liked, but that didn't kill my opinion of this racquet when serving, which was nothing but good thoughts." Needing to put some extra elbow grease into his serves was Chris. "Again, great comfort, but I was lacking some pop on serve. I could hit with pace, but it took a lot more effort than I'd be willing to put in over a long match. I could see myself getting pretty tired using this stick in a tournament situation where I'd have to play several matches over a weekend. I could find a decent level of spin - nothing spectacular, but enough to keep my serves consistent."
Jason had some mixed emotions. "The good news was I was consistent with it on both first and second serves. The bad news: The tradeoff for all that consistency was a loss in power. I liked the spin I was able to put on the ball. That's where the consistency stemmed from. I found myself scrambling to stay in points after my opponents took aim and fired off when returning my serves." Painting the lines with his serves was Granville. "I was serving very well with the Pure Storm Tour from the get-go. Targeting was spot on, and my bread and butter serves were all alive and well with the Pure Storm Tour. The only area that could have been improved was power. Despite my best efforts, I was not able to generate any additional power with this racquet."
Returns
The majority of the playtest team experienced successful returns of serve with the Pure Storm Tour. Finding returns to be one of his standout shots with this racquet was Jason. "I returned pretty well with this stick, more so than the Plus version. I felt that I had a bit more control, and I didn't need that extra power that comes with the extended version. The weight definitely helped with handling the big serves. I think this is one of the strong points of this racquet." Unlike the other playtesters, Troy had a tougher time returning serves. "I never really seemed to find my groove when returning with this racquet. I seemed to encounter the same difficulties that I had when hitting my groundstrokes. There were times when I had good pace and depth on my returns. It seemed that if the ball wasn't clearly in my wheelhouse my returns were not effective. This all became most noticeable when playing doubles. Timing and maneuverability were not an issue for me, but the power level and depth on my returns were inconsistent."
Granville was able to get the racquet to do what he wanted. "The Pure Storm Tour proved itself a solid performer, as I had accurate and consistent service returns. As with most racquets in this player's category, it will do whatever it is you ask the racquet to do. More often than not I am placing the returns to specific targets, often blocking the ball with some under spin to keep the return low. When the opportunity was there, I got over the ball and drove it down the line or crosscourt. There were no surprises, and that is what I like in a racquet. The solid and consistent 'rebound' allowed me to get in the groove that much faster in a match."
Danny was firing off both wings with this racquet in his hand. "Considering the good feel, spin and consistency that I had from the baseline with this racquet, I wasn't surprised by how good my return of serve was with the Pure Storm Tour. One of my last days of testing was a day that I was playing doubles with a few other testers, and I don't think that I missed one return of serve." Chris was able to be both offensive and defensive with his returns. "I enjoyed the stable response of the racquet when returning. I was able to utilize the server's pace and direct the ball deep and to the corners. I continued to enjoy the soft feel from this racquet. I felt comfortable slicing and punching returns as well as taking a good cut at the ball."
Overall
Across the board, our playtest team agreed that the comfort and spin on the Pure Storm Tour was outstanding. Babolat's Carbon Xtrem technology located in the hoop of the frame provided a soft, yet responsive feel. The racquet also impressed our testers with some solid stability at impact, providing lots of comfort from all areas of the court. The classic feel and response makes the Pure Storm Tour a good fit for the advanced player (NTRP 4.5+) with a more aggressive stroke. Lastly, we highly recommend completely ignoring the "Lead Tape Location Here" decal at the tip of the racquet. See our racquet customization article for appropriate lead tape locations.
The "Likes" of the racquet.
Chris "I liked the feel I found on touch shots with this stick. I was also impressed by the comfortable response."
Jason "I enjoyed the power and spin. It was definitely more powerful than I expected from an advanced player's stick."
Troy "It was nice to find Babolat offering a player's frame that possessed a flexible, 'buttery' feel. I really enjoyed the response of the racquet when hitting my volleys and serves."
Granville "The specs land right in my sweetspot. I was instantly comfortable with it in my hand. The cosmetics are somewhat muted, yet aggressive."
Danny "I liked the overall feel and play of the Pure Storm Tour. I loved the flexible feeling that this racquet offered. The spin and natural depth of my shots that I obtained with the Pure Storm Tour boosted my confidence and helped me be decisive."
The "Dislikes" of the racquet.
Chris "Not enough power on serve for me. OK for one match, but it would get tiring during a tournament."
Jason "The racquet was just a tad too flexible for me, but once I got acclimated to it, it was fine. I also found a lack in power on my first serves. It seemed like I really had to muscle it to get some pop. "
Troy "I couldn't find consistency in power and depth on my groundstrokes and serve returns."
Granville "The test racquet had a squeaky/loose butt cap. I never like reflective materials on racquets that glint in the sunshine, the Carbon X and Babolat decals do around the hoop and shaft. Lastly, Babolat needs to remove the location of their 'Lead Tape Location' decal at the 12:00 position. Unlikely I would ever put lead tape there , and if you do need to put lead there, there are better racquet options out there."
Danny "None."
Technical Specifications

Length
27 inches
69 centimeters
Head Size
98 square inches
632 square centimeters
Weight
11.8 ounces
335 grams
Balance Point
12.75 inches
32 centimeters
6pts Head Light
Construction
21 mm Straight Beam
Composition
Graphite Carbon Xtreme
String Pattern
16 Mains / 20 Crosses

Babolat RDC Ratings

Score

Grade

Flex Rating
63
Range: 0-100
Swing Weight
333
Range: 200-400
Babolat Pure Storm Tour Scores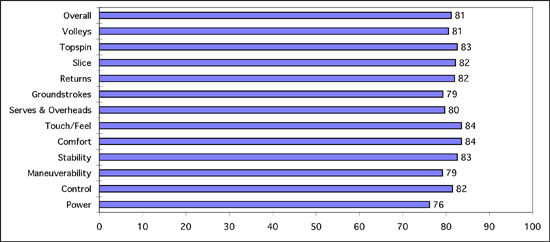 (Scores are determined by averaging individual play test scores)
Babolat Pure Storm Tour Plus
Groundstrokes
Our playtest team had some mixed feelings about the Pure Storm Tour Plus while hitting groundstrokes. Able to generate more pace with this 27.5 inch length stick was Troy. "The first difference I noticed in the Plus version, compared to the Standard, was that I was generating more pace on my groundies. I was finding a big improvement in my two-handed backhand. I was really getting some leverage from the added length. I found myself consistently hitting a heavier, flatter ball than I usually do with my style of play. I had a bit of a problem with maneuverability when striking the ball on the run or trying to flick the ball back when stretched out on the court. There was still a drop-off in power when not hitting the sweetspot, but I was more comfortable at the baseline with the Plus, which resulted in me taking larger cuts and being more aggressive."

Granville didn't find the extra length to fit well with his game. "I really struggled with the added length - it felt long, and it was. Its length affected every shot. It is clear that long racquets do not fit my game. I was late on both sides, seriously late on my down the line approaches, and my drives were several feet off the mark. If I were playing with my racquet and had those results, I'd hit the golf course. I found myself attempting to negate the length by choking up on the grip. Granted, the racquet is solid with a very good feel, but it would take some time for me to adjust my game to fit the racquet, and that just won't happen."

The only playtester to prefer this racquet off the ground was Chris. "I preferred this racquet off the ground compared to the standard length version. It's rare that I prefer the longer version of a racquet, but such was the case here. I was able to hit with more spin and power from the baseline with this racquet. I felt like I was getting the tip of the racquet to come around with much more pace, and that was making the difference from the back court. This one had the same soft response I enjoyed in the standard, so I didn't feel like I was losing any control or touch. I enjoyed the extra leverage on both my forehand and two-handed backhand."

Jason was having some difficulty controlling his shots. "It seemed to me that this was a different beast than the standard version. It's just half-inch longer, but it felt much more powerful. I found myself hitting balls deep and I lacked control. There was a noticeable lack in maneuverability with the added length, but this racquet still had the soft, dampened feel and the good access to spin." Danny added, "I wasn't as fond of this model as I was with the standard version. I thought they played totally differently from the baseline, which was surprising to me. An extra half-inch in length usually doesn't throw me off that much, but it did with this racquet. I didn't have much control or feel with the longer version from the baseline. I was spraying balls into the net and long. I tend to use a decent amount of wrist with most of my strokes, and I think the extra length irritated my wrist. There was just too much racquet for me to swing."
Volleys
Our playtesters had better success at net with the Pure Storm Tour Plus. The team found a forgiving and soft feel to go along with the added reach.
Once honed in, Granville saw positive results. "I could sense the added reach on wide volleys. But as the sweetspot extends away from my hand, it feels as though my control is proportionally diminished. Once I found the sweetspot the racquet provided good pop and a soft, comfortable response." Jason had an easy time with his overheads. "This racquet was decent at the net. Obviously, I had extra reach on lobs and passing shots, but I also liked the spin and touch it provided. Although not too maneuverable, it was great for hitting 'sitters'; putting away shots with power was easy." Having to hold back a bit was Danny. "I had a similar experience at the net as I did at the baseline with the Pure Storm Tour Plus. I didn't like the feel, touch, consistency or maneuverability with this model. An extra half-inch of length does help you out with reach, but my maneuverability wasn't good when balls were hit right at me. The racquet had too much power at the net for me. I guess I could have choked up on the grip to give me more control and feel at the net, but that isn't something I would want to worry about when I'm playing a match."
Needing some time to adjust was Chris. "I volleyed well with this racquet. Once I adjusted to the added length it was business as usual. I was able to find my targets both when volleying deep and when looking to cut a short angle. The stability and comfort impressed me, and I was able to keep some wide, stretch volleys in the sweetspot, as opposed to the tip of the racquet."
Troy preferred the more maneuverable 27 inch model. "The Plus version maintained the flexible feel that was evident in the Standard. The main difference I noticed at net was that the extra length hindered the maneuverability. I found it most difficult to position the racquet on shots hit directly at my body or when stretched-out."
Serves
The benefits of the additional half-inch manifested itself on the serve. Our playtesters found the Pure Storm Tour Plus to provide ample amounts power on first serves, and generous spin on the second.
Chris was impressed by the all around performance. "It took me a long time to adjust my serve to the length of the racquet, compared to my other strokes. However, once things started to click I was impressed with the pace and spin I was getting. This racquet offered me a lot of control and comfort, but pace and spin were the most impressive factors. I felt like I had a lot of options serving with this stick, and that's always a good thing."
Not quite able to put his finger on the success of his serves was Jason. "I can't really pinpoint what it was, but I was able to serve really well with this racquet. I was more consistent and was serving with a tad more pop. My slice second serve was effective, as it didn't allow the returner to tee off."
Loving the extra pop he got off his serve was Troy. "The Plus maintained the control and spin found in the Standard, but with some added power. I enjoyed going for a little more speed on serves with the Plus. I definitely found the added leverage gave my serves a little more punch, just as in my groundstrokes. The maneuverability was not affected as much on serve as it was when at net. The Plus gave me more confidence to go for a little more on my serves. I definitely feel like it added some power."
Granville's second serve had more kick than David Beckham. "Well, if there is a benefit to added length, the serve is where it shows itself. I was spanking my serves with excellent precision on my first serves. Second serve kickers were also showing great additional action, which of course is a good thing."
Pulling his opponents out wide with sharp angles was Danny. "Serving was the best quality that this racquet had to offer for me. My first serve percentage with this racquet was better than with the shorter version. Serving isn't something I rely on for my game to be successful, but it was something I noticed. The extra half-inch really did improve my ability to hit angles into the service box for a higher percentage."
Returns
Our playtesters found the results in their return games similar to their experiences on groundstrokes. The players had varied opinions on how well the Pure Storm Tour performed on returns. Both Chris and Jason found plenty of power on their returns. "I continued to use the added length of the racquet to my advantage on returns, " Chris said. "I was taking a solid cut at the ball and enjoying good pace and spin. I felt well connected to my shots and was returning confidently in both singles and doubles play." Added Jason, "Once again, I had to take some time and familiarize myself with this extended stick, but once I did, I found some decent results. On second serves, when I had time to prepare, I could really attack deep with my return. It was the first serves that exposed this racquet's weakness. It wasn't necessarily that I couldn't get my racquet on the ball. I was spraying returns wide, and the racquet just felt sluggish and slow getting to where I wanted it go."
Danny struggled to find his timing. "Considering my inconsistent play from the baseline with the Pure Storm Tour Plus, I wasn't surprised that my service return wasn't to my standards. My timing was hard to find with this racquet. I was late to the ball on some of my service returns, and I think that is because of the extra length." Troy had his share of ups and downs with this racquet. "The Plus was a little too demanding for me when returning serve. When the ball sat up in my strike zone I felt comfortable taking an aggressive cut, but the maneuverability held me back when facing a heavier serve. When I was able to strike a clean serve I found a lot of control, allowing me to get good placement and depth. Overall, I returned well with the Plus, but I would have liked more maneuverability, which is a must for me to be more aggressive and offensive on my returns."
Granville sums it up well. "Here again, the added length adds time to your preparation. If ahead of the ball with weight forward, you will enjoy the power and comfort of this racquet. If you are late, you're going to be later."
Overall
The Babolat Pure Storm Tour Plus racquet offers quite a bit more pop than the Pure Storm Tour. The same soft, plush feel the playtest team experienced with the Pure Storm Tour was also evident in the Plus version. Opinions were mixed in every category except for the serve. The playtesters all enjoyed the additional power the racquet provided, and the reduction in maneuverability was a non-issue here. This is a racquet that advanced 4.5+ players can utilize to add some pop to their groundstrokes and serve.
The "Likes" of the racquet.
Chris "I enjoyed the benefits of added power and spin without any maneuverability issues. Just like the standard, I liked the comfort, too. Racquets like this might just change my opinions on longer sticks."
Jason "I really liked it for serving. Spin on all shots was more than adequate."
Troy "The extra length on the Plus allowed for some extra power that was most evident on groundies and serves. I definitely liked the Plus more when hitting from the baseline. I found that I could get good leverage on my two-hander, allowing me to rip hard and flat."
Granville "Serving with this racquet reminds me how great it is to get some easy, cheap points."
Danny "I loved this racquet for serving."
The "Dislikes" of the racquet.
Chris "No real dislikes for me. I liked hitting with this stick."
Jason "It was too powerful and flexible on groundstrokes. I found it to be slow to come around on almost all shots. I would've liked it to be a few more points head light."
Troy "Even though the extra length added some power to my groundies and serves, it also made the racquet harder to maneuver while at net and when having to return fast serves."
Granville "Added length reveals the lack of maneuverability."
Danny "I didn't like the overall feel of the racquet from the baseline or net."
Technical Specifications

Length
27.5 inches
70 centimeters
Head Size
98 square inches
632 square centimeters
Weight
11.8 ounces
335 grams
Balance Point
12.625 inches
32 centimeters
9pts Head Light
Construction
21mm Straight Beam
Composition
Graphite Carbon Xtreme
String Pattern
16 Mains / 20 Crosses

Babolat RDC Ratings

Score

Grade

Flex Rating
62
Range: 0-100
Swing Weight
336
Range: 200-400
Babolat Pure Storm Tour Plus Scores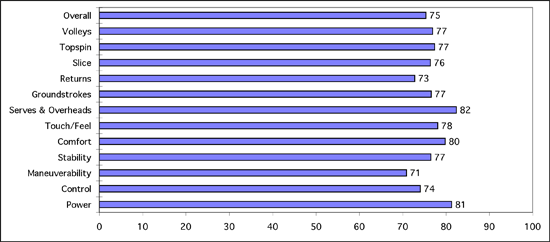 (Scores are determined by averaging individual play test scores)
Playtester Profiles

Chris
5.0 baseline player currently using the Becker Pro. Chris uses a full-western forehand grip, has a fast swing style and hits a two-handed and a one-handed backhand.
Granville
5.5 all-court player currently using a Wilson K Factor Six-One Tour 95. Granville is an aggressive player who uses an eastern forehand grip and goes continental on everything else, hits with a flat swing and a one-handed backhand.
Danny
Open baseline player currently using a Wilson K Factor KTour. Danny uses a semi-western forehand grip, a two-handed backhand and has a long swing style.
Jason
4.0 baseliner currently using a Head Microgel Radical Midplus. Jason has a fairly aggressive semi-western topspin forehand and hits a one-handed backhand.
Troy
4.5 Troy plays left handed, hits a two-handed backhand and goes western on his forehand. He is a baseliner and hits with a lot of spin. Currently Playing with the Dunlop M-Fil 300

Review date: May 2008. If you found this review interesting or have further questions or comments please contact us.
All content copyright 2008 Tennis Warehouse.