Babolat Pure Strike 16x19 Racquet Review

Babolat Pure Strike 16x19 Scores
Power
80
Comfort
81
Touch/Feel
80
Serves
81
Groundstrokes
82
Returns
84
Slice
79
Topspin
82
Volleys
79
Overall
82
Upsides
Control
Spin potential
Feel
Maneuverability
Summary
Babolat created the Pure Strike 16x19 for players looking for the precision and feel they need to be the first striker on the court. A variety of technologies (Evo Beam, X Sider, Response Woofer and Stabilizer Technology) adds more forgiveness outside the sweetspot and create a fast, control-oriented racquet. We found more power, more comfort and a larger sweetspot with this 16x19 string pattern than we did with the 18x20 version. The maneuverability and crisp feel allowed our playtesters to finish points at the net with ease, but the serve return was the hands down favorite shot for our playtesters to hit. The Pure Strike allowed them to take the ball early and hit a variety of aggressive returns. All in all, intermediate to advanced players looking for a fast and controllable racquet for singles or doubles should give the Pure Strike 16x19 a try.
Groundstrokes - Score: 82
Our playtesters found more power in the Babolat Pure Strike 16x19 than they did from the Pure Strike 18x20. Chris compared the two string patterns, saying, "Just like the 18x20 string patterned version of this racquet, I found this one easy to swing from the baseline. Because it was so fast, I found it easy to take a good rip at the ball. I was turning all of the racquet head speed I was generating into solid pace and spin. Depth and pace came easier thanks to the more open string pattern, and this was a very easy racquet to rally with. I had good success adding some extra spin to both loopy groundstrokes and angles. When driving hard, flatter groundstrokes, I found I didn't feel quite as in control of the depth of my shot as I did with the 18x20 version. When I missed with the 16x19 it was usually long, but the difference wasn't huge and I adjusted easily over the course of the month-long test. On the plus side, I thought the 16x19 was more comfortable, and the sweetspot felt larger."
"After hitting with both string patterns of the Pure Strike, I think I definitely prefer the 16x19 pattern over the 18x20," said Brittany. "I found the 16x19 to have a bit more power and a slightly larger sweetspot. However, for me this was a much more control-oriented racquet compared to Babolat racquets like the Pure Drive or AeroPro Drive. I thought this racquet was fast, maneuverable and very stable. I found success taking the ball early and directing the pace back at my opponent, but I struggled to create power on my own."
Jason agreed. He said, "In many aspects, this racquet played very similarly to the 18x20 version. I liked how much control I had, whether I was hitting a cross court or down the line shot, but what I liked the most was the increase in power. It had really nice ball pocketing, and I was hitting many more winners with this racquet than I was with the 18x20."
Michelle really keyed in on the first strike mentality during this playtest. She explained, "I had a bit of what I am going to call an 'adjustment period.' It took me about 30-40 minutes of drilling groundstrokes to really dial in what worked and didn't work for me with this racquet. I felt like I had to truly strike the ball big to get the results I wanted. The raw power that I find in something like a Pure Drive or Wilson Juice wasn't as prominent, but when I drilled the ball I was rewarded with a penetrating shot and I appreciated a bit of extra control. When I was hitting more of a 75 percent rally ball, I never felt like I had enough on my shot to be too dangerous, but I did feel like I could hit my targets really well. I was also rewarded when I knifed my slices, relying more on speed and less on touch. I had an easier time striking the ball big consistently with the lower swingweight."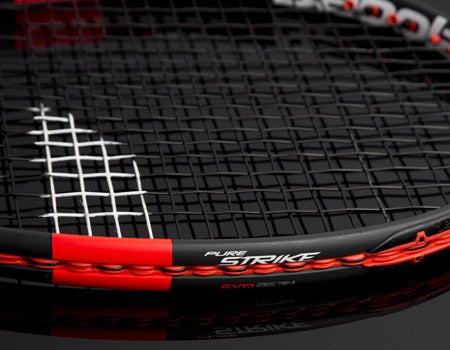 Volleys - Score: 79
The crisp and responsive feel of the Pure Strike 16x19 gave our playtesters confidence at the net. Jason had a lot of success using his volley to finish points. He observed, "The open string pattern not only increased spin, but it also opened up the sweetspot. I really enjoyed this racquet up at net because it did a lot of things well. The maneuverability made quick volleys and overheads easy, and I really enjoyed the feel and touch."
Finding versatility at the net was Brittany. She said, "I played a lot of doubles with this racquet, and I'm glad I did. I thought the racquet was stable enough to return even the hardest hit passing shots. I also enjoyed the touch and felt connected to the ball when it made contact with the stringbed. I was able to hit a variety of volleys and even had some good half volleys."
"I liked this racquet at net," offered Chris. "It was easy to get it into position, and I thought the response felt pretty crisp and precise. I felt confident when punching volleys and felt connected to my shots thanks to the very clean response. I was able to cup under the ball and easily add some underspin to my volleys when desired. I preferred this racquet when I punched through the ball because it improved the response. This racquet pushed around a little when I was blocking volleys or looking to bleed pace off the ball on a drop shot. However, it was a very minor issue, and I was able to play around it. If I were to switch to this racquet I'd add a little weight to improve the stability, but only half an ounce or so because I wouldn't want to hinder the excellent maneuverability."
Michelle had some mixed results. She explained, "This racquet has a soft and comfortable feel up at the net, but I did feel like I had to really go after my shots aggressively. There were times that I struggled with stability when reaching for a ball, and I just never felt like I had enough behind my shot unless I hit it perfectly and had a good amount of punch behind it."
Serves - Score: 81
A blend of maneuverability, control and feel from the Pure Strike 16x19 allowed our playtesters to really go after their serves. Jason raved, "I was serving really well with this racquet. It was maneuverable enough for me to hit a high percentage of my serves in, and I was getting more power than I got from the 18x20 version. I found control to be above par as well."
This racquet suited Chris' serve. He said, "I was able to get good pace and spin. I felt connected to my targets, and the racquet had just enough mass for me to get the ball to penetrate the court decently. I liked the feel and response of this racquet. It was easy to accelerate through contact, and that resulted in good pace. Both my first and second serves felt consistent, and I was pretty much firing on all cylinders."
Brittany said, "The Pure Strike 16x19 rewarded me on serves, and I felt like I could go full force and still have the control to keep the ball in the service box. While I didn't have as much power, I really liked playing with the placement of my serves and mixing up slice, kick and flat serves. While I usually aim toward the middle of the service box on my second serve, with the Pure Strike 16x19 I felt comfortable picking a target and going after the serve."
Michelle found the most success hitting spin and kick serves. She said, "I really enjoyed hitting slicing serves off the court, and the 16x19 string pattern really helped me get good kick on my second serves. I could hit them pretty confidently."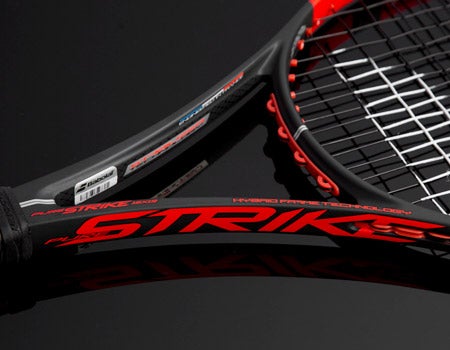 Serve Returns - Score: 84
Our playtesters were able to start points off aggressively when returning serves with the Pure Strike 16x19. Brittany had nothing but positives to report, saying, "Returns were my favorite shot with this racquet. Between the maneuverability and stability, I felt like I could do no wrong. I loved being able to step in and take the ball early and redirect my return wherever I wanted it to go. The racquet felt stable on impact no matter what serve was hit at me."
Michelle agreed, saying, "I felt like I could really take rips on my return with this racquet. Because of that first strike mentality, my aggressive return style was rewarded. I spent some time playing doubles with this racquet, which is always a good test for my return, and found it really helped get my returns to dip. I could also rip one up the line, which is always a good thing for me!"
"I thought this racquet was a great option for returns," offered Chris. "The fast feel, crisp response and easy access to spin resulted in a fun racquet to use when returning. I was able to hit all of my shots so I felt confident, and I was taking good aggressive swings at the ball. I found this to be a very good racquet when I was looking to hit a sharp angle return. I could get lots of spin and had no issues getting the racquet around the outside edge of the ball. On more powerful, deep returns I was able to find some solid pace. I felt like the pace and spin I was getting more than made up for the lack of mass. I was able to find enough stability from this racquet even against bigger servers."
This racquet shone for Jason. He said, "I liked how versatile I could be with my returns. I could be aggressive and go for a big return with confidence, and when the serve came in with some some heat I was able to block it back with depth. When I was pulled out wide I had success slicing my returns back with enough depth to get myself back into the point."
Overall - Score: 82
Likes
Chris - "I liked the spin, pace, crisp feel, maneuverability and larger sweetspot (compared to the 18x20 version)."
Michelle - "I liked the 16x19 string pattern on this racquet more than the 18x20 because I could get a lot more power and spin out it. I loved being rewarded when I hit big."
Jason - "The control, maneuverability, feel and spin."
Brittany - "I liked the control, stability and maneuverability this racquet offered."
Dislikes
Chris - "Not quite the same level of control on flat shots and approach shots that I found from the 18x20 version."
Michelle - "This isn't necessarily a dislike, but I had to realize that this racquet isn't loaded with the same power that I find with a Pure Drive."
Jason - "I struggled with my slice a little bit."
Brittany - "This racquet didn't have enough power for me."
Comparing it to other racquets they've used, our testers said:
Chris - "I found better pace and topspin from this one compared to the 18x20 version, but not as much control. Even though this frame is more forgiving, I prefer the controlled response of the 18x20 version, and it would be my pick of the two. It was not an easy decision to make, and I like both immensely. I could also just use a thicker gauge string in this one and/or bump up the tension to increase control, but given the choice between the two, I can't help but lean toward the 18x20. Compared to other brands, the Pure Strike 16x19 is right in there with the Wilson Blade 98 16x19, and both outplay other racquets with similar specs, such as the Head Graphene Radical Midplus and Dunlop Biomimetic F4.0 Tour."
Michelle - "The Pure Strike 16x19 reminds me a bit of the Wilson Blade 98 16x19. Both offer some rewards off the stringbed when hitting an aggressive ball, yet still maintain directional control."
Jason - "A souped-up version of the Pure Strike 18x20: more power, more spin, larger sweetspot."
Brittany - "This racquet played very similarly to the Volkl Organix V1 Pro. Both are control-oriented racquets that are stable and maneuverable. I liked the feel of the Volkl slightly more because it was more comfortable to me."
Technical Specifications

Length
27 inches
69 centimeters
Head Size
98 square inches
632 square centimeters
Weight
11.3 ounces
320 grams
Balance Point
12.87 inches
33 centimeters
5pts Head Light
Construction
21 mm / 23 mm / 21mm
Composition
Graphite
String Pattern
16 Mains / 19 Crosses

Babolat RDC Ratings

Score

Grade

Flex Rating
66
Range: 0-100
Swing Weight
320
Range: 200-400
Scores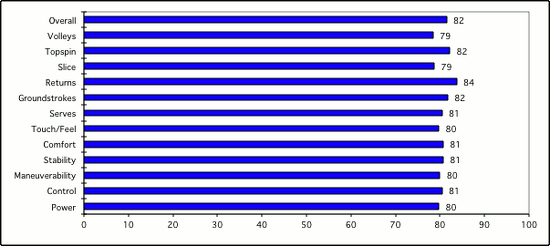 (Scores are determined by averaging individual play test scores)
Chris' Scores
Power
8
Serves
8.1
Control
8
Groundstrokes
8.1
Maneuverability
8.2
Returns
8.3
Stability
7.9
Slice
8
Comfort
8
Topspin
8.5
Touch/Feel
8
Volleys
8
Overall
8
Michelle's Scores
Power
8.2
Serves
7.9
Control
7.6
Groundstrokes
8
Maneuverability
7.8
Returns
8.5
Stability
7.8
Slice
8
Comfort
8.5
Topspin
8.3
Touch/Feel
7.2
Volleys
7.5
Overall
8.3
Jason's Scores
Power
8
Serves
8.1
Control
8.3
Groundstrokes
8.3
Maneuverability
8
Returns
8.2
Stability
8.1
Slice
7.8
Comfort
8
Topspin
8.2
Touch/Feel
8.5
Volleys
7.9
Overall
8.2
Brittany's Scores
Power
7.7
Serves
8.1
Control
8.3
Groundstrokes
8.3
Maneuverability
8
Returns
8.5
Stability
8.5
Slice
7.7
Comfort
7.8
Topspin
7.9
Touch/Feel
8.2
Volleys
8
Overall
8.1
Playtester Profiles
Chris: 4.5 all-court player currently using the Wilson Six.One 95S. Chris uses a full-western forehand grip, has a fast swing style and hits a one-handed backhand.
Michelle: Open level baseline player with a semi-western forehand and a two handed backhand. She currently plays with the Babolat Pure Drive Roddick.
Jason: 4.0 baseliner with a semi-western forehand and two handed backhand. Currently using a Yonex EZONE Ai 100.
Brittany: Open level player with a semi-western forehand and a two-handed backhand. She currently plays with the Yonex EZONE Ai 100.

Review date: June 2014. If you found this review interesting or have further questions or comments please contact us.
All content copyright 2014 Tennis Warehouse.