Babolat Pure Drive Wimbledon Racquet Review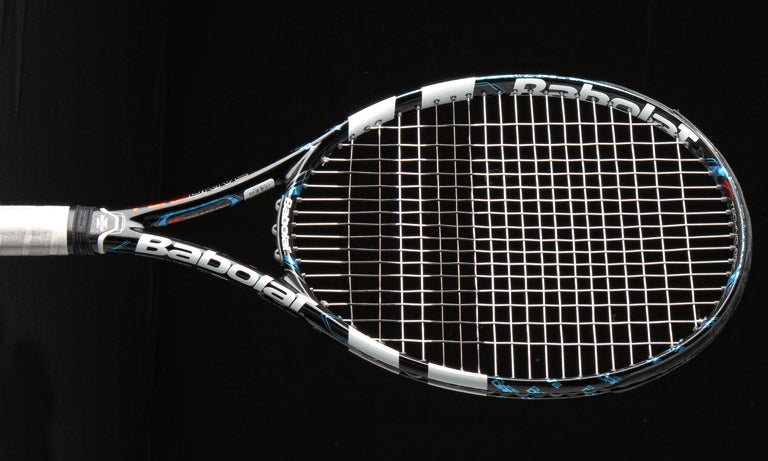 Babolat Pure Drive 2012 Scores
Comfort
76
Touch/Feel
76
Serves
83
Groundstrokes
83
Returns
84
Slice
79
Topspin
82
Volleys
79
Overall
83
Upsides
Power
Spin potential
Forgiving response
Downsides
Nothing we could agree on
Summary
Power, spin and maneuverability have been present in every version of the Pure Drive. Each previous update has improved the feel and response of the racquet, first with the addition of Woofer Grommets, then Cortex, and in the previous version, Graphite Tungsten. This latest version continues the trend. Feel is further improved with Babolat's new Cortex Active Technology. With a cleaner, more solid feel at impact, the Pure Drive had our testers zeroing in on their targets and hitting them with lots of pace and spin. This racquet still retains much of its crispness, offering a powerful, yet precise, feel at net. Our testers found they could punch volleys with lots of pace and accuracy. The Pure Drive has always impressed on serves, and this version was no different. Those seeking to serve with lots of pace and spin will find the Pure Drive to be a great option. Overall, the Pure Drive remains a racquet that can fit a huge variety of levels and styles simply by changing the string set-up. Beginners and intermediates can maximize power and comfort with natural gut or a good multifilament, while advanced players can find amazing spin and control with a co-polyester string.
Groundstrokes - Score: 83
The Pure Drive has a reputation of providing plenty of power off the ground, and our testing team found that this 2012 version stayed true to the racquet's heritage. "I played with the Babolat Pure Drive for around eight years, so picking up this racquet felt like reuniting with an old friend," said Brittany, who has an aggressive baseline style. "Immediately, I found tons of power with this racquet on my groundstrokes. In fact, so much power that I had to remember to hit with spin, otherwise my ball would sail long. Once I got comfortable with the combination of spin and power I really enjoyed being aggressive from the baseline. I even found some success with my backhand slice."
The power also aided Jason's game. He said, "Like the previous models, this one provides plenty of power and spin. But this iteration, like all the other ones before, feels more solid than the previous model. I really enjoyed that crisp response off both wings. On my forehand, because I was able to hit a heavy ball with pace, I was able to hit winners with more ease. My backhand shot is flatter, and I didn't notice the spin as much from that wing. However, I typically struggle to consistently hit with depth, so the added pop really helped me be more aggressive. The thicker beam didn't really hinder my slice shots, and when it was strung with a poly I felt like I could generate some dirty slice."
Tiffani found the Pure Drive fit her game well. She offered, "The most noticeable attribute of the Pure Drive off the ground was easy power. I didn't have to do much to get good pace on either side, and as a counterpuncher I felt like the racquet responded well to my opponent's pace. When returning balls coming in with a good amount of pace, the racquet could fire it back with ease. I don't hit with much spin, but it was easy enough to create when I needed it. When I was hitting groundstrokes the racquet felt crisp and firm, like it was not flexing much at all, but it was comfortable enough and didn't cause me any arm issues."
Sean was able to make comparisons to the previous model. He said, "Just as I had hoped, this frame performed well from the baseline. There was a little bit more of a dampened feel compared to the previous model, but otherwise it had very similar specs and feel. I thought that it could have used some extra weight to defend against harder hitters, as I was pushed around during hard fought points. I found that I was able to keep my groundstrokes deep in the court, which helped keep opponents from being aggressive. However, this racquet did have a lot of power, and I had trouble keeping everything in the court. My favorite aspect was the amazing amount of spin I was able to produce from both wings."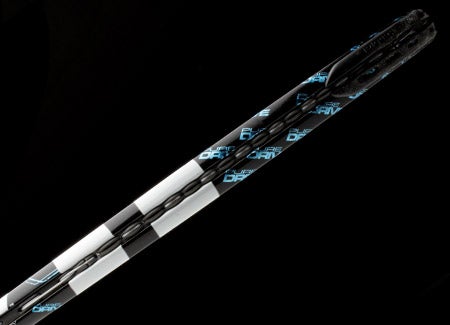 Volleys - Score: 79
The racquet continued to please the testing squad at net with its stability and power. Jason said, "For the most part, I had no big issues here. I appreciated the torsional stability, even when shots were hit off center. Again, that very solid, crisp response was felt up at net. I found that as long as I had time to set up I was able to easily execute overheads. I did find some issues hitting touch volleys, though. I guess this is where the power of the racquet backfires somewhat."
Brittany also noted maneuverability, saying, "I loved the stability and the power I got when hitting volleys with this racquet. I could hit my volleys deep into the court with some pace behind them. I did notice that I struggled with maneuverability, and I had to take a little extra time to set up for my volleys. Once set up, I found my touch and feel were right where I wanted them to be."
It was all about how Tiffani came to the net. She said, "Though I didn't excel at the net with the Pure Drive, I could volley well enough to feel comfortable approaching the net, especially because the Pure Drive helped me hit attacking approach shots. I'm not a strong volleyer, so I appreciated the power the racquet provided on volleys."
Sean didn't hesitate to come to net. He offered, "After working to improve my net game recently, I felt more comfortable making my way to the net with this racquet. I found it to be slightly more stable than previous models, and it sported more than enough power to put volleys away when given the chance. Keeping volleys deep in the court was easy as well, especially with the large sweetspot that these Babolat frames are known for.
Serves - Score: 83
Spin and pace had our playtesters enjoying their turn at serving. Tiffani felt comfortable hitting her serves. She said, "This racquet swung nicely for me. As with groundstrokes, I don't hit a lot of heavy spin on my serves. However, I could generate moderate spin and better than usual pace. It was easy to use, and I felt like I could serve through long sets pretty easily without tiring."
The Pure Drive's performance on serve surprised Jason. He offered, "I thought that I would struggle because the swingweight feels higher than I typically like, but I was surprised with my results. I slice most of my serves, and with the Pure Drive in hand I felt like I was not only getting more spin on the ball, but more power as well. I was able to hit my spots for the most part. The one shot I struggled with, and I don't know why, was going down the T on the ad side."
"My favorite shot to hit with this racquet was my serve, without question," said Brittany. "The combination of power and spin is exactly what I look for in a racquet. It suited my game style as well. I love to hit big flat first serves and kick my second serve, and this racquet did both flawlessly. In addition, I could place my serve anywhere I wanted without any difficulty."
Big serving Sean said, "As always, the Pure Drive line fits my game when it comes to serving. Easy generation of racquet head speed in combination with this frame's power makes both first and second serves effective. Although this racquet does well to provide pop on serves, I was more impressed with the spin and my ability to use that to my advantage. This racquet gives you the option of slice serves out wide, kick serves and power when you need an easy point. The versatility of this frame on serves made service games a breeze."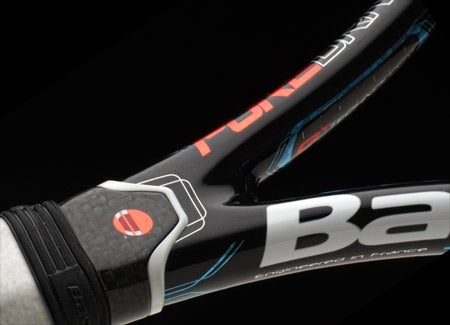 Serve Returns - Score: 84
With the power and spin this racquet could provide, our testers went on the offensive early. Sean said, "Again I would have liked more heft from this racquet to deal with big servers and add some stability to my returns. Even though it lacked some weight, I could definitely cause some damage with a well timed return. I had more success slowing my swing down and directing my shots, while letting the racquet do some of the work for me. I did feel that I had the freedom to take aggressive swings on my returns thanks to this racquet's ability to grab the ball and bring it back into the court near the baseline."
One of Brittany's strengths is her return game. She offered, "I hit a lot of solid returns with this racquet. I made a minor adjustment to my strokes at the beginning of the playtest by adding more spin to my shots to make sure the ball stayed in the court. But after that, I felt very comfortable hitting returns on both the deuce and ad side."
"Grip it and rip it!" said Jason. "I was really enjoying returning with this racquet. The power had me on the offensive immediately, and the spin allowed me to swing away, and still it landed inside the lines. Against the Andy Roddicks on our team, I was able to block serves back with nice depth. It was those times when I wanted to take a swing at a big first serve that I found the racquet to be more sluggish than my own stick. But I shouldn't be doing that anyway."
Tiffani also returned with pace. She said, "I really enjoyed the easy power on returns. As I noted earlier, the Pure Drive reacted well to incoming power, so I liked that aspect even more when it came to returns. I didn't notice any stability issues either, so I was confident when I was returning."
Overall - Score: 83
Likes
Brittany - "The amount of power I found from all areas of the court."
Jason - "The feel, power, spin and stability were what really stood out for me."
Tiffani - "The power level was great, and as a former Pure Drive user (way back before Cortex), it was familiar and easy to use from all areas of the court."
Sean - "Excellent spin potential and great power for a player's racquet."
Dislikes
Brittany - "I felt the racquet was a little stiff."
Jason - "I could feel the tenderness in my arm after a hitting session with this racquet. The swingweight also felt high."
Tiffani - "The racquet has a firm feel. It doesn't feel too stiff for my arm, but I wish I could feel it flex a little more on ball impact."
Sean - " A little weight would help with the stability, especially against hard hitters."
Technical Specifications

Length
27 inches
69 centimeters
Head Size
100 square inches
645 square centimeters
Weight
11.1 ounces
315 grams
Balance Point
13 inches
33 centimeters
4pts Head Light
Construction
23.5mm / 26mm / 22.5mm
Composition
Graphite Tungsten
String Pattern
16 Mains / 19 Crosses

Babolat RDC Ratings

Score

Grade

Flex Rating
72
Range: 0-100
Swing Weight
308
Range: 200-400
Scores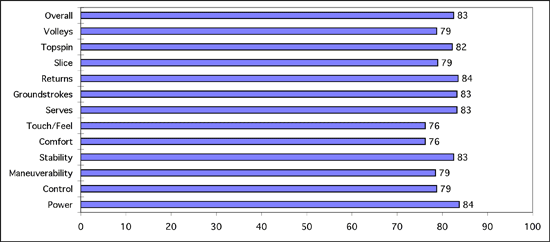 (Scores are determined by averaging individual play test scores)
Brittany's Scores
Power
9
Serves
8.8
Control
7.9
Groundstrokes
8.3
Maneuverability
7.8
Returns
8.5
Stability
8.6
Slice
8.1
Comfort
7.5
Topspin
8.4
Touch/Feel
8.2
Volleys
7.8
Overall
8.5
Jason's Scores
Power
8.2
Serves
8
Control
8
Groundstrokes
8.5
Maneuverability
8
Returns
8.6
Stability
8.4
Slice
8
Comfort
7
Topspin
8.5
Touch/Feel
7.2
Volleys
8
Overall
8.3
Tiffani's Scores
Power
8.2
Serves
7.9
Control
8
Groundstrokes
8.3
Maneuverability
7.8
Returns
8.5
Stability
7.9
Slice
7.7
Comfort
7.8
Topspin
8
Touch/Feel
7.6
Volleys
7.9
Overall
8
Sean's Scores
Power
8.1
Serves
8.6
Control
7.6
Groundstrokes
8.2
Maneuverability
7.8
Returns
7.8
Stability
8.1
Slice
7.8
Comfort
8.2
Topspin
8
Touch/Feel
7.5
Volleys
7.8
Overall
8.2
Playtester Profiles
Brittany: Open level player with a semi-western forehand and a two handed backhand. She currently plays with the Yonex V-Core 100S.
Jason: 4.0 baseliner with a semi-western forehand and two handed backhand. Currently using a Boris Becker Delta Core London.
Tiffani: 4.0 level baseliner with a semiwestern grip on the forehand and hits a two-handed backhand. Currently playing with the Tecnifibre Rebound Pro.
Sean: 4.5 baseliner using the HEAD Youtek Prestige Pro. Sean has a semi-western forehand, 1 handed backhand.

Review date: January 2012. If you found this review interesting or have further questions or comments please contact us.
All content copyright 2012 Tennis Warehouse.