Babolat SFX Men's Shoe Review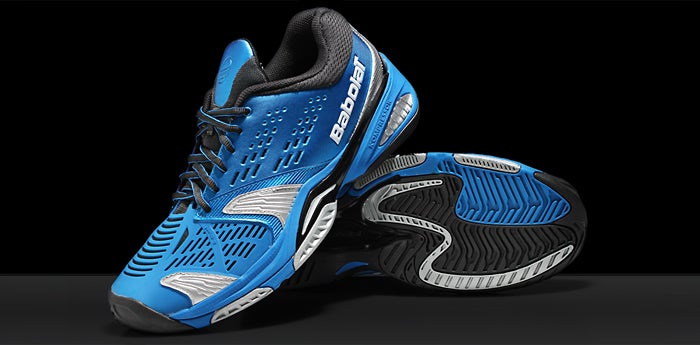 Babolat SFX Men's Shoe Scores
Comfort
4.6
Ventilation
3.6
Arch Support
4.0
Foot Support/Stability
3.7
Overall Sole Durability
4.7
Toe Durability
4.0
Traction
3.9
Weight
3.8
Overall
4.0
Upsides
No break-in
Well cushioned
Extremely comfortable
Good fit for wider feet
Downsides
Too wide for narrow feet
Fits a half-size big
Summary
Babolat is establishing itself as a shoe powerhouse, and the newest addition to its line, the SFX, helps consolidate that image. The first thing our testers noticed was the out-of-the-box comfort of the shoe. Your foot feels like it's sitting in a pillow, as the upper feels heavily padded throughout the shoe. Babolat's unique Ergo-Motion insole also greatly contributes to the comfort. With five layers of material, it is one of the most complex and comfortable insoles around. These shoes continued to impress when we hit the court. The Superior Fit eXperience (SFX), designed to complement a player's natural movement on the court, gave our playtest team excellent support and stability. The wide toe box did come into play for our testers with narrow feet, as they felt their feet slide around a bit when cutting laterally, but our medium to wide footed testers had no issues. After weeks of aggressive testing we found the durability of the SFX to be another one of its strengths. With supreme comfort and durability, coupled with nice stability and support, we're sure the SFX is going to become a favorite for Babolat shoe lovers.
Comfort - Score: 4.6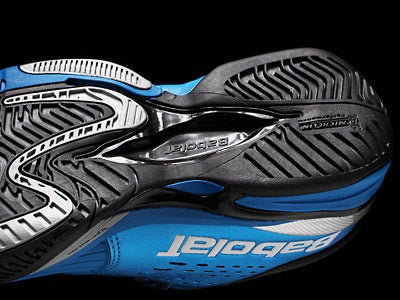 All of our playtesters raved about the comfort of the SFX right out of the box. Spencer said, "Aiming for comfort, Babolat came through with flying colors on the SFX. The multi-layered Ergo-Motion insole offered comfortable cushioning and support. The step-in comfort is apparent from the first lace-up. This, of course, after going down a half-size for the correct fit, as this shoe does run a half-size bigger than standard. The forefoot also opens up a bit for a roomy fit. That worked well for me in the comfort department as they required absolutely no break-in period. These shoes are ready to roll the first time out. Babolat aimed to make a comfort shoe, and it most certainly delivered."
Jose agreed with Spencer's comments. He said, "As soon as I put the shoe on I noticed the Ergo-Motion insole. It was really comfortable, and I was impressed by how comfortable the shoe was right out of the box. Usually my feet have to adapt to a shoe for it to start feeling comfortable, but in this case the shoe immediately adapted to my feet."
Also in agreement was Jason, who said, "Babolat claims this is one of the most comfortable shoes on the market, and after wearing it for over a month I couldn't agree more! The uppers were very supple and required no break-in at all. Because these shoes fit wider AND have a lower arch, they was perfect for my foot. And probably the best part about these shoes? The cushioning. The five-layer insole made a big difference in how well cushioned these shoes felt. The only reason I didn't give this a perfect score was because the arch was still just slightly too high for me."
Rounding out the crew was Andy, who also liked the cushioning and comfort. He said, "My favorite aspect of this shoe is the cushioning and comfort. When I first tried it on I noticed the plush feel all around my foot. It's very padded all through the forefoot and midfoot, and the heel is nice and soft. Also, the insole is extremely comfortable and seems to mold to your foot. Babolat nailed it with the fancy insole -- it really feels good!"
Ventilation - Score: 3.6
Our team had some mixed feelings about the ventilation and breathability of the SFX, but for the most part there were no issues with it. Jason said, "I was pleasantly surprised with the breathability of these shoes. The uppers didn't look like they were going to do much in the way of ventilation, but once I had them on and played with them, I didn't find it to be an issue."
Spencer agreed with Jason, and said, "I had no issues whatsoever with heat or lack of breathability. There is plenty of elongated perforations, allowing sufficient ventilation."
Hot days were a little bit of an issue for Jose. He said, "The ventilation was not the greatest, but it was not bad either. There were times, especially on hot days, when it felt like my feet were burning. However, on regular days I felt like there was just enough ventilation for my feet."
Andy had a different opinion from the rest of the playtesters. He said, "I tend to have pretty sweaty feet, and these shoes were no help in keeping my feet cool and dry. I found them to be not well ventilated, as it got hot and damp quickly. I even noticed it just walking around in the shoes during the day. Ventilation is not one of the SFX's strong points."
Arch Support - Score: 4.0
The low-to-medium height of the arch in the SFX was comfortable and supportive for all playtesters. Jason enjoyed the lower arch support. He said, "It's been a while since I've tested a shoe with a lower-than-medium arch, so I was quite happy with the SFX. Could they have been just a bit lower? Yes, but I'll take what I can get! Just a slight hint of soreness during the initial hit, but after that there were no problems."
The lower arch fit Andy's flatter feet well. He offered, "The arch support was just fine in the SFX. I have a flatter foot, and once the insoles molded to my feet the arch support was nice. When I was moving around on the court I felt the continued arch support."
Also in agreement was Jose, who said, "The arch support was just right for my feet. I didn't have any discomfort with the arch support."
Spencer felt the unique insole was quite comfortable through the arch. He said, "The cushy, yet supportive, insole was a nice fit for my medium height arches, and it supported my arches well."
Foot Support/Stability - Score: 3.7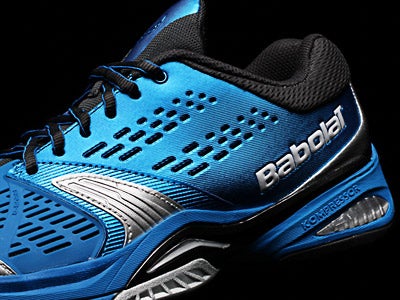 Our playtesters with wider feet enjoyed the support and stability of the SFX, but our testers with narrower feet felt their foot slide around a bit in the roomy toe box. Enjoying the support was Spencer, who said, "Knowing the focus of this shoe was comfort, I was pleasantly surprised with the excellent stability. I was able to plant and move laterally with plenty of confidence, as the foundation of the shoe was solid. The outsole on the lateral side of the forefoot comes out a little bit wider, keeping it more stable. The fit of the SFX also provided plenty of support. If I had one weak complaint about the support, it would be the lacing system. I feel it could have used one more set of eyelets at the top, as well as more of a 'speed' lace system. The extra eyelets would keep the heel locked in a little bit better. The laces feel a bit stiff, and I don't feel I can pull them tight where I need them tight. However, these are very minor complaints and most certainly don't take away from how this shoe performed overall."
Jason and his wide feet also enjoyed the stability. He said, "For having such a soft upper, I thought the shoe was fairly stable. On harder, more aggressive movements I could feel the material give and bend, but it held firm, and I had no problems with rolling an ankle. I thought the lateral support was great. My feet felt locked in when I was going from side to side. but the support while moving forward could've used a bit more beefing up, in my opinion. The shoe felt like it needed one more set of eyelets to really lock my ankles in place. I could feel my feet moving as I sprinted forward for a ball."
Andy didn't feel as much support, especially on aggressive lateral cuts. He offered, "This shoe is designed to be more of a high-profile shoe, offering more on the comfort and stability side while sacrificing light weight. With that said, I did not feel as much support as I feel I should have in a shoe this heavy. I felt my foot slide around a lot when I was trying to make aggressive lateral cuts. I felt like when I planted my foot to make a cut it would shift slightly in the shoe, costing me precious time when changing directions. However, I felt very supported higher around the ankle and never felt vulnerable to rolling my ankle."
Jose also didn't feel well supported with his narrow feet. He explained, "This category was where I came into some problems. I have semi-narrow feet, and with the shoe being roomy in the toe box area I felt like my feet would move around a lot. I did try to tie my shoelaces tighter, but it just made my feet feel uncomfortable."
Overall Sole Durability - Score: 4.7
Another strong point of the SFX was its durability. Andy could barely put a dent in them after three weeks. He said, "The SFXs were extremely durable and are not really showing much wear at all at this point. I've played about 20 hours in them, and usually in that amount of time I'm starting to wear through part of the outsole. I normally wear out my shoes right under my big toe, but these are barely showing any wear at all. Playing almost every day, I could see getting at least a month to six weeks out of these shoes, easy!"
Jason felt that the outsoles held up very well. He said, "I was expecting them to be along the lines of the Propulse 3, but the SFXs were more durable. I wore them for over a month and there is plenty of tread left. Dare I say that these are almost Barricade-like?"
Jose also liked the durability, saying, "The durability was great! It would compare to any of Babolat's top models, like the Propulse 3 and 2. After a month of hitting I did notice a little wear, but not enough to consider it a problem."
Last, but certainly not least, was Spencer, who said, "The durability is excellent considering it's not a durability guaranteed shoe. I had the usual wear under my big toes on the medial side of the forefoot, but no excessive wear."
Toe Durability - Score: 4.0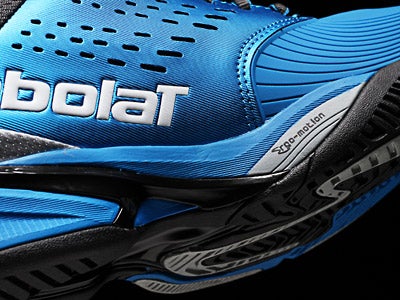 None of our playtesters would consider themselves toe draggers, but after careful analysis Jose felt that the toe durability would definitely not be an issue. He said, "I don't toe drag, but the way the shoe is built it's really hard to get to the uppers of the shoe. If you do manage to get to the uppers the shoe comes with the S-Shield to give you that extra protection."
Traction - Score: 3.9
Most of our testers liked the traction of the SFX and the Michelin outsole. Jason felt confident moving around aggressively on court. He said, "The SFX shoes did a great job in this category. I felt confident in every plant and change of direction. The shoe flexed in all the right places so I felt like I was getting maximum tread-to-court contact. I had minor slippage issues, but that happens to even the best of shoes, so it wasn't a big deal."
Also liking the traction was Spencer, who said, "Again, Babolat, with its Michelin rubber outsole, creates a great combination of stick and durability. The outsole has just enough tack to hold the court when you need it, but with a little bit of give when necessary."
Other than his narrow feet sliding around slightly inside the shoes when making lateral cuts, Jose also felt the traction was good. He said, "I didn't have much problem stopping, starting or changing directions. Sometimes with lateral movement I would feel my feet moving around, but nothing big enough to make it a problem."
The only tester who had an issue with the traction was Andy. He said, "I felt changing directions was a bit of a struggle in these shoes. I found them to be very sticky initially, but once I wore them in just a little bit I started sliding a bit more than normal on the hard courts. I would sometimes slip when changing directions or when I started aggressively running forward for a drop shot."
Weight - Score: 3.8
Though the SFX is not the lightest shoe, none of our playtesters had a problem sacrificing light weight for the extreme comfort. Andy said, "This shoe is not trying to be a lightweight speed shoe, and it is apparent from the moment you put them on. The level of cushioning all over the shoe makes it pretty heavy. However, considering how comfortable and padded they are, I think it's worth the sacrifice."
Also willing to sacrifice the weight for the cushioning was Jason, who said, "These shoes don't feel light, but they don't feel heavy and clunky either. With the great durability and excellent cushioning, I can accept the weight being what it is."
Jose loved the weight of the shoe, saying, "This shoe is right in the middle of the market on the weight. Most of the time I would sacrifice weight to get comfort, as I would rather wear a comfortable shoe than a fast shoe. At 15.6 ounces (size 10.5), I say this shoe is perfect."
Also enjoying the weight was Spencer, who said, "It's not heavy and not light. I found I could move around the court without feeling weighed down, yet there was still enough mass in the shoes to provide a secure feeling when changing directions."
Overall - Score: 4.0
Likes
Spencer - "Comfort, stability and comfort. Oh, and comfort. My favorite Babolat shoe to date."
Jason - "Pretty much everything. Cushioning, comfort, fit, durability and traction."
Jose - "I love the comfort of the shoe -- it has been great. I would take comfort and cushioning over light weight any day."
Andy - "My favorite aspects of the SFX were how cushioned and padded they felt all over, and also the great durability."
Dislikes
Spencer - "I'm not a fan of the profile look, but after wearing them for a while it didn't bother me so much."
Jason - "The laces seemed to come undone too easily."
Jose - "The toe box area. The shoe is too wide for my feet."
Andy - "I didn't like the lack of lateral support and ventilation."
Comparing this shoe to others they've worn, our testers said:
Spencer - "The cushioning and comfort reminds me a bit of the T20 and T22 from Prince, though I prefer the SFX, as it feels lighter while offering just as much, if not more, stability."
Jason - "This shoe felt like a hybrid between the Babolat Propulse 3 and the Prince T22."
Jose - "I would say it would compare a lot to a Prince T22."
Andy - "This shoe would be similar to the older Nike Ballistec in terms of how it's designed to be more padded and extremely durable. I also found the old Ballistecs to have poor ventilation."

Playtester Foot Types:
Spencer - Medium width / Medium arch
Jason - Wide width / Low arch
Jose - Medium to narrow width / Lower than medium arch
Andy - Medium width / Low arch

Review date: August 2012. If you found this review interesting or have further questions or comments please contact us.
All content copyright 2012 Tennis Warehouse.