Babolat Pro Hurricane Tour 17 String Review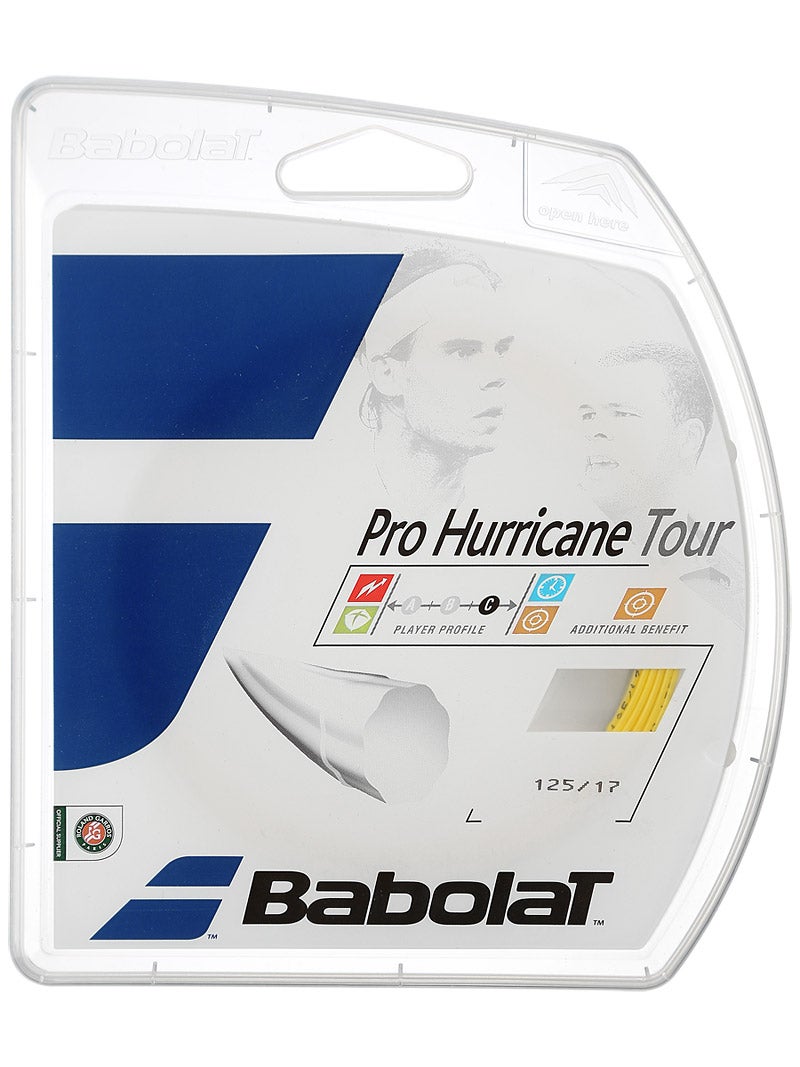 Babolat Pro Hurricane Tour 17 String Scores
Power
45
Spin
87
Comfort
63
Control
97
Touch
84
String Movement
94
Playability Duration
75
Durability
95
Overall
83
Upsides
Excellent Control
Spin
Durability
Summary
Babolat Pro Hurricane Tour is a firm, octagonally shaped co-polyester that provides big hitters with phenomenal control. Though it may not be as popular as its younger, more flexible brother (RPM Blast), Pro Hurricane Tour has enjoyed a respectable following among big hitters, including Andy Roddick. This is due in part to the undeniable precision it delivers, especially on big swings, which explains why our two playtesters raved about how much control they had when they turned up the pace. In addition to control, our team discovered exceptional bite, which made it easier for them to shape the angle and trajectory of their shots with spin. The easy access to spin was aided in no small part by the low power, which allowed our guys to take very sharp upward cuts without fear of the ball spraying unpredictably. Regarding comfort, our testers were quick to point out that Pro Hurricane Tour was on the firm (and dead) side, making it best suited to stronger players. Ultimately, this string did exactly what a firm, low-powered co-poly should do. It gave our playtesters that wonderful sense of confidence that occurs when big strokes find their target with ease.
Power - Score: 45
Unlike some of the livelier co-polys, Pro Hurricane Tour places the burden of power squarely on the player. This proved to be a good thing for Andy, whose big strokes and powerful racquet didn't need any help generating power. He said, "I definitely did not feel that Pro Hurricane Tour provided me with extra power on my shots. With that said, the amount of control and spin I was able to generate allowed me to really swing out and unleash my own power. I felt it was a perfect complement to the Babolat AeroPro Drive that I put it in. I actually wanted a stiff, low-powered string to give me the control I needed."
Having never met a firm, low-powered poly he didn't like, Chris was predictably satisfied, saying, "I find this string to be low in power - even for co-polys, which are low-powered strings as a whole. I've always found this string to offer a firm response, which is ideal for deadening the stringbed, not so much for adding power. With that said, I really liked the level of power offered by this string! The low power level allowed me to supply the power with a big and confident swing at the ball."
Spin - Score: 87
With its low power and decent bite, Pro Hurricane Tour gave our playtesters the ability to attack the ball with loads of head speed. This gave Chris all the spin he needed. He said, "I was getting lots of spin out of this string. I found I could get the ball to dip inside the lines even when I was hitting a hard topspin shot high over the net. Even though this is a fairly stiff string, I found it to pocket the ball well on heavy spin shots, and it provide lots of grip on the ball. I also liked the bite I was finding from this string on slice shots. I was able to hit some heavy slice and really knife my backhand."
Getting some good snap back was Andy, who found he had to take big cuts to unlock the spin. He said, "The slick surface of the Pro Hurricane Tour slid on itself nicely and helped produce a good amount of spin. It doesn't have the crazy spin potential that a shaped or textured string would have, but it still offered a nice amount of spin. Once again, the stiff and dead feel allowed me to really swing out on the ball and generate the spin on my own."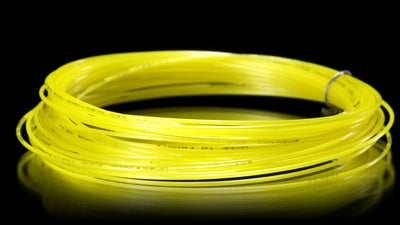 Comfort - Score: 63
For Chris, Pro Hurricane Tour proved to be midway between a soft co-poly and a firm, traditional poly. He said, "This string offers better give than a traditional poly. It pockets the ball better and feels more comfortable. However, it is on the firmer side when compared to a lot of the softer co-polys. I actually liked its firm and crisp response and thought there was still enough give in the string for comfort."
Though it lacked the soft ride he enjoyed with Tourna Big Hitter Black 7, Andy appreciated the firm feel, saying, "Pro Hurricane Tour is definitely a stiff and dead polyester, but that isn't always a bad thing, especially when putting it in a high-powered racquet. The ball is pocketed nicely, there is a good amount of feel and a nice response off the stringbed, so I always felt connected to the ball."
Control - Score: 97
Control was the defining characteristic of Pro Hurricane Tour for our team. The low-powered response and predictable trajectory were designed for big hitters like Andy, who said, "Control is where the Pro Hurricane Tour really shines! The stiff stringbed doesn't get manipulated easily at impact, and the result is a consistent response. The control made it the perfect complement (as I mentioned before) to the high-powered AeroPro Drive I put it in."
In total agreement with Andy was Chris, who also gave this string a near perfect control score. He said, "My favorite aspect of this string is the amount of control I get when playing with it. I always felt confident taking a good rip at the ball with this string. The reason I like poly-based strings is because they allow me to stay on the gas and not worry about overhitting. This string definitely fit that bill, and I find it to be one of the more control-oriented co-polys out there. I was swinging big with this string in my racquet and loving every minute of it."
Playability Duration - Score: 75
Nothing lasts forever, including polyester. This wasn't a problem for Chris, who was still able to hit his mark after the feel changed and the tension dropped off. He said, "This string barely made the two-week mark before it started to feel like it had lost a fair bit of tension. However, although I found the feel to be lacking as it bagged out, I was still able to find control and spin."
Andy was more impressed with the tension maintenance and playability duration. He said, "Pro Hurricane Tour maintains tension and playability very well. Because it is so stiff it does not soften up and get bagged out easily like other softer polyester strings. It reaches the two-week playability threshold (that we like to use as a benchmark for polys) with ease."
Overall - Score: 83
What type of player would you recommend this to?
Chris - "Players looking for a lot of control and spin and/or a crisp and firm stringbed should definitely try this string. I loved the grip on big groundstrokes and serves, yet I also liked the response on touch shots, so I think this would be a good fit for the modern all-court player.
Andy - "I would recommend this to the player who is looking for a great feeling, control-oriented string. It complements a high-powered racquet nicely, and would also go well in a smaller frame if you really like a more stiff and dead feel from your strings."
Likes
Chris - "I liked the spin, control and feel."
Andy - "I loved the amount of control it provides, allowing me to feel really confident on my shots and swing out as hard as I want. The great control allowed me to unleash my own strength and power on my shots."
Dislikes
Chris - "I would have liked it to last a little longer in terms of playability. However, I'm only talking about a couple of extra hitting sessions, so it was not a big deal."
Andy - "It's not the most comfortable string out there, and if I put it in a more control-oriented racquet (say my Yonex RDiS 100 Mid) I could envision some arm problems potentially arising."
Comparing the string to others they've tried, our testers said:
Chris - "This string felt firmer than my go to string, which is Volkl Cyclone. The difference is not huge, but this one didn't cup the ball as well on flatter shots. On spin shots the response felt more comparable. I have been hitting some basic polys recently, and I could definitely feel the evolution of this co-poly over a basic poly, as it offered more ball pocketing while retaining that firm and crisp feel."
Andy - "It feels similar to its younger cousin, RPM Blast, but it doesn't grab the ball as well or provide quite as much spin. It also feels similar to MSV Focus Hex, but with better feel and response. I think it is a great complement to a powerful racquet and a formidable game."
Scores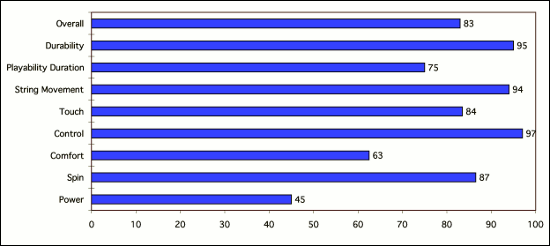 (Scores are determined by averaging individual play test scores)
Chris' Scores
Power
5
Playability Duration
6
Spin
9.5
Durability
9.5
Comfort
6
Control
9.6
Touch
8.7
String Movement
9.8
Overall
8.6
Andy's Scores
Power
4
Playability Duration
8
Spin
7.8
Durability
9.5
Comfort
6.5
Control
9.8
Touch
8
String Movement
9
Overall
8
Playtester String Setups
Chris:
Playtest Racquet: Slazenger Pro Braided 95
Playtest Tension: 55 lbs.
Typical String: Volkl Cyclone 16
Andy:
Playtest Racquet: Babolat AeroPro Drive GT
Playtest Tension: 55 lbs.
Typical String: Tourna Big Hitter Black 7

Review date: November 2012. If you found this review interesting or have further questions or comments please contact us.
All content copyright 2012 Tennis Warehouse.