Boris Becker DC Melbourne Review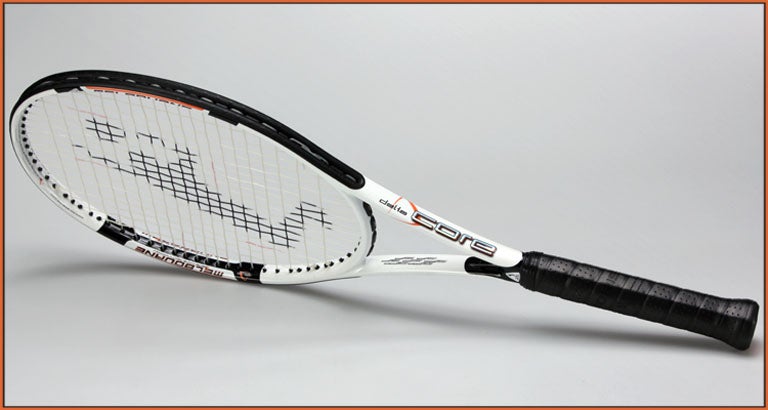 Boris Becker DC Melbourne Scores
Comfort
87
Touch/Feel
83
Serves
77
Groundstrokes
78
Returns
80
Slice
82
Topspin
78
Volleys
86
Overall
80
Upsides
Control
Comfort
Torsional Stability
Spin
Downsides
True player's spec might be too heavy for some
Summary
As a racquet that fits in the player's category, the Boris Becker Delta Core Melbourne didn't disappoint. Our TW team really enjoyed this racquet from all areas of the court. At the baseline, the racquet provided excellent control and, despite the tight 18x20 string pattern, spin. Our playtesters felt the DC Melbourne performed the best at net. There was plenty of weight, so torsional stability was not compromised during off-center hits. The mass was also very helpful in putting away easy shots and overheads. On serves, the mass was again instrumental in allowing our testers to hit a heavier ball with more pace. Although the extra weight was great for hitting bigger serves, harder returns and crisp volleys, it wasn't ideal for every playtester. For the advanced player wanting player specs, however, the Boris Becker DC Melbourne has plenty to offer, and may take your game to the next level.
For a professional tennis player, there aren't many milestones in one's career that surpass the prestige and honor of becoming the No. 1 player in the world. In 1991, Boris "Boom Boom" Becker was able to celebrate such an achievement when he defeated Ivan Lendl in the Australian Open finals and claimed the world No. 1 ranking. Boris Becker has released the Delta Core Melbourne racquet to help commemorate this epic accomplishment.
As a replacement for the Delta Core Legend, the Delta Core Melbourne features a 12 ounce strung weight, 6 points head light balance, 322 swing weight and a stiffness of 64 (RDC machine).
The Melbourne uses Delta Core technology throughout its frame. The Delta Core material features the delta-shaped arrangement of the individual molecules. The result, as claimed by Boris Becker, is more control and stability. The Sensor Tour Handle system on the Delta Core Melbourne helps dampen vibration without sacrificing touch and feel.
Our testers took this racquet out for a month-long playtest to see if it would help them move up the TW rankings.
Groundstrokes - Score: 78
The Delta Core Melbourne provided plenty of control and a plush response from the baseline. Finding this racquet to fit his game well was Chris. He said, "This was a very solid feeling racquet from the ground. No matter what string I was using, lots of spin and control were always on tap. I liked the combination of a soft multi or a multi/poly hybrid with the tight string pattern. I felt like I could always swing aggressively and find the control I needed to hit my targets. Compared with the Becker Legend, this was a much better fit for my game. The weight and balance was spot on. I found the mass needed for power and stability, yet the head light balance gave the racquet a fast feel. With the Becker Legend the weight distribution was too close to even for me, leaving the racquet feeling more sluggish than the Melbourne."
Troy noticed the soft, dampened feel. He said, "From the baseline this racquet was a comfortable fit for me. Because it's in close range to the specifications of my personal racquet, I was able to time the ball well off the ground. The dampened feel is what impressed me about this racquet. I knew that no matter how heavy the ball was being hit at me I would never experience any jarring feel on my arms. I was getting good bite on the ball when hitting a slice backhand, likely due to the dense string pattern. The downside to hitting with this stick was that sometimes the ball would unexpectedly fly long beyond the baseline. I felt as though the harder I hit, the more inconsistencies I felt from the trajectory of the ball, even when I added more topspin to keep from hitting long. Overall, the soft feel was good on my arms, but I lacked a bit of confidence in hitting heavy from the baseline."
The 12 ounce weight created some problems for Jason. He said, "I liked every aspect of this racquet on my groundstrokes except for the weight. It was just a bit out of my comfort zone as far as weight goes. There was plenty of control to be had from both wings. The weight made it easy to hit 'dirty slice,' as Chris likes to say. Control was good, but I really had to make sure I was ready to hit a shot. Early preparation was crucial because I wasn't used to the weight. But when I was able to connect cleanly on a forehand, shots were landing with tons of spin, pace and depth."
Spencer agreed about the weight, adding, "The first thing I noticed was the heft of this racquet. I was a bit surprised with the mass and plow through, maybe because it's 98 square inches. From there it was just a matter of getting used to the weight and getting the timing. Once there, I liked the court penetration of my shots when putting a good swing on the ball. The larger headsize offered more forgiveness, allowing better consistency of depth and power. I did notice that I started to tire after a set or so, and my timing began to suffer. Also, I find the handle shape to be too rectangular for my liking."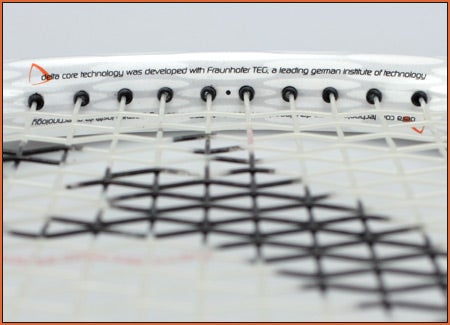 Volleys - Score: 86
Our playtesters felt the DC Melbourne performed exceptionally well up at net. Jason felt the racquet helped his volleys. He said, "Torsional stability and forgiveness on off-center shots are key aspects that I look for in a racquet when I'm up at net, and this racquet had both. Even when I didn't hit a volley cleanly, the racquet was still able to get the ball over the net with some pace and control. Again, the weight made the racquet too sluggish for my liking, but I thought my volleys were improved with this racquet, and that's saying something."
Spencer said, "This stick has a very solid feel at net. I liked volleying with this racquet as long as I could get the racquet into the proper position. It's not the fastest racquet to wield, so at times I had problems getting the racquet exactly where it needed to be. It was those times that my volleys suffered the most."
Feeling like he could volley like a former world No. 1, Troy said, "I found the feel of this racquet at net to be its best attribute. I was feeling really connected to the ball when hitting my volleys. Placing the ball well within the court, I felt comfortable hitting volleys deep or going for touch droppers. The weight of this stick provided good stability, and I didn't feel the need to add weight to the 3 and 9 o'clock positions of the hoop to eliminate torsional twisting. Overall, I have found Becker racquets perform the best when at net, which may have something to do with the guy whose name is printed on the frame."
"I enjoyed this racquet the most at net. The feel and control from the stringbed, combined with the stability and maneuverability, made this an awesome racquet for volleying," said Chris, who was volleying with variety. "I was finding all the touch I could want, yet at the same time all the power I needed when I wanted to stick a volley with authority. Everything came together with this racquet at net, and it really did feel like an extension of my arm."
Serves - Score: 77
The Delta Core Melbourne helped most of our playtesters serve with confidence. Chris, who served particularly well with this racquet, said, "I got some nice pop on my serves with this racquet. Again, I liked the balance, and it helped me swing the racquet fast and put its mass to good use. With a good swing speed, I was getting ample pace and a lot more spin than I had anticipated. The racquet felt very comfortable and exhibited impressive stability, even when my timing was not perfect. I liked the accuracy I was finding on my flat serves. I found enough pace to sneak an error from the returner and even managed to up my ace count slightly -- not something I am known for."
Troy agreed with Chris, adding, "I was finding good control on my serve and was utilizing my spin serves well. The balance of this racquet is slightly more head light than my own racquet, and I felt as though this was helping me get some added spin on slice serves and the occasional kick serve. I was consistently generating more racquet head speed with this stick than with my own, and this resulted in a bit more power and movement on my serves. I developed a lot of confidence in my serve, which led to some free points that I don't typically get."
"I assumed that because I was able to get nice pace on my groundstrokes it would translate to my serves," said Jason, who was left wanting more pace on his serves. "So I was surprised that I wasn't finding the same power. But both control and spin were good. I liked serving down the T, as it netted me more consistent results."
Spencer served well. He said, "Like many of the heavier racquets I've hit with, I find that going with the flow of a smooth swing helps create better, more consistent results. If I try to do too much, my results are poor. When I had the mindset to let the racquet do most of the work, I was happy with the results."
Serve Returns - Score: 80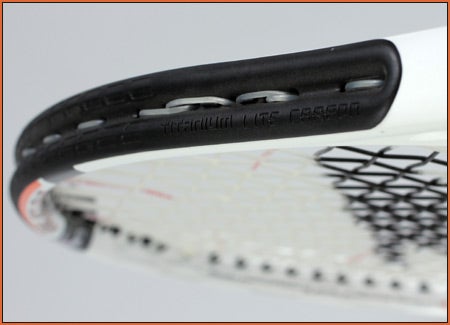 The weight of this racquet was great for hitting solid returns. Troy timed his returns well. He said, "Returning serves with this racquet was more enjoyable than I would have predicted after hitting groundies. This stick held up well on returns when I took a short back swing and allowed the racquet to do the work. I found easy maneuverability and just enough stability to hold up against big serves like my fellow playtester Jose likes to hit. I didn't find the inconsistencies that I experienced on groundstrokes, likely due to the fact that my swings aren't as long when I'm returning."
Chris varied his returns nicely with this racquet. He said, "On my drive returns I found a really nice combination of power and control. I could use the mass of the racquet to hit a deep, penetrating return, yet the balance made it easy to brush the ball to add just enough spin. On more defensive returns, the weight of the racquet really helped my get some depth. Again, the feel was very comfortable and the stable replies made this a very comfortable racquet to hit with. The feel I found is hard to describe. It was crisp, yet there was an underlying smoothness to it, which made it feel precise yet slightly dampened."
"Blocking shots back proved to be quite successful with this racquet," said Jason. "Even though I couldn't quite get a full swing on a return, my shots still landed with plenty of depth. When I did have time to set up and take a full shot at the ball, I really enjoyed hitting shots cross court. Trying to go down the line didn't get me nearly as high a percentage as when I hit cross court."
Spencer had the most success when letting the racquet do the work. He said, "I liked this racquet better for returning harder serves. I could slice and block back serves deep into the opponent's court. I was most effective when hitting this type of return with this racquet. My timing wasn't so great when I tried getting more offensive, varying the results of my returns."
Overall - Score: 80
Likes
Chris "I liked the feel, control, spin, weight and balance of the racquet, and the confidence I had when playing with it."
Jason "I really enjoyed the control, stability and feel."
Troy "Once again, I'm impressed with the arm comfort that Becker racquets provide. Nice weight and balance in its stock form."
Spencer "The solid feel and a more forgiving 98 square inch head."
Dislikes
Chris "Nothing."
Jason "Too heavy for me. The grip shape was uncomfortable."
Troy "With faster swing speeds the response of the stringbed seemed to be less predictable."
Spencer "A bit heavy, particularly so in longer matches, and I didn't like the rectangular handle shape."
Technical Specifications

Length
27 inches
69 centimeters
Head Size
98 square inches
632 square centimeters
Weight
12 ounces
340 grams
Balance Point
12.75 inches
32 centimeters
6pts Head Light
Construction
21mm Straight Beam
Composition
Graphite / Delta Core
String Pattern
18 Mains / 20 Crosses

Babolat RDC Ratings

Score

Grade

Flex Rating
64
Range: 0-100
Swing Weight
322
Range: 200-400
Scores
(Scores are determined by averaging individual play test scores)
Chris's Scores
Power
7.9
Serves
8
Control
8.3
Groundstrokes
8
Maneuverability
7.9
Returns
7.9
Stability
8
Slice
8.2
Comfort
8.3
Topspin
8
Touch/Feel
8.3
Volleys
8.5
Overall
8
Jason's Scores
Power
8
Serves
7
Control
7.9
Groundstrokes
8
Maneuverability
7.5
Returns
8.2
Stability
9
Slice
8
Comfort
8.5
Topspin
8
Touch/Feel
8.1
Volleys
8.8
Overall
7.8
Troy's Scores
Power
7.5
Serves
8.4
Control
7.6
Groundstrokes
7
Maneuverability
8
Returns
8.2
Stability
8.8
Slice
8.2
Comfort
9.5
Topspin
7.3
Touch/Feel
9
Volleys
8.9
Overall
8.2
Spencer's Scores
Power
7.9
Serves
7.2
Control
8.1
Groundstrokes
8
Maneuverability
7.7
Returns
7.8
Stability
8.3
Slice
8.4
Comfort
8.3
Topspin
7.7
Touch/Feel
7.9
Volleys
8.3
Overall
8
Playtester Profiles
Chris: 5.0 all court player currently using the Volkl Power Bridge 10 Mid. Chris uses a full-western forehand grip, has a fast swing style and hits a one-handed backhand.
Jason: 4.0 baseliner with a semi-western forehand and two handed backhand. Currently using a Boris Becker Delta Core London.
Troy: 5.0 lefty all-court player with a full Western Forehand and a two handed backhand. Troy currently plays with a customized Wilson KBlade 98.
Spencer: 4.5 baseline player currently using the Prince EXO3 Tour 100 16x18. Spencer uses a semi-western forehand grip, and hits with a one-handed backhand.

Review date: July 2011. If you found this review interesting or have further questions or comments please contact us.
All content copyright 2011 Tennis Warehouse.