Boris Becker Delta Core London Racquet Review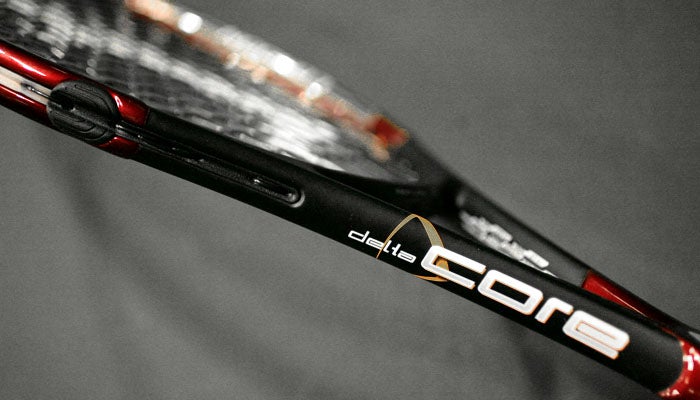 In its 500-plus year history, the game of tennis has seen its share of legendary players and iconic figures. Boris Becker, a former world No. 1, happens to be both. He amassed six Grand Slam singles titles in his illustrious 15-year career. His legacy truly began when, at age 17, "Boom Boom" won his first Grand Slam title at Wimbledon, becoming not only the first non-seeded player and first German to win it, but also its youngest champion.
In commemoration of that milestone, achieved in one of the world's most famous cities, Boris Becker has launched the Delta Core London. This 11.1 ounce, 4 points head light racquet has a 98 square inch head size and has a swingweight of 311 and stiffness rating of 64 (Babolat RDC).
The London utilizes Delta Core technology. Designed to provide greater control and stability, Delta Core features a delta-shaped arrangement of the individual molecules in the frame material.
Our TW playtesters took this racquet out for a month-long playtest to see if the Boris Becker Delta Core London is as legendary as the man himself. Read on for the full review.
Groundstrokes - Score: 79
The TW playtesters loved the Delta Core London from the baseline. They found plenty of bite and power on their shots. Chris enjoyed hitting a variety of shots from the baseline. He said, "I found this racquet to feel very fast and maneuverable on groundstrokes. Both pace and spin were easy to generate. In contrast to the Becker Pro that I used to use, I could get lots of bite on slice shots with this stick. I liked the feel and control and found I was more connected to my shots than with the Volkl Powerbridge 9, which has similar specs. Although I liked this racquet in stock form, I tried this racquet with some weight added to it and found an even better fit for my game (I added weight to 10 & 2 in the hoop and counterbalanced at the handle to maintain the stock balance)."
"This was a truly impressive racquet off the ground," said Jason. "It played very similarly to my own racquet, the Volkl Powerbridge 9, except that the London felt much more flexible and arm friendly. It didn't take too long before I noticed that I was hitting with more spin on my shots with this racquet than with my own. Targeting and maneuverability were top notch; I felt like I was able to control depth and direction well. The sweetspot felt surprisingly large, so my off-center shots did not drop significantly in power."
Hitting with even more spin than usual was Troy. He said, "What stood out the most from the baseline was the nice flexible feel this racquet possessed. It felt very maneuverable, being that it has a lower swingweight than my own sticks, which correlated to some extra whip on my heavy topspin shots. The open string pattern allowed for good access to spin off both wings. The problem I found was with depth control. I found that when I tried hitting a flatter shot, the racquet seemed to catapult the ball beyond the baseline. This took away from my confidence level when swinging out and trying to be aggressive from the baseline."
Spencer agreed. "This racquet, dare I say, has a Pure Drive-type of feel. It offers an ease of swing and solid feel from the baseline that produces court-penetrating shots. The maneuverability was fantastic, and I couldn't help but notice the borderline outrageous spin I could get with the open string pattern. (Note, I was hitting with a polyester string). This stick has a healthy sweetspot and excellent stability. As much as I loved the feel, spin and power, I did notice I had to harness my play here and there to maintain consistency."
Volleys - Score: 83
At 4 points head light, the Delta Core London was maneuverable enough to please our entire playtest team at net. Troy loved the all around performance, saying, "I found this racquet to perform the best when I was at net. I was impressed how stable this stick felt when hitting volleys, even though it weighs less than most of the player's frames that I typically prefer. The flexibility of the frame made this stick feel comfortable on the arm, which is a common quality I notice among most Becker racquets. I enjoyed the added maneuverability I had when hugging the net in doubles and having to position the racquet for a quick reaction volleys."
"I found lots of feel and control at net," said Chris. "Again, this was a very maneuverable racquet for me, and I felt confident I could catch up with most passing attempts. There was enough pop to punch volleys away, yet I never felt out of control. This was an excellent doubles stick, and I felt very confident volleying with it."
Jason liked the flexibility. He said, "Up at net, the weight of the racquet was great for handling the harder shots. The nice, soft feel made it ideal for touch and half volleys. Although I had some good results up at net, I still would have preferred it to be slightly more maneuverable."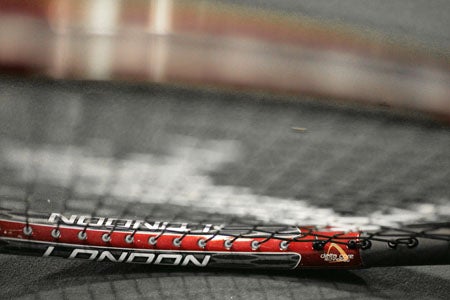 "Volleys were easy to put away," said Spencer, who volleyed with confidence. "I liked the combination of characteristics the Delta Core London exhibited at net. The large, responsive sweetspot and good maneuverability created good directional control and placement, which made put aways easy."
Serves - Score: 80
Like their groundstrokes, our playtesters were able to generate tons of spin on their serves. However, our team had mixed views on both the power and control. The open string pattern was very beneficial to Jason's serve. He said, "I really enjoyed this stick for serving. I was able to get plenty of action on my slice and kick serves. It's not quite as head light and maneuverable as my own racquet, so I found that I had to swing a bit faster through the contact point to keep the ball from sailing long. Every so often I'd go for a hard, flat serve, and I liked the power I was able to generate."
Spencer served with variety. He said, "The Delta Core London offered nice power along with excellent spin. I really enjoyed serving with this racquet. I found it pretty easy to mix up pace, spin and placement."
Chris needed additional weight to get his desired results. He said, "The serve was the one area I felt I was losing the most penetration compared with my Volkl Power Bridge 10 Mid. I was getting great spin, just not the pace and weight I usually find. My serves became dial in after I added some weight to the racquet with lead tape. Either way, my control was solid and I was able to find my targets. With the weight added, I could find them with more power."
Trading some power for control was Troy. He said, "I noticed some added kick and slice on my serves from the open, spin-friendly string pattern. I felt like the maneuverability helped me add a good 5-10 mph on my first serves, as I was able to generate more racquet head speed than usual. The downside was that when going for a hard, flat serve I noticed a catapult effect that hindered the control and placement."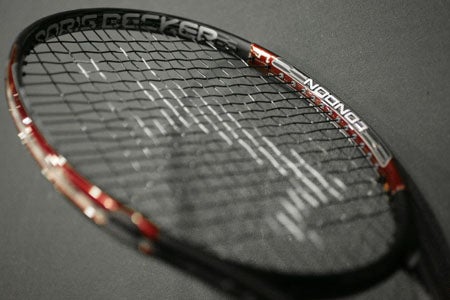 Serve returns - Score: 81
Whether hitting slice returns or being aggressive, our team was able hit shots with pace and depth with the Delta Core London. Keeping his opponents guessing was Spencer. He said, "I liked the confidence I found on service returns. Whether slicing or coming over the top, it offered a lot of options while providing directional control. I was able to achieve desired depth with minimal effort."
Both Chris and Jason used the power and spin to their advantage. Chris said, "I found it easy to take a good rip at returns with this racquet. There was more than enough control to let me swing with confidence, and with the maneuverable feel, it was easy to do so. Again, I liked the level of spin I was getting, and it helped me keep aggressive returns on target." Jason added, "Taking the offensive on the return was easy with this racquet. The combination of power and spin was great for hitting deep, heavy returns. It was also nice when slicing serves back. Even when I couldn't knife a return, I could float slices with good depth."
The mobility of the racquet helped Troy return well, even on the run. He said, "The maneuverability was, once again, a benefit for me when returning serve. The low swingweight allowed me to get the racquet in position to make an effective return, even when facing big servers. When I was stretching for a return the maneuverability helped me get some extra wrist action, which allowed me to return the serves back in play; a nice change from my racquets with 340+ swingweights. When I was in position to unload on a return this racquet felt surprisingly stable, considering its swingweight."
Overall - Score: 81
Even with the variety of skill levels and playing styles of our TW playtesters, the Boris Becker Delta Core London seemed to please them all. The solid, yet comfortable feel was evident on every shot. Off the ground, the combination of power, spin and maneuverability enabled our team to hit with variety and confidence. The mobility was even more apparent at the net. The head light balance made it easy to put away overheads, while the weight was great for handling shots hit with more pace. Slice and kick serves appeared to be more effective than usual, thanks in large part to the open string pattern. Overall, we felt this racquet provided great maneuverability, access to spin and a generous sweetspot. At just over 11 ounces, the London leaves plenty of room for customization and adding weight. We highly recommend intermediate to advanced players take this one out for a demo.
Likes
Chris "I liked the blend of power, control and maneuverability. There was also plenty of room for me to customize it to my personal preference with lead tape, making it a great platform racquet for me."
Jason "The spin I was able to generate on all my shots. The large sweetspot."
Troy "The comfort and flexibility made this racquet feel great at the net. The maneuverability helped me on shots when I was not in position to take a full swing. Plenty of room for customization with weight."
Spencer "Feel, spin and power."
Dislikes
Chris "Just a tad light in stock form for me, but I easily fixed that with lead tape."
Jason "Not really a dislike, but I would've preferred it to be 3-5 points stiffer."
Troy "The lack of depth control from the baseline. I would have liked a bit more mass."
Spencer "The seeming lack of depth control when swinging out."
Technical Specifications

Length
27 inches
69 centimeters
Head Size
98 square inches
632 square centimeters
Weight
11.1 ounces
315 grams
Balance Point
13 inches
33 centimeters
4pts Head Light
Construction
20mm Straight Beam
Composition
Graphite/Delta Core
String Pattern
16 Mains / 19 Crosses

Babolat RDC Ratings

Score

Grade

Flex Rating
63
Range: 0-100
Swing Weight
311
Range: 200-400
Scores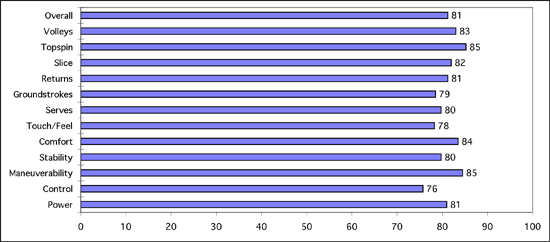 (Scores are determined by averaging individual play test scores)
Chris's Scores
Power
7.8
Serves
7.7
Control
8
Groundstrokes
8
Maneuverability
8.3
Returns
8.1
Stability
7.7
Slice
7.8
Comfort
7.9
Topspin
8
Touch/Feel
8
Volleys
8.2
Overall
7.9
Spencers's Scores
Power
7.8
Serves
8.4
Control
7.5
Groundstrokes
8.1
Maneuverability
8.6
Returns
8.5
Stability
8
Slice
7.9
Comfort
8.1
Topspin
8.7
Touch/Feel
7.3
Volleys
8
Overall
8.3
Jason's Scores
Power
8.1
Serves
8
Control
8
Groundstrokes
8.3
Maneuverability
7.9
Returns
8.1
Stability
8.3
Slice
8.6
Comfort
8.4
Topspin
8.9
Touch/Feel
7.8
Volleys
8
Overall
8.3
Troy's Scores
Power
8
Serves
7.8
Control
6.8
Groundstrokes
7
Maneuverability
9
Returns
7.8
Stability
7.9
Slice
8.5
Comfort
9
Topspin
8.5
Touch/Feel
8.2
Volleys
9
Overall
8
Playtester Profiles
Chris:5.0 All court player currently using the Volkl Power Bridge 10 Mid. Chris uses a full-western forehand grip, has a fast swing style and hits a one-handed backhand.
Spencer:4.5 Baseline player currently using a Wilson Kobra Tour. Spencer uses a semi-western forehand grip, and hits with a one-handed backhand.
Jason: 4.0 baseliner with a semi-western forehand and one handed backhand. Currently using a customized Volkl Power Bridge 9.
Troy: 5.0 lefty all-court player with a full Western Forehand and a two handed backhand. Troy currently plays with the Wilson K-Blade 98.

Review date: September 2010. If you found this review interesting or have further questions or comments please contact us.
All content copyright 2010 Tennis Warehouse.