Luxilon Big Banger Original String Review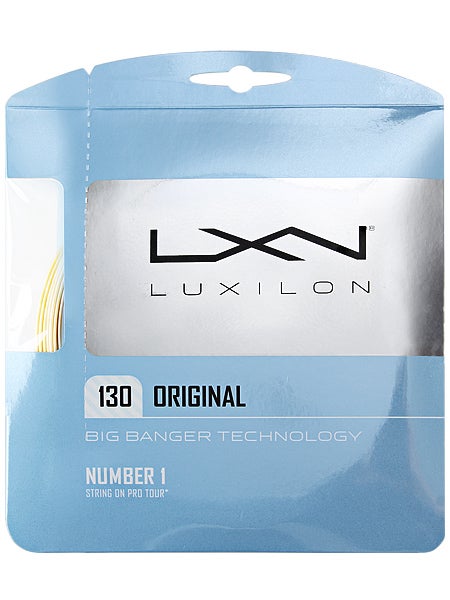 Luxilon Big Banger Original String Scores
Power
35
Spin
69
Comfort
55
Control
95
Touch
79
String Movement
92
Playability Duration
83
Durability
93
Overall
71
Upsides
Control
Durability
Crisp feel
Downsides
A tad firm and low powered
Summary
Luxilon Big Banger Original is not merely a firm monofilament designed for big hitters and chronic string breakers. It is part of a small cluster of Luxilon strings that have come to dominate professional tennis. For this reason we decided to have two of our advanced poly players, Chris Edwards and Andy Gerst, put it to the test. They immediately discovered the ease with which their biggest swings came down inside the court. Of course they also experienced the flip side of this incredible control, that being an utter lack of free power. Because this string allowed them to swing away they were both able to get adequate spin, though neither was overly impressed by the bite. Ultimately, Big Banger Original played more like a first generation polyester than the emerging crop of livelier, more elastic co-polys. However, as long as there are big hitters who could use a little extra durability and control, this time-tested, battle-worn gem from the '80s isn't going anywhere.
Power - Score: 35
If our two playtesters have it right, the best way to get power from Luxilon Big Banger Original is to eat your spinach and come to the court prepared to swing big. And it wouldn't hurt to hit downwind. Andy helps us understand the upside of this kind of string. He said, "Because Big Banger Original is so low powered, it allows you to take huge cuts at the ball and still maintain control. This is why big hitters like it so much. Needless to say, if you're looking for a powerful string, this is NOT the one for you. At contact the string has a very muted and dead feel, which many people (including our TW expert Chris) prefer. However, I like a livelier string, where I feel like the ball is jumping off the stringbed, and Big Banger Original definitely isn't that."
Chris, a connoisseur of firm polys, predictably took advantage of the low power. He said, "I found this to be a very low powered string. I have never been able to string the Volkl C10 Pro under 54 lbs without it feeling too lively, but with this string I was happy hitting at 50 lbs. This is one of those polys where the player provides all the pop, and in a racquet like the C10 Pro, it proved to be perfect. I was able to swing very aggressively with this string in my racquet, such is its low power level. If you like to take a big cut at the ball but worry about overhitting, I recommend trying this string to add some control."
Spin - Score: 69
Though Luxilon Big Banger Original gave our team adequate spin, Chris would have liked to get a tad more grip on the ball. He said, "I found the spin production to be OK. I was able to get enough spin simply because I was able to swing very, very fast with this string in my racquets. However, I did not feel like I was getting as much grip on the ball as I do with other strings. I was never able to quite tap into the kick and hook I can get from a string like Babolat RPM Blast or Polyfibre TCS. For me, there are far more impressive offerings for getting spin, and this string felt pretty average against most other poly offerings."
Andy's big strokes gave him the needed head speed for decent ball rotation, but like Chris, he did not experience any extra bite. He said, "Since I was forced to generate lots of racquet head speed, due to the lack of power, I could generate a good amount of spin with this string. The string is smooth and round (as opposed to textured or shaped), so there are no design features that helped me grab the ball at impact."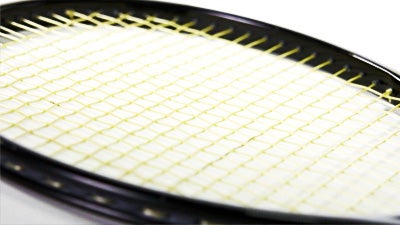 Comfort - Score: 55
If your arm requires a soft, pillowy response, Big Banger Original is not likely to land on top of your demo list. For Chris, with his heavier racquet and long strokes, the firmer response was just fine. He said, "It's a firm one, and built for control over comfort, that's for sure! I wouldn't look at this string if comfort is an issue, as it plays firm and crisp. I happen to like that feel and found it a good match for the buttery smooth C10 Pro."
Andy used a lower tension to get the comfort he needed. He said, "To get the string to feel less stiff I had to drop the tension really low (mid-40 lbs). At that tension the string felt comfortable enough. The muted, dead feel was comfortable at the really low tension, and I didn't lose any control. When the tension was too high the string felt too stiff and was pretty jarring at impact."
Control - Score: 95
Of all the things offered by Big Banger Original, it was the amazing control that emerged as the most undeniable feature. Andy was clearly impressed. He said, "This is where BB Original really excels! Since it's so low powered and stiff the stringbed undergoes very little manipulation at impact, and thus the response you get is very consistent and accurate. Superb control! I could put the ball exactly where I wanted, and the stringbed felt consistent enough that I felt like I could be precise every time."
"I found the level of control to be excellent," said Chris, who settled into some very confident shot making. "I loved how I could swing away and not have to worry about hitting long. The string had me feeling very dialed in and allowed me to explore lower tensions levels. I really liked the firm, crisp and clean response of this string when hitting volleys. I felt very connected to my targets and found it turned my racquet into a point and shoot weapon at net. Basically, it made hitting my targets a breeze. Even though the spin wasn't great from the baseline, I still found enough control to be able to stay on the gas and hit with confidence."
Playability Duration - Score: 83
Like all strings, Luxilon Big Banger Original definitely loses its fair share of tension, and with it playability. However, it stood up very well to Andy's powerful strokes. He said, "Another strength of this string! The playability lasted for over two weeks before it lost too much tension, and as a result, playability. It was also super durable, as I couldn't break it in that two-week span. After two weeks the string became really loose and felt rubbery at contact."
Chris got his standard two weeks from this string, but he definitely noticed a change in the feel. He said, "Comfort usually drops off for me first and I found this string to feel a little brassy at the two-week mark. As I've found with other polys, it would loosen up so it felt like the stringbed would stretch more, but at the end of that stretch the string started to feel more jarring -- like it had lost some of its elasticity."
Overall - Score: 71
Who would you recommend this to?
Andy - "This is definitely for players with long, fast strokes who wants the ultimate control or want to generate all of their own power. This string won't help you much in the power and spin department, so you must have the mechanics to generate all the pace yourself. I would also say that if you have a history of arm problems you should steer clear of this string. Make sure you're doing your shoulder bands daily with this string."
Chris - "I would recommend this string to a power player seeking a lot of control and durability from the stringbed. This is a low powered string that offers a ton of control and is very durable."
Likes
Andy - "I liked the control I got from this string because it let me take big cuts at the ball. It maintained its playability for a long time, and the durability was top notch."
Chris - "I liked the high level of control and the crisp feel. This string can really up the level of control when it's in the right racquet."
Dislikes
Andy - "I typically like a little more help out of my strings in the power and spin department. I also found the string really uncomfortable until I went way down in tension."
Chris - "This string did not feel as good in a stiff racquet, as the combination resulted in a loss of feel. I tried it in the Head Youtek IG Extreme Pro 2.0 and found the racquet played much better with other polys. However, Big Banger Original felt great in the C10 Pro."
Comparing the string to others they've tried, our testers said:
Andy - "This is one of the stiffest and most muted polys on the market. It is livelier for a longer period of time and more durable than your economy polyesters (ex. Gosen Polylon), which makes it worth the extra coin. I'd say it's pretty similar to Babolat Pro Hurricane."
Chris - "This string reminds me a lot of Kirschbaum Competition, and not just because they are similar in color. I found them both to be firm and low powered. I'm also surprised at how much control I have with both as I don't find either to offer exceptional bite, yet my shots land where intended and the level of spin is acceptable."
Scores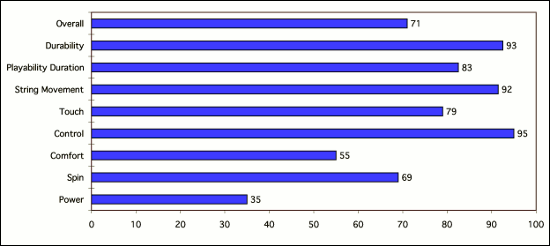 (Scores are determined by averaging individual play test scores)
Andy's Scores
Power
3
Playability Duration
9
Spin
6
Durability
9
Comfort
5
Control
9.5
Touch
7.5
String Movement
8.5
Overall
6
Chris' Scores
Power
4
Playability Duration
7.5
Spin
7.8
Durability
9.5
Comfort
6
Control
9.5
Touch
8.3
String Movement
9.8
Overall
8.2
Playtester String Setups
Andy:
Racquet: Yonex RDiS 100 Mid
Playtest Tension: 45 lbs
Usual String: Babolat RPM Blast 17
Chris:
Racquet: Volkl C10 Pro
Playtest Tension: 50 lbs
Usual String: Volkl Cyclone 16

Review date: October 2012. If you found this review interesting or have further questions or comments please contact us.
All content copyright 2012 Tennis Warehouse.