Babolat Aero Storm Tour GT Racquet Review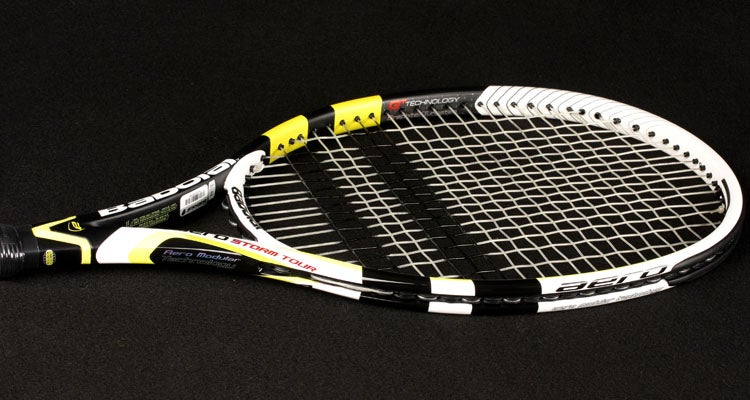 The Aero Storm Tour is already a proven success, but in the search for ever improving performance, Babolat has now added GT (Graphite Tungsten) technology to the racquet.
For Babolat, GT means combining carbon fibers with tungsten filaments and strategically placing them throughout the frame of the racquet. GT is designed to improve control and feel. According to Babolat, power is improved by having a greater concentration of Tungsten in the core of the frame, which boosts energy recovery by 10%.
As with previous versions of the Aero Storm, this new GT version weighs in at close to 12-ounces strung and it has a healthy swingweight, both "Player's Stick" characteristics. While it looks like a winner on paper, we wondered how the Aero Storm Tour GT would fare in the field? Our playtesters took it out for a month-long playtest to see how it stacked up.
Groundstrokes - Score: 81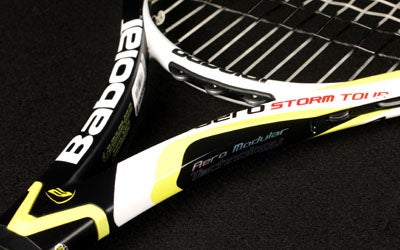 The mass of this racquet was immediately evident when hitting from the baseline, and its plow through most certainly characterizes it as a player's stick. Chris found rewarding results when he found the sweetspot. He said, "This racquet offered an interesting feel off the ground. The shaft felt stiff, while the head of the racquet felt very flexible. When I hit the sweetspot the racquet felt very plush. Outside of the sweetspot it felt pretty brassy. I think the hoop could be softer still to improve the feel on off-center shots. The weight helped with comfort, but off-center shots were just too jarring for me. When on it, I enjoyed the power and spin I found. I found a lot more power with this frame than I did with previous versions of this racquet. Considering its weight, I thought this racquet was lighting fast. I could really rip it through the contact zone, which could explain the power and spin. I felt like I could toy with the ball, adding spin and/or pace at will. Because of that feel, I found myself constantly being aggressive and going for big shots -- it was just too tempting not to."
Enjoying the mass, but having to make adjustments was Granville. He said, "My initial impressions related to the mass of the racquet. The very solid feel of mass striking the ball, and a big part of that was the pure comfort involved, and the need to really swing away and drive the ball deep into the court. Initial groundies were falling a bit short, and it took a conscious effort to raise my target over the net to achieve the desired depth. Another interesting anomaly occurred on the forehand side. The ball tended to end up well below my target zone. This may be related to grip shape, aerodynamics, or just me, but the racquet felt so good that I was willing to make adjustments just to play it."
Troy enjoyed the weight and plow through of this racquet, stating, "Right away I loved the mass this racquet possessed. On my groundstrokes I was impressed with the amount of plow through and stability I was getting. I liked how this racquet has a nice firm feel to it, similar to my Wilson KBlade 98, but still seemed to be arm friendly. I didn't feel any awkward vibrations. I felt as though I was generating a lot of spin when hitting sharp angles, especially off the forehand wing. I was very impressed with the amount of precision I was getting from the baseline; similar to what I experienced from my own racquets that have an 18x20 string pattern. I was getting more control and plow through with this racquet than I did with the Aero Pro Drive GT, and more spin and power than the Pure Storm Tour GT. A very comfortable racquet for me from the baseline, with no need for weight customization."
Finding the combination of weight and a more forgiving headsize working for him was Spencer. He said, "Coming in around 12-ounces strung, the Aero Storm Tour GT provided a very solid feel with good plow through. The stability of this stick handled incoming higher velocity shots with ease, much like a traditional player's racquet. The difference with the Aero Storm Tour GT though, is that it sports a larger headsize than a traditional player's stick. The sweetspot is naturally increased with the 98-square inch headsize, yet its stellar stability maintained that plow through characteristic."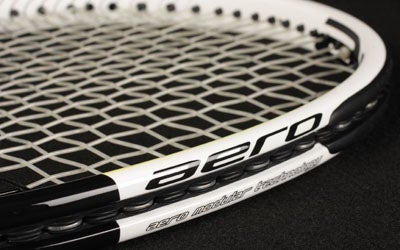 Volleys - Score: 84
The combination of stability and maneuverability made the Aero Storm Tour GT ideal for net play. Troy was impressed with the stability of this racquet at net, saying, "I enjoyed the firm, crisp feel I was getting on my volleys. The mass really helped stabilize the racquet when facing heavy hitters, showing impressive torsional stability. This racquet was fun to play with in doubles. I was comfortable sticking a volley deep or going for a short angle dropper. I felt like the 98-square inch headsize provided me with a nice sized sweetspot, and it felt rock solid at net when strung with a full bed of co-polyester string."
Once again, Chris found excellent results when striking the ball in the heart of the stringbed. He said, "The racquet offered the plow through to punch volleys, yet it was also maneuverable enough to get around easily. Again, shots in the sweetspot felt buttery smooth, however, the feel was not so great outside the sweetspot. For the most part I was volleying well with the racquet, and I was able to find my targets most of the time."
Granville was hoping for more maneuverability, but liked the stability, saying, "It's as solid and stable as a rock. At six-points head light it is a bit less maneuverable than my current racquet (Wilson KSix.One 95 18x20). This racquet would certainly be a weapon in the right hands."
Eager to get to the net more often with this stick was Spencer. He stated, "This racquet was extremely solid at net. It handled hard hit shots with little torque or vibration, keeping volleys on line. I liked the results I was getting at net, as my "points won at net" percentage felt higher than usual. I was actually looking for more opportunities to get to net."
Serves - Score: 83
Pace and control were characteristics that shined when serving. Spencer enjoyed the power and consistency he found when serving. He said, "Like the previous Cortex version of this racquet, the serve was where this racquet performed the best for me. I could definitely serve bigger than usual with this stick. I wasn't erratic, either. I found a nice, controlled velocity."
Chris liked the pace and control, too. He said, "I served well with this stick. I was getting good pace on my serves and my targeting was solid. Spin production was decent for me. I wasn't getting any extra kick, but I was getting enough spin to do what I wanted to do with the ball and keep my consistency up. Again, the racquet felt maneuverable for its weight."
Granville was getting pace and comfort, but felt the racquet lacked a crisp response. He said, "There is something very unique about the playability of these Aero racquets. When serving with this Aero Storm Tour GT I felt like I was getting the same power and pace as I did with the other Aero racquets, with a very comfortable stringbed. What was missing for this tester was that crisp response; that knife edge feel I'm accustomed too. I suspect an easy fix would be to modify the string set-up more to my liking (either a tighter PU multi or Gut main/poly cross Hybrid.)"
Appreciating the consistency and spin he could generate with this racquet was Troy. He stated, "I was serving very consistently with this racquet, and I was getting some major spin on my lefty slice serve. I enjoyed the amount of spin that I was getting on my slice and kick serves, helping me place the ball well within the service box. I didn't feel I was getting as much pop as I get from my own stick, but at the same time the added spin I was getting helped me earn some free points on first serves. I wasn't as effective with this racquet when going for a big flat serve. I found them difficult to dial in."
Serve returns - Score: 80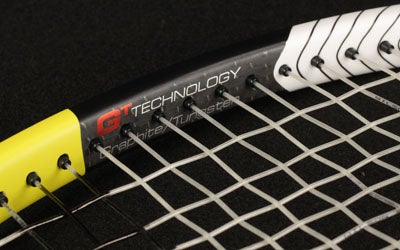 The weight of this stick, once again, worked well on returns, with our testers being able to use the mass of the racquet to their advantage. Granville stated, "Once again, mass came to the rescue. The racquet is a wall when blocking a defensive return. If I got enough string on it, it was going back over the net. When taking the offensive, I had everything I needed to put that ball deep into the server's court."
Using the weight of the racquet for aggressive returns was Chris. He said, "I could really rip returns with a lot of power with this racquet. It plowed through the contact so well that I found myself hitting flatter returns than usual the first week or so. Later on it proved easy to find the spin I found on groundstrokes. I just focused on rolling the ball more and the racquet responded by offering plenty of bite."
Troy added, "The mass of this racquet helped me keep the ball deep on returns, similar to what I found on groundies. With the excellent plow through I was putting good pressure on my opponents, putting myself in an offensive position early in the points. The maneuverability was a plus when I was stretched out or off balance, as I was able to flick the ball back and keep myself in more points. I was getting good control when I was able to take a full cut on the return, as well as when I was slicing a return off the back hand wing like King Fed!"
Finding a wide range of effective returns was Spencer. He stated, "Chipping back returns was easy, and with the heft of the racquet behind the ball, deep chips were effective. When opportunities presented themselves I was able to put more into the returns and take advantage of the excellent control, and put the server on his heels here and there with some driving returns off both sides."
Overall - Score: 82
If there was one outstanding attribute that our playtesters all enjoyed, it was the undeniable stability. The heft of this racquet lent itself to providing a solid feel from all areas of the court, allowing the testers to take advantage of the penetrating shots this stick provided. The Aero Storm Tour GT competes with the best of 'em when the ball is hit in the sweetspot, but it lacks forgiveness on balls hit outside the sweetspot. With close to a 12-ounce static weight and a 330 swingweight (RDC), this racquet is best suited to intermediate through advanced level players who can benefit the most from the racquet's mass. All in all, our crew was more than happy with the results they found on court with the Aero Storm Tour GT.
Likes
Chris "I liked the power. This was a fast and powerful racquet. I was surprised at how easy it was to swing quickly, considering its solid weight. The feel from the sweetspot was very special, and had me feeling dialed in on my shots."
Granville "Solid feel, excellent weight/balance for truly competitive players, the cosmetics."
Troy "The weight and balance are right in my sweetspot of specs. A 'tweener of specs from the Aero Pro Drive GT and the Pure Storm Tour GT. My favorite Babolat racquet thus far."
Spencer "The heft, control, and access to power."
Dislikes
Chris "The response was too harsh outside of the sweetspot. Unfortunately, that was a deal breaker for me. Otherwise, this is a racquet I'd have considered switching to."
Granville "I would prefer a slightly more head light balance at a strung weight of 12.4 ounces to enhance the maneuverability. At 12+ ounces it does not leave much room for weighting/balancing."
Troy "I would replace the Babolat Syntec Grip with a TW Private Label Leather Grip."
Spencer "The RA rating (stiffness), along with its weight, made for a bit of soreness in my arm."
Technical Specifications

Length
27 inches
69 centimeters
Head Size
98 square inches
632 square centimeters
Weight
11.9 ounces
337 grams
Balance Point
12.75 inches
32 centimeters
6pts Head Light
Construction
21.5mm Straight Beam
Composition
Graphite/Tungsten
String Pattern
16 Mains / 20 Crosses

Babolat RDC Ratings

Score

Grade

Flex Rating
68
Range: 0-100
Swing Weight
330
Range: 200-400
Scores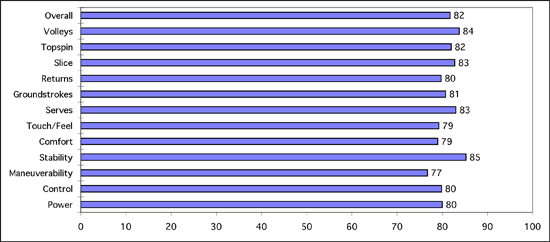 (Scores are determined by averaging individual play test scores)
Chris' Scores
Power
8.2
Serves
7.8
Control
7.8
Groundstrokes
8.1
Maneuverability
7.8
Returns
8.1
Stability
8
Slice
8.2
Comfort
7.4
Topspin
8
Touch/Feel
7.8
Volleys
8
Overall
7.8
Granville's Scores
Power
7.5
Serves
8.2
Control
8.25
Groundstrokes
8
Maneuverability
7.5
Returns
7.7
Stability
8.7
Slice
8.5
Comfort
8.7
Topspin
8.7
Touch/Feel
8.2
Volleys
8.5
Overall
8.5
Troy's Scores
Power
8.5
Serves
8.5
Control
8.2
Groundstrokes
8.5
Maneuverability
7.8
Returns
8.1
Stability
8.9
Slice
8.5
Comfort
8.4
Topspin
8.7
Touch/Feel
8.2
Volleys
9
Overall
8.6
Spencer's Scores
Power
7.8
Serves
8.7
Control
7.7
Groundstrokes
7.7
Maneuverability
7.6
Returns
8
Stability
8.5
Slice
7.9
Comfort
7.1
Topspin
7.4
Touch/Feel
7.5
Volleys
8
Overall
7.8
Playtester Profiles
Chris:5.0 All court player currently using the Volkl Power Bridge 10 Mid. Chris uses a full-western forehand grip, has a fast swing style and hits a one-handed backhand.
Granville: 5.5 all-court player currently using a Wilson K Factor Six-One Tour 95. Granville is an aggressive player who uses an eastern forehand grip and goes continental on everything else, hits with a flat swing and a one-handed backhand.
Troy 5.0 lefty all-court player with a full Western Forehand and a two handed backhand. Troy currently plays with the Wilson K-Blade 98.
Spencer: 4.5 Baseline player currently using a Wilson Kobra Tour. Spencer uses a semi-western forehand grip, and hits with a one-handed backhand.

Review date: December 2010. If you found this review interesting or have further questions or comments please contact us.
All content copyright 2010 Tennis Warehouse.