Babolat Aero Storm Racquet Review
Babolat has been storming the tennis courts in recent years with successful racquets such as the Pure Drive, Aero Pro Drive and Pure Storm. Adding vibration dampening Cortex Technology to these (and other) racquets has increased their popularity and, we believe, their overall performance.
Similar to the Aero Pro Drive, the Aero Storm combines an aerodynamic throat design with a more traditional hoop design, resulting in a racquet with enhanced maneuverability (for its 12+ ounce weight) and solid stability.
Out on the court with the Aero Storm, there's a faint wisp heard as the racquet cuts through the air - a subtle reminder of the efficiency of the Aero Modular Construction on fast swings. For improved comfort and feel, Babolat's Cortex system is included, providing a slightly dampened feel.
The playing characteristics of this racquet should make it ideal for intermediate to advanced level players. To put that theory to the test, we handed over the racquet to our 4.0 to 5.5 rated playtesters for a three-week playtest. Would the Aero Storm be a force on the court, destroying enemies in its path and living up to its weathered name? Tune in for our in-depth Storm report to find out.
Groundstrokes
Though the Aero Storm provided a solid feel at impact, the majority of our playtesters found a long, full swing was needed for power and depth. Enjoying the mass and stability from the baseline was Spencer. "The Aero Storm has a very solid feel from the baseline off both sides. I was able to produce plenty of topspin off the forehand and direct my shots with good accuracy. On the backhand, topspin felt solid while I seemed to carve the slice with a low skid. I tried a couple of different types of string and I felt a soft co-poly worked best for me in this aspect. Though this racquet has a stiffer feel, I was very comfortable with how it performed on groundies."
Experiencing a tale of two strokes from forehand success to backhand struggles was Jackson. "I was able to generate a lot of topspin on my forehand and found this racquet easy to get around. Despite the weight, I was able to set up for shots in ample time. Control wasn't an issue, as I could direct the ball very well off both sides. One of the biggest things I noticed was my ability to hit a more offensive shot off what would normally be a defensive shot (mainly off the forehand side) with this racquet. I was hitting on-the-run forehands with authority and angle. On the other side, I was very disappointed with my backhand, especially the slice. I thought the Aero Storm would be more powerful than the Pure Storm, but I wasn't able to generate as much power on the backhand side. Slice backhands consistently fell into the middle of the net unless I put a heap of extra effort into the shot, which resulted in the ball sailing into the air if the stroke wasn't perfectly executed. For me, there was hardly any middle-ground. The only saving grace on my backhand side was that I found the same spin that I found on the forehand. My flat backhand shots were more difficult to hit well, frequently setting up my opponent for an easy passing shot due to the lack of driving power."
Danny had similar sentiments on forehand and backhand shots. "There was a noticeable difference in depth and consistency between my forehand and backhand. From the baseline, my forehand felt great. I had the power, spin and consistency that I normally get with my current racquet. My backhand was another story. The depth of my shots was inside the service line, and I had a hard time finding the sweetspot. In other words, it would be a good racquet for control due to its low power."
Finding issues with ball depth was Granville. "From the first hit it was apparent that this racquet was made for someone who 'swings for the hills' and can hit them. If not, this stick is sorely underpowered. Yes, it does pass through the air easily, offers a good mass at 12.1 ounces and has a very soft response. But the balls were landing short, and the stringbed was less than lively. While it did have a good feel to it, after several games it began to feel like a club in my hand. It never had that 'scalpel' feel that I am so fond of." Finding a good fit for his forehand was Chris. "I was able to take some solid, aggressive cuts at the ball with this racquet. I was able to generate some good pace and weight with a long fast swing. I also found good control when looking to hit angles and lobs, etc. On the backhand side, I found the best results hitting my one-handed backhand. I hit higher up in the stringbed on my two-hander and found the power to drop off above the center of the stringbed. With my one-hander I felt like I was hitting from the sweetspot more, and I found better depth and consistency. Either way, this racquet was somewhat low powered compared to my Pure Drive Roddick. I was finding pretty good spin and enjoyed hitting both topspin and slice from the baseline and on approach shots."
Volleys
Our team found the Aero Storm thrives at the net. Jackson found the volley was his favorite shot with the Aero Storm. "I felt like volleys were the bread and butter of this stick. The weight of the racquet wasn't a hindrance at all at net, and it only added to the stability and the power of the shot. I honestly can't say enough good things about this racquet when volleying. Low, high and into the body, I almost felt invincible at the net. As long as the racquet got there, the volley went back deep accompanied by a loud solid thwap. In other words, the maneuverability and control were that of a lightweight, compact racquet with power to boot."
Feeling confident with sharp consistency at net was Danny. "I liked how crisp my volleys felt with the Aero Storm. Unlike my groundstrokes, I found a solid, consistent feel with my forehand and backhand volley. I had good touch on my short angle and drop shot volleys. The volleys that were above my shoulder were solid, firm and consistent." Chris found similar results. "I enjoyed the response of the racquet at net. The racquet felt very solid - even when Granville was blasting groundstrokes at me. This is one of those sticks where I felt like I could really get into some heavy hitting and I had the right tool to get the job done. I also enjoyed the response on touch volleys, successfully finding my targets."
Granville enjoyed the stability of the racquet at net. "Stability is the name of the game when it comes to this racquet at net. It offered good maneuverability, and I could really 'stick' the ball. Again, not a lively stringbed, so don't look for any help outside the sweetspot - especially when stretching for a wide ball." Also feeling confident at net with the racquet was Spencer. "I really enjoyed wielding this one at net. With excellent stability, plenty of punch, yet soft enough for placement volleys, I found the Aero Storm to be one of my top weapons of choice for doubles. My confident play with it has helped me become much more aggressive at net."
Serves
Opinions varied when it came to power and consistency when serving with the Aero Storm. Feeling a bit of a boost on his serve was Spencer. "This was the highlight of the playtest for me. I served very effectively with this racquet. The confidence and consistency I found on second serves allowed me to go for more on first serves. I took advantage of the extra pop I found, and I can't recall hitting more aces and winners on serve with another stick." Pleased with his results when serving was Danny. "I liked how the racquet felt with my serves and overheads. My first serve had good pop and consistency. My second serve with this racquet didn't get the kick I normally achieve; however, I didn't think that was a bad thing. My second serve had more side spin than kick, which gave a skidding effect."
Once adjusted, Jackson was happy with the amount of spin he could produce with the Aero Storm. "I was able to generate more power on my serves with this racquet compared to other similar racquets. Once I got used to the racquet I was able to produce a good amount of spin on second serves. Due to the weight and balance of the racquet, I was able to make up for the lack of inherent power. With good swing speed I felt like I was producing enough power with this racquet."
Granville felt a lack of power and confidence. "It took several games before I was serving with confidence. The racquet seems heavy to me - I suspect it is the balance difference between my 6.1 (at 10 points head-light compared to the Aero Storms 6 points head-light). Due to a lack of 'crispness,' it felt like I didn't get the pop I get from my regular racquet." Chris enjoyed serving with the Aero Storm. "I had some good results serving with this racquet. I was finding my targets, felt like I was getting good weight on the ball and the pace I was finding was solid. I liked the way the racquet moved through the ball on serve, and it felt very stable and solid."
Serve Returns
Stability and control were the standout characteristics of the Aero Storm for our crew when returning serve. Taking advantage of the opportunity to swing aggressively without sacrificing control was Danny. "I liked how I could take a full swing on my returns and still get a decent amount of control. Taking a full swing on my returns is not my type of game, but it worked well for me with this racquet."
Having more success with harder serves was Jackson. "I was not impressed with this racquet - especially returning with my backhand slice. I was able to block returns back beautifully against service bombs. However, any kind of spin-loaded soft serve flailed off the racquet. Also, I felt I had to make sure to really watch the ball hit the stringbed because the slightest lack in concentration, for just a moment, resulted in a mis-hit or framed shot." Granville liked the solid feel but not the power level of the racquet. "As you might have guessed at this point, this was a very stable racquet and one that will be able to put as much 'Schtick' in the ball as you can muster - and for me, not anything more. Hit out in front with weight moving forward at contact - if not, watch the ball hit the bottom of the net."
Spencer was pleased with the consistent control. "There was plenty of stability to handle hard serves. Off center hits stayed well on track, so the control was very satisfying. Maneuverability was fair, and I only got into trouble if I looked to be too aggressive. The Aero Storm was very consistent when returning serve with smooth strokes." Chris was happy with his returns with the Aero Storm. "Again, I found the racquet to feel solid and stable. I wasn't finding a ton of liveliness from the stringbed, so I was hitting better returns when I was able to get the racquet moving and utilize its mass. When taking a cut at the ball, I was finding plenty of spin and a good level of control on my shots."
Overall
Our playtesters enjoyed putting the heft and stability of the Aero Storm to good use. With a low-powered response from the stringbed, our team found power and weight of shot to come from long, fast swings. Offering a nice amount of control, slower compact swings resulted in good placement and control, but not much pop. A player who is accustomed to having the racquet help "bring the rain" may not necessarily be thrilled with the lack of "moisture" the Aero Storm provides. The Aero beam seemed to help the racquet through the air, as our testers found maneuverability to be good even with a 12.1 ounce strung weight and a hefty 340 swingweight (RDC). As for the Storm name? Well, those with long, fast strokes will be able to bring the thunder with this one; however, players with more compact strokes may only conjure up a few non-menacing clouds.
The "Likes" of the racquet.
Danny - "I liked the control that the racquet had. This would be an ideal racquet for advanced tennis players who have a fast swing speed and generate their own power."

Granville - "This racquet has a very solid feel and moves through the ball well. Good looking racquet, too."

Jackson - "I was very impressed with the spin potential of this racquet."

Spencer - "My favorite aspect of the Aero Storm was serving. I definitely gained some velocity without feeling I sacrificed control or percentage."

Chris - "I liked the amount of spin I could get from the baseline and on serve with this racquet. I also enjoyed the control and stability from all areas of the court."
The "Dislikes" of the racquet.
Danny - "My backhand is a strong point of my game, and my depth and consistency were not where they usually are when hitting with this racquet. I didn't like how stiff the racquet felt. The stiff feel slightly irritated my left wrist."

Granville - "I felt the Aero Storm lacked power, making me have to swing more aggressively to get comparable depth."

Jackson - "I really had to pay attention to my strokes and especially my timing to hit the shots that put my opponents on the defense with this racquet."

Spencer - "I felt the combination of stiffness in the racquet as well as some of the string choices played a role in some elbow soreness."

Chris - "I didn't find any 'free' power with this one, but other than that, no complaints."
Technical Specifications

Length
27 inches
69 centimeters
Head Size
98 square inches
632 square centimeters
Weight
12.1 ounces
343 grams
Balance Point
12.75 inches
32 centimeters
6pts Head Light
Construction
21 mm Head / 19 mm Shaft
Composition
High Modulus Graphite
String Pattern
16 Mains / 20 Crosses

Babolat RDC Ratings

Score

Grade

Flex Rating
66
Range: 0-100
Swing Weight
340
Range: 200-400
Babolat Aero Storm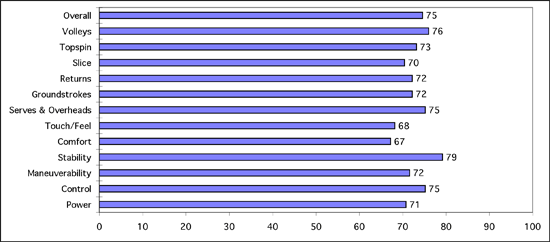 (Scores are determined by averaging individual play test scores)
Playtester Profiles

Chris
5.0 baseline player currently using the Babolat Pure Drive Roddick. Chris uses a full-western forehand grip, has a fast swing style and hits a two-handed and a one-handed backhand.
Granville
5.5 all-court player currently using a Wilson K Factor Six-One Tour 95. Granville is an aggressive player who uses an eastern forehand grip and goes continental on everything else, hits with a flat swing and a one-handed backhand.
Danny
Open baseline player currently using a Volkl Tour 10 Generation II. Danny uses a semi-western forehand grip, a two-handed backhand and has a long swing style.
Spencer
4.5 Baseline player currently using a Wilson K-Blade Tour. Spencer uses a full-western forehand grip, and hits with a one-handed backhand.
Jackson
4.5 All court player currently using a Babolat Pure Drive Team. Jackson uses a semi-western forehand grip, and hits with a two-handed backhand.

Review date: Jan 2008. If you found this review interesting or have further questions or comments please contact us.
All content copyright 2008 Tennis Warehouse.