Babolat Aero Storm GT Racquet Review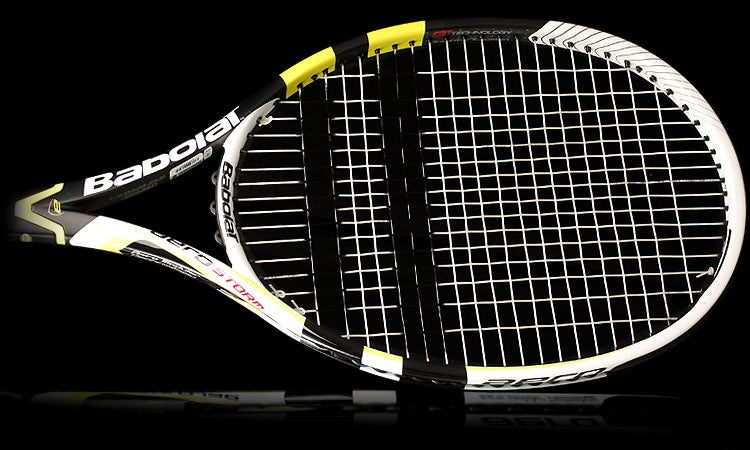 The masses have spoken, and they overwhelmingly called for a review of Babolat's Aero Storm GT.
Not to be confused with the Aero Storm Tour GT, this lighter version of the two Aero Storm GTs is designed to offer intermediate players a more maneuverable feel, while still providing the same control, feel and spin as its heavier sibling.
When Babolat updated the Aero Storm, Graphite Tungsten (GT) was added to the frame and the racquet got a new cosmetic, going from red accents to yellow to match the rest of the Aero line. Otherwise the technologies remain the same: Aerobeam construction, Woofer grommets and Cortex dampening.
We sent out a playtesting team to see if the Aero Storm GT delivered on that idea. Here's what our testers had to say after a month of testing.
Groundstrokes - Score: 78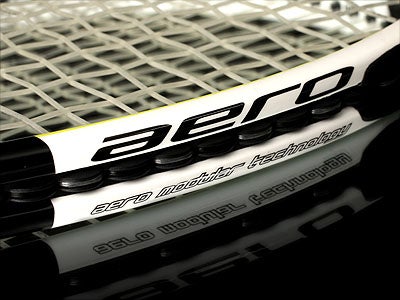 The Aero Storm GT's performance on the baseline impressed our testers with a powerful and smooth feel from the sweetspot. Brittany tapped into a fountain of power, saying, "The first thing I noticed when hitting with this racquet was how much power I was getting. It took very little effort for me to hit a very hard flat ball. However, I had a lot of problems with control. When I was hitting in the sweetspot I was hitting crisp, clean shots. However, when I was a little off the racquet was unforgiving and the ball would fly. I do have to say that I liked the feel of the racquet. Slice is normally a weakness in my game, but I felt confident and in control when hitting slice with this racquet."
Kana agreed, saying, "I feel like this racquet might be the next best thing to my Volkl V1 Classic. The only downside was that it seemed to be a little spotty out of the sweetspot. If I was out of position I could maneuver the racquet into position for a defensive shot, but sometimes the ball would launch and sometimes it would drop into the net. However, I think I could easily adjust once I learned the racquet's hot spots. Other than that, the feel was amazing when I hit it spot on. The biggest change I saw was on my forehand side, with shots going deeper, with more topspin. I could slap at the ball to execute a flat winner, and slices were amazing on both sides. They stayed low and skidded along the ground. Even on high backhand slices, I was completely confident in slicing the shot downward for an aggressive return."
Jackson had mixed results, saying, "I definitely experienced a love/hate relationship with this stick off the ground. The racquet was relatively easy on the arm, but the feel was slightly more muted than I prefer. Comfort paralleled control; the Cortex seemed to work with the flex of the frame to create a soft, easy feel. I could feel the increased dwell time and that helped me direct the ball pretty well. Even though this racquet was a little easier on the arm, off-center shots were mentally painful. There was a noticeable difference in the ball pocketing and control when I missed the center of the stringbed. The ball seemed to sputter off the strings in a wild direction. Spin potential was nice, and I felt like I was able to put a little more spin on the ball. This was especially noticeable on the run. Just a little flick of the wrist to help dip the ball within inches of the baseline or to bend it like Beckham down the line."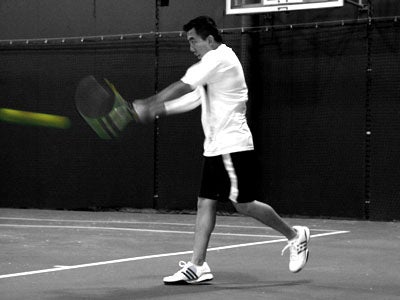 Jason said, "I really enjoyed the solid feel of the racquet at contact. Because it is fairly low powered, I was able to take some aggressive cuts at the ball from both wings. Whether I was hitting down the line or pulling shots cross court, I felt very confident in the placement of my shots. Power was lacking a little bit, though. I found myself really making an effort to swing a bit harder or with more loft so my shots would land beyond the service line. Access to spin was good on topspin shots, but for some reason I struggled slicing the ball. My slice tended to float on me a little."
Volleys - Score: 79
Our playtest team seemed to agree that the Aero Storm GT was an asset when volleying. Jackson said, "If I were a doubles player I'd get along with this racquet a lot better. I liked the maneuverability at net, and even though the feel was muted, I was still able to get good touch on drop shots and angled volleys. My only complaint relates to the stability of the frame. I found it hard to hold onto the racquet when I had to stretch to return hard shots, and I felt like I was doing more work trying to put the ball away."
The racquet's versatility pleased Brittany, who said, "My volleys were solid with the Aero Storm GT. I did not have any problem maneuvering the racquet for quick reflex volleys, and my touch and angles were extremely accurate."
Jason also found success at net. He said, "I was surprised at how well the racquet performed up at the net. On paper the swingweight is fairly high, but it didn't feel like it when I was volleying. The head felt pretty stable and had enough mass to punch volleys with some force. I did struggle a bit getting the racquet around on time when hitting overheads. Let's just say I shanked a few more overheads than I care to talk about."
"This is a great volleying stick because it's extremely maneuverable," said Kana, adding, "Forehands felt very crisp and solid, and I could take a nice chop on the backhand side."
Serves - Score: 78
The testers were split in their review of the racquet when it came to serves. Jason served with consistency. He said, "The swingweight was definitely noticeable on serves. To get the type of racquet head speed I'm used to, I either needed the swingweight to drop 10-15 points or I needed bigger muscles. Even though I couldn't produce as much speed or as much spin with this racquet as I do with my own, I did appreciate the consistency. Directional control was pretty good as well. I had the most success serving down the T on the ad side."
After adjusting his serving style, Jackson made it work. He said, "I thought power was lacking in this area. Although, what the racquet lacked in power was made up for with spin. I had problems placing my flat serve because of the extra effort required to bring up the speed, but I had no problems whatsoever with my kicker. I could feel the stringbed bite into the ball and was able to place it to the backhand side, kicking the ball above shoulder height confidently and consistently."
Kana thoroughly enjoyed serving and said, "This was one of my favorite racquets to serve with. It was very comfortable to whip the racquet into the shot, especially when I was snapping my wrist to create a little more topspin. I was very confident with placement and kicking up the second serve."
Brittany added, "Again, the power of the racquet really helped me hit through my serves. I gained some speed on my first serve, which was an added bonus."
Serve returns - Score: 77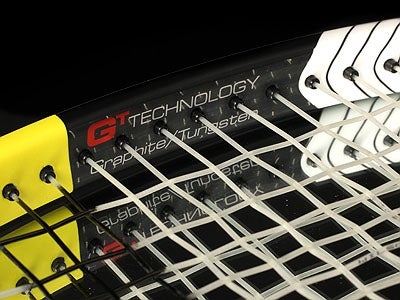 Opinions were wide ranging on returns. Kana said, "This is a very stable racquet, especially when going up against a big server. All I had to do was get the racquet on the ball and the ball would land in the court. It was so easy to flick the wrist if my opponents were kicking it out wide."
Struggling to find her game, Brittany said, "I think the control was an issue with my returns. Normally, my returns are a strong asset to my game, but I felt like my returns were flying all over the place on first and second serves."
"I sometimes felt like a sitting duck," said Jackson. "I found it hard to hit a heavy ball off the return. My only saving grace was using the spin to hit angles I normally wouldn't risk off a service return. This racquet helped me feel a little more confident doing that because I felt like I had more access to spin, but I still would've preferred hitting the return deeper into the court instead of leaving a sitter just past the service line."
Jason made note of maneuverability. He said, "For me to return with some aggression I had to take full swings at the ball, so I had to stand farther back than usual to give me the time I needed. Once I had adjusted, I was fairly successful with my returns. The one problem I ran into was being susceptible to being aced out wide."
Overall - Score: 79
The Aero Storm GT served up different results for our testing team. Depending on their game style, the testers had different reactions. For our players who hit flatter groundstrokes, power was noticeable off the stringbed. On the flip side, the testers who play with moderate spin on their groundstrokes found the racquet to be much more control oriented off the ground. There was more of a consensus on volleys, with our testers finding plenty of feeling and maneuverability. In the end, this racquet should be on the must demo list of intermediate to advanced level players so they can see how it fits their playing styles.
Likes
Brittany "I was impressed with the power I received from this racquet."
Jackson "The spin potential was nice for both topspin and slice. I also really enjoyed the flex of this frame and the control that the flex created."
Jason "The solid feel and control."
Kana "The combination of the weight, balance and stability made this racquet extremely maneuverable."
Dislikes
Brittany "The racquet was a little stiff for my liking, and control was lacking."
Jackson "I would've liked a little more put away power from the frame. I got really frustrated with the shots that weren't hit picture perfect."
Jason "Too stiff for my arm (I could feel aches and pains after back to back days). Not as maneuverable and powerful as I would've liked."
Kana "The stringbed seemed to have hot spots of power."
Technical Specifications

Length
27 inches
69 centimeters
Head Size
98 square inches
632 square centimeters
Weight
11.4 ounces
323 grams
Balance Point
13.1 inches
33 centimeters
3.2pts Head Light
Construction
21.5mm/21.5mm/21mm/ Tapered Beam
Composition
Graphite/Tungsten
String Pattern
16 Mains / 20 Crosses

Babolat RDC Ratings

Score

Grade

Flex Rating
67
Range: 0-100
Swing Weight
334
Range: 200-400
Scores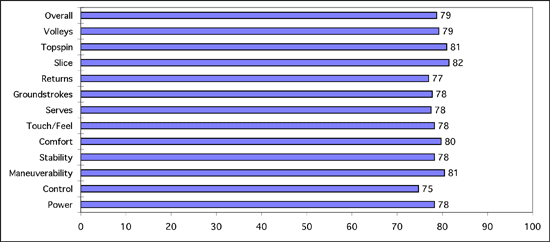 (Scores are determined by averaging individual play test scores)
Brittany's Scores
Power
8.5
Serves
8
Control
7
Groundstrokes
7.8
Maneuverability
7.8
Returns
7.5
Stability
7.9
Slice
8.5
Comfort
8
Topspin
7.6
Touch/Feel
8.3
Volleys
8.1
Overall
7.8
Jason's Scores
Power
7.5
Serves
8
Control
7.7
Groundstrokes
8.1
Maneuverability
7.3
Returns
7.8
Stability
8.2
Slice
7.3
Comfort
7.1
Topspin
7.8
Touch/Feel
7.5
Volleys
8.1
Overall
8
Jackson's Scores
Power
7.3
Serves
7
Control
7.7
Groundstrokes
7.2
Maneuverability
8.5
Returns
7.5
Stability
7
Slice
8.6
Comfort
8.8
Topspin
8.5
Touch/Feel
7.5
Volleys
7.5
Overall
7.5
Kana's Scores
Power
8
Serves
8
Control
7.5
Groundstrokes
8
Maneuverability
8.6
Returns
8
Stability
8.2
Slice
8.2
Comfort
8
Topspin
8.5
Touch/Feel
8
Volleys
8
Overall
8.2
Playtester Profiles
Jackson:4.5 All court player currently using a customized Babolat Pure Storm. Jackson uses a semi-western forehand grip and hits with a two-handed backhand.
Kana: Open level baseliner with a western forehand and two-handed backhand. Currently using a customized Volkl V1 Classic.
Brittany Open level player with a semi-western forehand and a two handed backhand. She currently plays with the Prince EXO3 Black
Jason: 4.0 baseliner with a semi-western forehand and one handed backhand. Currently using a customized Volkl Power Bridge 9.

Review date: November 2010. If you found this review interesting or have further questions or comments please contact us.
All content copyright 2010 Tennis Warehouse.