adidas Stella Barricade 8 Women's Shoe Review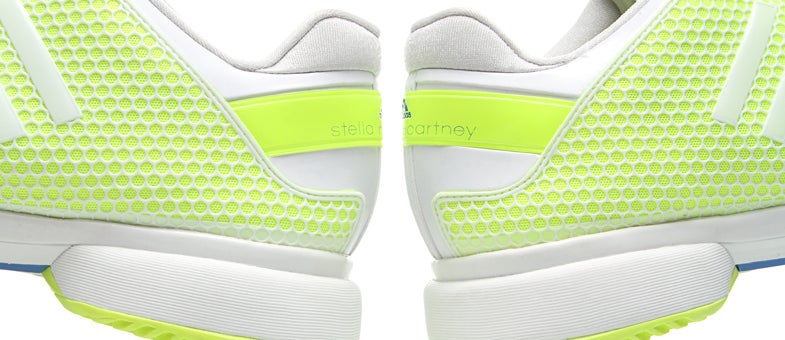 adidas Stella Barricade 8 Women's Shoe Scores
Comfort
3.5
Ventilation
3.9
Arch Support
4.0
Foot Support/Stability
3.7
Overall Sole Durability
4.2
Toe Durability
3.7
Traction
4.1
Weight
4.3
Overall
3.9
Upsides
Light and durable
Stylish
Well cushioned
Downsides
Fits long
Caused some rubbing in toe box
Summary
Fashion designer Stella McCartney adds her style sense to this eighth edition of the Barricade. As this sturdy line of shoes continues to evolve, the adidas Stella Barricade 8 brings bright color options with a feminine flair and the lightweight quickness of the Barricade 7 to the Barricade performance staples of durability and locked-in comfort. Our playtesters were excited to get their feet into these new shoes after hearing that Stella McCartney was helping design them. The ladies quickly found some changes in this Barricade 8, including how the Band of Power held their feet securely at the heel. Our playtesters found this shoe to be quick and light weight, yet still equipped with a very durable outsole and the outstanding stability that Barricades are known for.
Comfort - Score: 3.5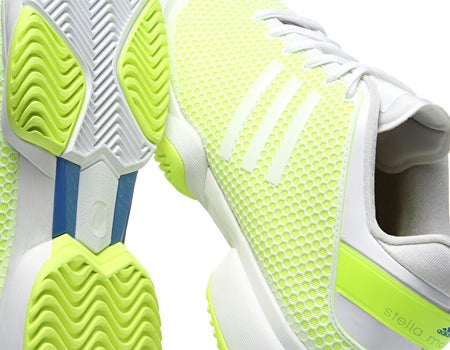 Comfort was found right out of the box, with ample cushioning in the heel, but there were some recurring issues. Brittany, who has worn many of the previous Barricades, said, "The cushioning in this shoe is strategically placed. There is some plush cushioning underneath the heel and a more supportive cushioning under the rest of the foot. I did have some small issues with the fit of this shoe. The toe box was very roomy for my narrow foot and the length was a little bit longer than I am used to." She explained that she would not move down a size, but added, "I did find that the extra room caused some rubbing, specifically on my right pinky toe."
Karly, who has also worn many of the Barricade 8's predecessors, was excited about not having to break them in. She reported, "Gone are the days where you need to wear the Barricades for at least two solid weeks before they feel completely broken-in. With the 8s, there was absolutely no break-in period, and I was able to play with them right out the box without any issues with stiffness. The padding was abundant and the shoe was soft. One issue that prevented me from giving the 8s a great score in comfort was the rubbing and pinching on the outsides of my forefoot. The uppers pinched my pinky toes, and I was constantly trying to adjust the shoe so it would stop rubbing my feet, which was really frustrating."
Carol said, "The extra comfort level in the heel was my favorite feature of the shoe. The rest of the shoe did not provide any discomfort, but I didn't experience that 'pillowy' feel that I did in the heel."
Michelle rounded out the sentiments of the playtesters, adding, "These shoes started out very comfortable for me and continued to feel comfortable for as long as I wore them. When I initially put them on I found a really pillowy and padded heel. However, the one reason I had to give it a lower score on comfort is because I had some rubbing on the outside of my right pinky toe that remained throughout the playtest. Because I have a medium width foot and found the shoe to fit well, I wasn't too worried about the roomier toe box. I thought the rubbing would eventually go away, but it persisted. It did become a bit of a distraction and hindered my play a bit because I started getting frustrated on the court, and then I couldn't get it out of my head that the shoe was rubbing me the wrong way."
Ventilation - Score: 3.9
Another improvement in the Stella Barricade 8 was the noticeably increased ventilation. The TW playtesters took to the courts in the middle of summer, so they really put the ventilation of this shoe to the test on some hot days. Carol found that her feet never felt overheated like they had in some of the previous Barricade versions. She said, "I thought this shoe's ventilation was great. The ventilation was one of my favorite features of the shoe."
Michelle agreed, and though it has been a while since she has worn Barricades, she remembered how hot the previous models were. She said, "I playtested these on our steamy indoor court and outside on some hot days, and my feet never suffered from the heat. The only reason I ever wanted to take these off after playing was because of the rubbing on my right foot."
"I would say this is a definite improvement from the previous version of this shoe," added Brittany. "While the ventilation isn't perfect, my foot never overheated. I playtested this shoe during the summer months so I did feel warmth, but nothing that needed attention. In fact, I found myself wearing this shoe for a couple of hours after I was done playing tennis."
Karly agreed that the breathability was noticeably better than the previous version, but compared with most shoes, she felt the ventilation to be just average. "These shoes felt warm while running around the on court, but it didn't bother me too much. They didn't get hot enough to make me want to change socks or take them off immediately after playing, but I think there's still room for improvement."
Arch Support - Score: 4.0
The arch support was noticeably lower than average in the Stella Barricade 8, but it didn't seem to hinder our playtesters. Karly said, "My arches never hurt during play, and they were never sore after a hit, either. The soles were cushioned enough to prevent any arch pain."
Carol agreed, "The arch is a bit on the low side, but I found it to be adequate for my foot and did not experience any discomfort."
Brittany found the arch support to match her needs much better in this update, explaining, "In the previous version I found the arch support sat just a little too far forward in the shoe. With the Stella Barricade 8 I had zero problems with the arch placement. I really didn't even notice the arch support, which is a good thing. My medium arches were very happy in this shoe."
"The arch support was just right for me. Not too high or too low, and it didn't bother me in any way," said Michelle.
Foot Support/Stability - Score: 3.7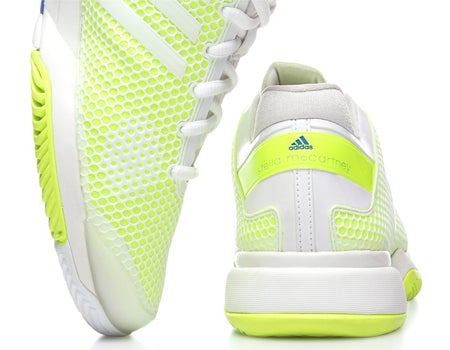 The tradition of stability in the adidas Barricade line holds true in the Stella Barricade 8. While some of our playtesters found this shoe provided them with enough stability, others struggled slightly when moving aggressively on the court due to the roomier toe box. Michelle enjoyed how easy it was for her to move, plant and change directions on the court. She related her experience by saying, "When I first played in these shoes I was a little cautious and unsure about the support and stability. I thought adidas could have added an extra eyelet at the top of the shoe for an additional bit of support. However, as the playtest went on I found that I could trust the shoes' stability, and it was never an issue. I never felt like I was going to slip out or roll over in these shoes. They ended up supporting me on the court quite well."
When Karly hears the name Barricade she thinks support, and this version was no exception. She said, "My feet felt locked in, especially around the ankles, so I never had any concerns about sprains. The shoes did fit long on me, which caused some sliding within the shoes, but even with the sliding I never felt like I needed to change my footwork due to a lack of stability. It's safe to say this latest version of the Barricade has lived up to its name."
"There was just enough stability and support for me," said Brittany. "I really liked the way the Band of Power on the back of the shoe held my heel snugly in place. However, due to the wide toe box and the slightly longer length my foot was moving around a lot in the front of the shoe, and I didn't feel like my foot was fully supported. However, I didn't have any problems with ankle support and always felt my ankle was secure even when making aggressive movements to the ball. I would say the stability and support were slightly better than average."
Carol had the most issues with the stability in the Stella Barricade 8, and this was her least favorite aspect of the shoe. She said, "The insole had a very slippery texture, and my feet were moving around too freely inside the shoes, which isn't a great feeling when you're trying to plant for a shot or run a ball down. This definitely affected my confidence in the stability because I felt that I could roll my ankle. I think the support was adequate, but I would have liked the holes for the laces to go a little higher to give my ankle a little more support. I had too much room between the top eyelet and the heel."
Overall Sole Durability - Score: 4.2
Considering its lightweight and petite package, the Stella Barricade 8 thoroughly impressed our playtesters with its durability. Brittany said, "If I had to rate this shoe on durability in its weight class, I definitely would put it in my top three. I thought the durability was excellent for such a light shoe. I actually wore this playtest shoe more than most other playtest shoes, racking up over 25 hours on the court. I also think the six-month durability is the icing on the cake. You can't beat it!"
Carol said, "The durability was good. But I did notice scuff marks around the shoe that I usually don't see."
After taking a look at the bottom of her shoes, all Karly could say is, "Wow! There is no way this lightweight shoe has lasted as long as it has. Not to mention it has plenty of play left! I've played more than 20 hours in the 8s and have experienced very little wear. The outsole smoothed down a little bit, but given that this shoe is 11.4 oz, I'm extremely happy with the slight smoothing."
Michelle was ecstatic with the fact that she could wear a lightweight shoe and still find durability. She added, "Barricades are known for being pretty durable shoes, but not light shoes. These are durable and lightweight, which is a pretty rare combination. I am seeing the tread smooth out under my big toe, but that is after 25-plus hours in them on the court. I do want to add that I am not a toe dragger, but I am seeing some wear on the toe guard/bumper, which is a clear plastic material. All in all, I'm impressed with how well these shoes are holding up for me."
Toe Durability - Score: 3.7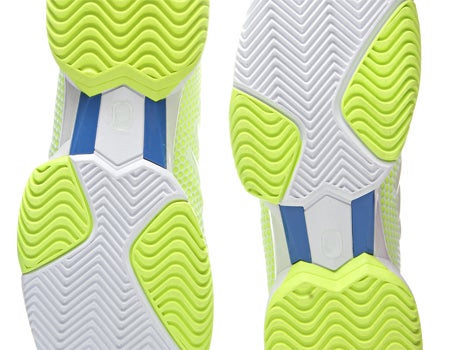 When it came to toe durability, our two toe draggers saw definite improvement in this Stella Barricade 8. Karly said, "The new toe guard was durable and protected my shoe from any damage. There was a little bit of wear to the toe guard, but it was mostly cosmetic damage."
Brittany had mixed reviews on the toe durability. She said, "The clear toe bumper was thick enough for durability purposes and went up high enough to protect the top of the shoe, but it shows scratches and got very dirty very quickly."
Traction - Score: 4.1
adidas didn't fool around when it came to the traction on the Stella Barricade 8. This shoe supported the aggressive footwork of our playtesters for the duration of the playtest. Michelle was impressed with how light and quick this shoe played, and she continued singing its praises when it came to the traction. She said, "I really felt like I could change direction and move forward or back with ease. I trusted these shoes, and it was easy to move around in them. The only thing I liked better than the traction were the cosmetics!"
Carol was happy with the traction, too. She said, "The grooves supported my quick stop-and-go movements on the court. I felt confident with the traction that this shoe provided."
The traction on the 8 was just like the traction on the 7 for Karly, which was "excellent!" She got tremendous grip on the court and the shoes allowed her to switch directions quickly. She added, "The traction still held up well even after the outsoles started to show some wear."
Brittany truly enjoyed the traction of this shoe as well. "These 8s had just the right amount of stick and give, so I didn't slip and I didn't feel stuck to the court. This grip allowed me to move in all directions with ease."
Weight - Score: 4.3
All of our playtesters were shocked at the weight of the Stella Barricade 8. The Barricade, which was once a heavy, bulky shoe has been transformed into a lightweight speed shoe. "I was surprised that adidas could make this Barricade so light without compromising the Barricade durability and stability," Karly commented. "I do think they felt heavier than their actual weight, but my movements still felt fast and I didn't feel like I was slowed down at all by the weight of the shoes. Barricades can now be listed in the lightweight shoe category."
Explaining her high score in this department, Brittany said, "I gave this shoe a high rating for a couple of reasons. The first reason would be that I like lighter weight shoes. This isn't the lightest shoe I have playtested, but it's still in the range that I like. I actually thought it played and felt a little heavier than its actual weight, but since it was so light to begin with I didn't have any problems. The combination of durability and light weight was amazing."
One of Carol's favorite features happened to be the weight, or lack there of, in this Barricade. "This is my second favorite feature of this shoe," she said. "I like lightweight shoes, and this shoe is very light and easy to move around in."
Michelle usually finds herself favoring the heavier shoes because of their stability and durability, but with the Stella Barricade 8 she got the best of both worlds. "These shoes have a six-month warranty, they're stable and they're comfortable, and I would never expect them to be so light. I was really happy with how light and fast they felt on the court."
Overall - Score: 3.9
Likes
Brittany Ð "I loved the fun, bright colors. I also really enjoyed the combination of light weight and high durability."
Carol Ð "My favorite aspects are the ventilation, heel cushioning and lightweight feel. I also really liked the cosmetics. The color I playtested reminds me of a tennis ball, and I think this is a very feminine and fun looking shoe for women."
Karly Ð "The combination of weight and durability. It's amazing how long they last for being so light."
Michelle Ð "I love the cosmetics and colorway options. I think it's a fun footwear option, and the fact that Stella McCartney designed them adds an instant cool factor for me. Performance wise, I love the traction, lightweight feel and speed of these shoes!"
Dislikes
Brittany Ð "I struggled a bit with the fit in the toe box and the slightly longer length, which caused some rubbing on my pinky toe."
Carol Ð "I had a really hard time with my foot sliding around in the shoe. Because of that, it was hard for me to have confidence in my movements on the court. I also had a hard time keeping my socks from sliding down into the shoe."
Karly Ð "I wish it fit my foot better. It was too long, and the rubbing on my pinky toe bothered me."
Michelle -- "The only knock I have is the rubbing on my right pinky toe. That was my only issue."
Comparing this shoe to others they've worn, our testers said:
Brittany Ð "I have worn several versions of the Barricade, including the last version. The Barricade 7 and 8 play completely differently than their predecessors. They are lighter in weight and sleek fitting. The Stella Barricade 8, I found, has better ventilation and better arch support, but the fit of the 7 suited my foot better."
Carol Ð "Due to my issues with sliding around in the shoe, I think I would prefer the Barricade 7. My favorite shoe this season is still the Asics Gel Resolution 5."
Karly Ð "Compared with the previous version, the 8 had better ventilation and better toe durability. Everything else was pretty even -- stability, weight and comfort. The only thing I liked better with the previous versions was the fit; they were the same length, but I didn't experience any rubbing or pinching."
Michelle Ð "I probably wouldn't compare this shoe to anything but a Barricade, and I haven't worn Barricades in years. I can say that these feel less bulky than any Barricade I have ever worn."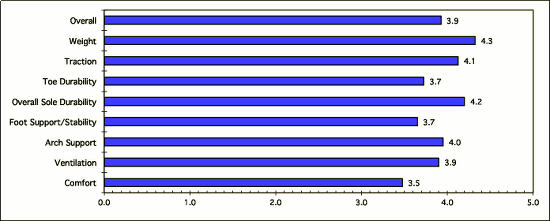 Playtester Foot Types:
Brittany - Narrow width, Medium arch
Carol - Medium width, Medium arch
Karly - Medium width, Medium-low arch
Michelle - Medium width, High arch

Review date: August 2013. If you found this review interesting or have further questions or comments please contact us.
All content copyright 2013 Tennis Warehouse.