Asics Gel Solution Speed Women's Shoe Review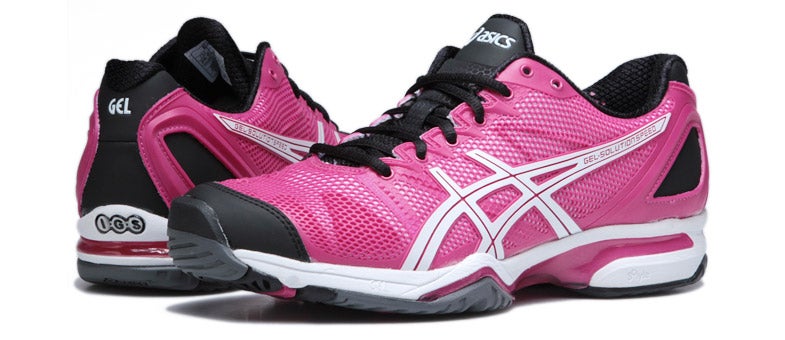 Asics Gel Solution Speed Women's Shoe Scores
Comfort
4.2
Ventilation
3.8
Arch Support
3.7
Foot Support/Stability
4.0
Overall Sole Durability
4.0
Toe Durability
4.4
Traction
3.9
Weight
4.7
Overall
4.2
Upsides
Lightweight
Comfortable
Durable
Supportive
Good support for medium to high arches
Downsides
Shoe slides some on hard courts
Those with low arches are going to feel the arch support
Summary
There's no doubt Asics has made some serious inroads into the tennis footwear market. Players have come to love the Gel Resolution, now in its fourth iteration. Now Asics is expanding its offerings with a speed-oriented design. Enter the Gel Solution Speed. One thing's for sure, you're going to notice this shoe. It's hard to miss with its screaming pink color. But you better look fast. Why? Because whoever is wearing them is sure to be moving with some serious foot speed. Our testers found this shoe offered an outstanding lightweight feel, with little to no break-in required. The shoe also offered great comfort, and though a few playtesters noted that the arch support felt on the high side, it didn't cause any issues. A couple of testers also had to adjust to the traction level, as the Gel Solution Speed allowed a little sliding. However, with the lightweight feel and good durability, this latest Asics offering could be your next match day and training shoe.
Comfort - Score: 4.2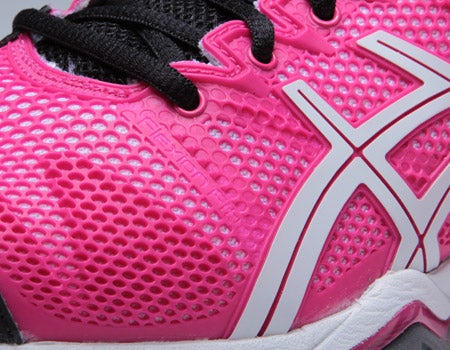 The Gel Solution Speed hugged the feet of our testers and scored high in the comfort department. Siobhan said, "These shoes only took a little bit of break-in. Initially there was a little bit of rubbing on the ankle collar (I had ankle surgery and am overly sensitive to this), which I remedied by not tying the laces through either of the top eyelets. There was also a little bit of pinching on the vamp fold when the shoe flexed while I was on my toes, but that went away after a little bit of wear. Right away I noticed how I was able to move fast while feeling completely supported and comfortable. There is a lot of cushioning, and even though I have narrow feet and the shoe offers a medium fit, they felt really good."
Comfort was immediate for Brittany, who said, "From the moment I started playing in these shoes until the end of the playtest, I found them to be nothing but comfortable. There was no break-in period and I could play with these shoes right out of the box. In fact, I played a doubles match the day I got these shoes and had no problems with comfort at all. I truly enjoyed the perfect amount of cushioning the shoe offered. I even went for a run in them!"
Carol added, "I thought this shoe was very comfortable. I really liked the Gel technology Asics has in the shoe and felt that the cushioning it provided felt great. The cushioning allowed for comfortable play and didn't overwhelm me during long practices or matches."
Tiffani noted how the Gel Solution Speed fit her wide feet by saying, "When I first put on the Gel Solution Speed I noticed how snugly they fit my wider feet. I thought they would be uncomfortable and constricting, but I was wrong. The uppers are very flexible and offered me plenty of comfort. As with other Asics shoes I've worn, the Solution Speed also provided good cushioning."
Ventilation - Score: 3.8
The shoe's upper is a mix of a cage-like structure with a mesh underlay. The Gel Solution Speed received varied reviews on breathability. Carol and Brittany thought the shoe breathed just well enough. "I have no complaints on the ventilation of this shoe, but I also have no glowing reports," said Carol. "I felt that the ventilation was adequate."
Brittany added, "I thought the ventilation in these shoes was OK. I never thought my feet were overheating, but they did feel a little warm at times. I could keep these shoes on after playing tennis and walk around in them."
On the other hand, Tiffani was impressed. She offered, "This shoe outperformed anything I've tested in recent memory as far as ventilation goes. While walking to the car after a hit one afternoon I actually felt that my feet were getting cold. During play my feet felt cool, and they didn't warm up after playing either, which is a problem I've had with other shoes."
Siobhan, too, was pleased with the ventilation. She said, "The mesh has great ventilation and the shoe never got hot. The mesh support on the vamp allowed increased ventilation. My feet weren't very sweaty after playing, and I think this was part of the reason they felt so good after a long hit. I liked that my feet still felt just as fresh from start to finish."
Arch Support - Score: 3.7
Our testers could feel the arch support in the Gel Solution Speed. Tiffani felt comfortable. She said, "I can't say that I remember having any issues with the arch support. The arch support is definitely there, and feels to be pretty healthy and higher than medium. However, my feet didn't hurt, signaling that it was A-OK for my low arches."
Though she has medium arches, Brittany shared similar thoughts. She noted, "The arch support was a little on the higher side of medium when first trying on the shoes and then walking around in them. During my first hit I could feel the arch, but it wasn't uncomfortable or painful. After a couple hits I felt the arch had settled into the correct place and I had no problems at all after that."
"I felt that the arch was a little high for me," said Carol, who also has medium height arches. "I am not used to playing in a shoe with a higher arch, so there was a little bit of an adjustment period for me. Overall, it didn't impair my movement on the court, but I think I would prefer a little lower arch."
With higher arches, Siobhan had positive feedback. She offered, "I have a high arch, but the medium arch support felt good. The support was right where I like it."
Foot Support/Stability - Score: 4.0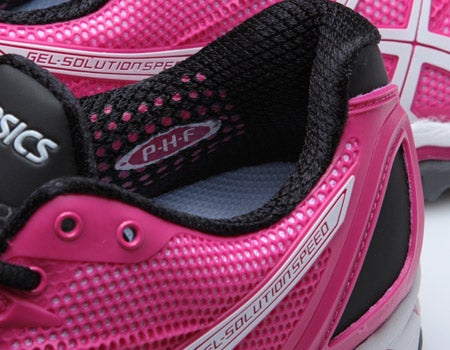 Though lightweight, the Gel Solution Speed has the Impact Guide and Heel Clutching System to help provide on-court stability. Brittany also noted how fit played a role. She said, "These shoes have a glove-like fit. My feet did not move at all within the shoes no matter which direction I was moving, and especially stayed in place on a quick stop or start. Surprisingly, for such a lightweight shoe I found there was enough stability for me to confidently move on the court. I never felt that I was going to roll an ankle even when I was moving aggressively in singles."
Siobhan concurred. She added, "The good fit and low-to-the-ground feel made the shoes really stable. I trusted the shoe with all my movements, from the cage-like upper stopping me from moving within the shoe to the good lacing system to the heel collar that locked my ankle into place. I have a history of ankle problems, so the fact that I felt really stable in this shoe, despite its light weight and flexibility, was really impressive to me."
Fit was also noted by Carol. She said, "The Gel Solution Speed held my feet very well. It was really a snug fit. My feet did not move around at all. I was a little concerned about my ankles. The shoe does expose the ankle a little more, and I found myself at the beginning of the playtest moving around the court cautiously because of this."
"My initial impression of the Gel Solution Speed was that I felt like I was sitting up high in the heel area and that the heel cup felt almost too shallow," said Tiffani. "My first movements on the court were tentative because of this impression. However, as I became more accustomed to the feel of the shoe on my foot, the less apprehension I had with my movements. As it turned out, I had no reason to worry. I didn't have any issues at all with support or stability."
Overall Sole Durability - Score: 4.0
Asics put its AHAR rubber on the outsole, and it held up well on hard courts. Carol said, "I have hit quite a bit with this shoe and have found the durability to be great. Nothing has worn out yet."
"For being a lightweight shoe, the sole held up well on the hard court," said Brittany, who plays an aggressive baseline game. "After my playtest I only had some minor smoothing up in the toe area. Compared to other lightweight shoes, I would have to say this held up pretty well."
Tiffani also gave the shoe a thumbs up here. She said, "When I think of lightweight speed shoes, durability isn't something that comes to mind. The Gel Solution Speed surprised me again. This shoe has held up extremely well after a month's wear. I'll get several more months out of this shoe."
After a few hours on the court, Siobhan has no complaints, either. She offered, "I started wearing this shoe a lot later than the other testers, so I really only got in about 8 hours of court time. There is no wear or tear with that amount of playing. So far so good!"
Toe Durability - Score: 4.4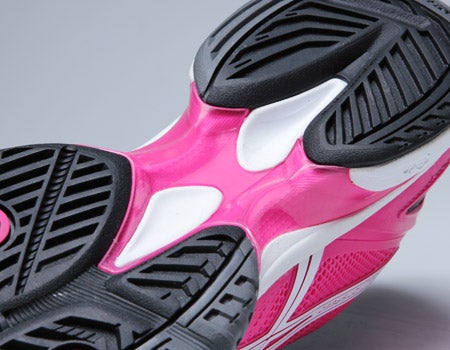 The Flexion Fit upper gets some added protection from the AHAR outsole that wraps up onto the toe. Our toe draggers were satisfied. Brittany said, "The toe bumper held up extremely well for me. I felt the bumper came up high enough that even when I did drag my toe there was no damage done to the shoe. The black color also helped camouflage any rubbing that occurred."
Tiffani added, "As with the outsole, I had no issues with toe durability. The toe bumper was plenty beefy for my toe dragging, and I saw no wear on the the uppers. I'm more than pleased."
Traction - Score: 3.9
The mixed tread pattern and AHAR rubber received mixed reviews. Tiffani felt there was a break-in period. She said, "This is the only area I had some issues with. I initially found the shoe to slide too much on hard courts. I felt, though, that the traction settled in after a hitting session or two. I also felt like I settled into the slight give the shoes offered traction-wise, even though I am not such an aggressive mover that I slide on hard courts."
It was a similar experience for Brittany, who said, "I noticed a small bit of slipping with this shoe when I was changing directions quickly. However, this occurred only a couple of times and wasn't something I dwelled on. In addition, I found I had to work a little bit extra to start moving."
Siobhan, on the flip side, loved the performance in this category. She said, "The tread pattern provided the shoe with really good traction. I really value a shoe that has zero slippage -- I get scared of spraining my ankle. The sole pattern, rubber compound and pivot points really allowed me to move as aggressively as I wanted without fear of sliding."
Add Carol to the fan list, too. She noted, "Traction was great. I was able to change direction and move easily around the court. The shoe definitely gave me the confidence to run down more balls, and really let me concentrate on my good movement around the court."
Weight - Score: 4.7
With "Speed" in the name our testers expected the shoe to be light, and they weren't disappointed. Carol raved, "It's very light weight, and I loved this feature. The lightweight feel allowed me to really focus on my movement on the court and gave me confidence to run down a lot of balls."
"Loved it," Siobhan simply put it. She continued, "This is the lightest shoe that I have worn in a long time, and I thoroughly enjoyed it. It felt light and fast. The heavier the shoe, the more I feel like I am going to trip over my own feet, but I felt completely in control of all my movements because the shoe moved so lightly."
Tiffani also laid on the praise, saying, "This Asics shoe got top marks for me in this category. I find there's a fine line between lightweight and plain not safe. Asics played it right, and the Solution Speed offered me a great, lightweight feel without sacrificing any needed stability."
Brittany offered, "My favorite element of this shoe was the weight. Being a size 8, this shoe weighs 10.2 ounces. This felt like the lightest shoe I have ever played in. It was really easy to move around in and I loved the low-to-the-ground feel. I felt extremely quick on the court and never had to worry about my shoes."
Overall - Score: 4.2
Likes
Siobhan - "How light they were and how easy it was to move in them, with no fear of sliding or slippage. Also the cosmetics -- I love the color scheme. A big bold statement for a girl used to traditional silver or white."
Brittany - "I liked the weight, comfort and bold color!"
Carol - "My favorite feature of this shoe is the weight. I really like the Gel technology that Asics implemented as well. Additionally, I like the cosmetics of this shoe. I know I have previously said that I prefer the traditional white tennis shoe, but I am really coming around to the wild colors. I received many compliments on this shoe on and off the court."
Tiffani - "It's supportive while being super lightweight, it's well ventilated and the cosmetics are great."
Dislikes
Siobhan - "The initial discomfort around the ankle and on the vamp fold when I was on my toes."
Brittany - "The traction was just OK in these shoes, and the arch took a bit to get used to."
Carol - "I felt that the arch was a little high for me, and I was very surprised by that. I also was a little concerned about my ankles in the shoe. The back support does sit lower on the back of the foot, so I definitely was cautious in the beginning with my movement. Ventilation was adequate, but I really think this is something Asics can improve."
Tiffani - "There wasn't much I didn't like, though it took me a day to get used to the ride and the slight slide I got from the outsole when stopping and starting."
Compared the Gel Solution Speed to other shoes they have worn, our testers said:
Brittany - "I would compare these shoes to the New Balance 851 and Lunar Speed 3. All three shoes are extremely lightweight, but I found the Asics Gel Solution Speed to have better durability and stability."
Siobhan - "With my personal shoe experience I would definitely rate this at the top. The stability was great, the fit was comfortable (with a tiny bit of wear in), and durability was good in the early days."
Carol - "I liked this shoe, but in comparison to the fit, durability and cushioning of other shoes out there I really felt that this shoe would be ranked in the middle of the pack."
Tiffani - "I think the Gel Solution Speed is a perfect balance of two lightweight shoes I have recently tested. I liked the New Balance 851 for its weight, comfort and good ventilation, but found it lacked adequate support for everyday play. I liked the Nike Lunar Speed 3 for its weight, looks and support, but found it took a long time to break-in. The Speed Solution has it all: immediate comfort, good ventilation, great cosmetics and good support."

Playtester Foot Types:
Brittany - Narrow width / Medium arch
Siobhan - Medium width / High arch
Carol - Medium width / Medium arch
Tiffani - Wide width / Low arch

Review date: February 2012. If you found this review interesting or have further questions or comments please contact us.
All content copyright 2012 Tennis Warehouse.