Asics Solution Speed 2 Women's Shoe Review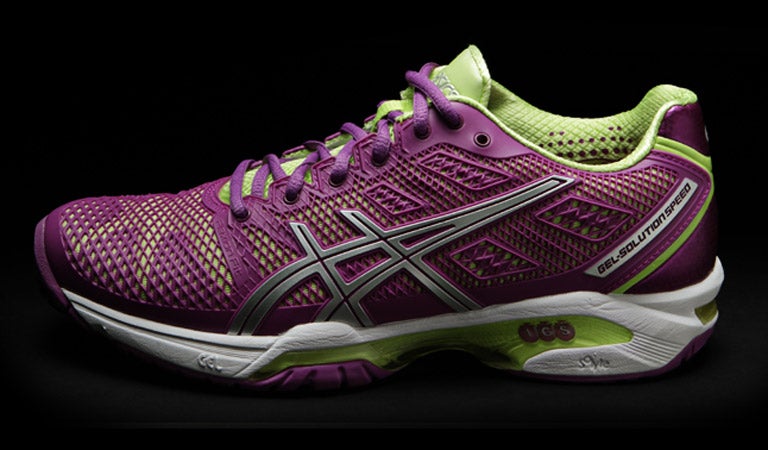 Asics Solution Speed 2 Men's Shoe Scores
Comfort
4.3
Ventilation
4.1
Arch Support
3.9
Foot Support/Stability
4.0
Overall Sole Durability
4.0
Toe Durability
4.2
Traction
3.4
Weight
4.8
Overall
4.2
Upsides
Lightweight
Durable for its weight
Stable
Stylish
Downsides
Traction allows too much sliding
Summary
Since they're always focused on their quick court movements, our playtesters were ready to get moving once they laced up their Asics Gel Solution Speed 2s. Asics continues to give us exactly what we want from a tennis shoe -- colors and comfort in a high performance package! Players familiar with the performance of the original Solution Speed will find a similar experience in this lightweight, low profile, quick, colorful shoe. In addition, we found an even better fit and some added traction. Our playtesters, who are all quite familiar with the Solution Speed line of shoes, could really key in on the new elements and were more than happy with the update. This shoe was nearly perfect when it came to weight and fit, and the outsole durability pleasantly surprised us as well. However, our team was still yearning for better traction. All in all, we think this shoe is sure to give any player the edge with its out of the box comfort, fun colors and lightweight feel.
Comfort - Score: 4.3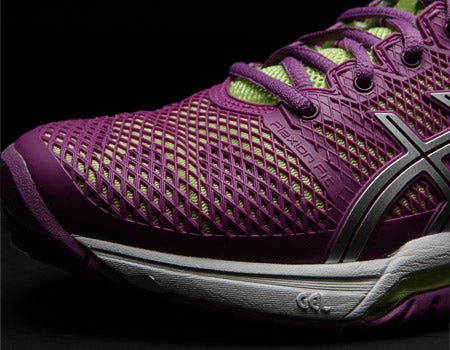 Asics always seem to make very comfortable shoes, and the Gel Solution Speed 2 is no different. Our team enjoyed a plush ride right out of the box. Michelle, who uses the original Solution Speed as her off-court training shoe, is very familiar with this shoe line and was excited to try the update. She began, "No break-in time necessary for these, I just laced them up and was ready to go! I did utilize the upper eyelet for a more locked-in feel. These Solution Speed 2s are just as comfortable as the original Speeds; in fact, I think they have slightly more cushioning. I found the fit to be very similar to the original Speeds. They fit my foot well without any rubbing, and I didn't have to worry about my feet sliding around in them. I really felt comfortably locked in when wearing these, and the fit is perfect for quick movements."
Brittany didn't need a break-in period either, but she did have a slight "adjustment period" with this shoe. She explained, "The Gel Solution Speed 2s were too tight when I first put them on (especially in the toe box), but there was no pain. After 30 minutes on the court the uppers loosened up and molded to my foot. From then on I felt nothing but comfort. The cushioning is very plush and is present throughout the shoe."
Tiffani loved the Solution Speed, and she loved this update, too. She said, "I needed no break-in before heading out to play. The fit is still glove-like, but it's a little wider in the forefoot than the original, and that's an improvement for my wider feet. The shoe's cushioning is plush and responsive without being overbearing and bulky. I like how Asics is able to keep the shoe lightweight but comfortable underfoot."
Agreeing with the group was Karly, who also mentioned the immediate comfort. She said, "From the very beginning the Gel Solution Speed 2s offered plenty of comfort. The minute I stepped into the shoes my feet sank into the soft cushioning. There was no break-in period, which is always a relief when going out to hit for the first time. That level of comfort didn't decline when I hit the court. Although they were slightly narrow for my feet, I didn't experience any rubbing or pinching, and I thought they had the perfect amount of padding to keep my feet comfortable. Asics has a great reputation for making very comfortable shoes, and they did not disappoint with the Solution Speed 2, that's for sure!"
Ventilation - Score: 4.1
Asics did a great job keeping this shoe well ventilated. Brittany raved, "Even though we were playtesting these shoes in the wintertime, we didn't have winter weather. With the temperature soaring into the 80s, I definitely put the ventilation of the Solution Speed 2 to the test, and it passed. I had no issues with my feet overheating and felt there was plenty of air circulation throughout the shoe. I was even able to continue wearing them after I finished playing tennis."
Not having anything negative to say about the breathability of this shoe was Karly, but she didn't have anything to brag about, either. She offered, "The ventilation was just average to me. The shoes were slightly warm on court, and after a hit they left my socks a little damp, but that didn't bother me too much. I was never distracted by their temperature, and I didn't mind keeping them on after hitting either, and that's really all I could ask for."
Tiffani compared the ventilation of this update to the original, saying, "The Gel Solution Speed 2 is one of the more ventilated shoes out there. I never had an issue with my feet feeling hot. I wore them comfortably on the court, in the gym and after workouts. It's supposed to be winter here, but our thermometer is showing temps higher than our usual summer days, so I'm really pleased in this department."
The mesh and ventilation were a perfect combination for Michelle. She offered, "I found it easy to play in these, stay cool in them and then keep them on well after I left the court. I never really had issues with overheating, and I found these to be ventilated enough for my personal preferences."
Arch Support - Score: 3.9
The Gel Solution Speed 2 passed the arch support test, working well for each playtesters' personal preferences. Tiffani began by saying, "There is a noticeable arch support in this shoe. I could feel it, but I was never bothered by it. I think it was well placed for my foot, and even though the arch seemed to be medium height or higher, my flatter feet weren't bothered at all."
The arch support was just right for Michelle's higher arches. She said, "I like the medium support that these shoes offer. Since they are speed shoes, I appreciate the extra support in the arch area. I enjoyed the extra cushioning and locked-in feel in the arch area of this shoe."
Karly didn't have any issues with the arch support of this shoe even with her low-arched feet. She elaborated, "The insoles were so cushiony that the padding molded to my feet, which I think really helped prevent any arch pain."
"The arch support of this shoe was slightly higher than I'm used to," said Brittany. "At first it felt a little high for my medium arched foot. After an hour or two of tennis I noticed the arch had compressed a little and fit my arch perfectly."
Foot Support/Stability - Score: 4.0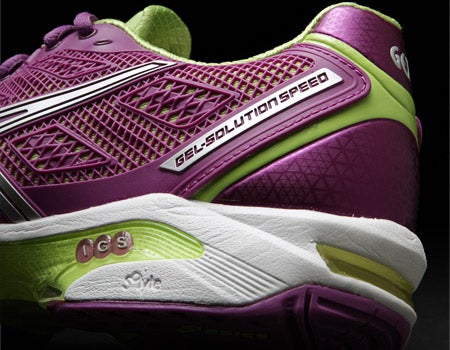 Our playtesters know that support and stability sometimes gets sacrificed in a speed shoe, so they were happily surprised to find that the new Solution Speed 2s are much more supportive and stable than what they expected. Karly wasn't expecting much stability because they're light and fit low around the ankle. She said, "Fortunately, I had no reason to worry about stability. The shoes' glove-like fit made my foot feel like it was secure within the shoe. I never hesitated or slowed down because I thought I was going to roll an ankle. I prefer shoes that fit higher around the ankle for support, but I was happy to play in the Solution Speed 2s with the amount of support they had."
Brittany echoed Karly's sentiments, stating, "I was impressed with how stable this shoe felt considering how light it is. For starters, the shoe has a glove-like fit that kept my foot securely in place. No matter how aggressively I moved, my foot never slipped around inside this shoe. Even with the ankle collar a little lower than average, I had no issues with ankle support and felt my ankles were secure inside the shoe."
A fan of low profile, fast shoes, Tiffani noted some difference between this Asics shoe and competing speed models. She said, "For a speed shoe, this does sit up higher than I would expect. I like super low-to-the-ground shoes, like the Nike Vapor 9 Tour. However, because I tested the original Gel Solution Speed, I knew what to expect going in. I didn't hold back at all, and I think there was a slight improvement in stability -- perhaps due to the wider fit through the forefoot. My feet felt supported as well, and I liked how I could cinch the laces to fit my feet. One issue I did have was that the laces loosened up a bit while I played. I needed to retie my laces at least once a match to keep the level of support I wanted."
Michelle prefers heavier, more stable tennis shoes, and she takes a little more caution with her court movement when she's wearing speed-oriented shoes. She said, "I understand that speedier shoes tend to sacrifice a little stability to reduce the bulkiness. With that being said, there does seem to be some great stability from the Solution Speed 2. At the beginning of this playtest I was a bit wary to make hard cuts on the court, but I can say that they earned my trust during the playtest! By the end of this playtest I felt very confident when moving aggressively on the court. Also, utilizing the very last eyelet for my laces helped build some extra support and stability."
Overall Sole Durability - Score: 4.0
Our playtesters were on the same page when it came to raving about the durability of the outsole of the Solution Speed 2. "Considering these are speed shoes and they don't come with an outsole guarantee, I was very impressed with how well the sole held up!" exclaimed Michelle. "It looks like Asics has added some material and rubber to the high wear areas, and it's paying off. I've spent a good 15-plus hours in these shoes and I'm not seeing any major wear, just the normal smoothing I see in all the shoes I play in. I'm not saying they will last me for six months, but I do appreciate that the outsole seems to be beefed up in this shoe!"
Tiffani concurred, saying, "I have a few weeks on these shoes, and they are wearing well for a lighter speed shoe. I don't expect any premature wear and will easily get a few good months of play out of this outsole."
"It amazes me how well these shoes have held up so far!" stated Karly. "For how lightweight they feel, I should've worn through them a long time ago! I've put them to the test for about 20 hours and have yet to see any significant damage. There's very minimal smoothing to the outsole, but considering how light they are I'm surprised there isn't more."
Brittany said, "I am happy to say that after this playtest I still have many hours of play left and can continue wearing the shoe both on and off the court. I didn't really notice anything out of the ordinary."
Toe Durability - Score: 4.2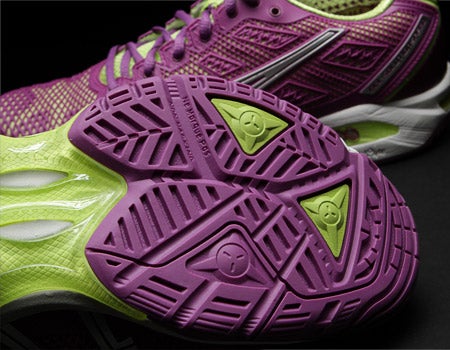 As a toe-dragger, Brittany made sure to put the toe bumper of the Solution Speed 2 to the test. She shared, "I don't have much to say about the toe durability of this shoe other than that it is excellent. The toe bumper is thick and covers the shoe. There is no wear after many hours on court, and the toe bumper looks brand new."
"I thought the toe guard did its job well," said Karly. "There was just enough coverage in the right places to prevent any damage. As the playtest went on I noticed a little bit of smoothing, but it's so minuscule that it's hard for me to believe I'll actually wear through the toe guard. I was happy with the toe protection."
Tiffani had no issues here either. She offered, "The toe bumper is well designed and protected the shoe, though I noticed some smoothing on the tip of the toe. I started to wear off the AHAR imprint on the toe bumper, and by the end it wasn't AHAR on the toe, it was AH, but I was really just starting to scratch the surface of the toe."
Michelle, who doesn't drag her toes as severely as the rest of the playtesters, said, "It's definitely holding up well! I expected it to be a strong part of this shoe once I realized how well the outsole was holding up."
Traction - Score: 3.4
Up to this point, the Solution Speed 2s performed exceptionally well for our playtesters. However, there were some issues with the traction. Karly thought the traction was great at the start of the playtest, but it didn't last. She said, "The Solution Speed 2s offered a nice grip on the court at first, and I wasn't afraid to move aggressively, but the traction wore out fairly quickly. There were a couple of times that I lost my footing and slipped on the court. Luckily the shoes were stable and had good support. The slippage wasn't too bad, but I did have to be careful not to change direction too quickly."
Michelle found these shoes to be a little slippery at times, but she thought the traction was better than the first iteration. She said, "I can't say that I never felt uncomfortable wearing these, but they did had better traction than another speed shoe that we're playtesting. There just isn't as much grip as I would like. I've said it before, but I am not the daintiest mover on the court, so I do appreciate extra grab from an outsole. I never had any major issues slipping, twisting or turning in these, but they didn't always feel like they would hold up to aggressive movements, and at times I was taking extra steps to stop myself instead of relying on the shoes to put the brakes on for me."
Tiffani found the outsole of the original Solution Speed allowed for too much sliding on the hard courts, and she was glad that this version has improved traction. However, she added, "There is still quite a bit of give from the outsole. I wasn't outright sliding anywhere, but I did notice a little more give than I like when I took off. I didn't notice it when I stopped, which is where I had problems with the original, so the traction seems to be a little better. However, it's still not quite where I like it."
Brittany found this to be the one area of the shoe that she would like to see improved. She said, "I think the outsole has a little bit more give than I'm used to, and I found myself sliding more than usual. I noticed this the most when I was changing directions; there were times when I would get stuck. However, as the playtest progressed I got used to the give and didn't have as much of a problem."
Weight - Score: 4.8
The weight of this shoe is one of the things that sets it apart from other shoes. It is so lightweight and easy to move in that our playtesters raved about how effortless the Solution Speed 2 was to wear. Tiffani, who gave the original Solution Speeds a perfect score in the weight category, felt confident in saying the updated Solution Speed 2s could give other speed-oriented shoes a serious run for their money. "This Solution Speed 2 is nearly perfect for me. It manages to be light, stable and supportive. It would have been another perfect score here if I didn't have to retie it during play. I knocked it ever so slightly because when it wasn't cinched just so, it wasn't, well, perfect. Without a perfect fit I couldn't fully appreciate the lightness of the shoe."
"The Solution Speed 2 was so light I forgot I was even wearing shoes when playing tennis," said Brittany. "Well, not literally, but I did feel really quick moving on the court. What was more impressive was the weight to durability and stability ratio. The shoe was lightweight, but I wasn't sacrificing anything else. Being a fan of lightweight shoes, it received almost perfect scores from me!"
For Karly, the weight of this shoe stole the show. "The minute I put them on I was eager to get on the court and move around because I felt so light on my feet, and they didn't disappoint! I felt like I could run down any ball, and I couldn't be happier with how fast they felt."
"This is an obvious strength of the Solution Speed 2," began Michelle. "These are lightweight shoes that play like lightweight shoes. I found them very easy to wear, and they never felt cumbersome. There were actually several times that I got off the court wearing these and then headed out for a run in them because I enjoyed the lightweight feel."
Overall - Score: 4.2
Likes
Michelle - "These have become my favorite shoes to transition to off-court training in. They are so lightweight and easy to wear. Quick, lightweight and colorful!"
Tiffani - "It's light, more stable than the original and comfortable. As always, Asics puts exciting colors into the shoes, too."
Brittany - "I liked the comfort, light weight and durability."
Karly - "The lightweight feel and cushioning made me never want to stop playing in these shoes. They were so fast and comfortable!"
Dislikes
Michelle - "I prefer a bit more stability and grab from my tennis shoes when I'm playing, which is why my favorite shoes aren't usually speed-oriented."
Tiffani - "The traction is better than the original, but I think it could still use some work."
Brittany - "I would like to see the traction improved because I was slipping more than usual."
Karly - "After the first time I slid I was a little hesitant with my movement."
Comparing this shoe to other shoes they've worn our testers said:
Michelle - "Compared to the original Asics Solution Speeds, these seem to have a bit more cushioning and added tread on the outsole, as well as a bit more rubber in the high wear areas. We are playtesting these in correspondence with the adidas Tempaia IIIs, another speed shoe, and the Solution Speed 2s have a better fit and better grip on the court. I have a bit more confidence moving in the Speed 2s."
Tiffani - "The Solution Speed 2 is a lot like the original Solution Speed, with a few improvements in traction and stability. It's very light and stable. The Nike Vapor 9 Tour falls into this category as well, but the Nike shoe offers a lower ride with not quite as much cushioning underfoot. The adidas Tempaia II and III are also similar, but they run much wider than the Speed 2."
Brittany - "This shoe is very similar to the previous version. I would say that the support is improved and the toe box is slightly wider in this update. I would also compare this shoe to the Nike Lunar Ballistec; they are both lightweight, comfortable, durable, stable and slightly higher off the ground."
Karly - "With the ultra lightweight feel, durability and low-cut around the ankle, the Solution Speed 2 reminds me a lot of the New Balance 996. However, I think the biggest difference was the cushioning between the two shoes. The Speed 2 had more padding and better cushioning than the 996."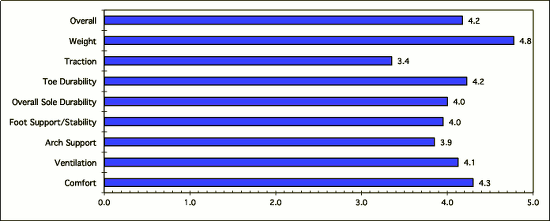 Playtester Foot Types:
Michelle - Medium width, High arch
Tiffani - Wide width, Low arch
Brittany - Narrow width, Medium arch
Karly - Medium width, Medium-low arch

Review date: February 2014. If you found this review interesting or have further questions or comments please contact us.
All content copyright 2014 Tennis Warehouse.