adidas adizero CC Tempaia II Women's Shoe Review

adidas adizero CC Tempaia II Women's Shoe Scores
Comfort
3.9
Ventilation
4.4
Arch Support
3.8
Foot Support/Stability
3.4
Overall Sole Durability
3.9
Toe Durability
4.3
Traction
4.0
Weight
4.4
Overall
3.9
Upsides
Lightweight
Ventilation
Cushioning
Summary
Updating the Tempaia II line with CC (ClimaCool) technology, this new version comes in a lightweight, breathable package. Feminine in style, these shoes are cosmetically perfect for the sunny tennis season upon us, and they offered fast, lightweight performance for our playtest team. Impressively, these high performing shoes stood up well when our playtesters spent several hours grinding away on the court in them. While proving to be a fantastic update in terms of breathability and weight, all of our playtesters struggled a bit with this shoe running slightly big (wide and long). This shoe fits longer than the non CC version of the Tempaia, and you should consider sizing down a half size. With that aside, the CC Tempaia II is a quick and fairly durable shoe with a feather-light feel on the court.
Comfort - Score: 3.9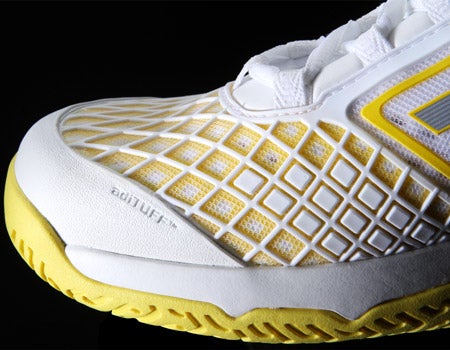 When it came to comfort, all of our playtesters found that with a small break-in period (just a couple hours on the court) these shoes formed to their feet and the comfort and cushioning became one of their favorite features. Brittany said, "I found these shoes needed a very small break-in period (about 1-2 hours) to adapt to my feet, but after that I found these shoes to be very comfortable. I would say the cushioning was more supportive than pillowy, which I enjoyed. I thought there was plenty of cushioning in the heel to absorb any shock that might occur when playing tennis."
Carol sang the praises of the comfort in this shoe, "Great comfort from this new adidas shoe. The cushioning provided, especially around the heel and lower part of the ankle, is some of the best I have experienced during a playtest. I did experience some rubbing in the toe box, but I think this was due to the shoe being a little too big for me."
Karly enjoyed the comfort, saying, "The cushioning did the job. It didn't offer that pillowy, plush feeling, but there was enough padding throughout the shoes to keep my feet comfortable. And as far as the break-in period, any bit of stiffness that I experienced quickly disappeared and the shoes felt completely broken-in after the first hit, which was great."
Rounding out the sentiments of the playtest team in the comfort area was Michelle, "The cushioning was good in these Tempaia IIs, definitely not bad at all. The toe box was a bit big for me, which caused a bit of discomfort. I developed some blisters on the bottom of my big toes because my feet were sliding around. The heel cushioning was great, the tongue of this shoe was comfortable and I felt good cushioning throughout the shoe."
Ventilation - Score: 4.4
We found the ventilation to be one of the best features of the CC Tempaia II. Karly said, "I think adidas did a great job making this model a much more ventilated shoe than the synthetic version of the Tempaia II. I really enjoyed playing in that synthetic version, with my biggest complaint being that the shoe lacked in ventilation. You can imagine how excited I was to try this version of the shoe with its mesh upper. I just wish this version didn't fit so wide -- I had to wear two pairs of socks most of the time so that the shoes would fit better, which defeated the purpose of making this a more breathable shoe. However, when I tried the shoes with just one pair of socks, I thought the breathability was great."
"ClimaCool truly lives up to its name with this shoe," said Brittany. "One of my biggest complaints with the non-CC version of this shoe was the ventilation. This shoe is well ventilated from every angle. The mesh upper allows plenty of air circulation to keep my feet cool. The tongue of the shoe is thin and also has mesh holes for even more ventilation. I would play tennis at lunch, wear them for the rest of the work day and then go workout in them after work, and my feet would stay cool and dry."
Michelle didnÕt wear the previous version of the Tempaia, but agreed that the ClimaCool system in this shoe was superb, saying, "I thought this shoe was really breathable. The mesh that surrounds the shoe is great for air flow. I never had any issues with my feet overheating. Actually, they always felt cool."
Carol loved the unparalleled ventilation from this shoe. She said, "This was the standout quality for me. My foot never felt overheated. My feet were fresh regardless of how long I was playing or the temperature during play. My feet never felt as if they were in a shoe at all. I was really impressed with the performance in this area."
Arch Support - Score: 3.8
Michelle found the arch support for this shoe to be just right for her slightly higher arch, saying, "I tend to have a medium to high arch, and I felt decent support in the arch. Despite the shoe running a little big, the arch support was consistently there and was just right for my foot."
Carol disagreed, saying, "I like a more medium arch in my tennis shoes, so I felt that this was a little low for my comfort level on the court. It didnÕt impact my play or movement, but it didn't match up with my personal preference in a shoe."
Karly had no issues in the arch area, and said, "I thought the arch was a little lower than standard, but I didn't have any issues."
Adding her two cents about the arch of this shoe was Brittany, who offered, "IÕm normally not too picky with arch support because I have a medium arch that can adapt pretty easily. While the arch wasnÕt painful or causing any stress, for some reason it didn't hit the right spot. It was a little lower than average, but since it hit in an awkward spot I could feel the support more than usual. Like most playtests, after a week or two the arch support compressed and wasnÕt as much of an issue."
Foot Support/Stability - Score: 3.4
Because this shoe ran slightly big in width and length, the stability and support Carol found in this shoe was slightly off. She said, "This shoe ran very long for me, especially in the toe box. I compared it to the adidas Barricade 7.0 and found a difference in fit. My toes had some wiggle room, not only side to side, but from the bottom to the top of the shoe as well. This definitely impaired my movement, as I felt that I might stumble over the toe of the shoe." Despite these issues, she added, "My ankles felt snug and very secure in this shoe. I never felt that my ankles were going to roll over. I think the Sprintweb technology in this shoe was amazing and made quick movements around the court, whether small or long strides, fully supported. This shoe gave me great support and stability, except for the toe box."
Similar to what Carol expressed, Michelle found this shoe was a bit big for her. She said, "I was able to combat the extra width by pulling my laces tight. I enjoy that snug feel, but I had to triple knot my shoes as a result, which was a bit awkward because I felt like I had laces dragging. The extra length of the shoe hindered some of the support and trust in the shoe. I felt my feet sliding around a bit when moving side to side because of the extra space in the shoe. But like Carol said, I never felt uncomfortable or felt like I was going to twist an ankle. It just added a little extra movement to my foot that I didnÕt necessarily need when trying to recover or change directions." Michelle also noted that the slipping and sliding caused a bit of soreness in the base of her ankle and achilles area after an intense hitting session.
Karly enjoyed the stability of this shoe, saying, "Even though my feet were sliding around in the shoe because of the wider forefoot, I still thought the shoe offered good support. There was enough stability around my ankles that I didn't feel like I was going to roll them. I thought the support was impressive for such a light shoe."
Agreeing that this shoe had great ankle support was Brittany, who explained, "As far as ankle support goes, this shoe held its own for being a lightweight shoe. I had absolutely no issues and loved the low-to-the-ground feel this shoe offered. My one complaint would be the fit of this shoe for my narrow width foot. the shoe was on the wider side, especially the toe box, as well as being a bit long. This caused my foot to move around a ton inside the shoe when playing. I did find some relief when I tied my laces extra tight to help eliminate any feelings of instability."
Sole Durability - Score: 3.9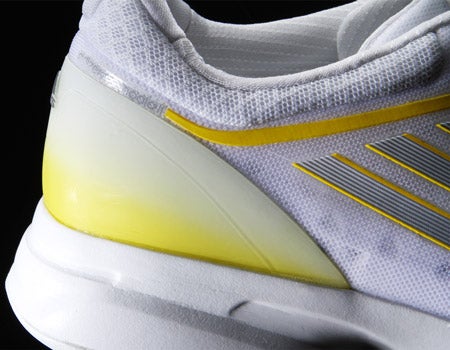 The durability of the CC Tempaia II was what was expected for a lightweight, fast shoe. Brittany said, "After about 15 hours of play I started to notice some balding underneath my big toe on both shoes. Comparing this to other speed shoes like the New Balance 851, Asics Solution Speed, and Nike Zoom Vapor 9 Tour, I would say it held up very well. While this isnÕt as durable as the Barricade, it is very good for a speed shoe."
Concurring was Carol, saying, "The overall sole durability is adequate, and kind of what I anticipated. Compared to other shoes I am playtesting this season, I would place it in the middle of the pack. This was not a standout quality, but given itÕs lightweight feel, it is kind of what I expected."
Michelle agreed, saying, "My shoes usually wear out right under my big toe and along the medial side of the shoe, and that is where the wear is showing on these Tempaia IIs after a solid amount of use on the court."
Karly was pleased with the durability of the outsole and was surprised at how well they held up. She said, "Most shoes in this weight category would've burned a hole through the sole in half the time. After about 15 hours of play I started to notice a little bit of wear to the forefoot of the sole, but again, I thought that was quite impressive for how light they were."
Toe Durability - Score: 4.3
adidas has added extra rubber with adiTuff material to the toe area in this updated Tempaia to ensure durability. Because of that, our playtesters found the toe-area of this shoe to hold up quite well. Karly, a slight toe dragger, said, "I didn't have any worries in the world about wearing through the toes. The toes were well protected, and with the ADIWEAR outsole I didn't see much damage to the front of the shoe at all. I loved the exceptional toe durability this shoe provided."
Toe dragger Brittany found that aside from the toe bumper getting dirty, the shoe held up very well to her toe dragging. She said, "The adiTUFF material goes up over the toe, providing plenty of protection. I did see some smoothing, as usual, but from the looks of it I have plenty more hours left with this shoe."
Traction - Score: 4.0
Brittany found the traction in the CC Tempaia II to be solid when she was moving aggressively on the court, saying, "Most of the time I had no problems moving around on the court. The modified herringbone tread pattern surprised me with how well it gripped the court. Because the toe box was on the wider side I did struggle at times with my first step, as my feet would be slipping in the shoe."
Also enjoying the traction in this shoe was Michelle, who said, "I was able to change directions easily. I felt like I could easily start and stop and never worried about the traction while running balls down. Despite the extra room in the shoe that caused my foot to slip, the traction was great and felt speedy and stable for changing directions and moving forward and back."
Karly found the same traction she had with the original Tempaia. She said, "The traction was extremely similar to the synthetic version, which was fairly decent. I was able to make aggressive movements on the court without slipping or sliding. I did notice a slight loss in traction as the playtest wore on, but not enough to cause any slipping or sliding. Again, I was quite impressed with the outsole's performance."
Carol had nothing but good things to say when it came to traction on the court with the Tempaia II, saying, "This shoe supported all my movements on the court in all directions. I do not like sliding around the court at all, and when I plant for a running forehand or backhand I fully expect my shoe to stop with me Š this shoe did that!"
Weight - Score: 4.4
Michelle really enjoyed the lightweight performance of these shoes after wearing heavier shoes on the court. She said, "These shoes really did feel light weight and fast when they were on. They definitely made me feel a bit speedier."
"Extremely lightweight!" exclaimed Carol. "Given the support provided and the great cushioning, I was really impressed with how adidas was able to keep this shoe "feather light". This shoe adds no extra weight to the feet, which really promoted my movement on the court."
Brittany agreed that one of the strengths of this shoe was itÕs weight. She said, "This shoe is super lightweight, which I always appreciate. I felt like I was just gliding around the court. Compared to the previous non CC version, this shoe is even lighter than the non-CC version, and I give it two thumbs up. However, because of the extra width, I felt at times that I was slapping around the court."
Karly thought the weight, or lack thereof, was the standout feature of the Tempaia II. She explained, "Shoes don't get much lighter than that! They made it so easy to move fast while still offering decent support, comfort and durability. I give two big thumbs up to adidas for making such a high performance lightweight shoe."
Overall - Score: 3.9
Likes
Carol Š "I really enjoyed the lightweight feel, ventilation, cushioning, and cosmetics. I think this shoe looks like a playerÕs shoe, but it's also very feminine and perfect for going into spring and summer."
Brittany Š "I loved the weight, ventilation and comfort."
Michelle Š "Super light weight and easy to move in. Good cushioning and arch support. The sole wore well. I also like the colors and cosmetics of this shoe."
Karly Š "I loved how easy they were to move in. I felt extremely light on my feet. Not to mention the cosmetics are great!"
Dislikes
Carol Š "I think the shoe is too long for me and a bit wide in the toe box. I think if I had worn a smaller size this shoe would have been almost perfect. I am concerned that the smaller size would negatively impact the snugness around the arch and heel, given that these areas fit and felt great. Also, I felt the toe area wore down a little too fast. My concern here is that the shoe wouldnÕt last very long for me."
Brittany Š "The wide toe box caused me to slide around a ton in my shoes, which led to a lack of stability."
Michelle Š "They just felt too big all around. Even the laces were really long, and I had to tie them in triple knots. I probably should have gone down at least a half size."
Karly Š "My big complaint was the fit -- Huge! Wide. Extremely roomy. I just wish they fit better!"
Compared to others:
Carol Š "I think I would prefer this shoe to the adidas Barricade 7.0 that I playtested last year, but would have to see how a smaller size fit first. This is a great shoe and I am disappointed in the extra length. Overall, my favorite shoe this playtest season remains the Asics Gel Resolution 5 (another very lightweight shoe)."
Brittany Š "These shoes are very similar to the adidas adizero Tempaia II. The definite improvement was the ventilation. I would say this shoe ran a little wider and longer than the non-CC version."
Michelle Š "Compared to other shoes IÕve been wearing, these probably would go on the top of the list of durable, lightweight shoes. Again, the fit was big, which I donÕt usually have issues with in my shoes except for some of the newer Nike styles (Air Max Cage). Exact opposite fit compared to the Wilson Rush Pros, which are snug and hug my feet."
Karly Š "When comparing this mesh version to the synthetic version, the most obvious differences is the fit and ventilation. The CC version improved the breathability -- they never left my feet feeling overheated like the synthetic version did. However, I though the synthetic version fit my foot much better. The CC version was much wider (and the synthetic version fit on the wider side to begin with), which left a lot of room for my foot to slide around in."

Playtester Foot Types:
Carol - Medium width, Medium arch
Brittany - Narrow width, Medium arch
Michelle - Medium width, High arch
Karly - Medium width, Medium-low arch


Review date: May 2013. If you found this review interesting or have further questions or comments please contact us.
All content copyright 2013 Tennis Warehouse.