adidas adizero CC Tempaia III Women's Shoe Review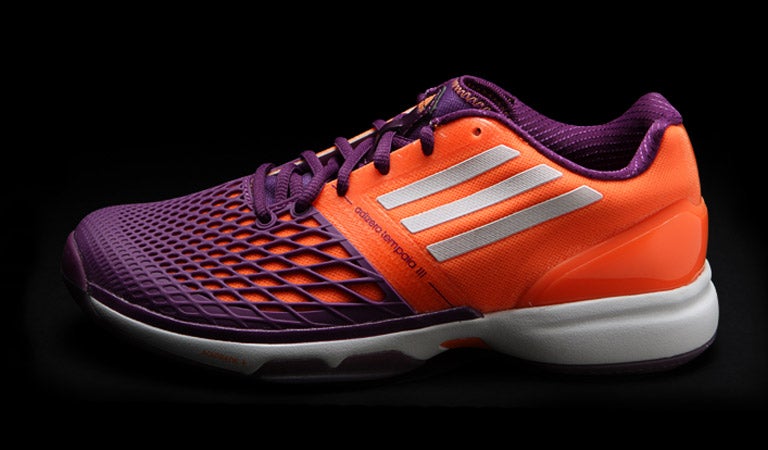 adidas adizero CC Tempaia III Women's Shoe Scores
Comfort
3.6
Ventilation
4.0
Arch Support
3.6
Foot Support/Stability
3.8
Overall Sole Durability
3.6
Toe Durability
4.3
Traction
3.3
Weight
4.6
Overall
3.7
Upsides
Lightweight
Stability
Toe durability
Summary
It's no wonder WTA star Ana Ivanovic wears the adizero CC Tempaia III shoes. These bright, lightweight shoes are comfortable and speedy. With an updated fit from the previous Tempaia IIs, the new IIIs are an ideal option for players looking for quick, breathable, feather light shoes. Our playtesters loved how fast these shoes made them feel on the court, the comfort they offered and the stability that the Forefoot Sprint Web technology gave them. These shoes did have one weakness: traction. The Tempaia III has a modified herringbone outsole pattern, but our playtesters found the outsole to be a little slippery. The durability wasn't great either, but it was easy to see past that because this shoe offered such a comfortable, quick ride. We think players looking for comfort in a lightweight shoe will love this fashion forward option from adidas.
Comfort - Score: 3.6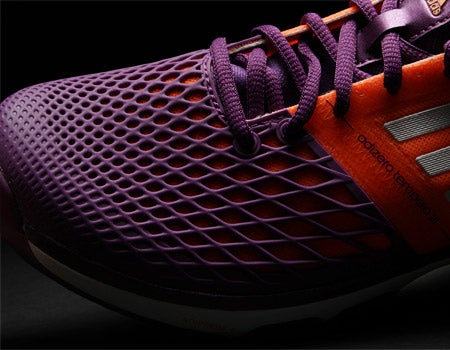 Seeking to make a comfortable shoe just for women, adidas created the Tempaia III with a woman's specific fit. Finding the fit to be improved from previous Tempaias, our playtesters discovered out of the box comfort. Michelle found a great fit with the Tempaia IIIs. She was the sole playtester who had absolutely no issues with rubbing or fit issues. She explained, "The first time I wore the Tempaia IIIs I felt like I had a little too much room in the toe box, but I tied my shoe tighter and from then on I didn't have a single issue. I really enjoyed the fit of this shoe, which was nice because the adizero CC Tempaia IIs didn't fit my feet correctly. Once I was dialed in I never had any rubbing or comfort issues. I actually found that when I made a very aggressive movement or cut the shoe was super supportive and the gel in the insole supported my foot in a very unique way. I didn't mind the simplicity of the tongue either. Although I know some players enjoy a bit more cushioning in the tongue, I thought it was fine."
Brittany had mixed feelings when it came to the cushioning of this shoe. She started with the positives, saying, "I liked the cushioning. I will note that it felt more supportive than plush, but it fit my needs exactly. Nonetheless, I did have some poking and rubbing on my heel, but only on the right foot. I was able to fix the problem with higher socks, especially socks that have cushioned tabs. Lastly, I would have liked a more cushioned tongue. It was very thin, and I could feel my shoelaces pinching if I had to tie them tighter."
Karly was really happy with the short break-in period. She found that the shoe only needed about a half-hour of play before any stiffness disappeared, but she added, "The first time I played in these shoes I didn't wear high enough socks, and the shoes tore up the back of my heels. From then on I wore higher cut socks, which helped prevent additional blisters. As for the padding, the tongue was extremely thin and the shoes didn't offer a very pillowy feel, but there was just enough padding to keep my feet comfortable. I'd say the comfort was average."
Tiffani's first impression of these shoes was how light they felt. "I enjoyed how low I sat in the shoes, and there was just enough cushioning to keep my feet comfortable. I didn't feel any harsh landings, and I felt low enough to feel connected to my footwork. There were just a couple of issues, however, that kept me from absolutely loving this shoe. First, I wasn't a huge fan of the tongue. Because it's so thin it would bunch up if I wasn't careful putting on my shoes. Secondly, the shoe felt about a quarter size too long. My first few sessions out I was sliding around and jamming my toes on hard stops. I added a second pair of socks, and that cleared things up. It was easily fixed, but it was a hassle remembering to pack two pairs of socks every day."
Ventilation - Score: 4.0
With a new ClimaCool mesh upper, this shoe boasts the ultimate cooling experience for players. After several weeks on the court our playtesters were in agreement that the CC Tempaia III is a very well ventilated shoe. Tiffani commented, "The materials were thin enough that I felt pretty comfortable at all times wearing the Tempaia IIIs. It was a huge improvement over the synthetic leather in the Tempaia IIs. Even with two pairs of socks, my feet weren't overheating."
Karly thought the ventilation was good, but the loose fit defeated the purpose of the breathable upper. She explained, "I had to wear an extra pair of socks to prevent my feet from sliding around inside the shoes, so I couldn't really tell how good the ventilation was. However, when I did only wear one pair of socks, my feet never felt hot on the court, and after the hit I didn't mind keeping the shoes on. It's apparent that the adidas' ClimaCool technology works, I just wish the fit were better so I could've experienced it.
Brittany compared the ventilation to other Tempaias she has playtested. She said, "There is better ventilation compared to the Tempaia II, but I would say there was less ventilation than the previous CC version. There was enough ventilation to satisfy my needs, but there are definitely shoes that have more air circulation."
Michelle had no complaints, saying, "This shoe is very well ventilated, as all the CC Tempaia shoes have been in my opinion. The mesh on the upper is very breathable, and I found good ventilation. My feet never overheated."
Arch Support - Score: 3.6
Our playtesters were split down the middle when it came to their thoughts on the lower arch support that the Tempaia III offers. Both Brittany and Karly seemed to have little issue with their arches. Brittany said this about her medium arches, "I really don't have any complaints about the arch support in this shoe. The support hit my arch in the right spot and was the perfect height and placement." Karly said, "I don't usually mind when shoes have lower arch support because I have pretty flat feet, but I also thought the insoles molded to the shape of my arch well."
Michelle usually finds any sort of arch support to work for her foot. However, she struggled with these Tempaias. She said, "The arch support was very low and almost too flat for my tastes. Luckily, this issue was easily resolved by adding an aftermarket insole support."
Tiffani found herself in the same predicament as Michelle, despite her lower arches. She explained, "It's been a while since my feet felt achy through the midfoot, but they did with this shoe. It took about 30 minutes on court in the CC Tempaia III before I would start to feel soreness through the midfoot. I felt like there wasn't enough support. Even though I have flat feet, I like a bit of support."
Foot Support/Stability - Score: 3.8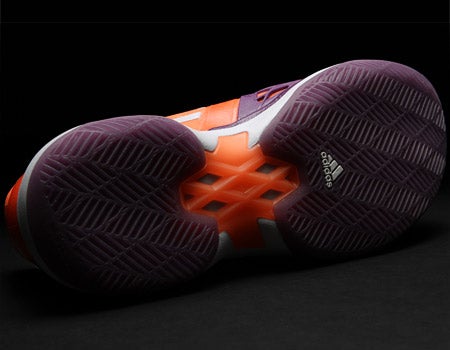 This lightweight Tempaia III offered a surprisingly stable ride for our playtesters. Tiffani had to wear two pairs of socks to find the support she was looking for. She elaborated, "When I wore one pair of socks the shoe was sloppy and I was jamming my toes. I enjoyed how the shoes hugged my feet and offered me a solid amount of support when I wore two pair of socks. Although they were a pain to get on when I wore two pairs of socks, the thin tongue helped the shoe feel like it was painted on my foot. The way they cinched down on my foot helped with the stability, too. There doesn't seem to be much material there, but the Tempaia III always supported my movements."
Michelle usually gravitates toward sturdier, heavy shoes, and sometimes worries that lighter weight shoes won't offer the same level of support. She offered, "I found that if I laced these up tightly my feet were held in place well, and I never worried about twisting an ankle. I will mention the 'gel sensation' that I got when moving aggressively, which was a unique feature of this shoe. Anytime I had to make a quick sprint I felt like there was gel cushioning under my feet -- at first it was an interesting sensation, but over time I really liked how it made me feel even more supported when moving, it was like an extra level of support."
"I don't think I could've played in the Tempaia IIIs at all if they hadn't offered a decent amount of support because of how much I slid inside them," began Karly. "The material of the uppers was rigid enough and locked around my ankles well enough that my feet felt secure. I wasn't moving quite as aggressively because of the sliding, but I was never worried that I was going to roll an ankle."
Brittany was also impressed with the stability of the Tempaia IIIs. She said, "I think the ankle collar comes up a little higher than some of the other shoes I have playtested recently, and that helped me feel very secure when moving around. My heel and forefoot were held in place, and I felt very stable in the shoe. While the toe box had a wider fit, it wasn't as wide as the previous version and my forefoot wasn't sliding around like before."
Overall Sole Durability - Score: 3.6
Durability wasn't a standout feature for the Tempaia III, although that seemed to be to be expected from our playtesters. Brittany found the durability to be about average for a lightweight shoe. She said, "While I did see some smoothing after a couple hours of play, it is what I expected for this type of shoe. I would say I have several more hours of playability left in this shoe. For how lightweight this shoe was, I wasn't disappointed."
"Although I felt very light on my feet, I did notice some smoothing on the outsole after a few hours," said Tiffani. "This shoe's outsole isn't going to be among the most durable in the market, but the wear wasn't excessive for a lightweight shoe."
Michelle put the outsole of the Tempaia IIIs to the test, spending well over 20 hours in these shoes. She definitely did some damage to the outsole of these shoes, saying, "The rubber has smoothed out completely under my big toes and has become slippery. There was one day that I did a lot of isolation drills on the court and was doing a lot of moving, and after that I knew I had done some serious wear damage to the outsole. I don't these shoes will last too much longer for me, unfortunately, but as always, I don't expect my speed shoes to last as long."
Karly thought the durability was average for a lightweight shoe, but she didn't think this newer iteration was as tough as the previous Tempaia IIs. She explained, "After about 20 hours of play I have yet to actually wear through the outsole, which is great for such a lightweight shoe, but I noticed quite a bit of smoothing fairly quickly, and it's very apparent now. All in all, the durability was decent for how little it weighs, but it didn't quite match up to the same level of durability as the previous version."
Toe Durability - Score: 4.3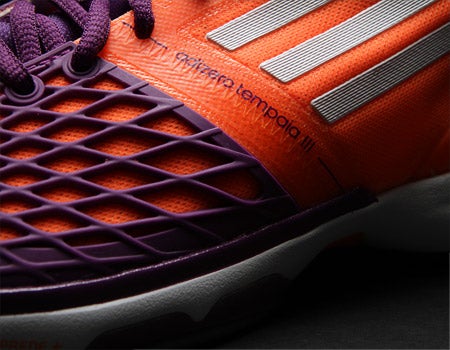 Despite an outsole that wasn't super durable, the toe bumper seemed to do its job, and do it well. Karly offered, "The toe guard coverage around the front of the shoe was ample and much better than the outsole durability. I'm not much of a toe dragger, but for how light they are, I thought the material protecting the toes held up well."
"Like both previous versions (CC and non-CC), the toe bumper was able to do its job, and I gave this shoe high marks on toe durability," said Brittany, who is a toe dragger. "The bumper is thick and is placed in the correct location. It held up to my toe dragging needs."
Tiffani can be harder on the toes of shoes than on the outsole. She said, "I'm pleased with how the upper is protected. The toe bumper isn't super high on the shoe, but the plastic material over the mesh seems to be doing its job. I haven't damaged the upper at all."
Traction - Score: 3.3
Our playtesters felt a little uneasy when it came to the traction of the Tempaia IIIs. Michelle said, "I was a bit skeptical when I first saw the new modified herringbone pattern that adidas went with on the outsole. When I got on the court with them, I knew why. The outsole was very slippery on the court. They were slippery before I put any wear on these shoes, and once I wore the sole down a bit they became even more slippery. Also, at times it felt like the shank of the shoe protruded out farther than the outsole, which was a little awkward. Unfortunately, my least favorite part of this shoe was definitely the traction."
Tiffani agreed with Michelle, saying, "This is my least favorite area of the Tempaia IIIs. The shoe is designed to offer some give, but I slipped a few times, both when taking off and coming to a stop. I didn't feel the need to hold back on my movements, but I moved with some caution because of the slipping issues."
This was also the area that Karly had the hardest time with. She said, "The outsole lost its traction quickly, and I couldn't get much of a grip on the tennis court. I was playing more hesitantly because I lost my footing one too many times. The more I slid on court the harder it was for me to play confidently. I think the biggest issue was that the shank was taller than the rest of the outsole. I felt like some of the sliding was because I landed on the plastic of the shank instead of the rubber of the sole."
Brittany really loved the low-to-the-ground feel of this shoe, and said, "I really like how my foot is sitting right on the ground. I had to get used to the traction a little bit at the beginning because it was giving a little bit more than I'm used to. The slipping was not as noticeable as it was in the Asics Solution Speed 2s, and I was able to get comfortable after a couple hitting sessions. By the end of the playtest I wasn't even noticing it."
Weight - Score: 4.6
This newest version of the Tempaia III comes in weighing less than ever, which was highly appreciated by our quick moving playtesters. Tiffani raved, "This shoe is so lightweight, and this is my favorite feature of the shoe performance-wise. They hugged my feet when I wore two pairs of socks, making me feel light on my feet. It's that qualifier, however, of needing to wear two pairs of socks that makes this category not quite perfect for me. I doubt a shoe could be much lighter and offer enough support for tennis, but the fit could be improved upon."
Like the previous generations of the Tempaias, the weight of the IIIs did not disappoint Karly. "The weight was easily one of the standout features for me. I felt quick on my feet and could cover the court well because of how light they played. The ultra lightweight feel has always my favorite thing about the Tempaias, and it was no different with this version!"
"These are super light and feel like a feather on my feet," exclaimed Michelle. "The weight is one thing that really draws me to these shoes, because they are so easy to wear for hours on end! adidas always does a great job keeping the weight down, and they've managed to make this shoe even lighter than the previous version!"
Brittany summed it up nicely: "I love how light this shoe is! Wow -- this shoe is extremely lightweight. It is one of the lightest shoes I have ever played tennis in. I feel lightning fast moving around the court in these shoes. I prefer lightweight shoes, and this met all my expectations."
Overall - Score: 3.7
Likes
Tiffani - "I like the lightweight feel, ventilation, low profile and color options."
Michelle - "Love the cosmetics and colors. The weight of these shoes is awesome -- so light! The gel support in the shoe was a nice surprise."
Karly - "What a great looking shoe! I love the design and cosmetics of the Tempaia IIIs, along with the lightweight feel."
Brittany - "I loved how light and quick these shoes felt.  Also, the stability and low-to-the-ground feel were excellent. The fun colors are a bonus feature!"
Dislikes
Tiffani - "The outsole allows for too much movement, and the shoe fit about a quarter-size long."
Michelle - "I didn't love the traction or the durability."
Karly - "I slid one too many times and was worried about making aggressive movements."
Brittany - "I would have liked a little more cushioning in the tongue. I also struggled with the heel pinching and some traction slippage."
Comparing this shoe to other shoes they've worn our testers said:
Tiffani - "This is a good update to the Tempaia II. It has better ventilation than the synthetic leather II because of the ClimaCool technology. There's still a wide fit and the level of traction is about the same. I tested these alongside the Asics Gel Solution Speed 2, and they're both lightweight, speed-oriented shoes with flashy color options. I like the low ride of the Tempaia IIIs, but I preferred the fit of the Gel Solution Speed 2."
Michelle - "For me, there is a definite improvement in fit from the Tempaia IIs. We were playtesting these along side of the Asics Gel Solution Speed 2, which is also a speed shoe. I have to say that the outsole and tread of the Speed 2s really held up a lot better than the Tempaia IIIs, but the Tempaia IIIs felt lighter than the Speed 2s."
Karly - "The Tempaia IIIs were similar to the other Tempaias in that they were extremely light and supportive, offered a very wide fit and came in a very stylish design. However, I think the biggest difference for the IIIs was the traction; the outsole didn't grip the court like the other versions."
Brittany - "Overall, I think this is an excellent update to the Tempaia line. I think the shoe fits my foot slightly better than the previous versions, although it still fits a little wide in the toe box. It feels very similar to the Tempaia II (non CC) in terms of comfort, durability and traction. I would say the ventilation is right in between the Tempaia II and CC Tempaia II."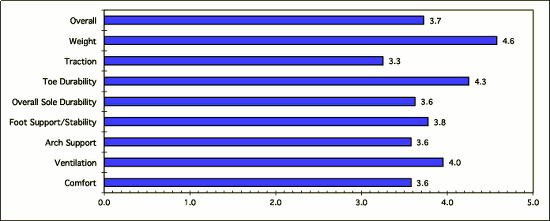 Playtester Foot Types:
Tiffani - Wide width, Low arch
Michelle - Medium width, High arch
Karly - Medium width, Medium-low arch
Brittany - Narrow width, Medium arch

Review date: March 2014. If you found this review interesting or have further questions or comments please contact us.
All content copyright 2014 Tennis Warehouse.