Babolat AeroPro Drive GT Plus 2013 Racquet Review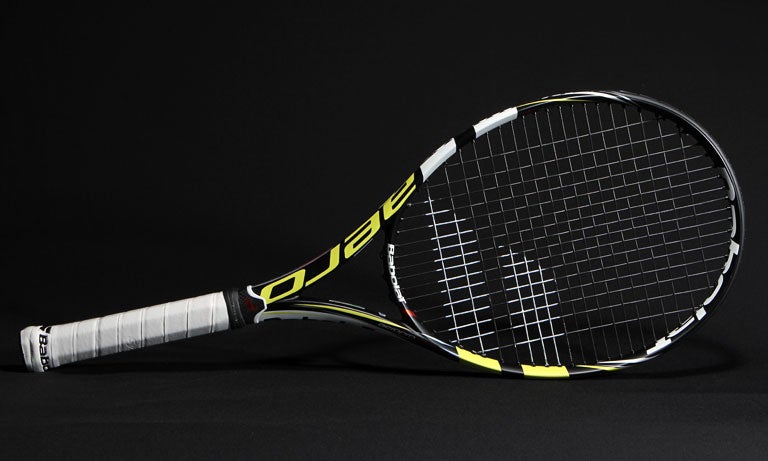 Babolat AeroPro Drive GT Plus 2013 Scores
Comfort
69
Touch/Feel
82
Serves
88
Groundstrokes
89
Returns
85
Slice
83
Topspin
91
Volleys
77
Overall
86
Upsides
Power
Spin
Surprisingly maneuverable
Solid feel
Downsides
Nothing we could agree on
Summary
The unimaginable has occurred. The best-selling Babolat AeroPro Drive has gotten even better, and the Plus (extended length) version has, too! Babolat has finally introduced its Active Cortex technology (the same innovation they used in the Pure Drive in 2012) into the AeroPro Drive Plus, giving it a much more dampened, comfortable feel. But have no fear AeroPro Drive users, the power and spin that we've grown to love from the AeroPro Drive Plus is still there. All of our playtesters found the added length provided them with monstrous power and spin potential from all areas of the court. The improved feel, coupled with a sweet-looking paint job, makes this the best AeroPro Drive Plus yet.
Groundstrokes - Score: 89
Our playtesters really enjoyed the AeroPro Drive Plus from the baseline. They felt the added heft and length helped to generate even more power and spin than the standard AeroPro Drive. Chris got dialed in with this racquet after a brief adjustment period. He said, "Over the course of hitting with this racquet for a month I really came to like it from the baseline. I was able to put the added length of this racquet to good use, adding both spin and pace to my shots. I loved how much action I could get on my forehand. I was able to force my opponent into hitting short by adding both pace and spin at will. I was also able to really take a good crack at my down-the-line forehand, with excellent pace and enough spin to find all the control I needed. My topspin backhand took a little adjustment. However, once dialed in, I was hitting with more spin and pace. This racquet felt so much more solid than the standard length version on slice backhands, and I was able to knife my slice more effectively."
"After a slight adjustment to the extra length I started loving this racquet from the baseline," said Andy, as he began enjoying the extra half-inch after a bit of time. "I welcomed the added heft, as it was the only thing that I felt was missing from the standard AeroPro Drive, and the extra length helped to add a little bit more torque to my shots. Once I got my timing down I was CRUSHING groundstrokes! I was consistently hitting them harder than I normally do without sacrificing too much control. In addition, the added torque from the extra length helped generate even more spin than usual. This is a monster off the ground!
Siobhan was surprised at how much she liked the Plus version of this racquet. "My first comment has to be that I was surprised. I usually find the extended versions of racquets just a little too much to handle, but I was actually really happy with the AeroPro Drive Plus. The difference from the previous 2011 Aeros is the sharp response and the positively enjoyable clean feel. It is a little harder to whip through the air because of the added length, but I still wouldn't call it difficult. In fact, it still moves through the air quite easily and gave me easy spin and power. It's a little heftier, and I did notice the extra pace that it gave me, but I didn't feel out of control too often. I did notice the length on groundstrokes when I was on the run, especially on shots I would normally frame, because this was catching balls on the stringbed quite nicely."
Brittany felt the ample of power and spin but also felt a little discomfort, especially on off-center shots. "Being an extended length racquet, the Plus immediately gave me extra power and reach on my groundstrokes. I did have a small adjustment period to get used to the length, especially on my backhand, but once I settled in I had zero problems. Like the standard length AeroPro Drive, I enjoyed the spin, maneuverability and control whether I was hitting a deep heavy ball or hitting sharp angle groundstrokes. The racquet wasn't the most comfortable racquet I have played with, and there were times when I hit outside the sweetspot that I experienced some discomfort."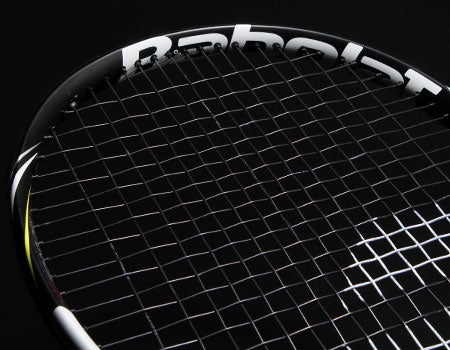 Volleys - Score: 77
The improved feel from the Active Cortex was apparent around the net, and the power we've come to expect from the AeroPro Drive line was there as well. Brittany loved this racquet on her volleys. She said, "I have nothing but positive things to say when it comes to volleys. I loved the stability and feel up at net with this racquet. It was very easy to redirect the ball and place it anywhere on the court."
Chris was also a fan of the new AeroPro Drive Plus in the forecourt and liked the extra pop he could get on stretch volleys. He said, "I liked the weight and balance of this racquet at net. It felt pretty solid, but I was able to maneuver it well. Again, finding pace was a non-issue. I could punch volleys away and the added length provided more pop on low and stretch volleys. The feel was very firm and crisp with all of the polys we tested, and I felt very connected to where my shots were going. I really liked the control and spin I found with Luxilon ALU Power in this racquet. I found I could add lots of slice to my volleys simply by cupping under the ball."
Siobhan was once again surprised by the performance of this extended length version for her net game. "Again, it was not as maneuverable as the AeroPro Drive, but it was surprisingly nimble at the net. The feel and response were great, and I didn't get thrown off with the length. The only shots that took a while to get used to were body volleys (I got a little caught up in myself) and wide volleys (it performs great; this racquet just picks everything up and throws it back). There is more power than I would like up at net, not that it's a bad thing, but I have the tendency to overhit, so I had to make sure I turned things down a little bit with the extra length."
Lots of pop and improved feel was evident to Andy, but this is the one area of the court where he preferred the standard version to the Plus. He explained, "Like the standard AeroPro Drive, this one is surprisingly solid around the net. The added length gives you some extra reach when your opponent tries to pass you up the line, which is nice. The Active Cortex helps with the touch and feel around the net, and in typical Babolat style there is more than enough pop to put away volleys and overheads. However, this is the one area of the court where I preferred the standard length AeroPro Drive to the AeroPro Drive Plus, simply because the AeroPro Drive had better maneuverability and slightly more control."
Serves - Score: 88
Everyone was getting more power and spin on serve with the AeroPro Drive Plus. "This is another area where this racquet totally shines," Andy exclaimed after a recent hitting session, "Serving is where the added length on the frame really comes into play, as I was getting angles down into the service box that I don't normally get. The added heft also helped with my power and spin, which was already good with the standard version, but got even better with the Plus. I was feeling like Jerzy Janowicz in Paris when I served with the AeroPro Drive Plus!"
Serving came easy for Chris as well. He said, "I loved the power and spin I got out of this racquet on serves. I felt consistent with it, too. Hitting serves to various targets kept my opponents guessing and helped me hold serve easier. The only time I had an issue was when I was serving against a tester swinging another AeroPro Drive, since it's also a great returning racquet!"
The racquet helped her flat serve, but Brittany felt the racquet helped her most on her kick serves. She offered, "I experienced some extra power off my first serve with the added length. With that power I was also able to utilize my slice serve, as well as my kick serve when needed. My two favorite serves to hit with this racquet were out wide to the ad side and down the T on the deuce side. I could really whip this racquet around and gain a lot of racquet head speed. This helped me generate a lot of spin to get my kick serve to really jump off the court."
"Bang bang!" Siobhan declared. "I could really rip them with this racquet. It's got some mass to throw into it so the plow through was very solid, and I really liked the feel. I did have to sacrifice some of the power for control, though, as I didn't feel like I could really swing everything into it and really hit as hard as I wanted and still maintain my great placement. It felt a bit stiff and took a bit of a toll on my shoulder, but I could easily flick in some spin serves (which this racquet is good at) to take some of the stress off."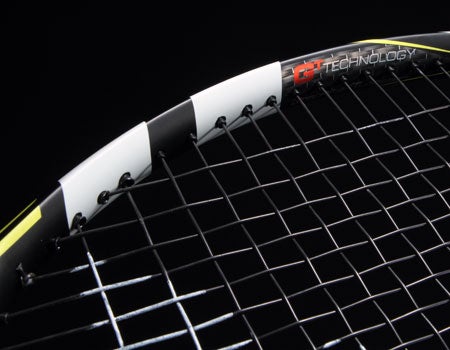 Serve Returns - Score: 85
The solid feel and spin potential continued to be the theme for this racquet on the return of serve. Chris liked how the extra heft of the Plus affected his returns. He said, "With its added swingweight, compared to the standard version, the AeroPro Drive Plus felt more solid and stable through the stroke. I was able to hit some powerful returns and found my returns getting better and better as the test wore on and I got used to the added length. I also liked the response when blocking back serves, as the solid response allowed easy access to pace and depth. Control wasn't an issue when strung with a firm poly, as I could generate enough spin to get the ball to dip inside the lines."
Surprised once again at the performance of the extended length frame, Andy, needed a shorter adjustment period than expected to get dialed in on returns. He said, "Returning serve was much better than I expected with the AeroPro Drive Plus. I thought I would need a longer adjustment than I actually did. I was able to get the racquet around my body quickly enough to time my returns just right, even with the added heft and length. The added reach on stretch returns was nice, too! The forgiveness of the 100 sq. in. head gave me the confidence to swing big, and when I connected the power and spin combined for a devastating result!"
Returning serve was a lot like hitting groundstrokes for Brittany, who liked the racquet when she hit the ball just right, but thought it was uncomfortable on off-center shots. She said, "My service returns were excellent with this racquet when I made contact in the sweetspot. I was able to step in and take the ball early on both first and second serves due to the maneuverability, stability and control. The extra reach was also appreciated, and I was able to dig out some serves I normally don't reach. However, I hit a couple returns outside the sweetspot and felt some jarring."
With a little extra focus Siobhan was able to start timing her returns, though she found a little too much power at times with the AeroPro Drive Plus. She said, "I did feel that the lack of response time on returns put me in a tough position sometimes, but when I focused on adjusting I was able to get the racquet in place to hit the balls. I had a tiny bit too much power sometimes, so I had to rein it in with some spin. I really was able to rip the ball with this racquet, and I could hit some really aggressive angles on my forehand if I got the tip around early."
Overall - Score: 87
Likes
Chris - "I'm not usually a fan of longer racquets, but this one has changed my mind. I loved it. I was able to hit a bigger ball by getting lots of spin and pace."
Andy - "Surprisingly, I liked the added length. I also liked the power and spin potential, forgiveness to take big cuts, and the added comfort compared to previous versions."
Brittany - "The extra power I received from the extended length, plus all the other benefits, like spin and maneuverability."
Siobhan - "The maneuverability and power were not only manageable, but enjoyable, which I did not expect."
Dislikes
Chris - "None. It took me a little time to get adjusted to the length, but it was worth it. I also adjusted quicker than I expected due to how maneuverable this racquet is. There was a little bit of shock up towards the tip, but that was it."
Andy - "Not much to dislike here. Maybe just the adjustment period to the extended length, but that's about it."
Brittany - "unfortunately, this racquet was on the stiffer side."
Siobhan - "Just a tiny bit too much racquet for someone of my size and stature to pull around the court. I don't need that extra power because I don't have the size to control it as well as I can with the standard Aero."
Comparing the racquet to others they've tried, our testers said:
Chris - "I found this racquet to be quicker and easier to swing than the previous model. I think that enabled me to adjust to the length much easier. The Pure Drive Plus is probably the closest comparison, and I would say the power and spin potential is right there with the Pure Drive Roddick Standard. This is probably my favorite out of the new AeroPro Drives."
Andy - "The obvious comparison to make would be to the standard length AeroPro Drive. The AeroPro Drive Plus, I felt, offered more power, more spin and maybe a little less control (which you'd probably get back after a longer adjustment period to the extended length). The extended length definitely feels heftier, which I preferred to the standard version. I was skeptical of the Plus versions going into the playtest, but after hitting with it I might say I prefer it over the standard length version."
Brittany - "This racquet played like a mix of the previous AeroPro Drive Plus and the new Babolat Pure Drive Plus. I would say the spin, control and maneuverability are very similar to the 2010 version. With the added Active Cortex the feel was very similar to the Pure Drive (among other things), but I would say the AeroPro Drive offers more spin potential and control and the Pure Drive was slightly more comfortable."
Siobhan - "It plays a lot like the Aero, and the adjustment time between the two racquets isn't long. It plays more like the standard than I would expect, and that extra half-inch is an enjoyable addition. It also reminds me of the Pure Drive Plus 2012, but I would have to say that between the two I found this AeroPro Drive Plus to be more maneuverable and to have more controllable power."
Technical Specifications

Length
27.5 inches
70 centimeters
Head Size
100 square inches
645 square centimeters
Weight
11.3 ounces
320 grams
Balance Point
12.75 inches
32 centimeters
5 Pts Head Light
Construction
23mm / 26mm / 24mm
Composition
Graphite / Tungsten
String Pattern
16 Mains / 19 Crosses

Babolat RDC Ratings

Score

Grade

Flex Rating
72
Range: 0-100
Swing Weight
326
Range: 200-400
Scores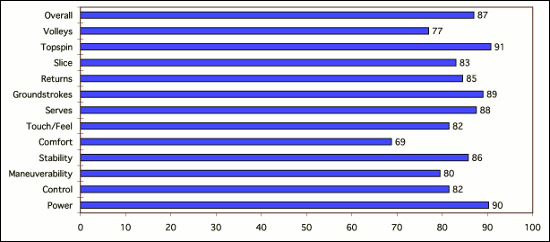 (Scores are determined by averaging individual play test scores)
Chris' Scores
Power
9
Serves
8.8
Control
8
Groundstrokes
8.8
Maneuverability
7.8
Returns
8.7
Stability
8.2
Slice
8.5
Comfort
7.5
Topspin
9
Touch/Feel
7.8
Volleys
7.8
Overall
8.4
Brittany's Scores
Power
8.5
Serves
8.7
Control
8.6
Groundstrokes
8.6
Maneuverability
8
Returns
8.6
Stability
8.3
Slice
8.7
Comfort
6.5
Topspin
9
Touch/Feel
8.8
Volleys
8
Overall
8.4
Siobhan's Scores
Power
9.3
Serves
8
Control
8.5
Groundstrokes
9
Maneuverability
8
Returns
8.5
Stability
8.8
Slice
8.5
Comfort
6.5
Topspin
9
Touch/Feel
8.5
Volleys
8
Overall
8.3
Andy's Scores
Power
9.3
Serves
9.5
Control
7.5
Groundstrokes
9.2
Maneuverability
8
Returns
8
Stability
9
Slice
7.5
Comfort
7
Topspin
9.3
Touch/Feel
7.5
Volleys
7
Overall
9.3
Playtester Profiles
Chris: 5.0 all-court player currently using the Volkl C10 Pro 2012. Chris uses a full-western forehand grip, has a fast swing style and hits a one-handed backhand.
Brittany: Open level player with a semi-western forehand and a two-handed backhand. She currently plays with the Yonex V-Core 100S.
Siobhan: Open level player with a semi western forehand and a two-handed backhand. She currently plays Wilson KBlade Team.
Andy: Open level all court player with a semi-western forehand grip and a two handed backhand. Andy currently using a Yonex RDiS 100 Mid.

Review date: November 2012. If you found this review interesting or have further questions or comments please contact us.
All content copyright 2012 Tennis Warehouse.