adidas adizero CC Feather II Shoe Review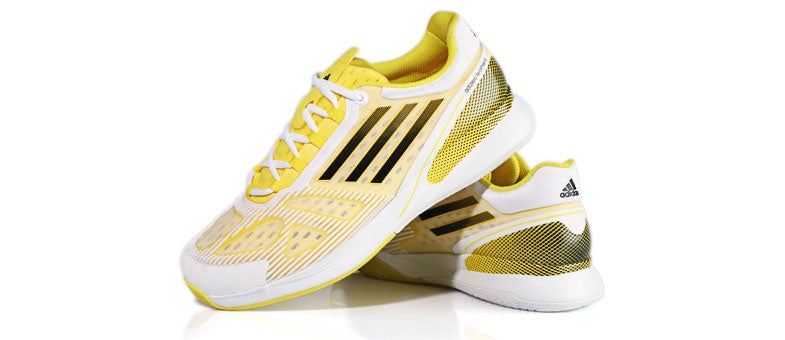 adidas adizero CC Feather II Shoe Scores
Comfort
4.7
Ventilation
5.0
Arch Support
3.3
Foot Support/Stability
4.0
Overall Sole Durability
3.8
Toe Durability
3.3
Traction
4.5
Weight
4.8
Overall
4.5
Upsides
Little to no break-in required
Great ventilation
Traction
Comfort
Lightweight
Summary
On the heels of the success of the adizero Feather IIs, adidas set out to make the shoe even lighter, faster and more ventilated. In our humble opinion, adidas has succeeded. The biggest change in the newest Feather IIs is the introduction of ClimaCool technology, which is used all over the upper of the shoe to make it faster and more breathable. However, what is most impressive is that while the CC Feather II is an ultra lightweight shoe, it does not sacrifice anything in the stability and outsole durability departments. Even though the shoe feels more like a slipper than a heavy duty tennis shoe, there was more than enough support to make aggressive cuts all over the court. The addition of ClimaCool also makes this one of the most well-ventilated shoes we've ever tried. It's perfect for players in hot, humid climates. This update takes the already impressive Feather IIs to a whole new level.
Comfort - Score: 4.7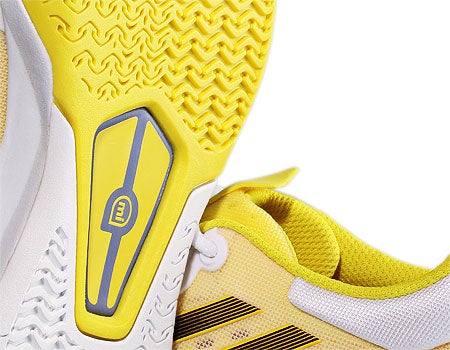 These shoes shone in the comfort department and received incredibly high marks in this category from all the playtesters. Mark was impressed from the moment he put these on. He said, "Usually the lighter high performance tennis shoes either use materials that make the uppers too stiff or use so much mesh to keep the weight down that I do not feel laterally stable. What a great blend of materials adidas has used to develop a shoe that has the out-of-the-box comfort my feet appreciate! I always slip my foot into a test shoe without any socks to feel how spartan or plush a shoe feels, and the latest evolution of the CC Feather II had no seams. No portion of the shoe, when flexed, pinched my feet in any way. Impressive."
Andy found immediate comfort as well. He noted, "This shoe is super comfortable right out of the box. When I put it on I could feel the cushioning all around the foot. When I hit the court there was more than enough cushioning in every area that I needed it. I found myself walking around the office in these shoes, even when I wasn't playing, because I found them so comfortable."
Chris found the cushioning to be just right after just a slight break-in period. He offered, "I found these shoes to require just a slight break-in before being truly comfortable. The majority of the upper felt comfortable right away, but the area around the ankle collar dug in a little for the first hour of play. Once that area broke in I found these to be extremely comfortable shoes. I loved the way the uppers flexed up around my toes. The uppers moved and flexed with my feet, and that made them feel very light and fast. The level of cushioning was perfect. I had all the protection I needed for hard court play, yet the cushioning felt responsive and low profile."
Ventilation - Score: 5.0
This was one of the most highly rated shoes in in this category that we've ever tested. The addition of adidas' ClimaCool technology gave this shoe incredible breathability. "These are by far the most vented shoes I've played in," proclaimed Chris. "The breathability was excellent, and I scored them top marks. When playing outside I could feel the cool air flowing through the shoes as I walked or ran around. My feet never got too hot in these shoes, and I would highly recommend them if you play in hot climates, or if you just like lots of ventilation in your shoes."
Andy's sweaty feet found solace in the CC Feather IIs. He said, "Ventilation is one of the strong points of this shoe. The introduction of adidas' ClimaCool technology to the upper makes the shoe really cool feeling and breathable. There's also tons of mesh all around the shoe, making it ideal for people who find that their feet sweat quite a bit (that's me)."
Mark enjoyed the ventilation as well. He said, "Walking out to my car on a cold night after work provided me with plenty of cold air on my feet. I wear a middle of the road sock in terms of thickness, and the level of ventilation these shoes featured was more than sufficient."
Arch Support - Score: 3.3
Our playtest team found the arch support to be on the low side, but it also fit the players' feet just fine. Mark's arches fit these shoes better than some adidas shoes he had tried in the past. He said, "Some of the shoes from adidas that I have worn seem to have the arch support closer to the front of the shoe than my feet like, but the new CC Feather II complements my foot type very well."
Chris felt that his high arches were still well supported in these CC Feather IIs. He offered, "My arches are on the high side, and the arch support in these shoes fit a little low for me. However, stability through the arch area was great, and my arches felt very protected when sprinting around."
It took a little time for Andy's feet to adjust, but once they did the shoes felt good on his slightly flat feet. He said, "I found the arch support to be slightly low, and it actually hit my foot in a certain spot that took me a little while to adjust to. This is not an uncommon thing for me, but when I wear a shoe that doesn't fit me just right my feet will ache until they adjust, which can take a few days. However, once I acclimated I found the arch support to be supportive enough."
Foot Support/Stability - Score: 4.0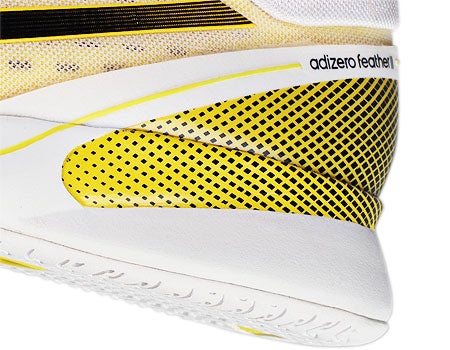 Though they didn't offer the kind of stability you'd get from a heavier-duty shoe, the CC Feather IIs offered adequate support. Andy found more than enough stability from this super light weight offering. He felt, "For as light and low profile as this shoe is I was shocked at the support and stability I received. I felt totally confident moving aggressively all over the court, from lateral cuts to starting and stopping quickly. My ankles had the least support out of all the different spots on the foot, but it was still adequate. It's not as stable as a Barricade, or even my Gel Resolutions, but for its weight class this Feather is very supportive."
Mark found that there was a perfect balance between comfort and support in the supple uppers of the CC Feather IIs. He said, "Like I mentioned in the Comfort section, many of the lighter tennis shoes are constructed from a somewhat unforgiving material to keep them stable and light, or they have so much mesh that they are mushy on lateral stops. This shoe hits the favorable combination almost flawlessly. I feel secure, confident and comfortable all over the court with the adidas CC Feather II."
Chris, on the other hand, found that the soft uppers and wide fit contributed to a slight loss in stability. He said, "Due to the flex of the uppers and the generous fit for my narrow feet the support and stability were not exceptional. However, I was able to find enough support from the uppers to feel confident when making aggressive lateral cuts. My feet did slide around inside the shoes, even with two pairs of socks, and I put that down to a combination of the fit and the amount of give in the upper material. The fit felt the same as the regular adizero Feather II, it was just that the uppers in this CC version felt softer and more flexible, which resulted in more give when coming to a stop or making a lateral cut."
Overall Sole Durability - Score: 3.8
Once again, you will not get the kind of sole durability you would out of a beefier shoe, but for its weight class the CC Feather IIs have excellent durability. A "not-as-slowed-down-as-he-thinks" Mark got more than enough durability out of his pair. He said, "I do not hammer shoes the way I did when I was younger, but I go through my sole warranty shoes in three months or so. As less material equals quicker wear time, I generally stay away from the lighter shoes. This shoe has worn wonderfully and is one of the more durable lightweight shoes I've tested."
Chris found these shoes to be very competitive in their weight class in terms of durability. He said, "These shoes seem to be built for speed over durability. Having worn the regular adizero Feather II, I knew what to expect from this one because the outsole appears to be the same. As far as speed shoes go, I would say these are one of the more durable options. They have lasted better than the New Balance 851, Nike Air Zoom Vapor 9 Tour and the Asics Gel Solution Speed. Playing an hour a day, five days a week, I can get close to a month of durability out of these, which is pretty solid for me."
Andy hasn't had any problems with the durability of these lightweight shoes. He offered, "Just like the support and stability, I was very surprised with the sole durability of the Feathers IIs. I have not put enough time into them to determine exactly how long it would take me to wear through them, but they definitely are lasting me a good while. They are more durable than the Nike 2K12s and about the same as my Gel Resolutions. I am wearing them out the most right under my big toe, which is the standard spot where I wear out my shoes."
Toe Durability - Score: 3.3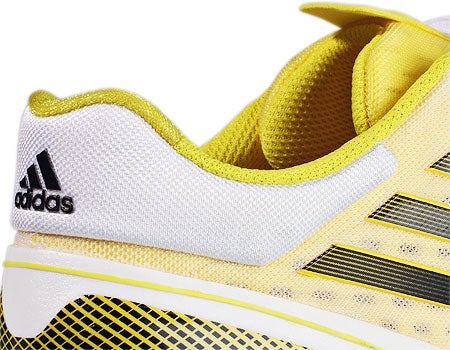 Our toe-dragging playtesters had differing opinions on the toe durability of these shoes. Chris would've liked a little more protection for his toe-dragging habits. He said, "There is some vulnerability to the toes of these shoes. I found the rubber-like material over the mesh to be a little thin where it wraps around the lateral edge of the toe tip. I drag the lateral side of the toe of my left shoe when lunging wide to hit a slice backhand (which I seem to hit a lot recently since playtester Andy regularly has me on the run to that wing). I'd like to see the material up around the toes be a little beefier -- not so much as to weight down the shoes, but just enough to add some needed durability."
Mark, however, found more than enough durability in the toe area. He said, "I am not known to be the most extreme of toe draggers, but again, my shoes usually wear out in three months, and always in the toe portion of the shoe. The toe area is reinforced very well for a lighter shoe, and I thought it was intelligently designed, with the rubber wrapping over the toe box of the shoe. My test shoe definitely shows wear after 15-20 hours of hard play, but only about half way through the toe."
Traction - Score: 4.5
The traction of the CC Feather IIs was excellent on the different hard courts that we tested them on. Chris found just the right amount of give from the outsole for his aggressive on-court movements. He said, "I really like the traction offered by these shoes. They allow me to slide when I need to slide, yet there's plenty of grab when I go to push off. The outsole is actually designed to do that, and I found a superb combination of give and grip. I felt like I could rely on the amount of traction I was getting at all times, and that gave me the confidence to play aggressively and chase down everything."
"Playing on a hard court most of time, I felt like the starts and stops were predictable and efficient," said Mark. "With the compound/configuration of the rubber and the pliable but durable upper, this version of the CC Feather II ranks up there as one of the best light tennis shoes I have worn."
Andy found almost too much traction when making cuts around the court. He offered, "The traction on these shoes is excellent, and sometimes almost too good. They have a unique tread pattern, and sometimes I found the shoes grabbing more than I would like when going out wide to slide into a ball (on a hard court). I definitely never felt like I lacked grip on the court, and I felt very confident stretching out wide and cutting back to the middle, even on a slick outdoor court."
Weight - Score: 4.8
We knew that the CC Feather IIs were going to be light, but we really liked that adidas found a way to provide enough support in this light of a shoe. Andy loved the lightweight feeling of these shoes. He said, "This is the lightest-weight tennis shoe I have worn where I have felt totally confident moving around the court aggressively. Normally with a shoe this light the support is lacking, but not in these. The light weight of this shoe is very noticeable and extremely comfortable. Another great feature of this shoe that lives up to its name (the Feather)."
Mark really liked the low-profile feel of these shoes compared with some heavier alternatives. He said, "I consider any shoe weighing less than 15 ounces to be on the lighter side, and this shoe is considerably lighter than that. No embellishment on the Feather title. I notice that I can move around the court with a little less effort than with the 18 ounce beasts that I normally wear."
Chris sometimes forgot that he was even wearing shoes. He offered, "I've not weighed them, but these shoes feel extremely light on court. The uppers flex exceptionally well and move with my feet, so any sensation of weight just disappears. When combined with the high level of traction, these felt like very fast shoes that were perfect for sprinting around the court. Ultimately, I could have done with a tad more support and toe durability even if meant a little more weight, but I am getting very, very picky here."
Overall - Score: 4.5
Likes
Chris - "I loved the lightweight feel, traction, comfort, cushioning, ventilation and styling."
Mark - "Just about every darn thing."
Andy - "I loved its light weight combined with the support and stability. I also loved how breathable it was, and the surprising durability."
Dislikes
Chris - "The fit is a tad wide to be ideal for me (I'm one of the few who loved the narrow fit of the original adizero Feather), and I could use a little more toe durability."
Mark - "I suppose the option of other color ways besides the yellow/white would please me, but the shoe is so top notch that I would wear a margarine/butter colored pair without hesitation."
Andy - "Not much, although I would have liked the toe box to be just slightly more narrow (although I didn't find the width to affect the performance of the shoe all that much). It was also nicely cushioned, but compared to my Gel Resolutions the cushioning felt a little thin around the foot."
Comparing the CC Feather IIs to other shoes they've worn, our testers said:
Chris - "The closest shoe to this is the non CC version of the adizero Feather II. The width and level of cushioning and traction are the same, but these offer more give, feel lighter and faster and offer the best ventilation out there. Even though the Gel Solution Speeds fit my feet better, I would rock these due to their superior traction. I found the durability to be slightly better than the Vapor 9 Tour, but the fit and support is not as good."
Mark - "I have to say that this has got to be one of the better light shoes available right now. I love the Vapor 9 Tour as well, but its lack of durability is a factor for me. The Feather II is a slightly stiffer shoe than the Vapor 9 Tour but is quite a bit more durable. Compared with the New Balance MC 851, the CC Feather II had me feeling much more confident and comfortable. The other light shoe I have worn lately is the Asics Solution Speed, which I liked as well, but the new Feather II is still the light shoe I would purchase and wear for match play."
Andy - "Unfortunately, I have not worn the previous versions of this shoe so I can't compare it to its predecessors. However, it felt similar to the Nike Vapor 9 Tour, but with a slightly more roomy fit and more durability. This is a great shoe for players looking for a lightweight, low profile shoe with a roomy fit that is up to the test of some hard hours on court."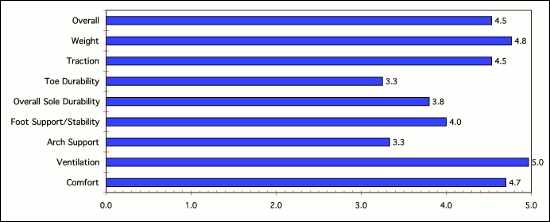 Playtester Foot Types:
Chris - Narrow width / Medium arch
Mark - Medium width / Medium arch
Andy - Medium width / Low arch

Review date: December 2012. If you found this review interesting or have further questions or comments please contact us.
All content copyright 2012 Tennis Warehouse.