adidas Barricade Racquet Review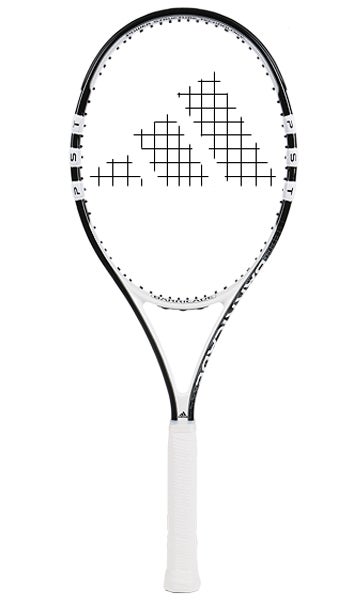 The Barricade racquet tested here is one of three racquets in adidas' flagship racquet line.
Called simply the Barricade, this racquet shares its flagship status with the Barricade Tour Light and Barricade Tour. The Barricade and the Barricade Tour Light share the same specifications in weight and balance, but the Barricade features an open 16/19 string pattern. Both the Barricade Tour Light and Barricade Tour feature a tighter 18/20 string pattern, with the Barricade Tour being the heaviest of the three models.
Before the test got underway, we expected the Barricade to be the liveliest of the three frames due to its open string pattern and maneuverable feel. To find out if it could live up to the lofty standards that come with bearing the adidas logo, we took it out for a month-long playtest.
Groundstrokes - Score: 75
Our TW playtesters found the adidas Barricade provided generous amounts of spin off the ground. An impressive level of power was also noticeable with this stick. Tiffani enjoyed the power and spin. "This is a comfortable hit off the ground. When held up against the Barricade Tour Light, the Barricade offered me a livelier stringbed and slightly more maneuverability. The added zip and spin meant it was a little more forgiving when I was off balance when compared to the Tour Light. However, I found that this was a more difficult stick to control depth wise. Like the Tour Light, this racquet felt stiffer to me than the RDC rating and needed a dampener to reduce the ping."
Noticing the power of the racquet was Jason. "I found a nice blend of power and control with this stick. I thought my groundstrokes didn't have as much control as I was used to, but that didn't mean they weren't effective. Although I wasn't painting the lines, my shots still had plenty of depth and spin. Shots landing outside the sweetspot were pretty noticeable, though." Chris found the strength of the racquet to be the topspin shot. "I liked the maneuverability of the Barricade from the baseline. I felt I could whip it around far quicker than the Barricade Tour Light. While the racquets are only supposed to differ in string pattern, this one just felt much faster, leading me to believe one of our hitters was a tad out of spec. I much preferred hitting topspin groundstrokes than slice with this stick. I was able to get some nice hop when hitting with topspin. I felt confident going for those shots that require extra spin, such as forehand angles and topspin lobs, etc. When hitting with slice, I was finding the ball to float on me a little. For that reason, it took me longer than usual to dial in my depth with my slice backhand."
Hitting shots placed at his feet was a real plus for Jackson. "This stick had great ball-pocketing with its open string pattern, which gave me great spin and good depth on my groundstrokes. The racquet produced a good amount of power when it was set up with a Wilson multifilament, to the point I was making sure that I dropped my racquet head on the backswing to get under the ball for as much spin as possible. What I was most impressed with was my ability to pick up shots hit deep against the baseline; it seemed effortless to return deep balls with control and depth."
Volleys - Score: 71
With a nice combination of spin, pop and maneuverability, the adidas Barricade proved to be a hit with our testers at net. Chris liked all aspects of the racquet for his volleys. "At net, the racquet felt crisp and clean. I was finding some nice pop and good ball speed on deep volleys. I was very impressed with the maneuverability, and was playing aggressively and really closing the net. I was able to get the racquet around the ball and was finding some nice angles. The clean response made targeting easy, both on touch shots and when looking to stick the volley with pace." At ease up at net was Tiffani. "As with the Tour Light, the Barricade had good maneuverability at net. I was comfortable at net with the Barricade, but the feel was OK rather than outstanding."
Jackson found this stick to be average at net. "I didn't find this racquet to be anything exceptional at net. The maneuverability wasn't bad, but it felt a little awkward to me. I tended to stay back to finish the point from the baseline. Each volley that was hit felt like an accident. I didn't feel like I could 'stick-it' with this racquet." Jason agreed, and added "I had decent success with my volleys. This was partly due to my own skills (or lack thereof) and partly due to the racquet. It wasn't as maneuverable as I would've liked, but it was adequate. When I had time to prepare my shots I had solid volleys, but I found the racquet lagging if I had to hit reaction volleys."
Serves - Score: 71
Whether it was the additional power or the easy access to spin, our TW testers enjoyed serving with the Barricade. The open string pattern aided Jason on his 2nd serves. "I definitely liked hitting a slice serve rather than a flat serve with this stick. I couldn't truly adjust to the racquet when hitting first serves, I tended to sail the ball long on serves that I tried to put extra pop on. I found a nice consistency when hitting slice serves." Finding additional pop to his serve was Jackson. "The racquet felt like it would slow down my motion at the apex of the serve, which resulted in hitting many serves long. Once I adjusted for the delay, I found the racquet put a lot of power on the serve without me having to generate it myself. In fact, I noticed more pace on my serves than usual. Serving down the middle on the deuce side was a breeze, but I found it difficult to pull it out wide enough to put my opponent out of position for the next shot."
Consistency was the name of the game for Chris. "I was getting a decent amount of kick on serves with this stick. Performance was nothing exceptional, but there was enough pace and spin to get the job done. I was able to swing the racquet easily through the contact zone and I found a consistent level of racquet head speed for the duration of a match. That consistency translated into some steady serving for the entire test." Tiffani was having a tough time calibrating her serve with the Barricade. "Serving was just mediocre for me. At first I was having a hard time finding the sweetspot, which I found odd because this was not a problem with other strokes. When I hit the ball higher in the hoop the racquet was not giving me the oomph I wanted. As I adjusted I got only decent pop and spin. I was expecting a bit more, especially more spin."
Serve Returns - Score: 73
For the most part, our TW team liked the maneuverability of the Barricade while returning serves. Jackson struggled the most with this aspect of his game. "This shot gave me the most problems with this racquet. For about half the time I found myself hitting crushing returns down the line or at a sharp angle. The other half resulted in balls sprayed long or hit without much weight behind them, giving my opponent a sitter. Experiencing better results with this stick over the Barricade Tour Light was Tiffani. "This is the one area I prefer the Barricade over the Barricade Tour Light. I was coming up late with returns with the Tour Light version, but I was finding the Barricade easier to bring around. I still was left wanting more control, though."
Jason noticed a recurring theme. "The ongoing storyline with this racquet continued on returns for me. I got plenty of power when balls landed in the sweetspot, but as soon as I started hitting balls toward the perimeter of the hoop the power decreased noticeably, as well as torsional stability. " Chris continued to use the topspin shot to his advantage when returning. "I was able to whip this racquet around on returns and stay pretty aggressive. As on groundstrokes, I had more success hitting with topspin, and I was coming over the ball off both wings most of the time. I was able to find good depth and pace, and I was able to keep my returns on target."
Overall - Score: 72
The Barricade offers good maneuverability that intermediate players on up will appreciate. Our team found the maneuverability and open string pattern resulted in lots of spin from the baseline. At net, manipulating the racquet was a cinch, and creating sharp angles and hitting touch volleys came easily to most. Our testers found that hitting the sweetspot with consistency was rewarded with plenty of power and a crisp feel. The power made it possible for players to confidently attack shots and play offensively. Overall, we liked the racquet for its spin potential and excellent maneuverability. We'd say this one is well worth a demo for intermediate through advanced level players.
The "Likes" of the racquet.
Tiffani - "I liked the maneuverability of this racquet, and spin was easily created."
Jason - "I liked the power the racquet provided when hitting in the center of the stringbed. For my game, I really liked putting in a soft polyester instead of our standard playtest string, Wilson NXT. The poly helped me lower the power and raise the amount of control."
Chris - "I liked the maneuverability of this racquet, and I was able to get lots of topspin."
Jackson - "I liked the racquet when hitting defensive shots, such as deep balls landing close to my feet. I was able to hit them with pretty decent control."
The "Dislikes" of the racquet.
Tiffani "I didn't like the stiff feel."
Jason "Not a big fan of the racquet when hitting first serves. I also didn't like how much I was penalized for hitting shots out of the sweetspot."
Chris "Just wasn't feeling this one on the slice backhand, which is a staple shot for me. I was finding my shots to float deep."
Jackson "I didn't like the feel of a small sweetspot. In general, it didn't give me much feedback and not a lot of feel. Also, I found it easier to hit the frame on low-balls as the PST system seemed to get in the way."
Technical Specifications

Length
27 inches
69 centimeters
Head Size
95 square inches
613 square centimeters
Weight
11.2 ounces
318 grams
Balance Point
13.25 inches
34 centimeters
2pts Head Light
Construction
21 Straight Beam
Composition
Graphite
String Pattern
16 Mains / 19 Crosses

Babolat RDC Ratings

Score

Grade

Flex Rating
61
Range: 0-100
Swing Weight
327
Range: 200-400
Adidas Barricade Scores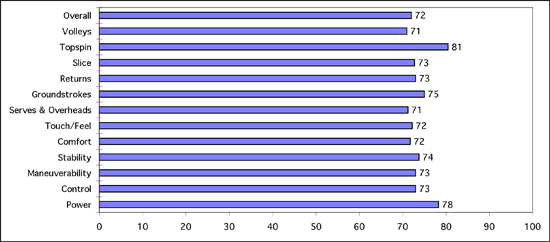 (Scores are determined by averaging individual play test scores)
Chris' Scores
Power
7.7
Serves & Overheads
7.7
Control
7.4
Groundstrokes
7.5
Maneuverability
8
Returns
7.7
Stability
7.7
Slice
6.9
Comfort
7.9
Topspin
8.2
Touch/Feel
7.4
Volleys
7.9
Overall
7.7

Jason's Scores
Power
8
Serves & Overheads
7.2
Control
6.8
Groundstrokes
7.2
Maneuverability
7.7
Returns
7.2
Stability
7.3
Slice
7.5
Comfort
7
Topspin
8
Touch/Feel
7.5
Volleys
7
Overall
7.1

Jackson's Scores
Power
8
Serves & Overheads
6.8
Control
8
Groundstrokes
8
Maneuverability
6
Returns
7
Stability
7
Slice
7
Comfort
7
Topspin
8.5
Touch/Feel
7
Volleys
6.5
Overall
7

Tiffani's Scores
Power
7.6
Serves & Overheads
6.8
Control
7
Groundstrokes
7.3
Maneuverability
7.5
Returns
7.3
Stability
7.5
Slice
7.7
Comfort
6.8
Topspin
7.5
Touch/Feel
7
Volleys
7
Overall
7
Playtester Profiles

Chris
5.0 All court player currently using the Becker Pro. Chris uses a full-western forehand grip, has a fast swing style and hits a one-handed backhand.
Jackson
4.5 All court player currently using a Babolat Pure Drive Team. Jackson uses a semi-western forehand grip, and hits with a two-handed backhand.
Jason
4.0 baseliner currently using a Head Microgel Radical Midplus. Jason has a fairly aggressive semi-western topspin forehand and hits a one-handed backhand.
Tiffani
4.0 level baseliner with a semiwestern grip on the forehand and hits a two-handed backhand. Currently playing with the Yonex RDS 003(08 version).

Review date: February 2009. If you found this review interesting or have further questions or comments please contact us.
All content copyright 2009 Tennis Warehouse.