Adidas Barricade 6.0 Women's Shoe Review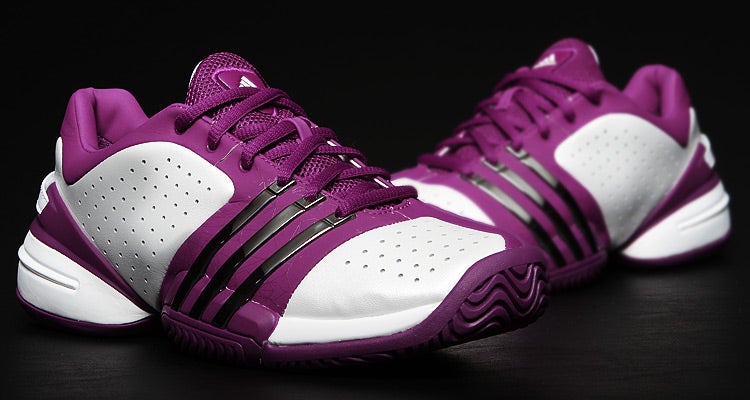 There are few tennis shoe models that can boast a legacy like the Barricade. Over the span of its 10-year existence the Barricade has become one of the best hard court shoes available, known for its stability, durability and traction.
In this review the Barricade story continues, and we pick it up in its sixth chapter. With this latest model, the Barricade 6.0, the shoe has the lightest profile in its history, weighing 13.6 ounces (size 8.5). It is also slimmer in design and dressier than its predecessors, with a women's specific design and metallic accents on the claws and heel decoration.
We sent out a team of women to see if this latest addition to the Barricade story is a page-turner worthy of the New York Times Bestseller List.
Comfort - Score: 4.4
This latest incarnation of the Barricade cradles the feet with some familiar cushioning systems, adiPRENE and adiPRENE+, and sports a softer upper than its immediate predecessor, the Barricade V. DeeDee could hardly contain her excitement, offering, "Wow! What a comfortable shoe! Nowhere are my feet being poked, pinched or rubbed. I didn't even have to wear a thick sock. This is a great shoe for narrow and wide feet. Every part of the shoe was padded to provide increased comfort, including the tongue."
Also singing the Barricade 6.0's praises was Eileen, who said, "I found perfect cushioning throughout the shoe. I'll wear this shoe for a long time. The shoe is very comfortable and light on the court, with great durability on the upper and lower part of the shoe. It looks as good as it feels."
Ilene sought out-of-the-box comfort, saying, "The Barricade 6.0 provided just average comfort. I certainly would not say it was uncomfortable, but I have definitely tried more comfortable sneakers. The shoe was roomy, so there was no pinching of toes, and I was able to wear these shoes for hours after playing in them. I have a medium foot width, and I needed to tie the laces tightly with this shoe. It was a bit wide for me and too stiff, but I did not experience any rolling of my ankles. The material was not as soft and flexible as I like out of the box and required some breaking in, but the shoe did have a bit of forefoot cushioning, making it easy to move forward and stay on the balls of my feet."
Kana said, "At first, because the shoe was stiff during break-in, I thought this was going to be another shoe that would just sit in my closet. After a break-in period of about a week, it actually became my go-to shoe because of the comfort. The cushioning was just right, and there weren't any awkward flex points. The material softened up after the first week, but still held its stability for hard training days."
Rachael noticed a change in fit over previous models. She said, "Overall, I found the Barricade 6.0 to be comfortable. However, I have a wide foot and found them to be slightly narrower than other Barricade models. There was some slight rubbing on the sides of my feet, but other than that they fit great and the cushioning was comfortable."
Tiffani compared them to the previous model, saying, "As a big fan of the Barricade V, I appreciated the shorter break-in period for the Barricade 6.0. I wore my shoes around for a couple of days before taking on them on the court. With the Barricade V, it took about a week of just wearing them around before I could play comfortably. The Barricade 6.0's upper is quite pliable, so it was comfortable. I felt stuck in between sizes and could have dropped a half-size down, but I was comfortable wearing my true size for the most part."
Ventilation - Score: 4.5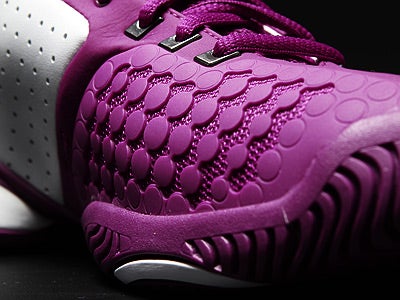 Perforations in the synthetic leather, a mesh tongue and an updated adiTUFF material with a mesh underlay provide the ventilation for the Barricade 6.0. The shoe struck a good balance for Kana, who said, "I feel most shoes that focus on ventilation sometimes lose stability, especially when it comes to lateral movements. There's either too much mesh or not enough. On the Barricade 6.0, the combination of mesh and perforations in the toe box gave plenty of ventilation, while still providing stability."
The other testers were happy as well, including Rachael. She said, "I found the shoes to be breathable, and I had little to no problems with them heating up while I was on court."
Tiffani said, "Heat wasn't really a factor for me, but as with most tennis shoes, my feet weren't cool. The ventilation is what I expected from a tennis shoe, and I was pleased that my feet didn't overheat."
"The shoe breathes well," Ilene said. "My feet were never too sweaty."
The same was true for DeeDee, who offered, "I loved the breathable mesh lining. It was a good idea to add the mesh on the tongue of the shoe to provide additional ventilation. I could wear this shoe all day, and my feet never felt hot."
Eileen said, "My feet stayed cool during play, and after I was off the court. I never felt like my feet or socks were damp."
Arch Support - Score: 4.6
The medium height arch support managed to please our testers' variety of foot types. Those with average height arches reported no problems. Eileen said, "The fit was right for my medium arch. Even after playing, my legs and feet felt great."
On the court, Rachael was pleased. She said, "My arches felt very supported, with no discomfort, even when playing for long periods of time. The only issue I had was off the court when I wore them on a run, but as a tennis shoe there were no problems."
Ilene offered, "Arch support is perfect for me. I have an average arch, and the shoe was always comfortable while playing. I could run and stop without any discomfort. However, the shoe felt a bit stiff, which made me feel a little less agile, especially moving side to side."
Also pleased was Kana, who has low arches. "It was perfect," said Kana. "It simply added to the overall comfort of the shoe."
Tiffani was the only dissenter, saying, "I'm not sure if it's because I felt I was in between sizes, but the arch was slightly uncomfortable. With my relatively flat feet I will sometimes feel a dull ache in my arches, and I did get that from these shoes. It would dissipate each time, but I felt much more comfortable after I installed my blue Superfeet insoles."
On the other end of the arch height spectrum, DeeDee said, "The arch support was just right for my narrow foot and high arch. The midfoot support cable that was incorporated into the lacing system helped customize midfoot support to my feet."
Foot Support/Stability - Score: 4.5
A hallmark of the Barricade line has been the high level of support and stability it provides to players. This sixth edition was solid for Ilene, who said, "There was no rolling of the ankles or sliding of the feet. I generally prefer a snugger fit, and this shoe was a bit wide for me. However, I was able to stop and go often while playing without experiencing any instability on any part of my foot. My toes didn't hurt or feel pressure, and my ankles felt stable and secure within the shoe when stopping abruptly."
With ankle issues, stability is of the utmost importance to Rachael. She said, "I felt my feet were supported while playing tennis in the Barricade 6.0, and there was minimal movement while running around the court. Because I have weak ankles I pay close attention to a shoe's ankle support. I found that this Barricade model offered great support and protection from rolling my ankle."
Tiffani said, "As I would expect from anything with the name Barricade, the lateral stability was excellent. The fit on the foot felt more streamlined than the Barricade V, which is among my favorites. That feel initially made me more comfortable with my footwork on court. I was bothered by one thing, though. I felt I could never cinch down my heel. Again, I'm not sure if dropping a half size would have made a difference in securing my heel, but I did wish for one extra eyelet to lace up."
Longtime fan of the Barricade series Eileen said, "It was a perfect fit for my foot. The ankle support was great, with no sliding or slipping during play. I felt full ankle support, and the shoe felt solid when I stopped or changed direction."
"The overall foot support was excellent," said Kana. "The heel collar sat a little high for my liking, but if it was any lower it would have caused some heel slippage because of the elevated profile in the heel."
DeeDee, too, was impressed, saying, "I was thankful for the shoelaces that never loosened while playing. This feature helped me to concentrate on my game instead of worrying about rolling my foot because my feet were moving around in my shoe. My favorite part of the shoe was the increased heel support that provided comfort and helped with shock absorption. Because of the increased support in the forefoot and midfoot, the Barricade felt very stable and I never felt like my feet were going to roll over."
Sole Durability - Score: 4.7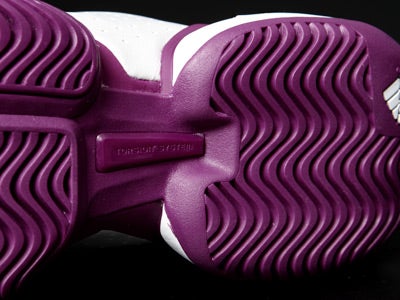 The Barricade 6.0 is backed by a six-month durability guarantee, and the series has the reputation of being one of the most durable hard court shoes on the market. "I see no wear at all, and I've worn these for more than 20 hours!" Kana exclaimed.
The adiWEAR 6 outsole worked well for Rachael, who said, "The sole maintained itself well and when it did start wearing down it was more toward the toe, which is not surprising, seeing as I'm a severe toe dragger. I feel this model is another excellent example of the great sole durability Barricades offer!"
Ilene said, "The outsole is very durable and lasting. So far, I have not noticed the outsole wearing out on any area (unlike my Nike Mystify sneakers, which showed extensive wear on the ball of the toe within weeks). I sometimes wear my sneakers for hours after playing, and I have noticed that the sole does not show much wear."
Also pleased was DeeDee. She said, "I normally wear out my shoe on the outside of the heels, but there was no indication of any wear or tear on these."
Tiffani didn't worry about durability, saying, "Though I haven't been playing as much tennis lately because I'm in the second trimester, I was able to put in about 20 hours on the court. I estimate that this shoe is wearing as well as my Barricade Vs, which I didn't wear out before the six-month guarantee. There's not much wear to report at all."
"The sole shows a little wear in the ball of my foot," said Eileen. "I feel like this is normal wear. The sole durability is amazing considering how light they have kept the shoe."
Toe Durability - Score: 4.8
There's plenty of adiTUFF material on the upper and a built-up toe, and our toe-dragging playtesters were pleased. Tiffani said, "Again, my pregnancy has limited me a little bit, and I feel like I'm not playing as aggressively, so I'm dragging my toes less. That being said, I really didn't do any damage to the toe area."
Eileen said, "There's no wear showing at all! The toe still looks brand new."
Aggressive with her toe dragging, Rachael put the shoe to the test. She reported, "One of my favorite things about the Barricade 6.0 is the high toe bumper that has kept me from wearing through the shoes quickly. It allowed me to play confidently, without being concerned for the toe durability."
Traction - Score: 4.5
Our team plays primarily on hard courts and found the modified herringbone tread pattern to work well. Eileen said, "One of the best features of this shoe is the traction it provides. I could really take off after the ball and feel light on my feet."
Ilene sought volume control on the shoe, saying, "The shoe gripped the court very well, making it very easy to stop and start and change directions, even at a very fast speed. I did not experience any sliding on the court, however, the stiffness of the sneaker bothered me, and the shoe made a squeaky sound when I stopped abruptly."
For Kana, performance changed throughout the testing period. She said, "The traction was very good at the beginning. The shoe gripped the court well, making it easy to explode in the other direction. After 20 hours it didn't look like I'd worn the sole down, but the traction had dwindled. I noticed it on side-to-side movements, especially when I tried to stop. When I would run suicides I would slip trying to start and stop, and I was afraid to really take off on the court as the shoes became more slick. It's still decent, just not as good as before."
Rachael said, "The shoes had great traction and I felt they didn't slip out from underneath me when I changed direction quickly. It made lateral movements very easy, and they felt quick on the court."
Paying special attention to traction was Tiffani, who said, "I play exclusively on hard courts, and like previous Barricades the Barricade 6.0 gripped the court well. I didn't experience slipping at any point, which is of utmost importance to me in this stage of life. Being pregnant, I'm not as nimble as before, and falling on the court is my biggest fear while playing tennis. I'm totally confident when I step onto the court in these shoes."
DeeDee said adidas found the right formula. "Because of my age, I tend to play flat-footed, but the claw feature and heel support helped me to propel toward my shots, and the good grip of the outsole allowed me to move laterally and change directions quickly."
Weight - Score: 4.2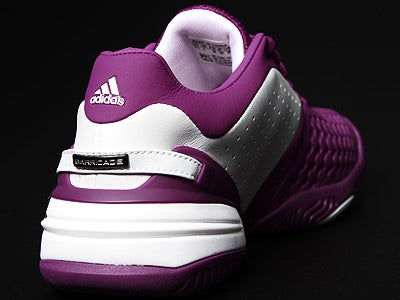 On paper, the Barricade has shed some weight. The Barricade 6.0 is more than an ounce lighter than the Barricade V (in a size 8.5). Tiffani noticed the difference, saying, "These aren't the lightest shoes in the stable, but the extra weight isn't something that bothers me. The shoes provide great stability and durability, and that generally means the shoe is going to weigh more. They are lighter than the Barricade V. I'm not sure whether the weight is that much lighter or if the shoe just feels more streamlined than its predecessor, but the Barricade 6.0 did play lighter to me."
DeeDee was pleasantly surprised. She said, "With all of the increases in protection and padding, I expected the Barricade 6 to be heavy. But no way, Jose. The shoe was surprisingly light."
The balance was good for Ilene, who said, "The shoe is a comfortable weight for my foot. I dislike a heavy shoe and would prefer a shoe a bit lighter than this."
Kana found it was a give-and-take situation, saying, "I love light shoes and this was one of the heavier shoes I've tried recently. It makes me feel a little slower on the court, but it makes up for it in other areas."
Rachael agreed, "I found these shoes to be slightly heavier than other pairs I have worn, however, the durability that they offered definitely made it worth it."
Pleased overall, Eileen said, "It was the perfect weight. It felt nice and light, but with lots of support and traction."
Overall - Score: 4.4
The plot line of the Barricade story has not wavered in this sixth chapter, or rather sixth edition of the shoe. The Barricade 6.0 is, according to our testers' feedback, one of the most reliable hard court tennis shoes available. The trademark durability and stability remain, even while shedding some weight. Though some of our testers noted a change in fit, none was disappointed with the overall performance of the shoe. The Barricade 6.0 did require some break-in, but it was worth it in the end. The Barricade 6.0 is among the best choices for competitive players.
Likes
DeeDee "The extra forefoot and heel support for stability. Besides being a fantastically comfortable shoe, the Barricade is fashionable and feminine looking. I wore the shoe regularly off the court."
Eileen "I love this shoe. I can play all day, feel like I can chase anything down but still feel support. I put them on and they felt great right away, with no break-in period. They feel like a glove every time I put them on and play. My feet feel great after the match and the rest of the day."
Ilene "The shoe is sturdy and provides stability. It is definitely a very durable shoe. I did get many comments and compliments on the look of the shoe."
Kana "I was surprised how comfortable these became. They're one of the better shoes I've playtested."
Rachael "Overall, I liked the great durability of the Barricade 6.0 in both the sole and the toe. These are very reliable shoes that can handle a lot of court time before wearing down. That, combined with the great ankle support, are my favorite attributes of these shoes."
Tiffani "The break-in time was shorter than the break-in time of the Barricade V, but I still got good stability and durability."
Dislikes
DeeDee "I didn't find anything I disliked."
Eileen "No dislikes. I will wear these shoes until they make a better one."
Ilene "I did not like the long break-in period. It felt a bit heavy (just a bit) and stiff. Also a bit too wide for my foot, so I did not enjoy running side to side in them."
Kana "I would never buy a shoe I have to break-in because I base my decision on the comfort right out of the box. The break-in period for this shoe was way too long."
Rachael "The only problem that I had with these shoes was that they were slightly narrower than other Barricade models. Besides the slight rubbing that this caused, I found the shoes to be great."
Tiffani "The heel was difficult for me to lock in because the opening was so long. I wanted one extra lacing hole."
Compared to other shoes or brands
DeeDee "The previous Barricades were comfortable, but adidas outdid itself with this shoe. Congratulations on celebrating 10 years, adidas!"
Eileen "I wear adidas Barricades as my court shoe already, so the Barricade 6.0 is just a better version of my favorite shoe. The comfort has improved and it feels lighter than the Barricades I've worn in the past. This is by far the best."
Ilene "I found the break-in period to be too long. Even after the shoe felt broken in, it remained a bit stiff. The Lacoste Repel is one of my favorite tennis shoes to date. The shoe is not as flexible."
Kana "This shoe is one of the better shoes I've playtested. It is currently my go-to shoe. In comparison to other ones, some have had too much mesh, which made them less stable for lateral movement, while some lacked in breathability, and some were just too narrow for me. What's sad about this one was wearing it right out of the box was uncomfortable because of the width and hard material. It wasn't until after the long break-in period that I ended up favoring the shoe."
Rachael "I found these shoes to have a little more cushion than some KSwiss models, a similar toe bumper to the Barricade IIs and a slightly narrower fit than other Barricades."
Tiffani "I'll make a comparison to the Barricade V. I prefer the less chunky fit of the Barricade 6.0 and the quicker break-in time. However, I found the Barricade V to have a better fit in the heel."
Upsides
Durability
Stability
Comfort
Downsides
Long break-in period
Weight
Adidas Barricade Women's Shoe
Comfort
4.4
Ventilation
4.5
Arch Support
4.6
Foot Suppot/Stability
4.5
Overall Sole Durability
4.7
Toe Durability
4.8
Traction
4.5
Weight
4.2
Overall
4.4

Playtester Foot Types:
DeeDee - Narrow width / High arch
Kana - Medium-wide width / Low arch
Ilene - Medium width / Medium arch
Eileen - Narrow width / Medium arch
Tiffani - Wide width / Low arch
Rachael - Wide width / Medium arch

Review date: September 2010. If you found this review interesting or have further questions or comments please contact us.
All content copyright 2010 Tennis Warehouse.