Wilson Six.One 95S Racquet Review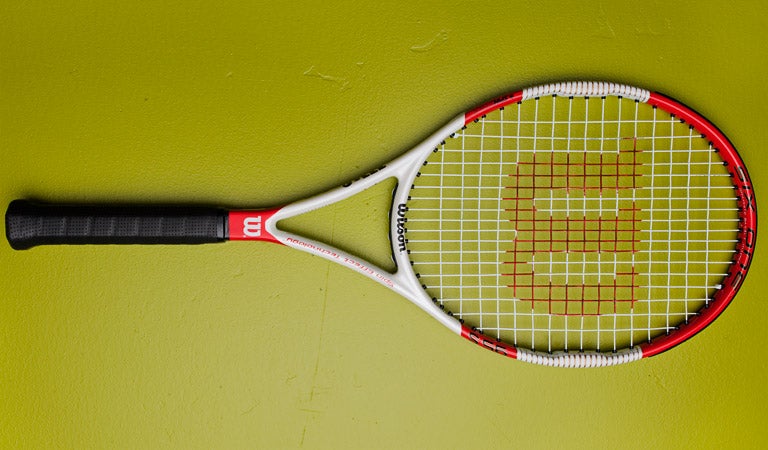 Wilson Six.One 95S Scores
Power
82
Comfort
80
Touch/Feel
83
Serves
82
Groundstrokes
86
Returns
83
Slice
86
Topspin
89
Volleys
85
Overall
85
Upsides
Spin
Feel
Control
Maneuverability
Downsides
Not many - nothing we agreed on
Summary
Wilson really did it this time! Our playtesters' ears perked up when they heard that Wilson was adding Spin Effect technology to each of its racquet lines. An open 18x16 string pattern in a classic precision racquet like the Six.One? Needless to say, they couldn't wait to get their hands on the Six.One 95S, and once they did they knew Wilson was onto something with this added spin potential. Weighing in around 11.5 ounces strung, this stable and crisp racquet complemented each of our playtesters' games. With loads of spin, feel and precision from the baseline and a maneuverable, clean feel at the net, this racquet helped us play great offense and defense. After reading what our playtesters thought of this one, we think you might find yourself agreeing with Wilson - more spin does equal more win!
Groundstrokes - Score: 86
The new Wilson Six.One 95 racquets have proved to be hits with our team for their improved feel, comfort and response. Throw in Spin Technology and its open string pattern, and we couldn't wait to hit the Six.One 95S off the ground. Chris, who has really been enjoying the updates to the Six.One 95 16x18 and 18x20 made his feelings clear about the new Six.One 95S by saying, "This is my immediate favorite of the new Six.One lineup. I just loved this racquet from the baseline. I was able to hit my down-the-line shots with much more pace thanks to all the spin I was getting. The added spin had the ball to dropping inside the lines and kicking up high, making it a tough shot for my opponent to return. I was also getting great spin on my slice backhand. I was able to cup around the ball for a nice cross court angle or cut inside it to hit an inside out slice down the line. When I softened my grip on the handle I could get my slice to drop short and low. The result was a tough, low ball that was not only tough to return, but also one that I could hit with lots of disguise. If I could get my racquet on the ball I could do something to hurt my opponent - even when I was flat out on the run."
Spencer's initial reaction was just as positive. He offered, "Of all the racquets I've hit this year, this one felt the best. With its static weight around 11.5 ounces and a swingweight around 320, I liked it before I even hit a ball. Once on court there was even more to like. It had a very responsive feel from the baseline. Whether I was hitting topspin or slice, I was digging the results. I normally play with the Steam 99S, so I'm used to getting good spin on my shots. This one didn't have as much spin as the Steam 99S, but certainly more than the Six One 95 16x18 or 18x20. This racquet felt so good on groundies that I wanted to believe this was a good fit for me. Then reality took hold and I realized I was framing more balls than usual."
"This was almost the perfect racquet for me from the baseline," began Jason. "Almost! I loved the feel and response. Even though the spin wasn't as great as it is in my Steam 99S, there was still plenty to get the ball jumping off the court. I could really take big cuts on my forehands and get them to dip into the court. I also loved it on the slice. I felt like I could really knife the shots and keep them low. The directional control was also better with this racquet than my own." Coming from the powerful spin beast, the Steam 99S, Jason found himself craving a bit more power. "I'm used to the pop I get from the Steam 99S, and this racquet just didn't provide that same put-away power."
Michelle, who is known to play a bigger, flatter game, explained how Spin Effect technology in the Six.One 95S even benefited her game. "I experienced a bit of an adjustment period with this racquet. Despite my flatter game style, I still appreciate and enjoy the added spin benefits from these Spin Technology frames (and the extra spin that comes from polys). I have tried to debunk Wilson's spin technology using the Trackman device, but it has been proven to me that using this racquet does add RPMs to my game. When hitting flat with a racquet that doesn't boast any spin technology, I hit below 1,000 RPMs. With this one, I am above 1,300 without changing my stroke. I can be a bit stubborn (as most tennis players are) and I'm not a fan of having to change my game for a racquet, so with the spin technology frames I just keep my game as is. When hitting bigger, flatter balls I did experience added RPMs, but I also felt a slightly erratic response at times (some balls would go deep with ease and other balls would have more spin but drop shorter than what I like to hit depth-wise). I did find some great spin and depth coming off my stringbed when going for change-up balls, defensive balls, short angles, and lobs. I found that I could easily use this racquet successfully offensively and defensively. I also can say that being on the other side of the net from someone playing with this racquet (yes, Chris, I'm talking to you), was frustrating because, as he noted, even when I pulled him completely off the court, he still had a great defensive play on the ball to get him back into the point."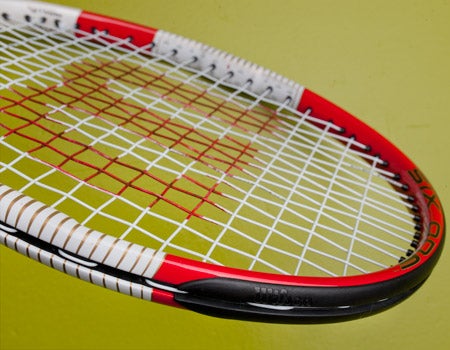 Volleys - Score: 85
All four of our playtesters agreed that the Six.One 95S felt flawless at the net. Michelle wasn't sure if she was going to like volleying with the Six.One 95S, but she ultimately found it to be crisp, predictable and maneuverable at the net. She said, "I really enjoyed volleying with this racquet, which was a nice surprise because I have struggled with some of the other spin-friendly racquets at the net. This was a solid volleying racquet, and it was easy to maneuver and place my volleys - I could place them deep or hit some great angles off the court. I even had success with some soft drop volleys."
Spencer found the net to be one of his favorite places on the court to use the Six.One 95S. He said, "The racquet feels great at net. It's maneuverable, provides a solid punch and has plenty of feel. Even with the 95 square inch headsize, I had more confidence at net than usual."
Chris agreed that this racquet felt very crisp at net, and he liked the direct response. He added, "I was able to punch volleys deep into the court with good accuracy. The added spin was great on drop volleys, as I was able to get the ball to die faster. The Spin Effect string pattern was also lively enough to help me hit forceful volleys, even when I was off balance or in a defensive position. I also liked the pace I found on high volleys and overheads."
"I really enjoyed it when I made clean contact with the ball - great touch and spin up at net," said Jason. "But when I didn't make clean contact the racquet felt just a bit unstable to me. I'm used to 98+ square inch head sizes, so I found myself shanking more balls than usual. I did like it on overheads. It didn't feel sluggish at all."
Serves - Score: 82
When it came to serving with the Six.One 95S the results and feedback continued to be positive. Jason found his focus shifting to precision over pace with this racquet in hand. He didn't find large amounts of power, but he really benefited from the bite and control he found. "I really liked the amount of control I had serving with this stick. The maneuverability and the unique 18x16 string pattern had my serves hitting with plenty of spin. I didn't serve the hardest with this racquet, but it was not a check in the negative box for me."
Despite the fact that this racquet is lighter than his preferred specs, Chris found himself serving very well with this racquet. He commented, "I was getting very nice spin and impressive pace. My first serve percentage was way up, and I was able to keep a fast serve inside the box by adding spin. On second serves, I was getting enough spin to serve aggressively. I think I can get even more out of this racquet on serve if I add weight to it, and I plan on doing just that."
Michelle continued to appreciate this racquet's easy to access extra spin. She said, "Again, I found this racquet easy to serve with. There was easy access to power and spin, and it was simple to hit my targets. I enjoyed the extra access to spin and slice for my second serves. I really got some good bite with my slice serves, which helped me set up the point by pulling my opponent off the court."
"I certainly feel the Six.One 95S out-performs other 95 square inch racquets on the serve," Spencer added. "That said, I wasn't getting the pace or spin I need to be effective. Consistency was good, but I couldn't muster anything special."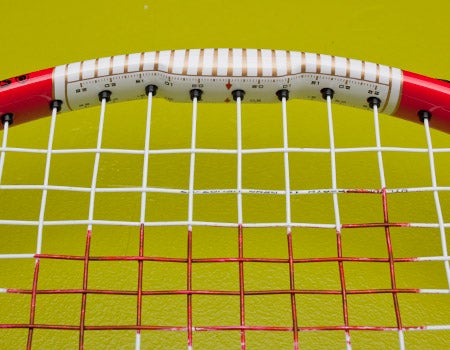 Serve Returns - Score: 83
The quick playing Six.One 95S helped our playtesters gain depth and height on their returns. "Fast and easy to get around, this was a great racquet to return serve with," said Chris. "I was taking a good swing at serves, and the added spin I got from the racquet helped me keep shots on target. I found I could be very aggressive with this racquet, and I also found myself taking the ball earlier. There was enough mass for my slice returns, and I was able to chip or knife slice returns well. Again, I plan to add a little bit of weight to up the power and stability slightly."
Spencer, who is used to the larger stringbed of his Steam 99S, had some issues when returning. "This was where I could have used a few more square inches in headsize. I definitely noticed more framed balls than normal when returning, though I was very happy with the maneuverability and the variety of shots I could hit."
Jason found it easy to adjust his tactics and return well with the Six.One 95S. He explained, "Defenses, especially cornerbacks, in football have to do what they call 'read and react.' The faster they do that, the better. It's the same thing when returning a serve, and with a racquet like the Six One 95S, it was easy to do. It's not sluggish at all, so it wasn't 'read and slowly react.' I was able to quickly put the racquet where it needed to be. When I had time to set up I could take a full, confident cut at the ball, knowing the spin would keep it in play."
Michelle loved being able to play offensively or defensively with the Six.One 95S, depending on what was coming at her. She offered, "I found it perfect for keeping me in the point against bigger first serves because the open string pattern helped me access easy depth. I could also chip my returns and get them to stay nice and low. I could step up on second serves and take big cuts. I found that when I was returning bigger my opponents would feel like they were being pushed back, which is the way I like to start a point - by dictating."
Overall - Score: 85
Likes
Chris - "I loved this racquet. I have been impressed by all of the Six.One 95 racquets this year, but this one has impressed me the most. While I love the solid feel of the 18x20 version, this S version is a better racquet on defense and provides more options on offense. I like it so much, I'm switching to it."
Spencer - "Feel and volleys."
Jason - "Spin, feel, control and maneuverability. Just about everything."
Michelle - "I enjoyed the added power from this racquet, along with the easy access to spin, which controlled my flatter groundstrokes. I really enjoyed this one at the net as well."
Dislikes
Chris - "None. I love it in stock form and expect to love it even more once I customize it to a slightly heavier weight."
Spencer - "The smaller headsize caused more framed balls."
Jason - "It's slightly under-powered, and I'm not used to the 95 square inch head, so I was shanking more than usual."
Michelle - "I found a slightly erratic launch angle off the stringbed at times when drilling from the baseline. I also had a slight adjustment period because of the slightly smaller head and the Spin Effect technology. I did struggle off and on in this playtest with some muscle soreness, but I think that was more the fault of the 4G string that was in the racquet than the frame stiffness."
Comparing it to other racquets they've used, our testers said:
Chris - "I loved how I could go from defense to offense with one swing with this racquet. Other racquets that enable me to do that are the Babolat AeroPro Drive and the Steam 99S, so I consider those comparable. In regards to the 16x18 and 18x20 versions of the Six.One that I have also tested, this one is more maneuverable and offers better spin, but is not as stable and solid feeling. Regardless, I can still hit a pretty heavy ball with the Six.One 95S thanks to its lively string pattern and access to spin. I was definitely able to get the ball through the court more than I could with the Blade 98S that we also recently tested."
Spencer - "From KFactor to BLX in the Six.One 95 series, the Six One 95S has been my favorite by far. It offered more action on the ball and seemed more maneuverable, with a little more pop."
Jason - "This racquet kind of sits in between the Steam 99S and the Pro Staff 95S. It has more control than the Steam 99S and more power than the Pro Staff 95S."
Michelle - "I think this racquet feels more like a player's racquet than the Steam 99S does. It doesn't have the same extreme spin or power as the 99S, which makes this Six.One 95S better suited for a player like myself. I enjoyed the Six.One 95S a lot more than the Blade 98S because it felt more stable and had the right amount of mass for me."
Technical Specifications

Length
27.0 inches
69 centimeters
Head Size
95 square inches
613 square centimeters
Weight
11.5 ounces
326 grams
Balance Point
12.85 inches
33 centimeters
5pts Head Light
Construction
22mm Straight Beam
Composition
Graphite Basalt Matrix
String Pattern
18 Mains / 16 Crosses

Babolat RDC Ratings

Score

Grade

Flex Rating
67
Range: 0-100
Swing Weight
317
Range: 200-400
Scores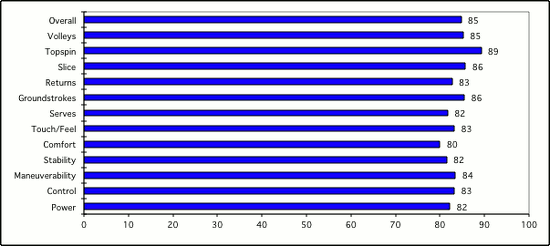 (Scores are determined by averaging individual play test scores)
Chris' Scores
Power
8.3
Serves
8.6
Control
8.7
Groundstrokes
8.9
Maneuverability
8.5
Returns
9
Stability
8
Slice
9
Comfort
8.1
Topspin
9.1
Touch/Feel
8.4
Volleys
8.4
Overall
8.7
Spencer's Scores
Power
8.4
Serves
8
Control
8.6
Groundstrokes
8.4
Maneuverability
8.5
Returns
8.2
Stability
8.6
Slice
8.6
Comfort
8.6
Topspin
8.7
Touch/Feel
8.5
Volleys
8.8
Overall
8.6
Jason's Scores
Power
7.7
Serves
8.3
Control
8.5
Groundstrokes
9
Maneuverability
8.4
Returns
8
Stability
8
Slice
8.4
Comfort
7.8
Topspin
9
Touch/Feel
8.4
Volleys
8
Overall
8.5
Michelle's Scores
Power
8.5
Serves
7.8
Control
7.5
Groundstrokes
7.9
Maneuverability
8
Returns
7.9
Stability
8
Slice
8.3
Comfort
7.5
Topspin
8.9
Touch/Feel
8
Volleys
8.9
Overall
8.1
Playtester Profiles
Chris: 5.0 all-court player currently using the Wilson Six.One 95S. Chris uses a full-western forehand grip, has a fast swing style and hits a one-handed backhand.
Spencer: 4.5 baseline player currently using the Wilson Steam 99S. Spencer uses a semi-western forehand grip, and hits with a one-handed backhand.
Jason: 4.0 baseliner with a semi-western forehand and two handed backhand. Currently using a Wilson Steam 99S.
Michelle: Open level baseline player with a semi-western forehand and a two handed backhand. She currently plays with the Babolat Pure Drive Roddick.

Review date: October 2013. If you found this review interesting or have further questions or comments please contact us.
All content copyright 2013 Tennis Warehouse.