Wilson BLX Six.One 95 18x20 Racquet Review


Wilson carries on the trend of offering a tighter string pattern in its Six.One 95 family with its introduction of BLX technology. Here we test the Six.One 95 BLX 18x20.
Now, there was a time when if you wanted a Six.One 95 with a tight string pattern you either had to be a touring pro, or move to Europe. Before the introduction of the KFactor line of racquets, finding a Six.One 95 in the US with an 18x20 string pattern was rare. In North America, the Six.One came with a 16x18 string pattern, plain and simple.
Outside of Europe, the tighter 18x20 string pattern was only available on Stretch versions of the racquet. At one point we were able to bring in some Hyper ProStaff Six.One 95s with an 18x20 string pattern from Wilson's Pro Room stock, and they quickly sold out.
As with the KFactor versions, we have tested both string patterns. Here we review the tighter of the two, but be sure to check out our review of the 16x18 to see how the two stack up.
Groundstrokes - Score: 83
From the baseline, our testers all agreed that the Six.One 95 BLX 18x20 offered excellent control and consistency. Able to confidently swing with aggression from the baseline was Chris. He said, "I really enjoyed hitting this racquet off the ground. This is a racquet I could switch to with no adjustment. It felt solid and was confidence inspiring from the first hit to the last. During the test I tried this racquet with Wilson NXT, a standard synthetic gut and several monofilament co-poly strings. No matter what string I used I found something that impressed me. I loved the feel and control. I was very confident, so I was swinging aggressively. With all that racquet tip speed, I was getting excellent pace and spin. A very fun hit for me."
Danny enjoyed the control and consistency, saying, "I think this model is more solid, stable and easier on the arm than the KFactor version. The 18X20 pattern was my favorite out of the two patterns. From the baseline, my control and consistency were noticeably better than with the 16X18. My short angle shots were where I noticed it the most. I was able to vary my short shots better with this string pattern. I could mix in a high looping deep shot with a short angle shot with good accuracy. Due to the tighter string pattern, I could take a bigger cut at the ball and not worry about spraying the ball like I did with the 16X18 pattern. "
We are not 100% sure, but Granville may have found the response to be crisp. He said, "This racquet felt a bit more crisp on the groundies. I like crisp. Crisp is decisive. Crisp sends the ball deep with pace. Power may suffer slightly but pace (power with spin) is enhanced in this 18x20 version. Spin was potentially enhanced by the grab of the tighter string pattern. I hit a pretty flat ball, so it is not as big a factor on the groundies as on the serve."
Spencer liked the control of the tighter string pattern. He offered, "I found the 18x20 version to have a bit more overall control than its open patterned brother. I seemed to have slightly better directional control and consistency, but I also hit more balls short. I found I had to work harder to achieve my desired depth. Though I preferred the 16x18 pattern, I could certainly adapt quite quickly to this one."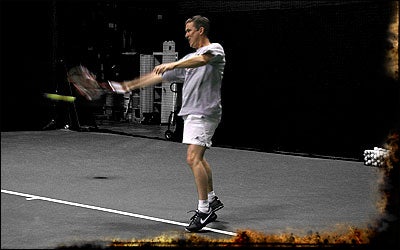 Volleys - Score: 83
As our testers found from the baseline, the 18x20 provided a solid feel with excellent control at net. Enjoying the heft and stability on his volleys was Spencer. He said, "I enjoyed most everything about this racquet when at net. The weight offered excellent stability on off-center volleys, yet it was not too heavy to diminish good maneuverability. The tighter string pattern helped with touch and control."
"I continued to be impressed at net," said Chris. "The control was excellent, and I was finding a lot of feel on the ball. I played a lot of doubles and singles with this stick, and it was by far my favorite at net out of the two versions. It was just solid and precise feeling -- a true pleasure to volley with."
Able to punch his volleys with his desired verve was Danny, saying, "I liked this one for my style of volleying. I like to stick my volleys and swing a little longer than most, and the tighter string pattern allowed me to do so."
Granville found familiar performance at net. He said, "This racquet was solid and crisp, with the same excellent feel and control as my current stick, the KSix.One 95 18x20."
Serves - Score: 82
When serving, our testers found the 18x20 string pattern to provide more of a control-oriented response compared to the 16x18 version. Chris felt confident enough to put a big swing on the ball, saying, "I served better with this racquet compared to the open string patterned version. I was finding my targets more consistently and started to be more aggressive as the test went on. Just like on groundstrokes, I was getting more spin and action on the ball, I think because I was able to swing faster without fear of missing."
"Serving was somewhat similar for both models for me," said Danny. "I would have to give the edge to the 16x18 pattern because I did notice a decrease in consistency on my second serves with this one. On a side note, I would like to give an honorable mention to this one for overheads. I just found my overheads were more solid with the 18x20 string pattern."
Granville found the crisp feel to his liking when serving. He said, "There was no mistaking the slightly crisper response on serves with this version. With that, I expected a bit more spin potential. In the coming weeks I will be revisiting my thinking here as the added power of the open patterned version may be more in line with my game."
Hoping to get more out of the racquet on serves was Spencer. "I had a so-so experience with this racquet when serving. I didn't think there was anything special I could muster with it. I could hit average serves; both speed and spin. I was hoping for a heavier ball, but didn't quite get the results I was looking for."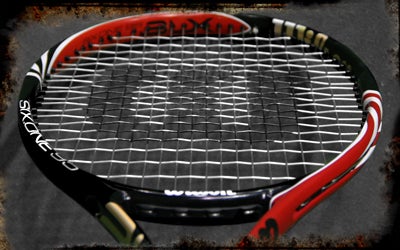 Serve Returns - Score: 82
Offering good stability and a solid feel, this racquet provided good results for our playtesters when returning serve. Preferring the tight string pattern for better accuracy was Danny. He said, "I like to take the ball early, and I like to be aggressive when returning serves. Because of that, I thought the tighter string pattern worked better for me. My accuracy and consistency were better when returning from both deuce and ad sides of the court."
Chris felt he could be very aggressive when returning. "As from other areas of the court, I felt like I could stay on the gas when returning with this racquet, " said Chris. "I was hitting with confidence and taking a good cut at anything that looked even remotely tasty. I can't ask for much more than that, really."
Spencer agreed, "This was a category I felt was one of the stronger points in my playtest of this stick. The stability and weight, with decent maneuverability, allowed me to hit effective returns. That, in turn, grew my confidence and allowed me to be more aggressive than usual."
Granville was pleased with his returns, saying, "When returning big serves the differences here are virtually imperceptible -- same solid feel and stable response from both string patterns. The sweetspot may have felt a touch smaller, so there was a bit less help when off center."
Overall - Score: 83
Offering the same solid feel and head light maneuverability as the 16x18 version, the Wilson BLX Six One 95 - 18x20 provides a tad more control from its stringbed. The control-oriented feel allowed our more aggressive players to take big, confident swings at the ball. Our testers with more compact strokes found that they had to put a little more into shots to get the same pace and depth they got from the 16x18 version. This racquet plays very similar to the previous KFactor version, and those looking to make the transition should have no issues. If there is a difference between the KFactor and BLX versions, it would be in the feel department -- the BLX feels slightly more solid. All in all, this will be a great choice for the advanced player.
Likes
Chris - "I liked the level of confidence I found. The feel and control were excellent. I was really going after my shots with this racquet, and I could switch to it very easily."
Danny - "All around, I thought the 18X20 was a better racquet for me than the 16X18. I liked the tighter pattern from the baseline and the net. This isn't a racquet that I would switch to, but I think people are going to like this model over the KFactor model because of the feel and stability."
Granville - "Great new look - specs are what I grew up with - awesome."
Spencer - "The control."
Dislikes
Chris - "Nothing."
Danny - "I had some issues with serving. It just was not as good as with the 16X18 pattern."
Granville - "I prefer a full leather grip."
Spencer - "The lack of liveliness from the stringbed."
Technical Specifications

Length
27 inches
69 centimeters
Head Size
95 square inches
613 square centimeters
Weight
12.23 ounces
347 grams
Balance Point
12.5 inches
31.75 centimeters
8pts Head Light
Construction
22mm Straight Beam
Composition
Karophite Black / Basalt
String Pattern
18 Mains / 20 Crosses

Babolat RDC Ratings

Score
Grade
Flex Rating
67
Range: 0-100
Swing Weight
338
Range: 200-400
Wilson BLX Six.One 95 18x20 Scores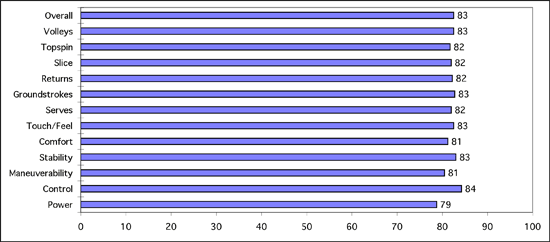 (Scores are determined by averaging individual play test scores)
Chris' Scores
Power
7.9
Serves
8.2
Control
8.3
Groundstrokes
8.2
Maneuverability
7.7
Returns
8.1
Stability
7.9
Slice
8
Comfort
7.9
Topspin
7.8
Touch/Feel
8.3
Volleys
8.2
Overall
8
Danny's Scores
Power
8
Serves
7.8
Control
8.2
Groundstrokes
8
Maneuverability
8.1
Returns
7.9
Stability
8.1
Slice
7.9
Comfort
7.9
Topspin
8.1
Touch/Feel
7.8
Volleys
8.1
Overall
8.1
Granville's Scores
Power
8
Serves
9.5
Control
9.2
Groundstrokes
9.2
Maneuverability
9
Returns
9
Stability
9.2
Slice
9.2
Comfort
9
Topspin
9.2
Touch/Feel
9.2
Volleys
9.2
Overall
9.2
Spencer's Scores
Power
7.6
Serves
7.3
Control
8
Groundstrokes
7.7
Maneuverability
7.4
Returns
7.9
Stability
8
Slice
7.7
Comfort
7.7
Topspin
7.6
Touch/Feel
7.7
Volleys
7.5
Overall
7.7
Playtester Profiles
Chris: 5.0 All court player currently using the Volkl Power Bridge 10 Mid. Chris uses a full-western forehand grip, has a fast swing style and hits a two-handed backhand.
Danny: Open baseline player currently using a Volkl Power Bridge 10 Mid. Danny uses a semi-western forehand grip, a two-handed backhand and has a long swing style.
Granville: 5.5 all-court player currently using a Wilson K Factor Six-One 95. Granville is an aggressive player who uses an eastern forehand grip and goes continental on everything else, hits with a flat swing and a one-handed backhand.
Spencer: 4.5 Baseline player currently using a Wilson K-Blade Tour. Spencer uses a semi-western forehand grip, and hits with a one-handed backhand.

Review date: March 2010. If you found this review interesting or have further questions or comments please contact us.
All content copyright 2010 Tennis Warehouse.