Wilson Six.One 95L Racquet Review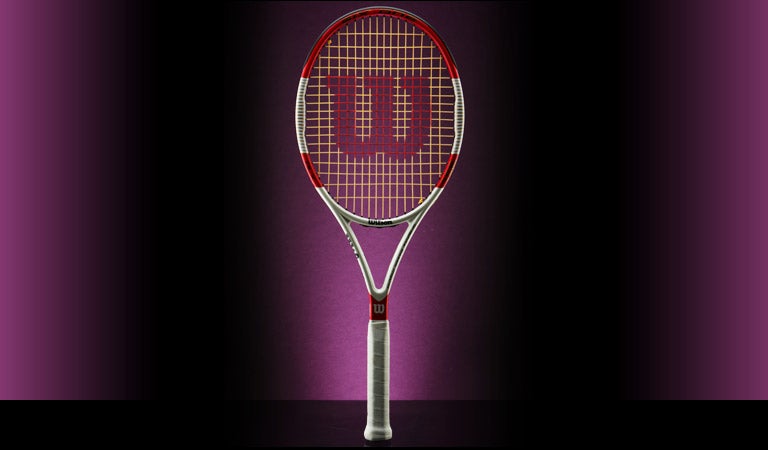 Wilson Six.One 95L Scores
Power
81
Comfort
78
Touch/Feel
80
Serves
79
Groundstrokes
81
Returns
84
Slice
78
Topspin
83
Volleys
80
Overall
81
Upsides
Feel
Control
Spin potential
Solid for its weight
Downsides
Some instability outside the sweetspot
Summary
Offering all of the precision and control of the Six.One series, the Six.One 95L comes in a player friendly, lightweight setup. Quick and maneuverable, the Six.One 95L pleased our team of playtesters with controlled power and spin. Packing a large sweetspot and loads of stability for its weight, our team rarely had any issues adjusting to this lighter 95 square inch racquet. At net, it was easy to carve out volleys or punch back deep responses. Returns were fun to crank out, and break points were ample thanks to aggressive hitting with this racquet in hand. After spending hours with this racquet, our team found that the Six.One 95L is a solid option for all types and levels of players. Check out why we think fans of that classic Six.One feel will love this user-friendly racquet!
Groundstrokes - Score: 81
Our team found the Six.One 95L easy to swing. All four of our playtesters found power and spin while still being able to maintain control and precision. Considering the sub-11 ounce weight, Chris was impressed by how solid the racquet felt. He offered, "On a fast swing I found it to come through the ball nicely. The stringbed offered plenty of grip on the ball when strung up with a poly. Good grip plus lots of racquet head speed resulted in lots of spin. I was driving topspin shots well off both wings with solid pace, depth and spin. I could also generate lots of slice on my backhand even though the racquet lacked the typical heavy plow through I favor on that shot. The racquet felt comfortable no matter what shot I was hitting, and I enjoyed the overall response."
Tiffani, who hasn't swung anything smaller than an 100 square inch racquet in a while, said, "The smaller headsize didn't take much of an adjustment, and I found some nice pop off the strings and a sizable sweetspot. It swung pretty quickly, so I could pick up shots from the baseline as well as transition to a more offensive position with some good control and pace. While I enjoy the easy topspin I get from the S racquets, I like these traditional string patterns for slice. That was especially true with this racquet. For its weight, the 95L was able to cut through the ball well, and the ball stayed low when I hit my backhand slice."
At the start of this playtest Troy was having difficulty finding a groove on his lefty groundstrokes because this racquet has different specs than what he is accustomed to. But he eventually found a good connection with this racquet. He explained, "The weight and balance were off in comparison to the 12.5 ounce weight and 335 swingweight of my Six.One 95 (18x20), so I was struggling to take the ball on the rise and attack with my forehand. After hitting about a hundred groundstrokes I was able to adjust my swing and rein in my shots. Once I found my rhythm I was able to respect the Six.One feel that this racquet provides. I found a bit more pop from this racquet compared to my 18x20, and the stiffness and open 16x18 string pattern provided a livelier response. Anytime I had a short ball, or what I like to call a 'sitter,' I could take an aggressive swing and the open pattern helped me keep the ball inside the lines. The downside was returning heavy and deep shots. This racquet didn't quite have the stability to redirect the ball like the heavier racquets I prefer, such as the Six.One 95, Babolat Pure Strike Tour and Head Prestige Midplus. I found heavy topspin easy to generate, but I wasn't a huge fan of this racquet on the backhand slice. I wanted more plow through and a denser string pattern to provide a more predictable trajectory."
Karly's list of the things she liked about the Six.One 95L was long, and the racquet's crisp response and feel were at the top of that list. She said, "This racquet felt stiffer than most, and not uncomfortable by any means, so contact felt solid and the ball jumped off the stringbed faster (something I prefer in racquets). I also generally like playing with racquets that offer control, which is another area where this racquet excelled. It was easy to swing and offered great precision, so I could swing hard and with confidence. I wasn't afraid of overhitting, and I found I was going for bigger shots more than usual. If I had to note a downside, it'd be that I felt slightly pushed around when I was hitting against harder hitters because of its lightweight feel. However, I wouldn't say it was a major issue. I could get the ball back easily because of the maneuverability of the 95L, and I could still place the ball in the direction I wanted because of the racquet's control. I'd happily choose this racquet over others to play with because of all its great features."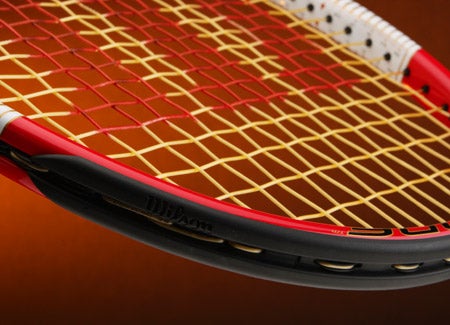 Volleys - Score: 80
Even with a 95 square inch head, our playtesters were impressed with the size of the sweetspot when volleying. This racquet was fairly user-friendly for our team when up at the net. The maneuverability and crisp, predictable response gave Troy confidence placing volleys within the lines. He said, "I felt very connected to the ball, which boosted my confidence when feathering a drop volley. I enjoyed the maneuverability of this racquet at net. I found that it helped me poach and be active at the net when playing doubles. This racquet wasn't as stable or as effective at volleying deep as the heavier racquets I like, but I still found it easy to put away volleys when closing the net."
"It's always a little tougher to hit volleys with a smaller headsize," offered Karly, "but this racquet was easy to move, and its fast response made it feel great at contact. There was also a good combination of control and power. The racquet allowed me to place the ball where I wanted, and when I hit the sweetspot my shots came off the racquet with great pop. If I made contact outside the sweetspot the racquet lost some stability and forgiveness. When I hit closer to the frame the racquet shook in my grip more than any other area of the court. However, I have to give Wilson props, because even with the instability the racquet wasn't extremely uncomfortable or hard on the arm like other stiffer racquets."
Maneuverability and easy access to pace came to the forefront for Chris. He commented, "I found it a snap to get this racquet into position and easy to punch it through my shot. Shots inside the sweetspot felt plush, and very sweet, indeed. The racquet fluttered slightly if I hit off center -- an unfortunate byproduct of all of that maneuverability. However, the response was very predictable, and I had a good sense of exactly where my shots were going the instant they left my racquet."
This is where the smaller headsize really affected Tiffani the most. "Since I'm used to 100 square inches and I'm not the strongest volleyer, I missed the sweetspot (even though it was plenty big enough) more often than I care to admit. Because I was hitting up too high or too far on the edges, I often felt the racquet torque. I need more real estate to be effective at net, plain and simple. Otherwise, I enjoyed the feel when I executed my volleys cleanly."
Serves - Score: 79
Our playtesters were delighted with the variety of serves they were able to hit with the Six.One 95L. Pace was ample, and our team had fun mixing things up to start points offensively. Karly felt like she could serve for hours due to how light and fast this racquet was, and she never had to worry about her shoulder tiring out. She said, "I could get more power from this racquet on my serves than on any other stroke. That good control was still there, but if I swung hard and fast I could hit some really big serves. Similar to volleys, this racquet felt comfortable on the arm as long as I hit the sweetspot. Contact outside the sweetspot made the racquet lose some stability and shake in my hand, but it was really minor."
"My favorite serve with this racquet was my slice serve wide to the deuce side, because I was able to get enough action and pace on the ball to swing it wide," said Chris. "I was forcing opponents to make tough returns and hitting some aces here and there. The pace I was finding was solid since the racquet offers a nice lively response and is easy to swing fast. I liked the amount of spin I was getting on second serves, and I felt like I had plenty of options when it came to targeting."
Again, Tiffani was pleasantly surprised by how easy this racquet was to use. She explained, "I could get enough spin on my serves to see them jump, and I was getting enough pace on my first serves. I noticed some instability when I struck too high in the stringbed, but that's typical of racquets in this weight range. I usually want to add weight to racquets this light for added power and plow through on my serves, but I was happy with my results in stock form."
The maneuverable feel, combined with the open 16x18 string pattern, allowed for added kick and spin, which was a perfect match for Troy and his tricky lefty serves. He said, "I found it easy to get a lot of action on my slice and kick serves, with less stress on my shoulder joint than I get from the hefty sticks I'm used to. I felt I had good control hitting my spots, but I wasn't quite as dialed-in as I get with my Six.One 95 18x20, where the response is slightly more predictable on serves. I was finding that my flat first serves were effective, but they weren't coming in as hot as they are with racquets in that 330 swingweight range."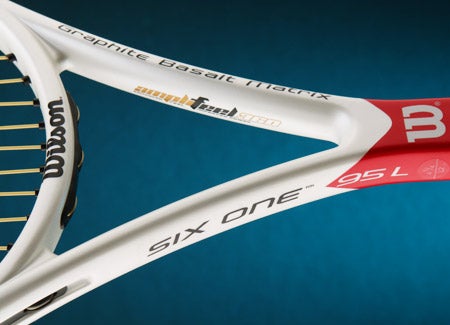 Serve Returns - Score: 84
The maneuverability and the Six.One's classic controlled response were the favorite features for our team when it came to returning with the Six.One 95L. Our playtesters found they could rip returns without making too many errors. "The control and the quick swing were the standout features for me on serve returns," said Tiffani. "I felt like I could really attack sitters without fear of overhitting. It also felt surprisingly solid for its weight, so I could handle bigger serves as well."
Because of its light and fast response, Chris found it easy to get this racquet in position. He elaborated, "I was able to generate a fast swing and take a good crack at the ball. I was getting good spin, so hitting angles was a snap. I could also pull a T serve back down the line with good pace. The spin I was finding allowed me to safely clear the net with pace while still getting the ball to drop inside the baseline."
Returning was a piece of cake for Karly, and it ended up being her favorite thing to do with this racquet. She explained, "The maneuverability and control of the Six.One 95L allowed me to swing confidently and more aggressively. I could move the racquet quickly to make contact and place my shots where I wanted. I wasn't holding back as much as I normally do, and it felt great! The lightweight feel and instability came into play again if I hit a fast return out of the sweetspot, but considering well the racquet performed in all the other areas, it wasn't something that bothered me at all."
Troy could also channel his inner aggressiveness when returning, which gave him a chance to see a few more break points than usual. He said, "The fast feel of this racquet and its adequate control allowed me to attack serves and keep my returns deep in the server's court. I could control the direction of my returns with ease, which helped me against the serve-and-volley. I wasn't finding easy depth on the slice backhand chip return, but I wasn't using it as much as usual since I was feeling confident in my two-handed return. Overall, I was impressed with this racquet on returns."
Overall - Score: 81
Likes
Chris - "I liked the light and fast feel. This was also a very comfortable racquet, which was good because I liked the response the most with a polyester string installed."
Tiffani - "It felt solid for its weight and it felt fast. There was good control and feel, with just enough power."
Troy - "The maneuverable feel combined with better control than most racquets in this weight class. Spin was easy to generate. The Six.One feel was evident."
Karly - "Maneuverability and control were the standout features for me! I loved how easy it was to swing this racquet and hit the ball where I wanted."
Dislikes
Chris - "It's a lighter racquet than I usually like, but that was balanced some by the open string pattern, which helped make off-center shots more forgiving and provided some pace and depth that I usually rely on weight to give me."
Tiffani - "I would add a little bit of weight to get a bit more stability outside the sweetspot."
Troy - "There were times when I felt pushed around from the baseline. Although the stiffness of this racquet is near identical to my Six.One 95 (18x20), this 95L felt firmer due to the lack of mass."
Karly - "The instability (especially at net) when I made contact outside the sweetspot."
Comparing it to other racquets they've used, our testers said:
Chris - "I would compare this racquet to a Head Graphene Radical Midplus, but this one has a more forgiving feel. Other options would include the Volkl Organix 10 295, the old Dunlop Hotmelt 300G (now reintroduced) and the new Prince Warrior 100. All of these racquets are great options if you like to swing fast. They all offer great spin potential, mostly due to the ease with which one can swing fast and therefore get the ball to spin fast. However, I like the comfortable feel of Six.One 95L the most out of all of them."
Tiffani - "I'm reminded of other lighter weight versions of player's racquets, in particular the Volkl Power Bridge 10 Light or Organix 10 295. All of these racquets are maneuverable, offer nice feel, spin potential and control. The Six.One 95L offered me a little bit more power and a crisper feel."
Troy - "Although I did not test the previous Six.One Team, I'm assuming it is fairly similar, being that the 2014 Six.One 95 feels pretty similar to the previous generation. This racquet could be an option for those who have used the Wilson nTour, KTour or BLX Tour. I find this Six.One 95L sits somewhere between those racquets and the Wilson Steam 96. I also found similar characteristics to the Slazenger Pro Braided, but this one has a softer feel and is more maneuverable."
Karly - "The Six.One 95L plays similarly to its predecessor, the Wilson Six.One BLX Team. Both offer great control from a lighter racquet. In my opinion, the only subtle difference between the two frames is the response; I thought the 95L felt crisper and more solid than the BLX Team."
Technical Specifications

Length
27 inches
69 centimeters
Head Size
95 square inches
241 square centimeters
Weight
10.7 ounces
303 grams
Balance Point
13 inches
33 centimeters
1pt Head Light
Construction
21mm / 21mm / 21mm /
Composition
Graphite Basalt Matrix
String Pattern
16 Mains / 18 Crosses

Babolat RDC Ratings

Score

Grade

Flex Rating
65
Range: 0-100
Swing Weight
318
Range: 200-400
Scores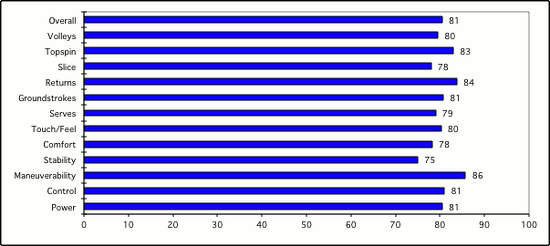 (Scores are determined by averaging individual play test scores)
Chris' Scores
Power
7.8
Serves
7.7
Control
8
Groundstrokes
8.3
Maneuverability
8.5
Returns
8.3
Stability
7.6
Slice
8
Comfort
8.1
Topspin
7.7
Touch/Feel
7.8
Volleys
7.9
Overall
7.9
Tiffani's Scores
Power
8
Serves
7.8
Control
8
Groundstrokes
8.2
Maneuverability
8.3
Returns
8.1
Stability
7.8
Slice
8.1
Comfort
8
Topspin
7.7
Touch/Feel
8
Volleys
7.7
Overall
8
Troy's Scores
Power
8.5
Serves
8
Control
8
Groundstrokes
7.6
Maneuverability
9
Returns
8.5
Stability
6.7
Slice
7
Comfort
6.9
Topspin
8.8
Touch/Feel
8.5
Volleys
8.3
Overall
7.9
Karly's Scores
Power
7.9
Serves
8.1
Control
8.4
Groundstrokes
8.2
Maneuverability
8.5
Returns
8.6
Stability
7.9
Slice
8.1
Comfort
8.3
Topspin
8.3
Touch/Feel
7.8
Volleys
8.1
Overall
8.4
Playtester Profiles
Chris: 5.0 all-court player currently using the Wilson Six.One 95S. Chris uses a full-western forehand grip, has a fast swing style and hits a one-handed backhand.
Tiffani: 4.0 level baseliner with a semiwestern grip on the forehand and hits a two-handed backhand. Currently playing with the Donnay Formula 100.
Troy: 5.0 lefty all-court player with a full Western Forehand and a two-handed backhand. Troy currently plays with a Wilson BLX Six.One 95.
Karly: 4.0 baseline player currently playing with the Volkl Organix 10 Mid. She hits with a semi-western forehand grip and uses a two handed backhand.

Review date: April 2014. If you found this review interesting or have further questions or comments please contact us.
All content copyright 2014 Tennis Warehouse.