Wilson Six.One 95 16x18 Racquet Review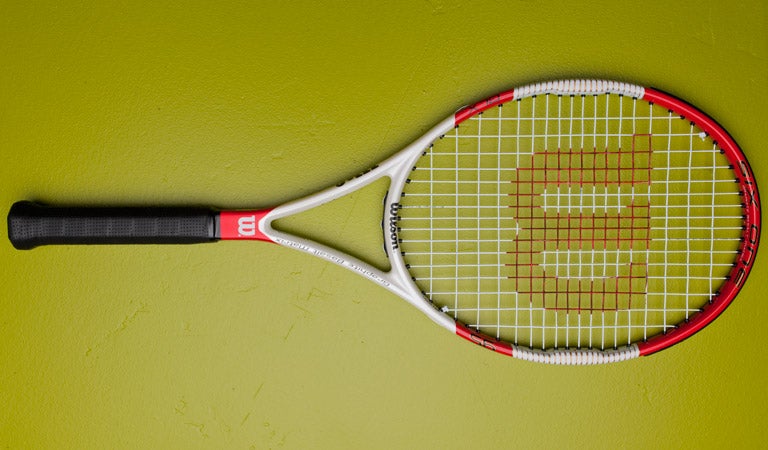 Wilson Six.One 95 16x18 Scores
Power
84
Comfort
82
Touch/Feel
85
Serves
87
Groundstrokes
83
Returns
82
Slice
84
Topspin
81
Volleys
83
Overall
83
Upsides
Stability
Power
Comfort
Feel
Downsides
Not for the faint of heart
Summary
Not much has changed since Wilson first started making this racquet line almost a quarter-century ago. The Chicago Cubs still haven't won a World Series, George Clooney still looks like a stud and the Six.One 95 16x18 is still one of the best feeling, most responsive racquets on the market. Our playtesters noticed a slightly crisper and more solid feel compared with previous versions, but there wasn't a whole lot of change in this latest update. That's not a bad thing; why mess with something that's not broken? All of our playtesters appreciated the rock solid feel from all areas of the court and the extreme responsiveness that had them totally connected to the ball as it left their strings. It has the heft to stand up to the biggest hitters and send the ball flying back with pace and spin. The open string pattern allowed for a little livelier feel compared to the 18x20 version, and the playtesters who are familiar with the Six.One line felt that this was their favorite 16x18 version to date. This is a must have on a deserted island item for the high level player who likes a traditional hefty, precision-oriented racquet. It doesn't get much better than this.
Groundstrokes - Score: 83
From the baseline, our playtest team loved the Six.One 95 16x18 for its classic, hefty feel, which helped them dial in their groundstrokes with power and precision. "Just absolutely rock solid from the ground, this is one fine playing player's racquet," exclaimed Chris. "I loved the mass and stability it brought through the ball. The balance felt nice and head light, so it was easy to swing and drive through the ball despite the heft. The response of the Six.One line seems to have become cleaner, more precise and more predictable with each new version, and this racquet continues that trend. I felt more connected to the ball and never questioned where my shots were going. This racquet has the livelier feel of the regular string patterns (non-S), and I was getting more pace and topspin than I got with the 18x20 version. The bite on slice shots was also good, and this is one of the better 16x18 patterned racquets for my backhand slice."
Because his current racquet of choice is the previous version of the Six.One 95 with the 18x20 string pattern, Troy felt right at home during this playtest. He offered, "The feel of this racquet was very familiar from the baseline. The weight and balance felt perfect in stock form. I noticed a firm crisp feel on ball impact, but without jarring my arm. I noticed that this 95 square inch headsize packed a punch, much like previous versions. The open string pattern provided some added spin to my shots compared with the 18x20 version I'm using now. The added spin was most beneficial for creating sharp angles on passing shots. However, I found it a bit harder to hit with depth using the 16x18 compared with the dense pattern of the 18x20. The added spin potential was beneficial on cross-court angles, but I couldn't generate depth as easily as I could with the 18x20 version."
Andy found this iconic racquet to be fun and easy to use from the baseline. He said, "Get this racquet moving, find the sweetspot and it will do the work for you! It has that classic buttery smooth feel, and it plows through the contact zone like a sledge hammer. It offers exceptional control, although not as much as the 18x20 version. You do get a little extra power and spin, though. It isn't the most forgiving or easy to swing racquet, but it makes up for it with that traditional response and precision."
Although the Six.One 95 16x18 is a slight departure from what he has been playing with, Mark grew to appreciate the feel of the racquet on his groundstrokes. He said, "Because I have found what I feel is my best personal range of weight/swingweight for a tennis racquet (around 11.8 oz/330g), I knew there would be a bit of a transition to a heavier racquet. Within 30 minutes of groundstroke play I started remembering what it is like to have the racquet do so much for you. Point this racquet in the right direction and it practically does everything else. I loved the stable feel the new Six.One 95 16x18 exhibits and the depth of shot I could get from most anywhere in the court. At times, however, I was reminded that I was swinging a 12.3-ounce racquet with a 325-ish swingweight."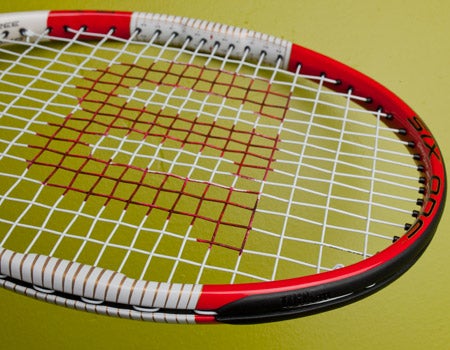 Volleys - Score: 83
In typical fashion for traditional-feeling racquets, the Six.One 95 16x18 performed exceptionally well around the net. Troy loved the solid feel and responsiveness. He said, "The heritage of the Six.One 95 was evident when coming to net. 'Super stable' is what I thought of this racquet when hitting volleys. The firm feel and the mass of this racquet allowed for easy depth on volleys. It takes good preparation and technique to get this racquet into place, but when the racquet is set behind the ball it does most of the work for you. I found good feel and responsiveness when hitting drop volleys and sharp angles. It wasn't quite as precise as the 18x20 version, but the feel was almost identical when at net."
Like Troy, Andy loved the control and feel but preferred the tighter string pattern around the net. He said, "The classic feel continues up at net, and I had more than enough precision and response to put the ball wherever I wanted. Since it's heavy and has a small sweetspot, it isn't the easiest racquet to wield when needing to react quickly, but once it's in place you can just set it and forget it! You're going to get exceptional stability, control and feel on your volleys. However, I did prefer the 18x20 version for even more feel and control."
Low volleys, high volleys, half volleys -- all of them were no problem for Chris with this stick in hand. He offered, "Crisp, precise and stable, this was an absolute weapon at net. I loved the solid feel on low volleys because it gave me the option to punch the ball back or soften my grip to drop it short. Either way, the racquet always felt stable, and the response was very predictable. High volleys could be dispatched with authority because I got power from the racquet's weight and I got a lot of of confidence from its controlled feel."
After adjusting to the racquet's heft, Mark also found it to be rock solid. He said, "I was late for a few volleys, but for the most part the volley was one area where the new Six.One 95 really shone for me. I dug out a backhand volley with this racquet the other day, one of those times when I'm completely stretched out and the ball hits the tip of the racquet. The racquet never wobbled, and the ball bounced two or three times before my opponent reached it."
Serves - Score: 87
The serve was the standout shot for our playtesters with the Six.One 95 16x18 thanks to the heft and precise feel, which allowed us to start points confidently and effectively. Mark was able to find a gear he didn't know he had. He explained, "After 30 or so serves I realized that the pace was there, with less effort required to get the ball moving when compared to my Steam 99s. I was able to set up some points with the first serve and actually get some cheap points with it as well. I loved this racquet on serve."
Andy's serves were heavy and effective. He said, "The weight of this racquet gets the ball moving through the court quickly and heavily, and I could get even more action on the ball with the more open string pattern. A boost in power and spin made up for a little loss in control. Channel your inner Sampras and let this beast help you drop some bombs down into the service box."
The racquet was just what Chris likes for serving, so naturally he loved it. He raved, "This was my kind of racquet for serving. It allowed me to generate solid pace thanks to its healthy plow through. The 16x18 string pattern was also lively enough to help me get impressive spin and pace. I liked hitting slice first serves with this racquet. I was able to get the ball to move around a little bit and the added spin enabled me to hit with pace while still finding my targets. While my serve has been a little hot and cold recently, with this racquet it was mostly hot, and I was serving with confidence."
Troy was completely dialed in as well and may even prefer this version to his own. He said, "This racquet added a lot of spin to my serves, and it was very precise. I was placing my serves within the box with pinpoint control. I could get good pop on my flat serve down the middle, but where this racquet really shone was on my kick and slice serves. I got more movement on the ball on my kick and slice serves with this racquet than I get with my 18x20. Overall, I favored this open pattern slightly more than the dense pattern when it came to serves."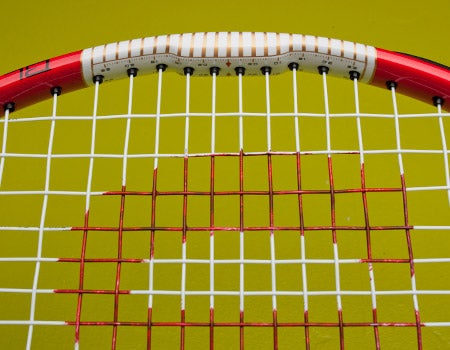 Serve Returns - Score: 82
When using short backswings our playtesters could use the server's pace and return effectively with the Six.One 95 16x18. Once again, it was just what Chris was looking for. He said, "The stability and the head-light balance made this a good racquet for me on returns. While it is not as light and fast as some of the racquets I've been testing, the solid response meant I didn't have to swing as hard to get the same results. The mass of this racquet helped me hit deep, powerful returns with little to no backswing. I liked the spin I was getting as well. All in all, I found I could hit a variety of returns with this racquet -- all of which had solid pace and consistency."
Troy also appreciated the stability and control, but preferred his 18x20 version. He said, "Serve returns were solid with this racquet. The plow through of this racquet allowed me to take a short backswing and let the racquet do most of the work. If I was stretched out I had just enough maneuverability to flick the racquet and get decent depth on the return. My slice returns were effective but not quite as penetrating as with the 18x20 version. I preferred the 18x20 version of this racquet for returns because I was getting a bit more depth and penetration through the court."
Andy typically leans toward a more maneuverable racquet, but he grew to love the precision this racquet offered. He said, "It's difficult to maneuver, but by stepping into the court and shortening up my swing I could get tons of pace on my returns. Moreover, I could put them on a dime with the racquet's precise feel. Once again I felt a little more in control with the 18x20 version, but this one worked out fine for me, too."
The racquet was a little heavy for Mark on his returns, but he did find it helped his defensive chip returns. He said, "I didn't have trouble with the return, but the new Six.One 95s are heavy enough to make it tough for me to swing through the return. On the other hand, my chip return/backhand slice was enhanced."
Overall - Score: 83
Likes
Chris - "I loved the stability, the spin and the clean and precise feel. The specs matched perfectly with what I like in a racquet."
Mark - "I loved the cosmetics and all the details on the frame itself. For whatever reason, I felt like I could swing this iteration of the Six.One 95 more effectively overall than the current BLX versions, so I liked that as well. This is probably my favorite 95 square inch frame on the market, and it will continue to be for the foreseeable future."
Troy - "Just about everything. The weight and balance feels great, and there is plenty of power packed into its 95 square inch head."
Andy - "Rock solid, exceptional plow through and control with a buttery smooth feel. Catch the ball right and you can get some sting on your shots, too!"
Dislikes
Chris - "None really. This is my favorite Six.One 16x18 yet, and I could happily have it as my racquet of choice. However, it is only my third favorite Six.One 95 in the current lineup!"
Mark - "Weight-wise, it is just barely out of my range."
Troy - "I prefer the 18x20 version slightly more, and I had to apply the leather grip myself; Wilson didn't do it for me!"
Andy - "It's not very forgiving, so you really have to focus to find the sweetspot consistently. I also preferred the response and control off the 18x20 stringbed."
Comparing it to other racquets they've used, our testers said:
Chris - "I felt better connected with this version of the Six.One 95 16x18 than I did with previous versions. The response felt cleaner and my control was much better. It competes right at the top of the player's racquet hierarchy, and I feel it goes toe to toe with the likes of the Head Graphene Prestige Pro, Volkl Organix 10 Midplus 325, Prince Response 97 and Yonex VCORE Tour 97 (330g). However, when it comes to the latest Six.One lineup, I like two others even more. I find myself in the dilemma of a great racquet being outshone by two sublime offerings: the Six.One 95 18x20 and Six.One 95S."
Mark - "The Dunlop 200, the Head Prestige, the Babolat Pure Storm Tour and the Yonex VCORE Tour 97 (330g), even the Wilson BLX Blade 93. All are comparable on paper and on court. I am a fan of all those frames, but admittedly, I liked the fact that I could finally swing the Six.One 95 pretty well - better than I can some of the other racquets I mentioned."
Troy - "Those who have favored the lineage of the Six.One 95 won't be disappointed with this update. I found the feel to be slightly different than the last generation; it seemed a bit firmer and more powerful, with a bit more dampening. Racquets that I find similar are: Dunlop F2.0 Tour and Dunlop M2.0, Yonex VCORE Tour 97 (330g) and Slazenger Pro Braided."
Andy - "This is still the classic Wilson Six.One we've grown to love, and it feels very similar to previous versions. I found the 16x18 to offer a little higher launch angle than the 18x20, so I didn't feel like I could swing out on the ball as much."
Technical Specifications

Length
27.0 inches
69 centimeters
Head Size
95 square inches
613 square centimeters
Weight
12.3 ounces
349 grams
Balance Point
12.31 inches
31 centimeters
10pts Head Light
Construction
22mm Straight Beam
Composition
Graphite Basalt Matrix
String Pattern
16 Mains / 18 Crosses

Babolat RDC Ratings

Score

Grade

Flex Rating
67
Range: 0-100
Swing Weight
325
Range: 200-400
Scores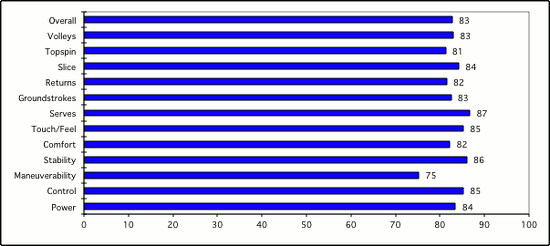 (Scores are determined by averaging individual play test scores)
Chris' Scores
Power
8.2
Serves
8.6
Control
8.6
Groundstrokes
8.5
Maneuverability
7.8
Returns
8.3
Stability
8.4
Slice
8.3
Comfort
8
Topspin
8.5
Touch/Feel
8.3
Volleys
8.6
Overall
8.4
Mark's Scores
Power
8.5
Serves
9
Control
8.5
Groundstrokes
8
Maneuverability
8
Returns
7.5
Stability
9
Slice
8.5
Comfort
7.5
Topspin
8
Touch/Feel
8.5
Volleys
8
Overall
8.5
Troy's Scores
Power
8.7
Serves
9.1
Control
8.5
Groundstrokes
8.5
Maneuverability
8.8
Returns
8.3
Stability
9
Slice
8.2
Comfort
8.9
Topspin
8.8
Touch/Feel
8.8
Volleys
8.6
Overall
8.7
Andy's Scores
Power
8
Serves
8
Control
8.5
Groundstrokes
8
Maneuverability
5.5
Returns
8.5
Stability
8
Slice
7.5
Comfort
8.5
Topspin
7.2
Touch/Feel
8.5
Volleys
8
Overall
7.5
Playtester Profiles
Chris: 5.0 all-court player currently using the Wilson Six.One 95S. Chris uses a full-western forehand grip, has a fast swing style and hits a one-handed backhand.
Mark: 5.0 lefty all-court player with a one-handed backhand. He currently plays with the Wilson Steam 99S.
Troy: 5.0 lefty all-court player with a full Western Forehand and a two-handed backhand. Troy currently plays with a Wilson BLX Six.One 95.
Andy: Open level all court player with a semi-western forehand grip and a two handed backhand. Andy currently using a Wilson Blade 98 18x20.

Review date: October 2013. If you found this review interesting or have further questions or comments please contact us.
All content copyright 2013 Tennis Warehouse.